Paul Kirby
with Stegosaurus

Jurassic Park Dino Showdown
Item No.: Asst. 62215 No. ???
Manufacturer: Hasbro
Includes: Stegosaurus, net, launcher
Action Feature: Net launcher
Retail: $4.99
Availability: 2001
Other: Retro Before it was Cool

PREVIOUS
RSS
NEXT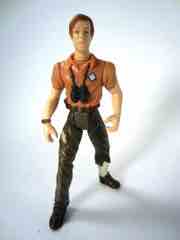 The funny thing about Paul Kirby and indeed this whole line is just how odd the human figures were for 2001. Hasbro, by 2001, rarely put out figures with fewer than 8 points of articulation. There were exceptions, but figures like this one and the entire human cast were throwbacks to such an odd degree, I don't think any of us really appreciated just what they were. We were hung up on how William H. Macy didn't have a mustache as a figure, but we failed to appreciate that these were basically the final old-school Kenner figures. The foot peg hole is sized to match modern Hasbro figures, but the 5-jointed, cheaply-painted figures are unquestionably closer in look and feel to the original Star Wars and recent Alien ReAction figures than they were any of their siblings. Titan A.E. had a few charmingly old-school figures, but Jurassic Park III was the style's real send-off from the house of Hasbro and Kenner until 2013's cheaper figure initiative brought them back in what can loosely be called "force."
I pulled this figure out after getting my ReAction Alien figures late last year just to compare them and it's downright eerie how close these are to that old Kenner look and feel. JP3 humans are much less removed from the Kenner of old in terms of factories and production techniques, so in some respects this 2001 line feels more authentic than Super7's 2013 ReKenner figures. Heck, it certainly retained Kenner's trademark errors. If you've got a yen for more old-school Kenner and you've had your fill of Star Wars, Adventures of Indiana Jones, and Butch & Sundance, this might not be a bad appetizer while you wait for Funko to put out... whatever it is they're going to put out this year. It sounds like a lot. If you're really in to this style of figure, why wait? Buy some old stuff. I'd love to see someone expand this license in a ReAction style to give us the cast of the first film, and maybe a dinosaur or three. But mostly the humans. Even scaled-down 1990s Kenner figures would be swell. Please and thank you.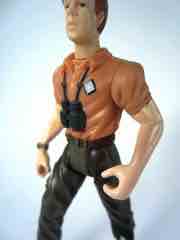 This figure has only 5 points of articulation and only vaguely looks like his film counterpart. The style of shirt matches, more or less, but the colors are all wrong. Binoculars are an interesting choice, as is a little ID badge. It wouldn't be a Jurassic Park toy without some sort of "dino damage" and this figure sports heavily torn pants and a bandaged leg. Mr. Kirby also has a watch on his wrist, which for the kids out there was something old people wear because they lived before cell phones. The sculpting on the figure isn't too far out of line from what you might see on a Hasbro product in 2001 other than slightly more "heroic" proportions, and the pose veers more toward the 1990s than the 1980s. His pose is quite awkward, a mix between early 1990s Star Wars and Adventure People with the rotated right wrist.
The deco, though, is a mix of old and new school. There are no whites of his eyes - the coloring is only a dot with a dash for an eyebrow, making it even less detailed than his 1970s ancestors. The figure's painted belt loops and boot soles are a luxury we didn't see in the old days, though, making this figure a very odd fit for the toy industry of its day. His accessories are a really mixed bag. On one hand, you get a killer and quite large Stegosaurus sporting a "JPIII" cutie mark and a couple of colors of paint. The dinosaur is nearly as long as Paul Kirby is tall, and certainly looks like a product of 2001 more than his human.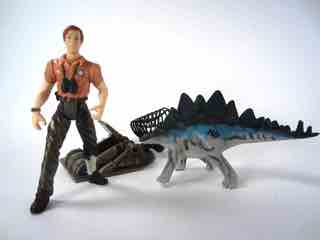 The launching net weapon is largely worthless. Earlier Jurassic Park figures had large backpacks and rocket launchers so big, the figure couldn't carry them. Some had projectiles that were almost the same size as the action figure, and the tradition more or less continues with a rubbery "net" and a cheap catapult. Getting it set up is a bit of a pain, and launching it is pretty unsatisfactory. It's not big enough to "catch" anything and it's sort of awkward. Considering the retro style of figure, a smaller accessory - a simple smaller gun, or a club or a stick - would have probably looked better.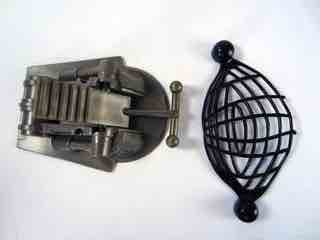 While I loved the first two movies, I didn't see the third one until after the Blu-Ray came out. The lack of Jeff Goldblum's goofy Goldbuminess sank the movie a bit for me, but as you can see I never can say no to a good, cheap toy. Even if the figures were hokey for 2001, $1 for a buy-one, get-one pack with 2 tiny dinosaurs is a pretty good deal. Unlike many other movie lines, this one didn't feel incomplete - Hasbro had to invent characters to expand the human cast, which is why we have "Military General" and "Military Diver" figures. Repaints and head-swaps of these figures were made for numerous exclusive lines over the years, including some at Toys R Us right now. I'd suggest grabbing one, it'll make you happy for a few fleeting moments before life comes back to beat you down.
--Adam Pawlus
Additional Images

Click here to see more Hasbro figures in Figure of the Day.
See more Jurassic Park and Jurassic World figures in Figure of the Day:
Day 11: Hasbro Jurassic Park III Dr. Alan Grant
Day 138: Kenner Jurassic Park Chaos Effect Compstegnathus Action Figure
Day 172: Kenner Jurassic Park The Lost World Chasmosaurus Action Figure
Day 346: Kenner Jurassic Park Ian Malcolm Action Figure
Day 366: Kenner Jurassic Park Ellie Sattler Action Figure
Day 372: Hasbro Jurassic Park G.I. Joe Heavy Gunner Action Figure
Day 533: Kenner Jurassic Park Chaos Effect Amargospinus
Day 620: Hasbro Jurassic Park Pachyrhinosaurus Clash Action Figure Set
Day 651: Hasbro Jurassic Park Allosaurus Assault Action Figure Set
Day 851: Hasbro Jurassic Park Paul Kirby Action Figure
Day 1,180: Hasbro Jurassic World Tyrannosaurus Rex Action Figure
Day 1,180: Kenner Jurassic Park Alan Grant Action Figure
Day 1,196: Hasbro Jurassic World 3 Dinos Action Figure
Day 1,198: Kenner Jurassic Park Tim Murphy Action Figure
Day 1,202: Hasbro Jurassic World Spinosaurus Action Figure
Day 1,212: Kenner Jurassic Park Chaos Effect Ian Malcolm Action Figure
Day 1,216: Hasbro Jurassic World Ankylosaurus Action Figure
Day 1,219: Hasbro Jurassic World Stegoceratops Action Figure
Day 1,228: Hasbro Jurassic World Tyrannosaurus Rex Action Figure
Day 1,425: Hasbro Jurassic World Hybrid Velociraptor Action Figure
Day 1,455: Hasbro Jurassic World Bashers & Biters Indominus Rex Action Figure
Day 1,462: Hasbro Jurassic World Hybrid Tyrannosaurus Rex Action Figure
Day 1,472: Hasbro Jurassic World Pachycephalosaurus Action Figure
Day 1,509: Hasbro Jurassic World Hybrid Armor Indominus Rex Action Figure
Day 1,526: Hasbro Jurassic World Owen "Alpha" and Velociraptor "Blue" Action Figure
Day 1,528: Hasbro Jurassic World Hybrid Armor Ankylosaurus Action Figure
Day 1,540: Hasbro Jurassic World Hybrid Dilophosaurus Rex Action Figure
Day 1,550: Hasbro Jurassic World Hybrid Carnoraptor Action Figure
Day 1,560: Hasbro Jurassic World Hybrid Rampage Indominus Rex Action Figure
Day 1,567: Hasbro Jurassic World Hybrid Stegoceratops Action Figure
Day 1,573: Hasbro Jurassic World Hybrid Pteramimus Action Figure
Day 1,712: Hasbro Jurassic World Hybrid Spinosaurus Action Figure
Day 1,721: Hasbro Jurassic World Hybrid Dilophosaurus Action Figure
Day 1,918: Mattel Jurassic World Mini Action Dino Ankylosaurus Action Figure
Day 1,938: Funko Pop! Movies Jurassic Park Dr. Ian Malcolm (Wounded) Pop! Vinyl Figure
Day 1,943: Mattel Jurassic World Velociraptor "Blue" Action Figure
Day 1,950: Mattel Jurassic World Super Colossal Tyrannosaurus Rex Action Figure
Day 1,954: Mattel Jurassic World Dilophosaurus Action Figure
Day 1,959: Mattel Jurassic World Battle Damage Triceratops Action Figure
Day 1,963: Mattel Jurassic World Extreme Chompin' Tyrannosaurus Rex Action Figures
Day 1,965: Mattel Jurassic World Battle Damage Velociraptor "Blue" Action Figure
Day 1,967: Mattel Jurassic World Robert Muldoon Action Figure
Day 1,972: Mattel Jurassic World Gallimimus Action Figure
Day 1,981: Mattel Jurassic World Metriacanthosaurus Action Figure
Day 1,984: Funko Pop! Movies Jurassic Park Dr. Ian Malcolm Pop! Vinyl Figure
Day 1,989: Mattel Jurassic World Tyrannosaurus Rex, Stygimoloch "Stiggy," and Triceratops Action Figures
Day 1,994: Mattel Jurassic World Battle Damage Pachycephalosaurus Action Figure
Day 1,999: Mattel Jurassic World Owen & Baby "Blue" Action Figure
Day 2,003: Mattel Jurassic World Gift Set 6-Pack Action Figures
Day 2,053: Mattel Jurassic World Legacy Dr. Ian Malcolm Action Figure
Day 2,098: Mattel Jurassic World Dino Rivals Destroy 'N Devour Indominus Rex Action Figure
Day 2,103: Fisher-Price Imaginext Jurassic World Dr. Malcolm & Dimetrodon Action Figures
Day 2,111: Mattel Jurassic World Dino Rivals Mussaurus Action Figure
Day 2,511: Mattel Jurassic World Dominion Roar Strikers Iguanodon Action Figure
Day 2,558: Mattel Jurassic World Dino Trackers Danger Pack Nothosaurus Action Figure
Day 2,578: Mattel Jurassic World Mosasaurus Action Figure
Day 2,602: Mattel Jurassic World Dino Trackers Danger Pack Dakosaurus Action Figure