Hybrid Dilophosaurus
Growling Action!

Jurassic World Growler
Item No.: Asst. B1633 No. B8636
Manufacturer: Hasbro
Includes: Spit projectile
Action Feature: Wound lights up when pressed, move tail for spit and sound
Retail: $14.99
Availability: September 2016
Other: Lean, Green

PREVIOUS
RSS
NEXT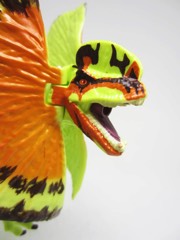 Another tribute to the The Lost World: Jurassic Park: Chaos Effect dinosaurs is the Hybrid Dilophosaurus. It's just a bright green and orange redeco of an existing toy - which as of right now, is more expensive on the secondary market - but I like neon. I do bright. All night.
The mean green lean spitting machine actually stands on my desk as I type, which his surprising. Now getting his goofy frill to stay in place, that's a challenge - they're jointed and loose, not spring-loaded and seemingly not controlled by anything but gravity and friction. Its arms and legs also move, but the out-of-the-box pose on mine was defaulted to "stands well." So I'm happy with that. This is by no means an amazingly articulated figure, but it's on par with most of what Kenner and Hasbro have Jurassic-ed out to us during the nearly year run together. And now it's all gonna go to Mattel. If the rumors are true, Mattel's got some neat stuff on the docket. But I digress.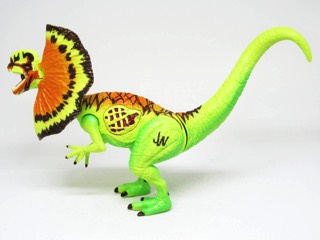 As a redeco, color choice matters - and boy howdy, did Hasbro deliver. The oatmeal tan color is gone, and instead you're getting every exotic fruit at the grocery store slapped on a spitting dino mutant. There's a metallic orange on the frill, back, and face. The yellowish green has metallic, darker green shading to bring out the sculpted folds and other details. A brown color is used to accent the figure with a swizzle all over his back. If that weren't enough, the mouth, teeth, and claws are also painted. As is the exposed flesh wound. Hasbro basically made sure you got your $15 worth here. It's pretty.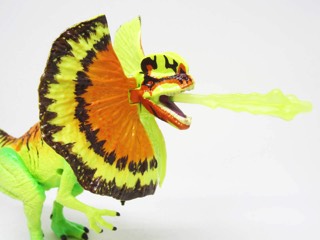 The main gimmick on the toy is poison toxic yellow phlegm in rocket form. It fits in his open mouth and shoots a short distance when you move his tail. It works. It looks goofy. Your kids, they're going to love it. If that weren't enough there's a light-up open wound where if you push on his meat and bones, it screams. I have the same functionality.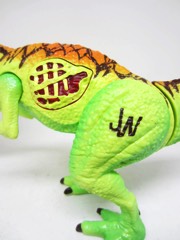 With the license going to Mattel, Hasbro is in what is sometimes called a "selldown" period - they can't make a lot of (or any) new stuff sometimes, and the old stuff is being slowly pushed through the system. Maybe at clearance, maybe at full price, but it's still out there and I'm still seeing this one in the wilds of retail. At $15, I think it's a beautiful piece and while I would hope Mattel does some like it, I wouldn't bank on it for year one. It's bonkers and a great creature, so if you see it for retail price or less I do advise that you buy one.
--Adam Pawlus
Additional Images

Click here to see more Hasbro figures in Figure of the Day.
See more Jurassic Park and Jurassic World figures in Figure of the Day:
Day 11: Hasbro Jurassic Park III Dr. Alan Grant
Day 138: Kenner Jurassic Park Chaos Effect Compstegnathus Action Figure
Day 172: Kenner Jurassic Park The Lost World Chasmosaurus Action Figure
Day 346: Kenner Jurassic Park Ian Malcolm Action Figure
Day 366: Kenner Jurassic Park Ellie Sattler Action Figure
Day 372: Hasbro Jurassic Park G.I. Joe Heavy Gunner Action Figure
Day 533: Kenner Jurassic Park Chaos Effect Amargospinus
Day 620: Hasbro Jurassic Park Pachyrhinosaurus Clash Action Figure Set
Day 651: Hasbro Jurassic Park Allosaurus Assault Action Figure Set
Day 851: Hasbro Jurassic Park Paul Kirby Action Figure
Day 1,180: Hasbro Jurassic World Tyrannosaurus Rex Action Figure
Day 1,180: Kenner Jurassic Park Alan Grant Action Figure
Day 1,196: Hasbro Jurassic World 3 Dinos Action Figure
Day 1,198: Kenner Jurassic Park Tim Murphy Action Figure
Day 1,202: Hasbro Jurassic World Spinosaurus Action Figure
Day 1,212: Kenner Jurassic Park Chaos Effect Ian Malcolm Action Figure
Day 1,216: Hasbro Jurassic World Ankylosaurus Action Figure
Day 1,219: Hasbro Jurassic World Stegoceratops Action Figure
Day 1,228: Hasbro Jurassic World Tyrannosaurus Rex Action Figure
Day 1,425: Hasbro Jurassic World Hybrid Velociraptor Action Figure
Day 1,455: Hasbro Jurassic World Bashers & Biters Indominus Rex Action Figure
Day 1,462: Hasbro Jurassic World Hybrid Tyrannosaurus Rex Action Figure
Day 1,472: Hasbro Jurassic World Pachycephalosaurus Action Figure
Day 1,509: Hasbro Jurassic World Hybrid Armor Indominus Rex Action Figure
Day 1,526: Hasbro Jurassic World Owen "Alpha" and Velociraptor "Blue" Action Figure
Day 1,528: Hasbro Jurassic World Hybrid Armor Ankylosaurus Action Figure
Day 1,540: Hasbro Jurassic World Hybrid Dilophosaurus Rex Action Figure
Day 1,550: Hasbro Jurassic World Hybrid Carnoraptor Action Figure
Day 1,560: Hasbro Jurassic World Hybrid Rampage Indominus Rex Action Figure
Day 1,567: Hasbro Jurassic World Hybrid Stegoceratops Action Figure
Day 1,573: Hasbro Jurassic World Hybrid Pteramimus Action Figure
Day 1,712: Hasbro Jurassic World Hybrid Spinosaurus Action Figure
Day 1,721: Hasbro Jurassic World Hybrid Dilophosaurus Action Figure
Day 1,918: Mattel Jurassic World Mini Action Dino Ankylosaurus Action Figure
Day 1,938: Funko Pop! Movies Jurassic Park Dr. Ian Malcolm (Wounded) Pop! Vinyl Figure
Day 1,943: Mattel Jurassic World Velociraptor "Blue" Action Figure
Day 1,950: Mattel Jurassic World Super Colossal Tyrannosaurus Rex Action Figure
Day 1,954: Mattel Jurassic World Dilophosaurus Action Figure
Day 1,959: Mattel Jurassic World Battle Damage Triceratops Action Figure
Day 1,963: Mattel Jurassic World Extreme Chompin' Tyrannosaurus Rex Action Figures
Day 1,965: Mattel Jurassic World Battle Damage Velociraptor "Blue" Action Figure
Day 1,967: Mattel Jurassic World Robert Muldoon Action Figure
Day 1,972: Mattel Jurassic World Gallimimus Action Figure
Day 1,981: Mattel Jurassic World Metriacanthosaurus Action Figure
Day 1,984: Funko Pop! Movies Jurassic Park Dr. Ian Malcolm Pop! Vinyl Figure
Day 1,989: Mattel Jurassic World Tyrannosaurus Rex, Stygimoloch "Stiggy," and Triceratops Action Figures
Day 1,994: Mattel Jurassic World Battle Damage Pachycephalosaurus Action Figure
Day 1,999: Mattel Jurassic World Owen & Baby "Blue" Action Figure
Day 2,003: Mattel Jurassic World Gift Set 6-Pack Action Figures
Day 2,053: Mattel Jurassic World Legacy Dr. Ian Malcolm Action Figure
Day 2,098: Mattel Jurassic World Dino Rivals Destroy 'N Devour Indominus Rex Action Figure
Day 2,103: Fisher-Price Imaginext Jurassic World Dr. Malcolm & Dimetrodon Action Figures
Day 2,111: Mattel Jurassic World Dino Rivals Mussaurus Action Figure
Day 2,511: Mattel Jurassic World Dominion Roar Strikers Iguanodon Action Figure
Day 2,558: Mattel Jurassic World Dino Trackers Danger Pack Nothosaurus Action Figure
Day 2,578: Mattel Jurassic World Mosasaurus Action Figure
Day 2,602: Mattel Jurassic World Dino Trackers Danger Pack Dakosaurus Action Figure