Stegoceratops
Bashing Attack!

Jurassic World Bashers and Biters
Item No.: Asst. B1271 No. B1272
Manufacturer: Hasbro
Includes: n/a
Action Feature: Tail serves as joystick to operate head mechanism
Retail: $10.99
Availability: April 2015 (May 11, 2015 street date)
Other: Green - Version 2 is Brown

PREVIOUS
RSS
NEXT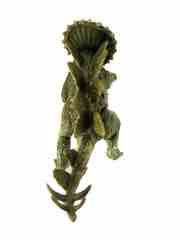 One of my absolute favorite toy concepts in the 1990s was Chaos Effect, a brief line of Jurassic Park toys in neon colors with stylized, hybrid designs. They were weird. The Jurassic World line tries to do a more "realistic" take on the notion with the Stegoceratops toys. Each one is basically a Stegosaurus toy with a Triceratops head. It doesn't make a lot of sense, but it's a twofer - you cover a lot of bases for kids, and Hasbro gets to make one dinosaur mold instead of two. If you like what you see, it's a pretty neat toy - otherwise, skip it.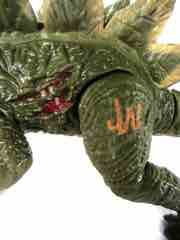 The way licensed toys are these days, it's somewhat ironic that Hasbro can't play around with them. With Star Wars and the like, things need some form of in-universe reference usually - there are exceptions, but they're far and few between. Hasbro has been allowed to make up all-new designs of non-movie dinosaurs since day one of Jurassic Park and it made for some spectacularly neat toys. Being able to deviate from the actual animals makes for interesting, if scientifically b.shtmlhemous, creations like this one. You've got a three two-horned head, plates on his back, and an honest-to-goodness thagomizer back there. The tail is a great little control mechanism. Push it down, and the head juts out. Move it to the side, and the head wags from side to side. It's a little tricky, and I suspect thrift stores will have broken ones down the road, but it's fun to mess with. The movement is significant enough that you can see it, but it's limited to the point where it's not great at toy combat. You're not going to knock over much using the tail mechanism. Just bashing the whole toy into another toy works better.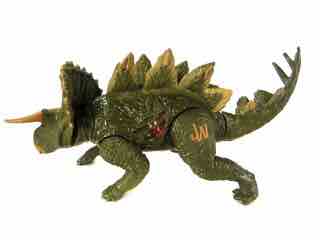 The sculpting and deco are good, and you get four articulated legs here. The head moves with the tail as a lever, but cannot be posed alone. There's a nice gash on the side with a few exposed bones, plus you get the obligatory "JW" marking on the back hip. The coloring is good, but not phenomenal - the orangeish highlights are nice, and the eyes are painted on straight on my sample. A light spray on the spines looks nice, but I don't doubt a few extra pennies could make better paint masks that really knocked your socks off. Much like the bigger toys, most of the deco budget has gone to its head. You'll also notice a painted belly, which you'll probably never notice. It's just not visible when he's standing on a table.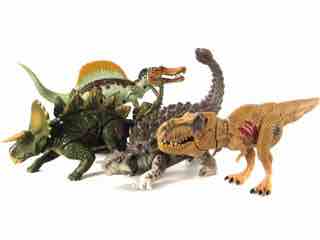 This little weirdo is a fairly sturdy-feeling toy minus that neck mechanism. I wouldn't suggest keeping it in a box with your other toys, but if you've got a shelf it should stay nice for years. Just be sure to get it before the try-me packaging allows non-customers to wreck it in-store prior to purchase. Did I mention I hate "try-me" open-tray packaging? Well, I do. Thankfully the dinosaur is neat, because the ignoring of the whole feathers and spines thing is amusingly balanced by making a freak of science. Get it if you've got ten bucks to burn, I think the Ankylosaurus is a sturdier plaything but I can't deny that this is too weird to not buy.
--Adam Pawlus
Additional Images

Click here to see more Hasbro figures in Figure of the Day.
See more Jurassic Park and Jurassic World figures in Figure of the Day:
Day 11: Hasbro Jurassic Park III Dr. Alan Grant
Day 138: Kenner Jurassic Park Chaos Effect Compstegnathus Action Figure
Day 172: Kenner Jurassic Park The Lost World Chasmosaurus Action Figure
Day 346: Kenner Jurassic Park Ian Malcolm Action Figure
Day 366: Kenner Jurassic Park Ellie Sattler Action Figure
Day 372: Hasbro Jurassic Park G.I. Joe Heavy Gunner Action Figure
Day 533: Kenner Jurassic Park Chaos Effect Amargospinus
Day 620: Hasbro Jurassic Park Pachyrhinosaurus Clash Action Figure Set
Day 651: Hasbro Jurassic Park Allosaurus Assault Action Figure Set
Day 851: Hasbro Jurassic Park Paul Kirby Action Figure
Day 1,180: Hasbro Jurassic World Tyrannosaurus Rex Action Figure
Day 1,180: Kenner Jurassic Park Alan Grant Action Figure
Day 1,196: Hasbro Jurassic World 3 Dinos Action Figure
Day 1,198: Kenner Jurassic Park Tim Murphy Action Figure
Day 1,202: Hasbro Jurassic World Spinosaurus Action Figure
Day 1,212: Kenner Jurassic Park Chaos Effect Ian Malcolm Action Figure
Day 1,216: Hasbro Jurassic World Ankylosaurus Action Figure
Day 1,219: Hasbro Jurassic World Stegoceratops Action Figure
Day 1,228: Hasbro Jurassic World Tyrannosaurus Rex Action Figure
Day 1,425: Hasbro Jurassic World Hybrid Velociraptor Action Figure
Day 1,455: Hasbro Jurassic World Bashers & Biters Indominus Rex Action Figure
Day 1,462: Hasbro Jurassic World Hybrid Tyrannosaurus Rex Action Figure
Day 1,472: Hasbro Jurassic World Pachycephalosaurus Action Figure
Day 1,509: Hasbro Jurassic World Hybrid Armor Indominus Rex Action Figure
Day 1,526: Hasbro Jurassic World Owen "Alpha" and Velociraptor "Blue" Action Figure
Day 1,528: Hasbro Jurassic World Hybrid Armor Ankylosaurus Action Figure
Day 1,540: Hasbro Jurassic World Hybrid Dilophosaurus Rex Action Figure
Day 1,550: Hasbro Jurassic World Hybrid Carnoraptor Action Figure
Day 1,560: Hasbro Jurassic World Hybrid Rampage Indominus Rex Action Figure
Day 1,567: Hasbro Jurassic World Hybrid Stegoceratops Action Figure
Day 1,573: Hasbro Jurassic World Hybrid Pteramimus Action Figure
Day 1,712: Hasbro Jurassic World Hybrid Spinosaurus Action Figure
Day 1,721: Hasbro Jurassic World Hybrid Dilophosaurus Action Figure
Day 1,918: Mattel Jurassic World Mini Action Dino Ankylosaurus Action Figure
Day 1,938: Funko Pop! Movies Jurassic Park Dr. Ian Malcolm (Wounded) Pop! Vinyl Figure
Day 1,943: Mattel Jurassic World Velociraptor "Blue" Action Figure
Day 1,950: Mattel Jurassic World Super Colossal Tyrannosaurus Rex Action Figure
Day 1,954: Mattel Jurassic World Dilophosaurus Action Figure
Day 1,959: Mattel Jurassic World Battle Damage Triceratops Action Figure
Day 1,963: Mattel Jurassic World Extreme Chompin' Tyrannosaurus Rex Action Figures
Day 1,965: Mattel Jurassic World Battle Damage Velociraptor "Blue" Action Figure
Day 1,967: Mattel Jurassic World Robert Muldoon Action Figure
Day 1,972: Mattel Jurassic World Gallimimus Action Figure
Day 1,981: Mattel Jurassic World Metriacanthosaurus Action Figure
Day 1,984: Funko Pop! Movies Jurassic Park Dr. Ian Malcolm Pop! Vinyl Figure
Day 1,989: Mattel Jurassic World Tyrannosaurus Rex, Stygimoloch "Stiggy," and Triceratops Action Figures
Day 1,994: Mattel Jurassic World Battle Damage Pachycephalosaurus Action Figure
Day 1,999: Mattel Jurassic World Owen & Baby "Blue" Action Figure
Day 2,003: Mattel Jurassic World Gift Set 6-Pack Action Figures
Day 2,053: Mattel Jurassic World Legacy Dr. Ian Malcolm Action Figure
Day 2,098: Mattel Jurassic World Dino Rivals Destroy 'N Devour Indominus Rex Action Figure
Day 2,103: Fisher-Price Imaginext Jurassic World Dr. Malcolm & Dimetrodon Action Figures
Day 2,111: Mattel Jurassic World Dino Rivals Mussaurus Action Figure
Day 2,511: Mattel Jurassic World Dominion Roar Strikers Iguanodon Action Figure
Day 2,558: Mattel Jurassic World Dino Trackers Danger Pack Nothosaurus Action Figure
Day 2,578: Mattel Jurassic World Mosasaurus Action Figure
Day 2,602: Mattel Jurassic World Dino Trackers Danger Pack Dakosaurus Action Figure