Allosaurus Assault
with Dino Damage!

Jurassic Park Dino Showdown
Item No.: Asst. A3880 No. A3895
Manufacturer: Hasbro
Includes: 2 swords, pistol, bow, backpack, figures
Action Feature: Head-Tilting Action, Dino Damage
Retail: $29.99
Availability: March 2013
Other: Exciting Enough for Me

PREVIOUS
RSS
NEXT

Everybody has their favorite dinosaurs, and the Allosaurus Assault set brings a fan favorite to life. I didn't really get that this guy had so many supporters given how few toys he's had, although in the last year this guy has popped up in Imaginext plus has had recent releases from Schleich and Papo. You've got a lot of options when you buy an Allosaurus, so why buy this one? His hunter, the amusingly named "Ash Skullstriker." Seriously, who the Hell names these things? Give them a raise.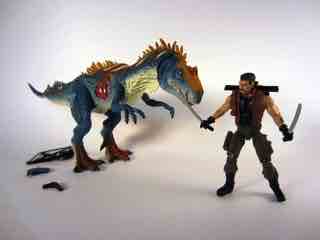 Ash (Mr. Skullstriker is his father) is basically the Rise of Cobra G.I. Joe Monkeywrench figure with different deco and a new head. His grenades are the same color as the vest and the deco is overall more simplified, and illustrations exist that indicate an earlier concept for this figure may have been an "Adventure Team meets Jurassic Park" set. This was not to be, so instead you get an all-new head with a goatee. It fits quite well.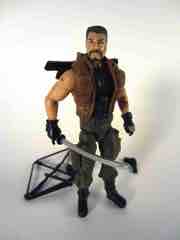 Sporting 16 points of articulation, the figure is what G.I. Joe fans expect and what Jurassic Park collectors could only dream of - with few exceptions, Jurassic Park human figures have had 5 joints. I've got an Alan Grant with knee joints, and that's a real unusual thing. Heck, the Joe-based bodies finally usher this line into the modern age as the last new humans from the Jurassic range were from the third movie, and seemed like outdated Kenner figures upon their release. (I still love them.)
Unlike Gunner Gordon, Ash is loaded with gear. He has a pistol which fits in his holster (loosely, so be careful) plus a backpack which can store two painted Ariashikage-marked swords. Rounding out the ensemble is a large bow and arrow which you've seen with other figures like Shadow Tracker from a few years ago. Since the human has no InGen or JP markings, he's likely to be just as much at home in your G.I. Joe collection as on your dinosaur shelf. Also, of the two Dino Showdown sets, this is the better human figure. But how about that dinosaur?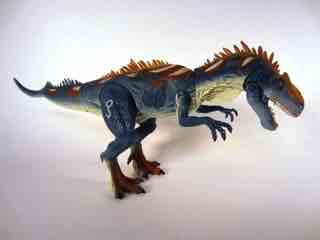 An attempt at modernizing the Allosaurus, this toy has feather-like spines on his back and a colorful coat of paint bringing his excellent sculpt to life. He also has a ton of articulation, and may be the first dinosaur in the range to sport ball-jointed ankles and shoulders plus an articulated jaw. Previous dinosaurs tended to rely on rubbery plastic, Allosaurus has a couple of joints giving him the ability to look down as well as clamp his jaws shut if you're so inclined. This gives him some added personality, as does the optional removable hunk of flesh and exposed flesh wound.
This figure feels smaller (and is significantly lighter) than his casemate, the Pachyrhinosaurus. Oh, and locally at least he seems a lot more popular. He also has an action feature, but it's pretty ignorable - if you move his right arm, his head wobbles from left to right. It isn't really fun and on my sample, the movement is a little jerky. I'd just as soon not have it, but it's better than nothing at all.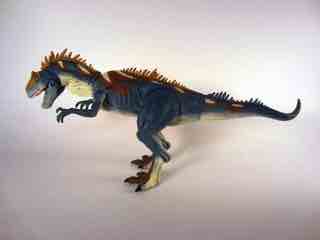 I can get unreasonably excited by "new" launches, so the first two all-new Jurassic Park dinosaurs to be released in over 10 years made for an exciting (and expensive) day at the toy store. I wasn't particularly thrilled to get an Allosaurus (as I have many other theropods) but the scaley sculpt and more modern design was fun to see. It's possible we might end up seeing feathers on our dinosaur toys more frequently very soon, so these transitional toys are shying away from the science for artistic license. It does a good job approximating what these dinosaurs may have looked like in Jurassic Park III had they appeared, and it's also worth mentioning the copyright date on these dinosaurs was of a few years ago - these were long in-development. The packaging also shows a covered-up co-sell on the bottom for "Stegosaurus Strike," one of two remaining as-of-yet unreleased new sculpts from the past few years. Maybe we'll get him for Jurassic Park IV?
--Adam Pawlus
Additional Images

Click here to see more Hasbro figures in Figure of the Day.
See more Jurassic Park and Jurassic World figures in Figure of the Day:
Day 11: Hasbro Jurassic Park III Dr. Alan Grant
Day 138: Kenner Jurassic Park Chaos Effect Compstegnathus Action Figure
Day 172: Kenner Jurassic Park The Lost World Chasmosaurus Action Figure
Day 346: Kenner Jurassic Park Ian Malcolm Action Figure
Day 366: Kenner Jurassic Park Ellie Sattler Action Figure
Day 372: Hasbro Jurassic Park G.I. Joe Heavy Gunner Action Figure
Day 533: Kenner Jurassic Park Chaos Effect Amargospinus
Day 620: Hasbro Jurassic Park Pachyrhinosaurus Clash Action Figure Set
Day 651: Hasbro Jurassic Park Allosaurus Assault Action Figure Set
Day 851: Hasbro Jurassic Park Paul Kirby Action Figure
Day 1,180: Hasbro Jurassic World Tyrannosaurus Rex Action Figure
Day 1,180: Kenner Jurassic Park Alan Grant Action Figure
Day 1,196: Hasbro Jurassic World 3 Dinos Action Figure
Day 1,198: Kenner Jurassic Park Tim Murphy Action Figure
Day 1,202: Hasbro Jurassic World Spinosaurus Action Figure
Day 1,212: Kenner Jurassic Park Chaos Effect Ian Malcolm Action Figure
Day 1,216: Hasbro Jurassic World Ankylosaurus Action Figure
Day 1,219: Hasbro Jurassic World Stegoceratops Action Figure
Day 1,228: Hasbro Jurassic World Tyrannosaurus Rex Action Figure
Day 1,425: Hasbro Jurassic World Hybrid Velociraptor Action Figure
Day 1,455: Hasbro Jurassic World Bashers & Biters Indominus Rex Action Figure
Day 1,462: Hasbro Jurassic World Hybrid Tyrannosaurus Rex Action Figure
Day 1,472: Hasbro Jurassic World Pachycephalosaurus Action Figure
Day 1,509: Hasbro Jurassic World Hybrid Armor Indominus Rex Action Figure
Day 1,526: Hasbro Jurassic World Owen "Alpha" and Velociraptor "Blue" Action Figure
Day 1,528: Hasbro Jurassic World Hybrid Armor Ankylosaurus Action Figure
Day 1,540: Hasbro Jurassic World Hybrid Dilophosaurus Rex Action Figure
Day 1,550: Hasbro Jurassic World Hybrid Carnoraptor Action Figure
Day 1,560: Hasbro Jurassic World Hybrid Rampage Indominus Rex Action Figure
Day 1,567: Hasbro Jurassic World Hybrid Stegoceratops Action Figure
Day 1,573: Hasbro Jurassic World Hybrid Pteramimus Action Figure
Day 1,712: Hasbro Jurassic World Hybrid Spinosaurus Action Figure
Day 1,721: Hasbro Jurassic World Hybrid Dilophosaurus Action Figure
Day 1,918: Mattel Jurassic World Mini Action Dino Ankylosaurus Action Figure
Day 1,938: Funko Pop! Movies Jurassic Park Dr. Ian Malcolm (Wounded) Pop! Vinyl Figure
Day 1,943: Mattel Jurassic World Velociraptor "Blue" Action Figure
Day 1,950: Mattel Jurassic World Super Colossal Tyrannosaurus Rex Action Figure
Day 1,954: Mattel Jurassic World Dilophosaurus Action Figure
Day 1,959: Mattel Jurassic World Battle Damage Triceratops Action Figure
Day 1,963: Mattel Jurassic World Extreme Chompin' Tyrannosaurus Rex Action Figures
Day 1,965: Mattel Jurassic World Battle Damage Velociraptor "Blue" Action Figure
Day 1,967: Mattel Jurassic World Robert Muldoon Action Figure
Day 1,972: Mattel Jurassic World Gallimimus Action Figure
Day 1,981: Mattel Jurassic World Metriacanthosaurus Action Figure
Day 1,984: Funko Pop! Movies Jurassic Park Dr. Ian Malcolm Pop! Vinyl Figure
Day 1,989: Mattel Jurassic World Tyrannosaurus Rex, Stygimoloch "Stiggy," and Triceratops Action Figures
Day 1,994: Mattel Jurassic World Battle Damage Pachycephalosaurus Action Figure
Day 1,999: Mattel Jurassic World Owen & Baby "Blue" Action Figure
Day 2,003: Mattel Jurassic World Gift Set 6-Pack Action Figures
Day 2,053: Mattel Jurassic World Legacy Dr. Ian Malcolm Action Figure
Day 2,098: Mattel Jurassic World Dino Rivals Destroy 'N Devour Indominus Rex Action Figure
Day 2,103: Fisher-Price Imaginext Jurassic World Dr. Malcolm & Dimetrodon Action Figures
Day 2,111: Mattel Jurassic World Dino Rivals Mussaurus Action Figure
Day 2,511: Mattel Jurassic World Dominion Roar Strikers Iguanodon Action Figure
Day 2,558: Mattel Jurassic World Dino Trackers Danger Pack Nothosaurus Action Figure
Day 2,578: Mattel Jurassic World Mosasaurus Action Figure
Day 2,602: Mattel Jurassic World Dino Trackers Danger Pack Dakosaurus Action Figure