Amargospinus
Amargosaurus + Spinosaurus

Jurassic Park Chaos Effect Carded Dinosaurs
Item No.: Asst. 71135 No. 71148
Manufacturer: Kenner
Includes: n/a
Action Feature: Attack Jaws & Ultra-Defense Neck Spikes
Retail: $5.99
Availability: 1998
Other: One of three new carded dinosaur molds for Chaos Effect

PREVIOUS
RSS
NEXT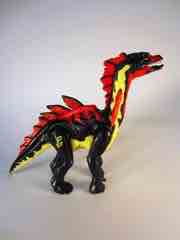 The Amargospinus is one of those weird toys clearly meant for kids that, as a young college student, I saw and said "Yeah, let me get a few of these." After all, when money is super-tight, one needs this bizarre red, black, and yellow dinosaur action figure. The gimmick here is that Kenner made up new dinosaurs with gene splicing, a conceit whose satirical content was best exploited via Gremlins 2: The New Batch roughly 10 years earlier. In the case of this toy, they mixed the Spinosaurus with the Amargosaurus, the latter of which I had no concept of when I saw this toy. Basically, it's sort of like an Apatosaurus with some spines or a frill on its neck, and this one adds bigger, meaner teeth and more spikes and plates. It's goofy but totally lovable.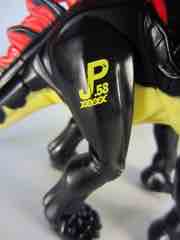 Standing about 5 1/2-inches tall, it's a really neat and reasonably simple figure. Its only real articulation is at each of the four legs, plus there's a swell leg-activated mechanism that opens the jaw while causing some spikes on his back and the sides of his neck to stick out. It's really not for any good reason, but it's fun to play with as a toy. Unlike other figures in the line, it doesn't have any real bashing or fighting actions, it just sort of grazes and sticks out pointy bits menacingly. The froglike-coloring is weird, but not exactly out of the ordinary for the 1990s. Bright, neon-like colors were the norm and a number of manufacturers did some variation on those Amazonian poison dart frog things. It was a thing kids would probably know well at the time.
As a big fan of Kenner-style toys, especially for their simplicity and weirdness, this is a favorite. I'm a little disappointed that they came out so long after I was, uh, too old for toys but that's never really stopped me. I have a feeling a few kids out there got and adored these, or maybe were just driven batty by their lack of scientific accuracy. This line was sort of a last hurrah for The Lost World as a movie, Kenner more or less stopped new development on this line and dropped some fun line extensions after this line, I guess, failed to do whatever it was they wanted. A ton of glow-in-the-dark figures were to have been next, and I've always been a little upset we never got the ridiculous "Night Hunter Series" sub-line.
--Adam Pawlus
Additional Images

See more Kenner figures in Figure of the Day:
Day 98: Kenner Beast Wars Transformers Noctorro Action Figure
Day 99: Kenner Beast Wars Transformers Air Hammer Action Figure
Day 100: Kenner Beast Wars Transformers Torca Action Figure
Day 101: Kenner Beast Wars Transformers Terragator Action Figure
Day 102: Kenner Beast Wars Transformers Quickstrike Action Figure
Day 114: Kenner Total Justice Mail-In Superman Action Figure
Day 133: Kenner Q*Bert Wind-Up Q*Bert Action Figure
Day 138: Kenner Jurassic Park Chaos Effect Compstegnathus Action Figure
Day 172: Kenner Jurassic Park The Lost World Chasmosaurus Action Figure
Day 195: Kenner ALIENS Arachnid Alien Action Figure
Day 211: Kenner Predator Cracked Tusk Predator Action Figure
Day 234: Kenner ALIENS Scorpion Alien Action Figure
Day 250: Kenner ALIENS Panther Alien Action Figure
Day 256: Kenner ALIENS Gorilla Alien Action Figure
Day 261: Kenner ALIENS Bull Alien Action Figure
Day 285: Kenner ALIENS Hive Wars Warrior Predator
Day 317: Kenner ALIENS vs. Predator 10-Inch Alien Action Figure
Day 346: Kenner Jurassic Park Ian Malcolm Action Figure
Day 356: Kenner Action Masters Predator
Day 359: Kenner ALIENS Hive Wars Acid Alien Action Figure
Day 365: Kenner ALIENS Vasquez Action Figure
Day 366: Kenner Jurassic Park Ellie Sattler Action Figure
Day 381: Kenner ALIENS Action Masters Ripley
Day 397: Kenner ALIENS Mantis Alien
Day 398: Kenner Batman: The Animated Series Clayface
Day 408: Kenner Legends of Batman Future Batman
Day 421: Kenner Bone Age Crag the Clubber Action Figure
Day 437: Kenner SilverHawks Copper Kidd Action Figure
Day 441: Kenner Batman: The Animated Series Harley Quinn
Day 443: Kenner Batman: The Animated Series Machine Gun Joker
Day 444: Kenner Batman: The Animated Movie Mask of the Phantasm Phantasm
Day 446: Kenner Legends of Batman Knightquest Batman
Day 457: Kenner Batman: The Animated Series Ra's Al Ghul
Day 533: Kenner Jurassic Park Chaos Effect Amargospinus
Day 848: Kenner Transformers Beast Wars Terrorsaur
Day 903: Kenner Transformers Beast Wars Rattrap
Day 956: Kenner Transformers Beast Wars Claw Jaw
Day 1,140: Kenner M.A.S.K. T-Bob with Scott Trakker Action Figure
Day 1,180: Kenner Jurassic Park Alan Grant Action Figure
Day 1,198: Kenner Jurassic Park Tim Murphy Action Figure
Day 1,212: Kenner Jurassic Park Chaos Effect Ian Malcolm Action Figure
Day 1,248: Kenner M.A.S.K. Condor with Brad Turner Action Figure
Day 1,445: Kenner Transformers Beast Wars Cybershark
Day 1,452: Kenner Beast Wars Transformers Fuzors Injector
Day 1,486: Kenner Beast Wars Transformers Spittor
Day 2,179: Kenner Aliens Wild Boar Alien Action Figure
Day 2,190: Kenner Batman: The Dark Knight Collection Tec-Shield Batman Action Figure
Day 2,199: Kenner Batman Returns Penguin Commandos Action Figures
Day 2,217: Kenner Batman: The Dark Knight Collection Iron Winch Batman Action Figure
Day 2,622: Kenner Batman: The Animated Series Killer Croc Action Figure

See more Jurassic Park and Jurassic World figures in Figure of the Day:
Day 11: Hasbro Jurassic Park III Dr. Alan Grant
Day 138: Kenner Jurassic Park Chaos Effect Compstegnathus Action Figure
Day 172: Kenner Jurassic Park The Lost World Chasmosaurus Action Figure
Day 346: Kenner Jurassic Park Ian Malcolm Action Figure
Day 366: Kenner Jurassic Park Ellie Sattler Action Figure
Day 372: Hasbro Jurassic Park G.I. Joe Heavy Gunner Action Figure
Day 533: Kenner Jurassic Park Chaos Effect Amargospinus
Day 620: Hasbro Jurassic Park Pachyrhinosaurus Clash Action Figure Set
Day 651: Hasbro Jurassic Park Allosaurus Assault Action Figure Set
Day 851: Hasbro Jurassic Park Paul Kirby Action Figure
Day 1,180: Hasbro Jurassic World Tyrannosaurus Rex Action Figure
Day 1,180: Kenner Jurassic Park Alan Grant Action Figure
Day 1,196: Hasbro Jurassic World 3 Dinos Action Figure
Day 1,198: Kenner Jurassic Park Tim Murphy Action Figure
Day 1,202: Hasbro Jurassic World Spinosaurus Action Figure
Day 1,212: Kenner Jurassic Park Chaos Effect Ian Malcolm Action Figure
Day 1,216: Hasbro Jurassic World Ankylosaurus Action Figure
Day 1,219: Hasbro Jurassic World Stegoceratops Action Figure
Day 1,228: Hasbro Jurassic World Tyrannosaurus Rex Action Figure
Day 1,425: Hasbro Jurassic World Hybrid Velociraptor Action Figure
Day 1,455: Hasbro Jurassic World Bashers & Biters Indominus Rex Action Figure
Day 1,462: Hasbro Jurassic World Hybrid Tyrannosaurus Rex Action Figure
Day 1,472: Hasbro Jurassic World Pachycephalosaurus Action Figure
Day 1,509: Hasbro Jurassic World Hybrid Armor Indominus Rex Action Figure
Day 1,526: Hasbro Jurassic World Owen "Alpha" and Velociraptor "Blue" Action Figure
Day 1,528: Hasbro Jurassic World Hybrid Armor Ankylosaurus Action Figure
Day 1,540: Hasbro Jurassic World Hybrid Dilophosaurus Rex Action Figure
Day 1,550: Hasbro Jurassic World Hybrid Carnoraptor Action Figure
Day 1,560: Hasbro Jurassic World Hybrid Rampage Indominus Rex Action Figure
Day 1,567: Hasbro Jurassic World Hybrid Stegoceratops Action Figure
Day 1,573: Hasbro Jurassic World Hybrid Pteramimus Action Figure
Day 1,712: Hasbro Jurassic World Hybrid Spinosaurus Action Figure
Day 1,721: Hasbro Jurassic World Hybrid Dilophosaurus Action Figure
Day 1,918: Mattel Jurassic World Mini Action Dino Ankylosaurus Action Figure
Day 1,938: Funko Pop! Movies Jurassic Park Dr. Ian Malcolm (Wounded) Pop! Vinyl Figure
Day 1,943: Mattel Jurassic World Velociraptor "Blue" Action Figure
Day 1,950: Mattel Jurassic World Super Colossal Tyrannosaurus Rex Action Figure
Day 1,954: Mattel Jurassic World Dilophosaurus Action Figure
Day 1,959: Mattel Jurassic World Battle Damage Triceratops Action Figure
Day 1,963: Mattel Jurassic World Extreme Chompin' Tyrannosaurus Rex Action Figures
Day 1,965: Mattel Jurassic World Battle Damage Velociraptor "Blue" Action Figure
Day 1,967: Mattel Jurassic World Robert Muldoon Action Figure
Day 1,972: Mattel Jurassic World Gallimimus Action Figure
Day 1,981: Mattel Jurassic World Metriacanthosaurus Action Figure
Day 1,984: Funko Pop! Movies Jurassic Park Dr. Ian Malcolm Pop! Vinyl Figure
Day 1,989: Mattel Jurassic World Tyrannosaurus Rex, Stygimoloch "Stiggy," and Triceratops Action Figures
Day 1,994: Mattel Jurassic World Battle Damage Pachycephalosaurus Action Figure
Day 1,999: Mattel Jurassic World Owen & Baby "Blue" Action Figure
Day 2,003: Mattel Jurassic World Gift Set 6-Pack Action Figures
Day 2,053: Mattel Jurassic World Legacy Dr. Ian Malcolm Action Figure
Day 2,098: Mattel Jurassic World Dino Rivals Destroy 'N Devour Indominus Rex Action Figure
Day 2,103: Fisher-Price Imaginext Jurassic World Dr. Malcolm & Dimetrodon Action Figures
Day 2,111: Mattel Jurassic World Dino Rivals Mussaurus Action Figure
Day 2,511: Mattel Jurassic World Dominion Roar Strikers Iguanodon Action Figure
Day 2,558: Mattel Jurassic World Dino Trackers Danger Pack Nothosaurus Action Figure
Day 2,578: Mattel Jurassic World Mosasaurus Action Figure
Day 2,602: Mattel Jurassic World Dino Trackers Danger Pack Dakosaurus Action Figure

Want to buy this figure? Check Jurassic Park availability at our sponsors:
Entertainment Earth