Pachyrhinosaurus Clash
with Dino Damage!

Jurassic Park Dino Showdown
Item No.: Asst. A3880 No. A3896
Manufacturer: Hasbro
Includes: n/a
Action Feature: Head-Ramming Action, Dino Damage
Retail: $29.99
Availability: March 2013
Other: Exciting Enough for Me

PREVIOUS
RSS
NEXT

The Pachyrhinosaurus Clash set has been in development for years. Leaked prototypes and a very telling 2010 copyright date on its foot tell some of the tale, and (of course) Jurassic Joe samples have been popping up on eBay over the last few years... so the pairing of Jurassic Park dinosaurs with G.I. Joe-based action figures is not only highly anticipated, it's a long time coming. This set includes a Pachyrhinosaurus dinosaur as well as Gunner Gordon, a new character with a brand-new head on an existing 2009 G.I. Joe Resolute Cobra Trooper body completely devoid of copyright markings. Score one for Hasbro being clever... I actually half-expected them to reuse Joe bodies for figures for Battleship but well, obviously, that didn't happen. But this is totally cool.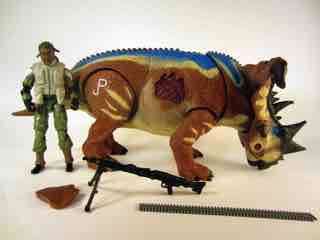 It's worth noting that the set itself is incredibly odd on so many levels, not the least of which is that it came with little publicity, and has absolutely nothing to do with the movies. The human characters are (as far as I can tell) completely new and these dinosaurs were not a part of the films. So why are they here? Common collector wisdom says a Jurassic Park 3D tie-in to that movie's April 5 release date. Where's Jeff Goldblum? Or the T-Rex? Or Newman? Or Samuel L. Jackson? (I'm being facetious because honestly, Gunner Gordon is more interesting and mostly bizarre.)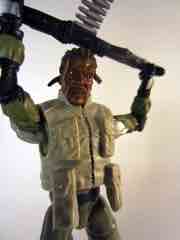 The goofy name Gunner Gordon more or less works because he's got a machine gun and, I assume, the name his mother gave him is Gordon. The once-blue Cobra Trooper now has green clothing with a tan vest, and at first glance it's not remotely obvious where it came from. With 16 points of articulation, this body type could probably be easily adapted to countless other figures, and it's notable that Hasbro's reusing its vast resources on other brands. I have no idea if this character is a reference to something, perhaps a Hasbro employee or a comic character, but it looks pretty spectacular. On the box the figure has white painted teeth, but the sample only has two-tone hair, an earring, some facial hair, and incredibly expressive eyes. I wouldn't necessarily say that the head is realistic, but I will say it's swimming with more personality than I'm used to seeing at this scale. The askew mouth and arched eyebrows tell a little bit of a story, which is a departure from most figures in this scale which just come out looking bored. Unlike earlier "Jurassic Joe" hybrid samples, this figure has no INGen or JP markings, it's just a fairly generic quasi-military outfit. I would say this is a step away from the right direction, as JP branding has been one of the line's hallmarks since the very beginning.
Gordon's gear is pretty light - you get a machine gun, an ammo belt, and a bipod. The other accessory in the box is a chunk of "dino damage" flesh which plugs into the poor wounded Pachyrhinosaurus, and older fans will recall "dino damage" has been as integral to this brand back in its Kenner days as the early TV spots telling kids to "look for the JP logo." It plugs right in to the body.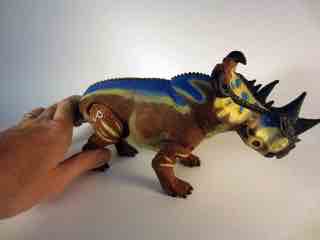 The dinosaur is a $20 chunk of the set. The pairing of G.I. Joe and Jurassic Park is pretty exciting (if not official. Supposedly an Adventure Team crossover was scrapped.) The big dinosaur has a 2010 copyright date and a January 11, 2013 manufacture date (that's the 30111 on the box and carved into the foot), so it's plenty new and Hasbro didn't really go out of their way to let people know it was coming, despite samples of unpainted Pachyrhinosaurus toys having shown up in 2010/2011 along with a Carnotaurus, Stegosaurus, and the just-released Allosaurus. The sculpting is phenomenal as usual, with loads of detail and a decent amount of articulation. The scaley hide looks like it must have taken dozens of hours to craft, and the head is loaded with detail in the horns and on the back of the head. It's worth noting that not only is there a head-ramming action activated by pulling the back foot, but also a ball joint on the neck so the head can look around. The figure sports an articulated jaw, with an unpainted mouth inside. Well, nothing's perfect.
In terms of deco, the figure is a little flamboyant but I like it. The brown plastic reptile has yellow and blue markings, plus (for some reason) gold eyes. A white JP cutie mark on his hip almost seems out of place here, as the sculpted dinosaur looks incredibly good for this line and this serves as a reminder that it's a toy. It's not too exaggerated in its proportions, coming in slightly smaller than what the fossil record might show us relative to the included Gunner Gordon figure.
Gravity is really the only problem with this figure, as his head will go down to look like it's grazing. Tugging on his leg activates a head mechanism, but he's still looking down. He's very depressed. Don't talk to him about life.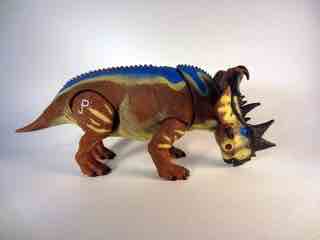 The 2013 toy marketplace has few realistic dinosaur toys available from the big toy makers, but the funny thing is they're mostly at Toys R Us. I can understand why Hasbro would give Jurassic Park to the toy giant as an exclusive, but they face competition from significantly cheaper Chap Mei dinosaurs in the Animal Planet line in the "science" section of the store where you can get a dinosaur, a figure, a vehicle, and some other gear for about fifteen bucks. As such, the set feels like it's a hang glider or a motorcycle short from being a great value, although I do believe action figure collectors will have little problem justifying the purchase. After all, a G.I. Joe figure is about $10 these days, and the dinosaur looks like it's worth about $20. That was my logic in chasing one down, anyway. I look forward to seeing what Hasbro does for the next movie, particularly if it has nothing to do with the actual movie.
--Adam Pawlus
Additional Images

Click here to see more Hasbro figures in Figure of the Day.
See more Jurassic Park and Jurassic World figures in Figure of the Day:
Day 11: Hasbro Jurassic Park III Dr. Alan Grant
Day 138: Kenner Jurassic Park Chaos Effect Compstegnathus Action Figure
Day 172: Kenner Jurassic Park The Lost World Chasmosaurus Action Figure
Day 346: Kenner Jurassic Park Ian Malcolm Action Figure
Day 366: Kenner Jurassic Park Ellie Sattler Action Figure
Day 372: Hasbro Jurassic Park G.I. Joe Heavy Gunner Action Figure
Day 533: Kenner Jurassic Park Chaos Effect Amargospinus
Day 620: Hasbro Jurassic Park Pachyrhinosaurus Clash Action Figure Set
Day 651: Hasbro Jurassic Park Allosaurus Assault Action Figure Set
Day 851: Hasbro Jurassic Park Paul Kirby Action Figure
Day 1,180: Hasbro Jurassic World Tyrannosaurus Rex Action Figure
Day 1,180: Kenner Jurassic Park Alan Grant Action Figure
Day 1,196: Hasbro Jurassic World 3 Dinos Action Figure
Day 1,198: Kenner Jurassic Park Tim Murphy Action Figure
Day 1,202: Hasbro Jurassic World Spinosaurus Action Figure
Day 1,212: Kenner Jurassic Park Chaos Effect Ian Malcolm Action Figure
Day 1,216: Hasbro Jurassic World Ankylosaurus Action Figure
Day 1,219: Hasbro Jurassic World Stegoceratops Action Figure
Day 1,228: Hasbro Jurassic World Tyrannosaurus Rex Action Figure
Day 1,425: Hasbro Jurassic World Hybrid Velociraptor Action Figure
Day 1,455: Hasbro Jurassic World Bashers & Biters Indominus Rex Action Figure
Day 1,462: Hasbro Jurassic World Hybrid Tyrannosaurus Rex Action Figure
Day 1,472: Hasbro Jurassic World Pachycephalosaurus Action Figure
Day 1,509: Hasbro Jurassic World Hybrid Armor Indominus Rex Action Figure
Day 1,526: Hasbro Jurassic World Owen "Alpha" and Velociraptor "Blue" Action Figure
Day 1,528: Hasbro Jurassic World Hybrid Armor Ankylosaurus Action Figure
Day 1,540: Hasbro Jurassic World Hybrid Dilophosaurus Rex Action Figure
Day 1,550: Hasbro Jurassic World Hybrid Carnoraptor Action Figure
Day 1,560: Hasbro Jurassic World Hybrid Rampage Indominus Rex Action Figure
Day 1,567: Hasbro Jurassic World Hybrid Stegoceratops Action Figure
Day 1,573: Hasbro Jurassic World Hybrid Pteramimus Action Figure
Day 1,712: Hasbro Jurassic World Hybrid Spinosaurus Action Figure
Day 1,721: Hasbro Jurassic World Hybrid Dilophosaurus Action Figure
Day 1,918: Mattel Jurassic World Mini Action Dino Ankylosaurus Action Figure
Day 1,938: Funko Pop! Movies Jurassic Park Dr. Ian Malcolm (Wounded) Pop! Vinyl Figure
Day 1,943: Mattel Jurassic World Velociraptor "Blue" Action Figure
Day 1,950: Mattel Jurassic World Super Colossal Tyrannosaurus Rex Action Figure
Day 1,954: Mattel Jurassic World Dilophosaurus Action Figure
Day 1,959: Mattel Jurassic World Battle Damage Triceratops Action Figure
Day 1,963: Mattel Jurassic World Extreme Chompin' Tyrannosaurus Rex Action Figures
Day 1,965: Mattel Jurassic World Battle Damage Velociraptor "Blue" Action Figure
Day 1,967: Mattel Jurassic World Robert Muldoon Action Figure
Day 1,972: Mattel Jurassic World Gallimimus Action Figure
Day 1,981: Mattel Jurassic World Metriacanthosaurus Action Figure
Day 1,984: Funko Pop! Movies Jurassic Park Dr. Ian Malcolm Pop! Vinyl Figure
Day 1,989: Mattel Jurassic World Tyrannosaurus Rex, Stygimoloch "Stiggy," and Triceratops Action Figures
Day 1,994: Mattel Jurassic World Battle Damage Pachycephalosaurus Action Figure
Day 1,999: Mattel Jurassic World Owen & Baby "Blue" Action Figure
Day 2,003: Mattel Jurassic World Gift Set 6-Pack Action Figures
Day 2,053: Mattel Jurassic World Legacy Dr. Ian Malcolm Action Figure
Day 2,098: Mattel Jurassic World Dino Rivals Destroy 'N Devour Indominus Rex Action Figure
Day 2,103: Fisher-Price Imaginext Jurassic World Dr. Malcolm & Dimetrodon Action Figures
Day 2,111: Mattel Jurassic World Dino Rivals Mussaurus Action Figure
Day 2,511: Mattel Jurassic World Dominion Roar Strikers Iguanodon Action Figure
Day 2,558: Mattel Jurassic World Dino Trackers Danger Pack Nothosaurus Action Figure
Day 2,578: Mattel Jurassic World Mosasaurus Action Figure
Day 2,602: Mattel Jurassic World Dino Trackers Danger Pack Dakosaurus Action Figure