Pachycephalosaurus
Bashing Attack!

Jurassic World Bashers and Biters
Item No.: Asst. B1271 No. B1829
Manufacturer: Hasbro
Includes: n/a
Action Feature: Tail moves neck and tilts skull
Retail: $10.99
Availability: April 2015 (May 11, 2015 street date)
Other: Not bad, not big either

PREVIOUS
RSS
NEXT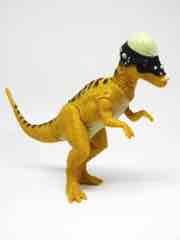 Easy for you to say! The Pachycephalosaurus is a go-to for most of Kenner's Jurassic Park outings, skipping the third movie (like so many fans). You might have a bone-headed dinosaur already, as it's a popular creature even though they didn't appear in the first movie. Despite being a traditionally popular creature, this particular one didn't sell well - as I write this, Walmarts near me have pegs of him (and just him) all over town for a mere $5. He's totally worth the $5, and it's unfortunate that he didn't move out sooner. He stands, and he's got a nice bony head.
Standing at roughly five whole inches tall with a slightly longer tail, with a paint job that's on the happy side of acceptable. The bony head gets most of the love and attention, with a cream colored skull and horns with some dark coloring around them. The eyes are small and squinting, so you won't find a ton of personality there. Thankfully, he has this wonderful little sneer sculpted into his mouth.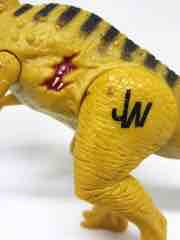 The body is similarly good, but lacks paint. None of his claws are decorated, but Hasbro was pretty generous with a ladder of black stripes down his back. There are some bony spines coming out of his side, plus the usual skin folds and creases that you've come to expect and completely deserve in a fine dinosaur toy. Since it's a licensed Jurassic product, there are no feathers - and I assume at this rate, there will never be feathers. You do get the obligatory JW cutie mark and a bloody gash in his side, albeit not as big as some others. On the opposite side is a mostly clean creature, but there are a few holes for screws to keep it together.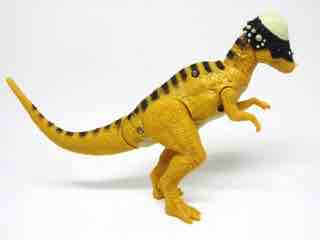 The toy's action feature is a sensible one - a bashing head attack. If you turn the tail left or right, the head moves side-to-side. If you move the tail up and down, the neck actually extends out to butt into another toy. It's a neat idea, but it doesn't move a lot. The tail also upsets the toy's balance, so as an actual play feature goes it's merely novel as a packaging gimmick. If you're a kid, you'll just take the whole toy and slam it into its opponent - it's much more effective that way. Otherwise you'd have to get right up next to another toy to tap it slightly. A button-activated spring-loaded gimmick might work better, but also look goofy. This one looks perfectly acceptable.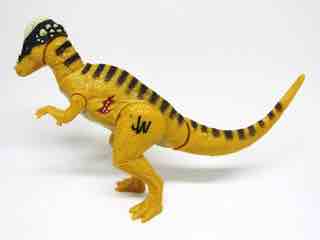 The toy is clearance fodder, and totally worth it. Given the vastness of inflation since the original film, it's not a bad deal at regular full price either. I had no problems getting mine standing upright, so I'd say it's arguably worth your while if you don't have other bone-headed dinosaurs in your toy box. I got my money's worth, but I would argue it's a better value as a cheap thrill.
--Adam Pawlus
Additional Images

Click here to see more Hasbro figures in Figure of the Day.
See more Jurassic Park and Jurassic World figures in Figure of the Day:
Day 11: Hasbro Jurassic Park III Dr. Alan Grant
Day 138: Kenner Jurassic Park Chaos Effect Compstegnathus Action Figure
Day 172: Kenner Jurassic Park The Lost World Chasmosaurus Action Figure
Day 346: Kenner Jurassic Park Ian Malcolm Action Figure
Day 366: Kenner Jurassic Park Ellie Sattler Action Figure
Day 372: Hasbro Jurassic Park G.I. Joe Heavy Gunner Action Figure
Day 533: Kenner Jurassic Park Chaos Effect Amargospinus
Day 620: Hasbro Jurassic Park Pachyrhinosaurus Clash Action Figure Set
Day 651: Hasbro Jurassic Park Allosaurus Assault Action Figure Set
Day 851: Hasbro Jurassic Park Paul Kirby Action Figure
Day 1,180: Hasbro Jurassic World Tyrannosaurus Rex Action Figure
Day 1,180: Kenner Jurassic Park Alan Grant Action Figure
Day 1,196: Hasbro Jurassic World 3 Dinos Action Figure
Day 1,198: Kenner Jurassic Park Tim Murphy Action Figure
Day 1,202: Hasbro Jurassic World Spinosaurus Action Figure
Day 1,212: Kenner Jurassic Park Chaos Effect Ian Malcolm Action Figure
Day 1,216: Hasbro Jurassic World Ankylosaurus Action Figure
Day 1,219: Hasbro Jurassic World Stegoceratops Action Figure
Day 1,228: Hasbro Jurassic World Tyrannosaurus Rex Action Figure
Day 1,425: Hasbro Jurassic World Hybrid Velociraptor Action Figure
Day 1,455: Hasbro Jurassic World Bashers & Biters Indominus Rex Action Figure
Day 1,462: Hasbro Jurassic World Hybrid Tyrannosaurus Rex Action Figure
Day 1,472: Hasbro Jurassic World Pachycephalosaurus Action Figure
Day 1,509: Hasbro Jurassic World Hybrid Armor Indominus Rex Action Figure
Day 1,526: Hasbro Jurassic World Owen "Alpha" and Velociraptor "Blue" Action Figure
Day 1,528: Hasbro Jurassic World Hybrid Armor Ankylosaurus Action Figure
Day 1,540: Hasbro Jurassic World Hybrid Dilophosaurus Rex Action Figure
Day 1,550: Hasbro Jurassic World Hybrid Carnoraptor Action Figure
Day 1,560: Hasbro Jurassic World Hybrid Rampage Indominus Rex Action Figure
Day 1,567: Hasbro Jurassic World Hybrid Stegoceratops Action Figure
Day 1,573: Hasbro Jurassic World Hybrid Pteramimus Action Figure
Day 1,712: Hasbro Jurassic World Hybrid Spinosaurus Action Figure
Day 1,721: Hasbro Jurassic World Hybrid Dilophosaurus Action Figure
Day 1,918: Mattel Jurassic World Mini Action Dino Ankylosaurus Action Figure
Day 1,938: Funko Pop! Movies Jurassic Park Dr. Ian Malcolm (Wounded) Pop! Vinyl Figure
Day 1,943: Mattel Jurassic World Velociraptor "Blue" Action Figure
Day 1,950: Mattel Jurassic World Super Colossal Tyrannosaurus Rex Action Figure
Day 1,954: Mattel Jurassic World Dilophosaurus Action Figure
Day 1,959: Mattel Jurassic World Battle Damage Triceratops Action Figure
Day 1,963: Mattel Jurassic World Extreme Chompin' Tyrannosaurus Rex Action Figures
Day 1,965: Mattel Jurassic World Battle Damage Velociraptor "Blue" Action Figure
Day 1,967: Mattel Jurassic World Robert Muldoon Action Figure
Day 1,972: Mattel Jurassic World Gallimimus Action Figure
Day 1,981: Mattel Jurassic World Metriacanthosaurus Action Figure
Day 1,984: Funko Pop! Movies Jurassic Park Dr. Ian Malcolm Pop! Vinyl Figure
Day 1,989: Mattel Jurassic World Tyrannosaurus Rex, Stygimoloch "Stiggy," and Triceratops Action Figures
Day 1,994: Mattel Jurassic World Battle Damage Pachycephalosaurus Action Figure
Day 1,999: Mattel Jurassic World Owen & Baby "Blue" Action Figure
Day 2,003: Mattel Jurassic World Gift Set 6-Pack Action Figures
Day 2,053: Mattel Jurassic World Legacy Dr. Ian Malcolm Action Figure
Day 2,098: Mattel Jurassic World Dino Rivals Destroy 'N Devour Indominus Rex Action Figure
Day 2,103: Fisher-Price Imaginext Jurassic World Dr. Malcolm & Dimetrodon Action Figures
Day 2,111: Mattel Jurassic World Dino Rivals Mussaurus Action Figure
Day 2,511: Mattel Jurassic World Dominion Roar Strikers Iguanodon Action Figure
Day 2,558: Mattel Jurassic World Dino Trackers Danger Pack Nothosaurus Action Figure
Day 2,578: Mattel Jurassic World Mosasaurus Action Figure
Day 2,602: Mattel Jurassic World Dino Trackers Danger Pack Dakosaurus Action Figure