3 Dinos
T-Rex, Mosasaurus, Triceratops

Jurassic World Walmart Exclusive Figure Tube
Item No.: Asst. B1515 No. B1519
Manufacturer: Hasbro
Includes: n/a
Action Feature: n/a
Retail: $4.44
Availability: May 2015
Other: One of Many

PREVIOUS
RSS
NEXT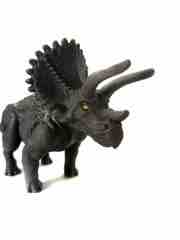 There are multiple styles of the 3 Dinos tube, as well as blind-bagged singles and a blind-bagged 15-pack. I'm reading there are at least 39 of the buggers, and I got a duplicate in my first blind bag as a red T-Rex was in it. Ah well. For barely-painted figures I can't say the 3-pack is a killer deal, but it reminds me of the underrated The Phantom Menace Battle Bags where you got cool fish and space animals in a sack for ten bucks. Or on clearance for two bucks. With that in mind, these are much nicer - for $1.15 per figure, the tube was a nice buy. However unpainted Star Wars Command figures are only slightly smaller, and got to around 55 cents or so per figure in the smaller sets.
The tube I snagged had three small dinosaurs which are about the size of the hatchlings and sidekicks from previous lines. Each one is 3 1/2-4-inches long in my set, with the Triceratops being the shortest and the Mosasaurus being the longest. Some of the little guys are really insubstantial, but this set was more or less worth it thanks to the garish red Tyrannosaurus Rex that reminds me a lot of a Bullyland figure I got as a wee lad.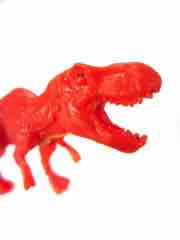 I can't say no to a set of my favorites, so a Triceratops was an easy buy. The first Jurassic Park toy I bought was an Ellie Sattler because I wanted the hatchling - and now I've got a similarly sized toy with a sunken skull-like face and none of those pesky feathers that science and "facts" seem to be interested in these days. The dark grey plastic feels very sturdy and the sculpt is great, complete with horns and a really bumpy back. The "JW" mark is sculpted on the figure rather than painted, and the only paint on him can be found on his light green eyes. I wish they could glow in the dark, because it looks like it should.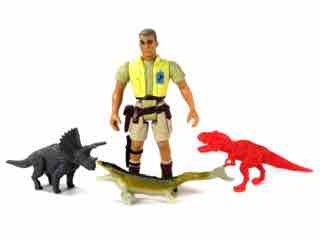 I didn't think I needed another T-Rex until I saw how garishly colored this one was. Black eyes and a yellow belly make this one of the ugliest - and therefore best - toys in the line. I've seen green, I'm down with brown, but I'll take red instead. He has a JW scar on his leg as well, once again sculpted and not painted. At first glance the figure looks unpainted and that makes the decision to spend pennies on belly color seem wasteful. The skinny little guy has no problems standing right out of the tube, although I do worry that time in a toy box will change that fact.
The sculpting work is pretty great, with little veiny details and hints that you're seeing its ribs in spots. The teeth are clearly definied, and the black eye paint really is useful for giving him just a tiny bit more personality. At this scale and price, it's tough to really convey things but as you can see, they did make him into a nicely expressive little figure.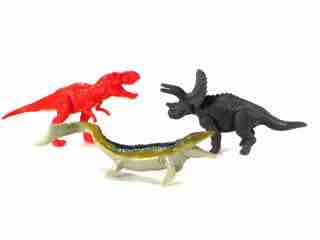 Rounding out the set is an aquatic dinosaur which I presume to be a Mosasaurus thanks to it being in the movie. At 3 4/5-inches long, he's a skinny little guy and reminds me of the Sando Aqua Monster from Star Wars, plus he's got a good amount of paint. The base grey figure has brown, blue, and black layers on his back and (sadly) eyes which are left undecorated beyond the stripe. There's also a stamp of the product number for this set on his belly, while the figure itself is largely smooth and not particularly intensive in detailing. You'll find a JW mark behind his flipper, basically around the armpit. Given the lack of prehistoric sea creatures as toys, I can't not snap this one up - heck, I bought the LEGO one over ten years ago too. My only gripe was that the black stripe on his back - on my sample, at least - was rough and not applied cleanly. Obviously these are meant to be cheap toys, and that shows.
This product is an intriguing one due to what it is, how it's sold, and what its function is in the marketplace. It's very similar to the Tim Mee Dinosaurs or any cheap dinosaur toys you can get at Walmart for less money, but the JW branding is the selling point. The key difference is these are $1-$2 each (depending on if you get 1, 3, or 15) and Tim Mee's were 25 cents or less - including many duplicates, of course. Hasbro's are of a much higher quality in terms of sculpting and detail, plus the tube packaging pits them against Safari and other toy lines that offer more creatures at a slightly higher price. $4.44 is cheap - perhaps this would be more suited to a lower-end retailer than Walmart, but I suspect that the tubes will fly off the shelves, as will the single blind bags. The 15-packs at $15 are a tough buy, because really, that's a big gamble. If you like tiny dinos or the Jurassic sidekick toys, this is a worthwhile thing to track down - I'll probably go buy some more. And probably a 15-pack.
--Adam Pawlus
Additional Images

Click here to see more Hasbro figures in Figure of the Day.
See more Jurassic Park and Jurassic World figures in Figure of the Day:
Day 11: Hasbro Jurassic Park III Dr. Alan Grant
Day 138: Kenner Jurassic Park Chaos Effect Compstegnathus Action Figure
Day 172: Kenner Jurassic Park The Lost World Chasmosaurus Action Figure
Day 346: Kenner Jurassic Park Ian Malcolm Action Figure
Day 366: Kenner Jurassic Park Ellie Sattler Action Figure
Day 372: Hasbro Jurassic Park G.I. Joe Heavy Gunner Action Figure
Day 533: Kenner Jurassic Park Chaos Effect Amargospinus
Day 620: Hasbro Jurassic Park Pachyrhinosaurus Clash Action Figure Set
Day 651: Hasbro Jurassic Park Allosaurus Assault Action Figure Set
Day 851: Hasbro Jurassic Park Paul Kirby Action Figure
Day 1,180: Hasbro Jurassic World Tyrannosaurus Rex Action Figure
Day 1,180: Kenner Jurassic Park Alan Grant Action Figure
Day 1,196: Hasbro Jurassic World 3 Dinos Action Figure
Day 1,198: Kenner Jurassic Park Tim Murphy Action Figure
Day 1,202: Hasbro Jurassic World Spinosaurus Action Figure
Day 1,212: Kenner Jurassic Park Chaos Effect Ian Malcolm Action Figure
Day 1,216: Hasbro Jurassic World Ankylosaurus Action Figure
Day 1,219: Hasbro Jurassic World Stegoceratops Action Figure
Day 1,228: Hasbro Jurassic World Tyrannosaurus Rex Action Figure
Day 1,425: Hasbro Jurassic World Hybrid Velociraptor Action Figure
Day 1,455: Hasbro Jurassic World Bashers & Biters Indominus Rex Action Figure
Day 1,462: Hasbro Jurassic World Hybrid Tyrannosaurus Rex Action Figure
Day 1,472: Hasbro Jurassic World Pachycephalosaurus Action Figure
Day 1,509: Hasbro Jurassic World Hybrid Armor Indominus Rex Action Figure
Day 1,526: Hasbro Jurassic World Owen "Alpha" and Velociraptor "Blue" Action Figure
Day 1,528: Hasbro Jurassic World Hybrid Armor Ankylosaurus Action Figure
Day 1,540: Hasbro Jurassic World Hybrid Dilophosaurus Rex Action Figure
Day 1,550: Hasbro Jurassic World Hybrid Carnoraptor Action Figure
Day 1,560: Hasbro Jurassic World Hybrid Rampage Indominus Rex Action Figure
Day 1,567: Hasbro Jurassic World Hybrid Stegoceratops Action Figure
Day 1,573: Hasbro Jurassic World Hybrid Pteramimus Action Figure
Day 1,712: Hasbro Jurassic World Hybrid Spinosaurus Action Figure
Day 1,721: Hasbro Jurassic World Hybrid Dilophosaurus Action Figure
Day 1,918: Mattel Jurassic World Mini Action Dino Ankylosaurus Action Figure
Day 1,938: Funko Pop! Movies Jurassic Park Dr. Ian Malcolm (Wounded) Pop! Vinyl Figure
Day 1,943: Mattel Jurassic World Velociraptor "Blue" Action Figure
Day 1,950: Mattel Jurassic World Super Colossal Tyrannosaurus Rex Action Figure
Day 1,954: Mattel Jurassic World Dilophosaurus Action Figure
Day 1,959: Mattel Jurassic World Battle Damage Triceratops Action Figure
Day 1,963: Mattel Jurassic World Extreme Chompin' Tyrannosaurus Rex Action Figures
Day 1,965: Mattel Jurassic World Battle Damage Velociraptor "Blue" Action Figure
Day 1,967: Mattel Jurassic World Robert Muldoon Action Figure
Day 1,972: Mattel Jurassic World Gallimimus Action Figure
Day 1,981: Mattel Jurassic World Metriacanthosaurus Action Figure
Day 1,984: Funko Pop! Movies Jurassic Park Dr. Ian Malcolm Pop! Vinyl Figure
Day 1,989: Mattel Jurassic World Tyrannosaurus Rex, Stygimoloch "Stiggy," and Triceratops Action Figures
Day 1,994: Mattel Jurassic World Battle Damage Pachycephalosaurus Action Figure
Day 1,999: Mattel Jurassic World Owen & Baby "Blue" Action Figure
Day 2,003: Mattel Jurassic World Gift Set 6-Pack Action Figures
Day 2,053: Mattel Jurassic World Legacy Dr. Ian Malcolm Action Figure
Day 2,098: Mattel Jurassic World Dino Rivals Destroy 'N Devour Indominus Rex Action Figure
Day 2,103: Fisher-Price Imaginext Jurassic World Dr. Malcolm & Dimetrodon Action Figures
Day 2,111: Mattel Jurassic World Dino Rivals Mussaurus Action Figure
Day 2,511: Mattel Jurassic World Dominion Roar Strikers Iguanodon Action Figure
Day 2,558: Mattel Jurassic World Dino Trackers Danger Pack Nothosaurus Action Figure
Day 2,578: Mattel Jurassic World Mosasaurus Action Figure
Day 2,602: Mattel Jurassic World Dino Trackers Danger Pack Dakosaurus Action Figure