Healey Made Raider (Hunter) Action Figure
More Kenner than Kenner

Raider Action Figure
Item No.: No. n/a
Manufacturer: Healey Made
Includes: 2 bonus rockets, alternate head, blaster
Action Feature: Swappable parts
Retail: $25.00
Availability: April 20, 2020
Other: Legend has it old Kenner guys may have been involved.

PREVIOUS
RSS
NEXT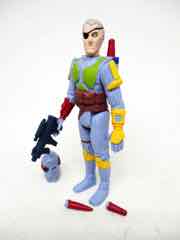 The Healey Made account announced they were doing a "420" launch and didn't tease what it might be. I figured something green - but they already did a clear green figure. I did not at all expect the Raider (Hunter) Action Figure, which takes design cues from Kenner's original 1979 Boba Fett action figure and does a pretty good job evoking the classic, unusual, off-model colors of the figure. It's not a perfect match, but it's pretty good.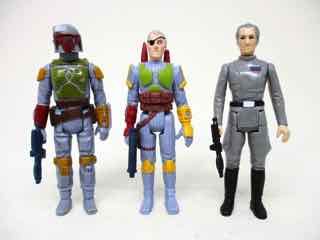 The plastic color is a hair brighter than the old Kenner Boba Fett, while the reds are decent and so are the browns. The yellows are a lot brighter, and I daresay look more interesting on the figure. The green doesn't really match at all but hey, it's not really Boba Fett. It's just a figure inspired by old Kenner toys like Boba Fett and Hasbro's Cobra Commander. This 3 3/4-inch figure has 2 removable rockets in the backpack, and additional 2 rockets in the baggie, and an alternate head. There's also a blaster pistol in colors very close to the classic Kenner blue. I should note it's a good fit in his hand.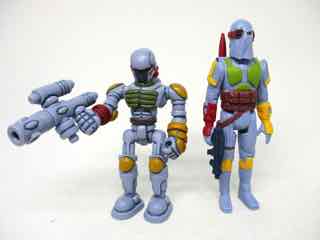 What's particularly interesting - and not at all surprising - is that the unmasked head looks a lot like Peter Cushing. Kenner never did a Grand Moff Tarkin, but a lot of people have recently imagined what one may have looked like - Hasbro did theirs last year, and Healey Made's take on it looks sharper with even more gaunt features. The eye patch and whited-out eye help make sure nobody will confuse this for an actual Grand Moff Tarkin head, but gosh darn if it isn't close.
I love the figure's sculpt as a pastiche of 1970s and 1980s toys. The pants and arms look a bit like Darth Vader, the torso is a lot like Boba Fett, the heads look like Cobra Commander and Grand Moff Tarkin... it feels old, but it's new. That's a hard thing to pull off in this day and age, and as much as I love the Boba Fett colorway I find myself very glad I also got the Shadow one a few months ago. Each has its own perks, but an off-the-wall color can do wonders to making a good figure great. The Boba tribute was obligatory, but now that we got Fett and Cobra Commander out of the way I hope that Team Healey Made come up with some oddball looks that feel like they came out of the late 1970s. Nicely done. It sold out in 12 seconds, so clearly, demand still exists for them to try again with any of many other Boba Fett armor looks, too.
...I'd also love to see another head or two for this mold down the line. Have you seen Bo-Katan's on The Clone Wars? Something like her would be cool.
--Adam Pawlus
Additional Images

See more Healey Made figures in Figure of the Day:
Day 2,157: Healey Made Raider (Shadow) Action Figure
Day 2,209: Healey Made Raider (Hunter) Action Figure
Day 2,334: Healey Made Assassin (R-Complex) Action Figure
Day 2,383: Healey Made Raider (Revenge) Action Figure
Day 2,406: Healey Made Raider (GID) Action Figure
Day 2,418: Healey Made Assassin (GID) Action Figure
Day 2,456: Healey Made Assassin (Trando) Action Figure
Day 2,502: Healey Made Trooper (Bulloch) Action Figure

Click here to see more Glyos Compatible figures in Figure of the Day.