Healey Made Raider (Revenge) Action Figure
Don't say revenge... don't say revenge...

Raider Action Figure
Item No.: No. n/a
Manufacturer: Healey Made
Includes: 2 bonus rockets, alternate head, blaster
Action Feature: Swappable parts
Retail: $25.00
Availability: December 2021
Other: Legend has it old Kenner guys may have been involved.

PREVIOUS
RSS
NEXT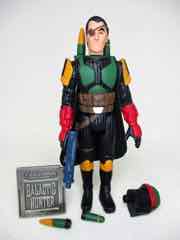 I've so far bought three of this mold - I thought I was done, but the Raider (Revenge) Action Figure proved otherwise. (Mr. Healey, I will also buy a glow-in-the-dark one should it ever get made. Heck I'll buy the whole run and sell them myself if I have to.) The original Raider (Shadow) [FOTD #2,157] never left my desk, while the Raider (Hunter) moved into my Sail Barge. I really like these figures. This one adds a flexible "skirt" piece not unlike the old Snowtrooper and various Clone Troopers, with deco inspired by Boba Fett in The Mandalorian and the new The Book of Boba Fett streaming series.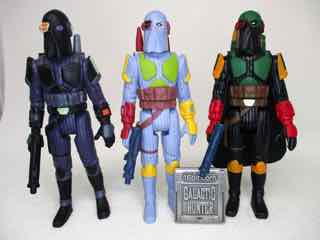 Now that Hasbro has actually made new Kenner-style figures - and the Boba Fett that inspired this release is one of them - I was briefly tempted to skip it. But since I could have this figure now and the real deal is months away, why wait? This figure draws sculpted detail that seems inspired by Boba Fett, Cobra Commander, and Darth Vader - the latter of which is especially pronounced with the figure cast in black plastic.
New highlights include ellow knee pads and shoulder pauldrons, red gloves, a brown belt, and green chest armor. It looks superb - the green fade on the hood isn't bad either, and the unmasked head looks decidedly Kennerian with the eye patch and old-style paint masks. I would absolutely love to see a new head sculpted for this mold - even if it looks nothing like Boba Fett - because the design has so many elements to it, it won't take much to keep it interesting.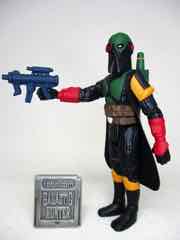 This figure plays like an old Kenner figure. He stands, holds his blaster, and sits - and the "cape" or "skirt" is mounted in the arm sockets. It's sturdy and it looks like something you had as a kid, except this is a matte finish instead of glossy like most toys in the 1980s. It also looks like something that could be hanging out in a cantina or off-camera in a movie somewhere, possibly with Hammerhead and Walrus Man. It's just off enough to be original, but it looks like it follows some unspoken rule of old Kenner toys in being gleefully weird. The green backpack also has removable rockets - this time, they've got yellow markings. The backpack itself is just green without any paint on the faux buttons.
I hope you got one when you had the chance - if you missed it, Kenner's Boba Fett is probably a better suitable (cheaper) replacement. I have no idea how well that release will stand or hold his blaster, but this one is certainly very good - and if you spy it for sale at a fair price, I'd suggest picking him up. If not this one, any Raider is pretty cool if you can find it.
--Adam Pawlus
Additional Images

See more Healey Made figures in Figure of the Day:
Day 2,157: Healey Made Raider (Shadow) Action Figure
Day 2,209: Healey Made Raider (Hunter) Action Figure
Day 2,334: Healey Made Assassin (R-Complex) Action Figure
Day 2,383: Healey Made Raider (Revenge) Action Figure
Day 2,406: Healey Made Raider (GID) Action Figure
Day 2,418: Healey Made Assassin (GID) Action Figure
Day 2,456: Healey Made Assassin (Trando) Action Figure
Day 2,502: Healey Made Trooper (Bulloch) Action Figure

Click here to see more Glyos Compatible figures in Figure of the Day.