Stealth Ninja Spider-Man
Who is this for, really?

Spider-Man Basic Figures
Item No.: Asst. 93570 No. 94209
Manufacturer: Hasbro
Includes: Armor, sword, web bola
Action Feature: n/a
Retail: $7.99
Availability: 2010
Other: Goofy

PREVIOUS
RSS
NEXT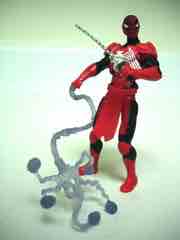 I picked up Stealth Ninja Spider-Man because I had a chance to buy it for about fifty cents through a perfect storm of coupons and sales. I mean, how can you not buy something called "Stealth Ninja Spider-Man" if you write a toy column that appeals to hardcore, adult toy collectors?
This may be the surprisingly best, highest-quality piece of junk I've had the dubious fortune of picking up as of late. It's clearly not made for any action figure buyer who might read a toy review on a site like this one, because a giant white spider target isn't something anybody with any adult sense can get past in terms of logic. The black spider is a little more subtle, but that thing is a giant target for Norman Osborne to blast him with a pumpkin bomb or a gun or something. It's tearing me apart to have a figure this awful be well constructed enough to stand up on its own without a display stand-- why is this the figure that gets constructed well and able to be posed nicely? It doesn't make any sense, but there are so few kid-only action figure lines coming out of Hasbro now. It's nice to see that Hasbro can still make a 3 3/4-inch action figure for kids that won't fall apart because of the articulation, but couldn't "stealth ninja" Spider-Man at least be black, or clear, or some unified dark color? Or was "stealth ninja" used because "Asian Japan Battle Super Fighter" was too ridiculous?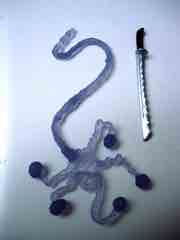 The Hasbro Spider-Man kid line is packed with bizarre variations on the webslinger, much like what Kenner did with Batman starting in 1990. While this figure is not a ninja nor is it stealthy, it is unquestionably Spider-Man with a big spider on his chest and a lot of red and blue. There are some nice ideas in the assortment, but man, this thing is goofy. The sword is actually painted silver with a black handle, which is more detail than I would expect. The rest of the figure is pretty simple, there's a little bit of paint on it but there's no getting past the fact that what you have is an armored, loincloth-wearing super hero carrying a giant sword and some sort of bola weapon. Odds are you weren't a fan of the 1990s jumbo Spider-Man figures from Toy Biz, but this seems like it was spawned from that.
Stealth Ninja Spider-Man doesn't have a lot of paint on him, his face has some on the mask but the back of his head is unpainted. It's almost like someone wanted to combine Snake Eyes with Peter Parker, and in the end got this beautiful mess. The figure is jointed in a fairly unusual way, with ball joints at the hips and shoulders but another swivel joint at the arms and legs. The head is a ball joint, and that's your entire suite of articulation-- he's pretty stiff, but he can stand just fine and hold his weapons. If you have a toy collector in your life, you should give this to them just to make them angry. It's by no means a bad toy, because it can actually do things other figures can't-- like sit down easily, or carry his sword on his back, or be posed in sensible, attractive ways. This is the best-polished turd I've seen in recent memory.
Oh, and for you trivia buffs, this figure shares the body with Shockproof Spider-Man, which is also a goofy figure.
--Adam Pawlus
Additional Images

Click here to see more Hasbro figures in Figure of the Day.
See more Spider-Man figures in Figure of the Day:
Day 39: Hasbro Spider-Man Super Poseable Spider-Man Action Figure
Day 40: Hasbro Spider-Man Stealth Ninja Spider-Man
Day 50: Hasbro Spider-Man Toxic Blast Venom
Day 65: Hasbro Spider-Man Dive Bomber Green Goblin
Day 91: Hasbro Spider-Man (Kid Series) Monster Claw Carnage Action Figure
Day 108: Hasbro Marvel Universe Spider-Man Action Figure
Day 137: Toy Biz Spider-Man Animated Super Articulated Spider-Man
Day 290: Hasbro Spider-Man Mighty Muggs J. Jonah Jameson
Day 300: Hasbro Spider-Man Mighty Muggs Venom
Day 311: Hasbro Spider-Man Mighty Muggs Spider-Man
Day 336: Hasbro Spider-Man Mighty Muggs Demogoblin
Day 427: Funko Marvel Universe Pop! Vinyl SDCC Exlusive Spider-Man Vinyl Figure Bobble Head
Day 605: Hasbro Ultimate Spider-Man Night Mission Spider-Man Action Figure
Day 717: Hasbro Ultimate Spider-Man Crime Fightin' Spider-Man Action Figure
Day 862: Hasbro Ultimate Spider-Man Web Strike Spider-Man Action Figure
Day 876: Hasbro Spider-Man Marvel Legends Infinite Series The Amazing Spider-Man 2
Day 877: Hasbro Ultimate Spider-Man Iron Spider Armor Spider-Man
Day 916: Hasbro The Amazing Spider-Man Movie Ultra-Poseable Spider-Man
Day 936: Hasbro The Amazing Spider-Man Night Mission Spider-Man
Day 1,484: Hasbro Captain America Civil War Spider-Man, Captain America, and Iron Man Action Figures
Day 1,501: Hasbro Marvel Legends Series Spider-Man
Day 2,109: Hasbro Playskool Heroes Series 2 Marvel Super Hero Adventures Clear Spider-Man
Day 2,201: Hasbro Spider-Man Bend and Flex Spider-Man Action Figure
Day 2,229: Hasbro Spider-Man Marvel Legends Retro Spider-Man Action Figure
Day 2,342: Hasbro Marvel Legends 375 Spider-Man Action Figure
Day 2,453: Hasbro Marvel Spider-Man Action Figure
Day 2,459: Hasbro Marvel Legends 375 Iceman Action Figure
Day 2,476: Hasbro Marvel Legends 375 Firestar Action Figure
Day 2,491: Hasbro Marvel Legends 375 Venom Action Figure

See more Marvel figures in Figure of the Day:
Day 4: Hasbro Iron Man 2 Iron Man (Blast-Off Figure Stand) Action Figure
Day 7: Hasbro Marvel Universe Ghost Rider Action Figure
Day 15: Hasbro Marvel Universe Iron Patriot Action Figure
Day 24: Hasbro Marvel Universe Dark Wolverine Action Figure
Day 31: Hasbro Marvel Universe Dark Spider-Man Venom Action Figure
Day 34: Hasbro Iron Man 2 Iron Monger (Comic Series) Action Figure
Day 39: Hasbro Spider-Man Super Poseable Spider-Man
Day 40: Hasbro Spider-Man Stealth Ninja Spider-Man
Day 50: Hasbro Spider-Man Toxic Blast Venom
Day 55: Hasbro Iron Man 2 Iron Man (Original) Action Figure
Day 60: Hasbro Iron Man 2 Iron Man Silver Centurion Action Figure
Day 65: Hasbro Spider-Man Dive Bomber Green Goblin
Day 70: Hasbro Iron Man 2 Deep Dive Armor Iron Man
Day 73: Hasbro Marvel Universe Iceman
Day 75: Hasbro Iron Man 2 Hulkbuster Armor Iron Man
Day 84: Hasbro Iron Man 2 Comic Series War Machine
Day 91: Hasbro Spider-Man (Kid Series) Monster Claw Carnage Action Figure
Day 103: Hasbro Marvel Universe Marvel's Firestar
Day 108: Hasbro Marvel Universe Spider-Man Action Figure
Day 115: Hasbro Iron Man 2 Comic Series Guardsman
Day 124: Hasbro Iron Man 2 Movie Series Iron Man Mark V
Day 131: Funko Thor Pop! Vinyl Thor Vinyl Figure Bobble Head
Day 137: Toy Biz Spider-Man Animated Super Articulated Spider-Man
Day 141: Funko Thor Pop! Vinyl Loki Vinyl Figure Bobble Head
Day 154: Hasbro Iron Man 2 Movie Series Iron Monger
Day 209: Hasbro Iron Man 2 Comic Series Iron Man #30 Action Figure
Day 249: Funko Marvel Universe Pop! Vinyl Iron Man Vinyl Figure Bobble Head
Day 290: Hasbro Spider-Man Mighty Muggs J. Jonah Jameson
Day 292: Hasbro Marvel Universe Compound Hulk
Day 300: Hasbro Spider-Man Mighty Muggs Venom
Day 306: Funko Marvel Universe Pop! Vinyl The Hulk Vinyl Figure Bobble Head
Day 311: Hasbro Spider-Man Mighty Muggs Spider-Man
Day 320: Hasbro Marvel Universe Handful of Heroes Mini Figure Pack
Day 336: Hasbro Spider-Man Mighty Muggs Demogoblin
Day 427: Funko Marvel Universe Pop! Vinyl SDCC Exlusive Spider-Man Vinyl Figure Bobble Head
Day 542: Hasbro Avengers Target Exclusive 8-Pack Figure Collection Captain America Action Figure
Day 578: Hasbro Avengers Target Exclusive 8-Pack Figure Collection Hulk Action Figure
Day 584: Hasbro Avengers Target Exclusive 8-Pack Figure Collection Thor Action Figure
Day 603: Hasbro Avengers Target Exclusive 8-Pack Figure Collection Iron Man Action Figure
Day 628: Hasbro Avengers Target Exclusive 8-Pack Figure Collection Nick Fury Action Figure
Day 757: Hasbro Avengers Assemble Captain America
Day 872: Hasbro Iron Man 3 Marvel Legends Iron Man Mark 42
Day 878: Hasbro Iron Man 3 Marvel Legends Iron Monger
Day 916: Hasbro The Amazing Spider-Man Movie Ultra-Poseable Spider-Man
Day 936: Hasbro The Amazing Spider-Man Night Mission Spider-Man
Day 1,007: Hasbro Guardians of the Galaxy Marvel Legends Infinite Series Drax
Day 1,011: Hasbro Guardians of the Galaxy Marvel Legends Infinite Series Iron Man
Day 1,021: Hasbro Iron Man 3 Marvel Legends Heroic Age Iron Man
Day 1,047: Hasbro Guardians of the Galaxy Marvel Legends Infinite Series Star-Lord
Day 1,150: Funko Guardians of the Galaxy Pop! Vinyl Entertainment Earth Exclusive Ravagers Dancing Groot
Day 1,155: Funko Hikari Vinyl Marvel Guardians of the Galaxy Planet X Groot
Day 1,158: Hasbro Guardians of the Galaxy Marvel Legends Infinite Series Gamora
Day 1,235: Hasbro Marvel Legends Infinite Series Guardians of the Galaxy Classic 5-Pack
Day 1,300: Funko Hikari Vinyl Marvel Metallic Hulk Vinyl Figure
Day 1,484: Hasbro Captain America Civil War Spider-Man, Captain America, and Iron Man Action Figures
Day 1,494: Hasbro Marvel Legends X-Men Iceman
Day 1,501: Hasbro Marvel Legends Series Spider-Man
Day 1,514: Hasbro Marvel Legends X-Men Marvel's Phoenix
Day 1,515: Hasbro Marvel Legends X-Men Marvel's Rogue
Day 1,527: Hasbro Marvel Legends X-Men Wolverine
Day 1,664: Hasbro Guardians of the Galaxy Marvel Legends Infinite Series Groot Evolution
Day 1,667: Hasbro Guardians of the Galaxy Marvel Legends Infinite Series Rocket Raccoon
Day 1,729: Hasbro Guardians of the Galaxy Marvel Legends Infinite Series Groot
Day 1,749: Hasbro Marvel Legends Series 12-Inch Deadpool
Day 1,792: Hasbro Marvel Legends X-Men 6-Inch Deadpool
Day 1,820: Hasbro Marvel Mighty Muggs Captain America
Day 1,916: Hasbro Marvel Legends Marvel Knights Man-Thing
Day 1,988: Hasbro Marvel Legends X-Men Cable
Day 2,007: Hasbro Marvel Legends Thor Ragnarok Thor and Marvel's Valkyrie
Day 2,016: Toy Biz X-Men Steel Mutants Wolverine vs. Sabretooth
Day 2,028: Hasbro Gamerverse Marvel vs. Capcom Infinite Black Widow vs. Ryu Action Figures
Day 2,031: Hasbro Marvel Rising Secret Identity Doreen Green Squirrel Girl Doll
Day 2,037: Hasbro Gamerverse Marvel vs. Capcom Infinite Iron Man vs. Mega Man X Action Figures
Day 2,040: Hasbro Marvel Legends Venom Venom Action Figure
Day 2,048: Hasbro Deadpool Chimichanga Surprise Unicorn Deadpool
Day 2,109: Hasbro Playskool Heroes Series 2 Marvel Super Hero Adventures Clear Spider-Man
Day 2,116: Hasbro Marvel Legends 80th Anniversary The Grandmaster and Korg Action Figures
Day 2,201: Hasbro Spider-Man Bend and Flex Spider-Man Action Figure
Day 2,229: Hasbro Spider-Man Marvel Legends Retro Spider-Man Action Figure
Day 2,303: Hasbro Marvel Legends Deadpool Deadpool in Boxers
Day 2,342: Hasbro Marvel Legends 375 Spider-Man Action Figure
Day 2,381: Hasbro Avengers Bend and Flex Captain America Action Figure
Day 2,438: Hasbro Marvel Iron Man Action Figure
Day 2,444: Hasbro Marvel Hulk Action Figure
Day 2,453: Hasbro Marvel Spider-Man Action Figure
Day 2,459: Hasbro Marvel Legends 375 Iceman Action Figure
Day 2,472: Hasbro Marvel Black Panther Action Figure
Day 2,473: Hasbro Marvel Legends 375 Hulk Action Figure
Day 2,476: Hasbro Marvel Legends 375 Firestar Action Figure
Day 2,479: Hasbro Marvel Legends 375 Sentinel Action Figure
Day 2,482: Hasbro Marvel Legends 375 Thor Action Figure
Day 2,485: Hasbro Marvel Legends 375 The Thing Action Figure
Day 2,488: Hasbro Marvel Legends 375 Human Torch Action Figure
Day 2,491: Hasbro Marvel Legends 375 Venom Action Figure
Day 2,494: Hasbro Marvel Legends 375 Loki Action Figure
Day 2,497: Hasbro Marvel Legends 375 Gray Hulk Action Figure
Day 2,500: Hasbro Marvel Legends 375 Storm Action Figure
Day 2,503: Hasbro Marvel Legends 375 Moon Knight Action Figure
Day 2,506: Hasbro Marvel Legends 375 Carol Danvers Action Figure
Day 2,509: Hasbro Marvel Legends 375 Black Panther Action Figure
Day 2,512: Hasbro Marvel Legends 375 Daredevil Action Figure
Day 2,516: Hasbro Marvel Legends 375 Iron Man Action Figure
Day 2,520: Hasbro Marvel Legends 375 Silver Surfer Action Figure
Day 2,524: Hasbro Marvel Legends 375 Wolverine Action Figure
Day 2,528: Hasbro Marvel Legends 375 Ghost Rider with Motorcycle Action Figure
Day 2,528: Hasbro Marvel Legends 375 Black Widow Action Figure

Want to buy this figure? Check Spider-Man availability at our sponsors:
Entertainment Earth