Iceman
X-Men Adjacent

Marvel Legends 375 Action Figure
Item No.: F2648 No. F2661
Manufacturer: Hasbro
Includes: n/a
Action Feature: n/a
Retail: $9.99-$12.99
Availability: February 2021
Other: Once cheap, now fancy

PREVIOUS
RSS
NEXT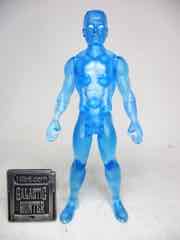 While I'm not all-in on Marvel Legends 375, I love what they're doing - and am always a little tempted to backfill and buy more. I bought Spider-Man [FOTD #2,459] and when I saw the announcement of Firestar, I went out to pick up Iceman. Who, unsurprisingly, shares a lot of tooling with other figures - just comparing him to my Spider-Man, they're nearly identical except the hands and head. The body, legs, and arms are reused - and looking at the rest of the line, they're all quite similar. Kenner was miserly about its reuse of tooling, but rarely did you see quit this much sharing of parts in the 1980s. Sure, old molds would be brought back, like Return of the Jedi toys in Robin Hood: Prince of Thieves, but Robin and his merry men weren't all reused Bib Fortuna molds.
Click here to check availability at Entertainment Earth.
In terms of saving money (and, I assume, preventing another company from snapping up the retro license) Hasbro did a pretty good job making stunning packaging and pretty good figures. The cardback does a good job of distracting you from a figure that should probably be $5 or less, thanks to it being unpainted except for the eyes. A similar Onell Design indie figure would have more articulation and cost you about $8 - but there's no license, and I don't know exactly how the assortments get budgeted out. With no paint, he looks a lot like most incarnations of the character - clear, but with visible internals. I appreciate that he gives you a good view of the pegs and holes that are glued together, as well as the pegs that are used to make his limbs.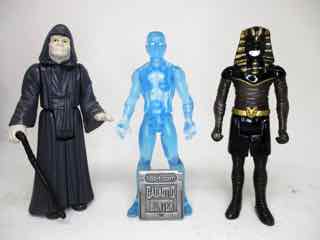 The 3 3/4-inch figure looks better than what was made in the days of Kenner as those tended to be a little flatter, but Bobby Drake is still pretty flat. Iceman's legs have an illusion of boots thanks to the calf pegs, which is a nice feature, and the musculature of the torso tends to be drowned out by the clear plastic and visible pegs. His hands have somewhat realistic figures compared to the sometimes oven mitt-esque digits of old, but he has no accessories. If he did, he could hold them pretty well - the hands have enough flexibility to fit in a lightsaber or blaster from your other toys. His head is bald and somewhat blocky, just like in the comics, and his white eyes pop pretty nicely.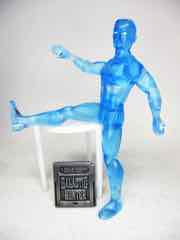 If I had to nitpick, I kind of wish we saw them make a torso out of other materials - like PVC - so we don't have to see his "guts" and he could just be a clear mutant. But since this isn't Glyos, that's unlikely - instead we have somebody who looks consistent with how the ReAction Figures from Super7 look. I should also appreciate how Hasbro distributes these, as waves have stayed in circulation for a while plus popular favorites keep cycling in new waves allowing casual fans - and the collectors for this line do seem to be more casual fans - to jump in any time they want. Secondary market prices on a lot of these figures have stayed affordable, too.
Adjusted for inflation, a 3 3/4-inch Kenner figure from the 1980s should be about $9-$10 today. Obviously, this costs a bit more than that but with the reused tooling, it may be as cheap or cheaper than the old days. I don't know. What I do know is it's a nice looking figure and they're always fun to look at in the stores. I don't need to own them all, but Iceman was one I just had to get so I could complete the trio from the Spider-Man cartoon I watched when I was a kid. He isn't impressive, but figures like this occupy an important place in the toy world - they're as cheap as a Funko figure. Not every collector wants a $25 (or more) higher-end figure sometimes a simple bit of desk candy for ten bucks is a good entry-level purchase, or just a way to buy a lot of cool stuff without filling an entire house. Heck, buying these has made me ask myself if I need to keep my rather limited collection of 6-inch Marvel Legends. I recommend this mostly to men in their 40s who also have Micronauts, Kenner Star Wars, Hasbro G.I. Joe, and Fisher-Price Adventure People from the 1970s and 1980s - Iceman's limited deco makes him fit in much more with the older figures than, say, the 375 Spider-Man or Bullseye.
--Adam Pawlus
Additional Images

Click here to see more Hasbro figures in Figure of the Day.
Click here to see more Marvel figures in Figure of the Day.