Monster Claw Carnage
Who is this for, really?

Spider-Man Basic Figures
Item No.: Asst. 93570 No. 25229
Manufacturer: Hasbro
Includes: Red claw, web axe
Action Feature: Claw snaps shut on a figure
Retail: $7.99
Availability: Summer 2010
Other: Nice

PREVIOUS
RSS
NEXT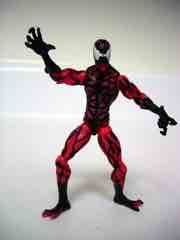 Generally speaking I don't seek out a figure just because I want to see what it looks like, but Monster Claw Carnage was exceedingly difficult to track down in mid-to-late 2010. He definitely got cherry-picked, was short-shipped, and generally just wasn't around much. There's a reason people pay more for him on eBay, you had to work hard if you wanted to find one. Since I decided that I'd like to see one in person, it took me about five months to finally find one at retail. Because if this I would say it was a bit of a letdown, but this has nothing to do with the actual quality of the action figure.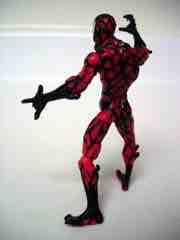 This figure is one of the better villains in the line, exceeding Venom in terms of articulation and effectively matching Green Goblin. With 13 points of articulation you can probably get this 4 1/4-inch figure into whatever action pose you would like, and as an added bonus his unique hip construction lets him sit down. (For whatever reason, the same kind of joints don't allow sitting on Iron Man toys.) This freaky character has two big does, huge claw fingers, and a freakish mouth with big black fangs and a red cake hole. Covered in textured webs, this is just such an evil looking figure that it might even strike you as ridiculous... but I like it. Maximum Carnage, baby.
The amount of detail is good for this particular figure line, and the slightly glossy black paint does a lot to make the figure feel just a little menacing-- almost like you don't want to touch the slimy thing. There are little bits of him hanging off his forearms too, and a couple more chunks practically squirming to get off the back of his legs. The body sculpt is so good, odds are you won't notice the fact it has no waist joint... and a waist joint would just upset the overall look of this creepy character anyway.
So how about those accessories? They're OK, but nothing spectacular. The Monster Claw is pretty fun, you open it, and push a figure into it triggering a button, causing the claw to clamp shut. It's fun, but if you're a collector you're generally not interested in fun so much, I find. Shame on you. The axe is the same as the one that came with Venom but in red, he has some difficulty carrying it and frankly it doesn't do much for me. It's just there, so try not to lose it.
Since it likely won't have an analog in Marvel Universe any time soon, just go ahead and get this version of Carnage to round out your Marvel collection. There aren't too many villains in the line, and two new ones (Scorpion and the Lizard) are just hitting this year in this scale. As such, if you see it, get yourself a Carnage.
--Adam Pawlus
Additional Images

Click here to see more Hasbro figures in Figure of the Day.
See more Spider-Man figures in Figure of the Day:
Day 39: Hasbro Spider-Man Super Poseable Spider-Man Action Figure
Day 40: Hasbro Spider-Man Stealth Ninja Spider-Man
Day 50: Hasbro Spider-Man Toxic Blast Venom
Day 65: Hasbro Spider-Man Dive Bomber Green Goblin
Day 91: Hasbro Spider-Man (Kid Series) Monster Claw Carnage Action Figure
Day 108: Hasbro Marvel Universe Spider-Man Action Figure
Day 137: Toy Biz Spider-Man Animated Super Articulated Spider-Man
Day 290: Hasbro Spider-Man Mighty Muggs J. Jonah Jameson
Day 300: Hasbro Spider-Man Mighty Muggs Venom
Day 311: Hasbro Spider-Man Mighty Muggs Spider-Man
Day 336: Hasbro Spider-Man Mighty Muggs Demogoblin
Day 427: Funko Marvel Universe Pop! Vinyl SDCC Exlusive Spider-Man Vinyl Figure Bobble Head
Day 605: Hasbro Ultimate Spider-Man Night Mission Spider-Man Action Figure
Day 717: Hasbro Ultimate Spider-Man Crime Fightin' Spider-Man Action Figure
Day 862: Hasbro Ultimate Spider-Man Web Strike Spider-Man Action Figure
Day 876: Hasbro Spider-Man Marvel Legends Infinite Series The Amazing Spider-Man 2
Day 877: Hasbro Ultimate Spider-Man Iron Spider Armor Spider-Man
Day 916: Hasbro The Amazing Spider-Man Movie Ultra-Poseable Spider-Man
Day 936: Hasbro The Amazing Spider-Man Night Mission Spider-Man
Day 1,484: Hasbro Captain America Civil War Spider-Man, Captain America, and Iron Man Action Figures
Day 1,501: Hasbro Marvel Legends Series Spider-Man
Day 2,109: Hasbro Playskool Heroes Series 2 Marvel Super Hero Adventures Clear Spider-Man
Day 2,201: Hasbro Spider-Man Bend and Flex Spider-Man Action Figure
Day 2,229: Hasbro Spider-Man Marvel Legends Retro Spider-Man Action Figure
Day 2,342: Hasbro Marvel Legends 375 Spider-Man Action Figure
Day 2,453: Hasbro Marvel Spider-Man Action Figure
Day 2,459: Hasbro Marvel Legends 375 Iceman Action Figure
Day 2,476: Hasbro Marvel Legends 375 Firestar Action Figure
Day 2,491: Hasbro Marvel Legends 375 Venom Action Figure

See more Marvel figures in Figure of the Day:
Day 4: Hasbro Iron Man 2 Iron Man (Blast-Off Figure Stand) Action Figure
Day 7: Hasbro Marvel Universe Ghost Rider Action Figure
Day 15: Hasbro Marvel Universe Iron Patriot Action Figure
Day 24: Hasbro Marvel Universe Dark Wolverine Action Figure
Day 31: Hasbro Marvel Universe Dark Spider-Man Venom Action Figure
Day 34: Hasbro Iron Man 2 Iron Monger (Comic Series) Action Figure
Day 39: Hasbro Spider-Man Super Poseable Spider-Man
Day 40: Hasbro Spider-Man Stealth Ninja Spider-Man
Day 50: Hasbro Spider-Man Toxic Blast Venom
Day 55: Hasbro Iron Man 2 Iron Man (Original) Action Figure
Day 60: Hasbro Iron Man 2 Iron Man Silver Centurion Action Figure
Day 65: Hasbro Spider-Man Dive Bomber Green Goblin
Day 70: Hasbro Iron Man 2 Deep Dive Armor Iron Man
Day 73: Hasbro Marvel Universe Iceman
Day 75: Hasbro Iron Man 2 Hulkbuster Armor Iron Man
Day 84: Hasbro Iron Man 2 Comic Series War Machine
Day 91: Hasbro Spider-Man (Kid Series) Monster Claw Carnage Action Figure
Day 103: Hasbro Marvel Universe Marvel's Firestar
Day 108: Hasbro Marvel Universe Spider-Man Action Figure
Day 115: Hasbro Iron Man 2 Comic Series Guardsman
Day 124: Hasbro Iron Man 2 Movie Series Iron Man Mark V
Day 131: Funko Thor Pop! Vinyl Thor Vinyl Figure Bobble Head
Day 137: Toy Biz Spider-Man Animated Super Articulated Spider-Man
Day 141: Funko Thor Pop! Vinyl Loki Vinyl Figure Bobble Head
Day 154: Hasbro Iron Man 2 Movie Series Iron Monger
Day 209: Hasbro Iron Man 2 Comic Series Iron Man #30 Action Figure
Day 249: Funko Marvel Universe Pop! Vinyl Iron Man Vinyl Figure Bobble Head
Day 290: Hasbro Spider-Man Mighty Muggs J. Jonah Jameson
Day 292: Hasbro Marvel Universe Compound Hulk
Day 300: Hasbro Spider-Man Mighty Muggs Venom
Day 306: Funko Marvel Universe Pop! Vinyl The Hulk Vinyl Figure Bobble Head
Day 311: Hasbro Spider-Man Mighty Muggs Spider-Man
Day 320: Hasbro Marvel Universe Handful of Heroes Mini Figure Pack
Day 336: Hasbro Spider-Man Mighty Muggs Demogoblin
Day 427: Funko Marvel Universe Pop! Vinyl SDCC Exlusive Spider-Man Vinyl Figure Bobble Head
Day 542: Hasbro Avengers Target Exclusive 8-Pack Figure Collection Captain America Action Figure
Day 578: Hasbro Avengers Target Exclusive 8-Pack Figure Collection Hulk Action Figure
Day 584: Hasbro Avengers Target Exclusive 8-Pack Figure Collection Thor Action Figure
Day 603: Hasbro Avengers Target Exclusive 8-Pack Figure Collection Iron Man Action Figure
Day 628: Hasbro Avengers Target Exclusive 8-Pack Figure Collection Nick Fury Action Figure
Day 757: Hasbro Avengers Assemble Captain America
Day 872: Hasbro Iron Man 3 Marvel Legends Iron Man Mark 42
Day 878: Hasbro Iron Man 3 Marvel Legends Iron Monger
Day 916: Hasbro The Amazing Spider-Man Movie Ultra-Poseable Spider-Man
Day 936: Hasbro The Amazing Spider-Man Night Mission Spider-Man
Day 1,007: Hasbro Guardians of the Galaxy Marvel Legends Infinite Series Drax
Day 1,011: Hasbro Guardians of the Galaxy Marvel Legends Infinite Series Iron Man
Day 1,021: Hasbro Iron Man 3 Marvel Legends Heroic Age Iron Man
Day 1,047: Hasbro Guardians of the Galaxy Marvel Legends Infinite Series Star-Lord
Day 1,150: Funko Guardians of the Galaxy Pop! Vinyl Entertainment Earth Exclusive Ravagers Dancing Groot
Day 1,155: Funko Hikari Vinyl Marvel Guardians of the Galaxy Planet X Groot
Day 1,158: Hasbro Guardians of the Galaxy Marvel Legends Infinite Series Gamora
Day 1,235: Hasbro Marvel Legends Infinite Series Guardians of the Galaxy Classic 5-Pack
Day 1,300: Funko Hikari Vinyl Marvel Metallic Hulk Vinyl Figure
Day 1,484: Hasbro Captain America Civil War Spider-Man, Captain America, and Iron Man Action Figures
Day 1,494: Hasbro Marvel Legends X-Men Iceman
Day 1,501: Hasbro Marvel Legends Series Spider-Man
Day 1,514: Hasbro Marvel Legends X-Men Marvel's Phoenix
Day 1,515: Hasbro Marvel Legends X-Men Marvel's Rogue
Day 1,527: Hasbro Marvel Legends X-Men Wolverine
Day 1,664: Hasbro Guardians of the Galaxy Marvel Legends Infinite Series Groot Evolution
Day 1,667: Hasbro Guardians of the Galaxy Marvel Legends Infinite Series Rocket Raccoon
Day 1,729: Hasbro Guardians of the Galaxy Marvel Legends Infinite Series Groot
Day 1,749: Hasbro Marvel Legends Series 12-Inch Deadpool
Day 1,792: Hasbro Marvel Legends X-Men 6-Inch Deadpool
Day 1,820: Hasbro Marvel Mighty Muggs Captain America
Day 1,916: Hasbro Marvel Legends Marvel Knights Man-Thing
Day 1,988: Hasbro Marvel Legends X-Men Cable
Day 2,007: Hasbro Marvel Legends Thor Ragnarok Thor and Marvel's Valkyrie
Day 2,016: Toy Biz X-Men Steel Mutants Wolverine vs. Sabretooth
Day 2,028: Hasbro Gamerverse Marvel vs. Capcom Infinite Black Widow vs. Ryu Action Figures
Day 2,031: Hasbro Marvel Rising Secret Identity Doreen Green Squirrel Girl Doll
Day 2,037: Hasbro Gamerverse Marvel vs. Capcom Infinite Iron Man vs. Mega Man X Action Figures
Day 2,040: Hasbro Marvel Legends Venom Venom Action Figure
Day 2,048: Hasbro Deadpool Chimichanga Surprise Unicorn Deadpool
Day 2,109: Hasbro Playskool Heroes Series 2 Marvel Super Hero Adventures Clear Spider-Man
Day 2,116: Hasbro Marvel Legends 80th Anniversary The Grandmaster and Korg Action Figures
Day 2,201: Hasbro Spider-Man Bend and Flex Spider-Man Action Figure
Day 2,229: Hasbro Spider-Man Marvel Legends Retro Spider-Man Action Figure
Day 2,303: Hasbro Marvel Legends Deadpool Deadpool in Boxers
Day 2,342: Hasbro Marvel Legends 375 Spider-Man Action Figure
Day 2,381: Hasbro Avengers Bend and Flex Captain America Action Figure
Day 2,438: Hasbro Marvel Iron Man Action Figure
Day 2,444: Hasbro Marvel Hulk Action Figure
Day 2,453: Hasbro Marvel Spider-Man Action Figure
Day 2,459: Hasbro Marvel Legends 375 Iceman Action Figure
Day 2,472: Hasbro Marvel Black Panther Action Figure
Day 2,473: Hasbro Marvel Legends 375 Hulk Action Figure
Day 2,476: Hasbro Marvel Legends 375 Firestar Action Figure
Day 2,479: Hasbro Marvel Legends 375 Sentinel Action Figure
Day 2,482: Hasbro Marvel Legends 375 Thor Action Figure
Day 2,485: Hasbro Marvel Legends 375 The Thing Action Figure
Day 2,488: Hasbro Marvel Legends 375 Human Torch Action Figure
Day 2,491: Hasbro Marvel Legends 375 Venom Action Figure
Day 2,494: Hasbro Marvel Legends 375 Loki Action Figure
Day 2,497: Hasbro Marvel Legends 375 Gray Hulk Action Figure
Day 2,500: Hasbro Marvel Legends 375 Storm Action Figure
Day 2,503: Hasbro Marvel Legends 375 Moon Knight Action Figure
Day 2,506: Hasbro Marvel Legends 375 Carol Danvers Action Figure
Day 2,509: Hasbro Marvel Legends 375 Black Panther Action Figure

Want to buy this figure? Check Spider-Man availability at our sponsors:
Entertainment Earth