Spider-Man
12-Inch Peter Parker

Marvel Legends Series Action Figures
Item No.: No. B7450
Manufacturer: Hasbro
Includes: 6 hands, 3 heads
Action Feature: n/a
Retail: $49.99
Availability: July/August 2016
Other: I believe this was a Toys R Us debut window in July, and elsewhere in August

PREVIOUS
RSS
NEXT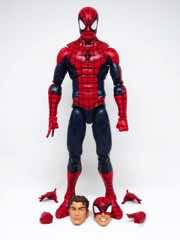 We've had some 12-inch Marvel Legends before, so here's another one! This particular Spider-Man is very similar to an upsized take of the Pizza Spider-Man figure from a little while back, with a semi-masked head sculpt that should be pretty familiar. It comes in a prismatic box - you've seen this kind of foily reflective goodness on Hot Toys and other boxes - with a window in the front. It makes it look like a prestige piece, and it more or less is - but so are normal 6-inch Legends. This one is just bigger and costs more.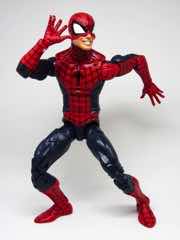 The 12-inch action figure an impressive beast. It has 34 points of articulation, making it one of the better figures under the brand but it doesn't have individually-jointed fingers like some older releases. It does, however, have toes - and that's a joint we don't see much. It's also not terrible useful given the amount of weight this figure has, we'd need a much stiffer joint to really keep him upright. You'd probably want to track down a stand of some sort for the best posing. He's got tons of joints, but the added heft of his size means you're going to need to be careful finding the right center of gravity.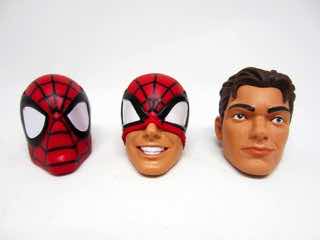 The sculpting is nice and clean, with painted-on webbing rather than etched grooves and a wipe. The red is nice and bright, plus Hasbro saw it fit to include web shooters on his wrists - I love this. They're painted silver and look great. This figure may also have the distinction of having some of the tightest pants on any male figure I've picked up in recent memory, a rare distinction for the gender in question. Generally they just give the tight pants to the ladies. He has a smooth sculpt, lacking some of the insane cloth texture we've seen on 6-inch figures in the past.
If you like the normal Marvel Legends, this is just like that - only taller, and more expensive. Iron Man and Captain America are also in circulation with Deadpool coming later, plus we've got other versions of Cap, Spidey, Tony, Colossus, Phoenix, and others from previous lines. I have a small Spider-Man collection so I couldn't pass up this comic take on the character, and I expect I might snag Deadpool next year. And if they branch out into the movies, those too. It's a solid figure and it really does feel cool, but as space runs out I can't assume I can go all-in on something quite this big. It's definitely worth snagging a favorite, though, because it's fun to futz with. The heads and hands swap easily, the webbing is painted cleanly, and it really feels like a wonderfully refined version of some of the figures you've bought before - plus or minus some articulation. I love the sculpt, though.
--Adam Pawlus
Additional Images

Click here to see more Hasbro figures in Figure of the Day.
Click here to see more Marvel figures in Figure of the Day.
See more Spider-Man figures in Figure of the Day:
Day 39: Hasbro Spider-Man Super Poseable Spider-Man Action Figure
Day 40: Hasbro Spider-Man Stealth Ninja Spider-Man
Day 50: Hasbro Spider-Man Toxic Blast Venom
Day 65: Hasbro Spider-Man Dive Bomber Green Goblin
Day 91: Hasbro Spider-Man (Kid Series) Monster Claw Carnage Action Figure
Day 108: Hasbro Marvel Universe Spider-Man Action Figure
Day 137: Toy Biz Spider-Man Animated Super Articulated Spider-Man
Day 290: Hasbro Spider-Man Mighty Muggs J. Jonah Jameson
Day 300: Hasbro Spider-Man Mighty Muggs Venom
Day 311: Hasbro Spider-Man Mighty Muggs Spider-Man
Day 336: Hasbro Spider-Man Mighty Muggs Demogoblin
Day 427: Funko Marvel Universe Pop! Vinyl SDCC Exlusive Spider-Man Vinyl Figure Bobble Head
Day 605: Hasbro Ultimate Spider-Man Night Mission Spider-Man Action Figure
Day 717: Hasbro Ultimate Spider-Man Crime Fightin' Spider-Man Action Figure
Day 862: Hasbro Ultimate Spider-Man Web Strike Spider-Man Action Figure
Day 876: Hasbro Spider-Man Marvel Legends Infinite Series The Amazing Spider-Man 2
Day 877: Hasbro Ultimate Spider-Man Iron Spider Armor Spider-Man
Day 916: Hasbro The Amazing Spider-Man Movie Ultra-Poseable Spider-Man
Day 936: Hasbro The Amazing Spider-Man Night Mission Spider-Man
Day 1,484: Hasbro Captain America Civil War Spider-Man, Captain America, and Iron Man Action Figures
Day 1,501: Hasbro Marvel Legends Series Spider-Man
Day 2,109: Hasbro Playskool Heroes Series 2 Marvel Super Hero Adventures Clear Spider-Man
Day 2,201: Hasbro Spider-Man Bend and Flex Spider-Man Action Figure
Day 2,229: Hasbro Spider-Man Marvel Legends Retro Spider-Man Action Figure
Day 2,342: Hasbro Marvel Legends 375 Spider-Man Action Figure
Day 2,453: Hasbro Marvel Spider-Man Action Figure
Day 2,459: Hasbro Marvel Legends 375 Iceman Action Figure
Day 2,476: Hasbro Marvel Legends 375 Firestar Action Figure
Day 2,491: Hasbro Marvel Legends 375 Venom Action Figure
Day 2,544: Hasbro Marvel Spider-Man Epic Hero Series Spider-Man Action Figure
Day 2,548: Hasbro Marvel Legends 375 Symbiote Spider-Man Action Figure
Day 2,560: Hasbro Marvel Legends 375 Green Goblin Action Figure
Day 2,564: Hasbro Marvel Legends 375 Amazing Fantasy Spider-Man Action Figure
Day 2,572: Hasbro Marvel Spider-Man Epic Hero Series Venom Action Figure
Day 2,592: Hasbro Marvel Legends 375 Spider-Woman Action Figure