Spider-Man
Whipping Web Line!

Ultimate Spider-Man Basic Figure
Item No.: Asst. A3974 No. A3973
Manufacturer: Hasbro
Includes: Spider, web accessory
Action Feature: n/a
Retail: $5.99
Availability: January 2013
Other: Redeco of 2010-ish mold

PREVIOUS
RSS
NEXT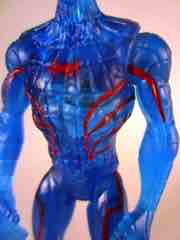 Expectations and context are hard nuts to crack, so a figure like Night Mission Spider-Man is unique in its capacity to both delight and infuriate all at once. Many of you have already voiced your concerns on the Twitter as to how much you hate this figure, while I find it to be stunningly charming. Part of the problem may be how it was sold. As a $6 mass-market action figure of a superhero aimed largely at young (very young) boys, a translucent blue figure like this one has more in common with Fisher-Price Adventure People or the Four Horsemen convention exclusive Outer Space Men figures than anything your average Marvel figure collector would deem acceptable. It's weird, it's strange, but it's also very familiar to a small sliver of toy collectors.
Due to reportedly 20% annual cost increases, Hasbro has decided to spend 2013 trying to find a way to make cheaper toys for kids. "Cheaper" and "kids" being key, as $12 figures with 16 points of articulation may not necessarily be as appealing to mom and dad as a $6 figure. As a result, Hasbro put out two 5-jointed "Ultimate Spider-Man" figures which are both unique redecoes of an existing 2010 mold which, if memory serves, started life as a pack-in for a Spider-Man car. A 5-jointed Spider-Man isn't terribly interesting, nor is a black repaint of one, but a clear blue one with red lines on his person? OK, you've got something.
This figure is unabashedly 1970s-chic, feeling like a lost cousin of the Micronauts. The idea of a clear blue "night mission" figure makes little sense, especially given that a "Spider-Sense" variant makes perfect sense. That's why I love it so much, it's gleefully ignoring the rules of the line as fans set them and instead aims to do something more similar to the famous X-Ray Man and X-Ray Woman action figures of the old days. Its simple pose and deco simply do not fit in with the toys of 2013, clear repaints are generally out of vogue now with even "holographic" blue clear variants having all but disappeared from toy stores. The figure doesn't do much, but if properly lit it's a gem to have around your desk.
The accessories are fairly simple, with a big red spider being added to the figure as well as a bit of webbing recycled from an existing Marvel Universe Spider-Man release. The webbing clips on and, in all honesty, is nothing special. Had it been left out, or replaced with a piece of string, you wouldn't miss it. More oddly compelling is a bright red unpainted Spider sidekick, which is the sort of thing you got with a Ninja Turtles figure in the early 1990s. It's a robotic spider, not a radioactive one, and since I haven't seen the new Disney XD cartoon I can only assume it's not part of the Ultimate Spider-Man TV show. Having no real play value other than being a cool plastic spider, it just adds to the anachronistic nature of this figure, or perhaps just adds to the fact that the price was wrong. For a mass-market release, it's kind of silly... but if you saw this in a Kid Robot store in New York for $30, you might be amused enough to buy it as a strange art piece.
I initially guffawed at it, then examined it closely, and simply had to have it after that. How could I not? It's just so weird, even though it uses an old mold and makes absolutely no sense in the current toy range. Heck, it might not even do well at retail, but I did my part and bought one. This is a million times more interesting than another Spidey with a new backpack or hang glider or night vision goggles. Let's bring on the crazy again, particularly if the kids buy it. I mean, we got Stealth Ninja Spider-Man, why not some other unusual takes on everybody's favorite web-slinger? Don't buy a Night Mission Spider-Man because it's a good, compelling idea. Buy it because it's crazy. Buy it because it looks sort of like Lord Power. Buy it because you aren't going to find a better use of $6 until the Wolverine line comes out.
--Adam Pawlus
Additional Images


Click here to see more Hasbro figures in Figure of the Day.
See more Spider-Man figures in Figure of the Day:
Day 39: Hasbro Spider-Man Super Poseable Spider-Man Action Figure
Day 40: Hasbro Spider-Man Stealth Ninja Spider-Man
Day 50: Hasbro Spider-Man Toxic Blast Venom
Day 65: Hasbro Spider-Man Dive Bomber Green Goblin
Day 91: Hasbro Spider-Man (Kid Series) Monster Claw Carnage Action Figure
Day 108: Hasbro Marvel Universe Spider-Man Action Figure
Day 137: Toy Biz Spider-Man Animated Super Articulated Spider-Man
Day 290: Hasbro Spider-Man Mighty Muggs J. Jonah Jameson
Day 300: Hasbro Spider-Man Mighty Muggs Venom
Day 311: Hasbro Spider-Man Mighty Muggs Spider-Man
Day 336: Hasbro Spider-Man Mighty Muggs Demogoblin
Day 427: Funko Marvel Universe Pop! Vinyl SDCC Exlusive Spider-Man Vinyl Figure Bobble Head
Day 605: Hasbro Ultimate Spider-Man Night Mission Spider-Man Action Figure
Day 717: Hasbro Ultimate Spider-Man Crime Fightin' Spider-Man Action Figure
Day 862: Hasbro Ultimate Spider-Man Web Strike Spider-Man Action Figure
Day 876: Hasbro Spider-Man Marvel Legends Infinite Series The Amazing Spider-Man 2
Day 877: Hasbro Ultimate Spider-Man Iron Spider Armor Spider-Man
Day 916: Hasbro The Amazing Spider-Man Movie Ultra-Poseable Spider-Man
Day 936: Hasbro The Amazing Spider-Man Night Mission Spider-Man
Day 1,484: Hasbro Captain America Civil War Spider-Man, Captain America, and Iron Man Action Figures
Day 1,501: Hasbro Marvel Legends Series Spider-Man
Day 2,109: Hasbro Playskool Heroes Series 2 Marvel Super Hero Adventures Clear Spider-Man
Day 2,201: Hasbro Spider-Man Bend and Flex Spider-Man Action Figure
Day 2,229: Hasbro Spider-Man Marvel Legends Retro Spider-Man Action Figure
Day 2,342: Hasbro Marvel Legends 375 Spider-Man Action Figure
Day 2,453: Hasbro Marvel Spider-Man Action Figure
Day 2,459: Hasbro Marvel Legends 375 Iceman Action Figure
Day 2,476: Hasbro Marvel Legends 375 Firestar Action Figure
Day 2,491: Hasbro Marvel Legends 375 Venom Action Figure
Day 2,544: Hasbro Marvel Spider-Man Epic Hero Series Spider-Man Action Figure
Day 2,548: Hasbro Marvel Legends 375 Symbiote Spider-Man Action Figure
Day 2,560: Hasbro Marvel Legends 375 Green Goblin Action Figure
Day 2,564: Hasbro Marvel Legends 375 Amazing Fantasy Spider-Man Action Figure
Day 2,572: Hasbro Marvel Spider-Man Epic Hero Series Venom Action Figure
Day 2,592: Hasbro Marvel Legends 375 Spider-Woman Action Figure
Day 2,640: Hasbro Marvel Spider-Man Epic Hero Series Miles Morales Action Figure

Want to buy this figure? Check Spider-Man availability at our sponsors:
Entertainment Earth