Spider-Man
Spider-Man and his Amazing Friends

Marvel Universe Toys "R" Us Exclusive 3-Pack
Item No.: Asst. 93359 No. 93360
Manufacturer: Hasbro
Includes: Marvel's Firestar, Iceman figures
Action Feature: n/a
Retail: $24.99
Availability: Summer 2009
Other: One of dozens

PREVIOUS
RSS
NEXT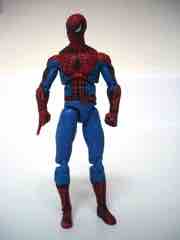 Behold, the least exciting figure from "Spider-Man and his Amazing Friends." Over the years Mego, Mattel, Toy Biz, and now Hasbro have given us countless variations on Spider-Man taken from a variety of sources-- generally speaking, the comic books. This one has a little more blue on the upper arms than some, with the color replacing some of the red you might have noticed on other figures.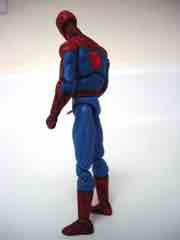 Standing about 4-inches tall, this this Spider-Man looks a lot like Hasbro's many, many other Marvel Universe Spider-Man toys. Depending on how you decide to count, he has at least 19 points of articulation and is capable of assuming numerous web-slinging poses for your amusement. While he has more articulation than the kiddie line version, the joints are way more apparent, and they feel a little bit looser. The mask is closer in appearance to the almost squinty eyes of the NBC version, but it retains the recessed webbing and the black wipe as seen on some of the other figures. The blue is also slightly more faded than on other Spidey toys, although this is hard to tell from the photos.
There's nothing bad about the figure's design or sculpt, but there is one significant flaw that came after the deco stage. For some reason, some jerk decided it would be a good idea to put a white date stamp on Spider-Man's inner thigh, and this 5-digit number is clearly visible from the front. It's not like it's off to the side or in the back, but it's right up front in a very visible place. (Due to the angle of the photos, you fortunately can't see it too easily-- but in the package shot it's right up in your face.) I'm not sure why Hasbro did this, but they also started etching in numbers on some of their other lines. It's just bad form, and it'll likely raise another generation of crazed fans who have to go research what these stupid things mean. It's better just to hide them.
I'm not crazy about this figure, but I'm crazy about the concept of this three-pack. If you watched the old cartoon I'd suggest looking up this set, particularly since it seems to keep showing up, and at lower prices each time. (With a coupon, this set ended up costing me about $5 out of pocket.) It's worth $20 or so, I'd say, but not too much more than that unless you want every last Spider-Man variant out there.
Some unsolicited advice-- if you want to look up images from Spider-Man and his Amazing Friends on Google, make sure safe search is turned on. You'll thank me later, as I need to go bleach my eyeballs.
--Adam Pawlus
Additional Images

Click here to see more Hasbro figures in Figure of the Day.
Click here to see more Marvel figures in Figure of the Day.
See more Spider-Man figures in Figure of the Day:
Day 39: Hasbro Spider-Man Super Poseable Spider-Man Action Figure
Day 40: Hasbro Spider-Man Stealth Ninja Spider-Man
Day 50: Hasbro Spider-Man Toxic Blast Venom
Day 65: Hasbro Spider-Man Dive Bomber Green Goblin
Day 91: Hasbro Spider-Man (Kid Series) Monster Claw Carnage Action Figure
Day 108: Hasbro Marvel Universe Spider-Man Action Figure
Day 137: Toy Biz Spider-Man Animated Super Articulated Spider-Man
Day 290: Hasbro Spider-Man Mighty Muggs J. Jonah Jameson
Day 300: Hasbro Spider-Man Mighty Muggs Venom
Day 311: Hasbro Spider-Man Mighty Muggs Spider-Man
Day 336: Hasbro Spider-Man Mighty Muggs Demogoblin
Day 427: Funko Marvel Universe Pop! Vinyl SDCC Exlusive Spider-Man Vinyl Figure Bobble Head
Day 605: Hasbro Ultimate Spider-Man Night Mission Spider-Man Action Figure
Day 717: Hasbro Ultimate Spider-Man Crime Fightin' Spider-Man Action Figure
Day 862: Hasbro Ultimate Spider-Man Web Strike Spider-Man Action Figure
Day 876: Hasbro Spider-Man Marvel Legends Infinite Series The Amazing Spider-Man 2
Day 877: Hasbro Ultimate Spider-Man Iron Spider Armor Spider-Man
Day 916: Hasbro The Amazing Spider-Man Movie Ultra-Poseable Spider-Man
Day 936: Hasbro The Amazing Spider-Man Night Mission Spider-Man
Day 1,484: Hasbro Captain America Civil War Spider-Man, Captain America, and Iron Man Action Figures
Day 1,501: Hasbro Marvel Legends Series Spider-Man
Day 2,109: Hasbro Playskool Heroes Series 2 Marvel Super Hero Adventures Clear Spider-Man
Day 2,201: Hasbro Spider-Man Bend and Flex Spider-Man Action Figure
Day 2,229: Hasbro Spider-Man Marvel Legends Retro Spider-Man Action Figure
Day 2,342: Hasbro Marvel Legends 375 Spider-Man Action Figure
Day 2,453: Hasbro Marvel Spider-Man Action Figure
Day 2,459: Hasbro Marvel Legends 375 Iceman Action Figure
Day 2,476: Hasbro Marvel Legends 375 Firestar Action Figure
Day 2,491: Hasbro Marvel Legends 375 Venom Action Figure
Day 2,544: Hasbro Marvel Spider-Man Epic Hero Series Spider-Man Action Figure
Day 2,548: Hasbro Marvel Legends 375 Symbiote Spider-Man Action Figure
Day 2,560: Hasbro Marvel Legends 375 Green Goblin Action Figure
Day 2,564: Hasbro Marvel Legends 375 Amazing Fantasy Spider-Man Action Figure
Day 2,572: Hasbro Marvel Spider-Man Epic Hero Series Venom Action Figure
Day 2,592: Hasbro Marvel Legends 375 Spider-Woman Action Figure
Day 2,640: Hasbro Marvel Spider-Man Epic Hero Series Miles Morales Action Figure

Want to buy this figure? Check Marvel availability at our sponsors:
Entertainment Earth