Green Goblin
Comic Book Edition

Spider-Man (Kid Series) Basic Figure
Item No.: Asst. 93570 No. 93989
Manufacturer: Hasbro
Includes: Satchel, pumpkin bomb, glider
Action Feature: n/a
Retail: $7.99
Availability: Spring 2010
Other: Blue

PREVIOUS
RSS
NEXT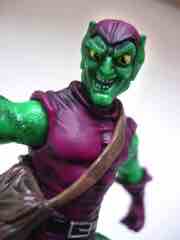 Here's another good one. I was picking up a lot of odds and ends in the Fall of 2010 and sale pricing pushed me in the direction of Hasbro's 3 3/4-inch Spider-Man line which, on the whole, is a kid-driven mess. If you want a Ninja Spider-Man, it exists in this line. There are also other characters, but not many-- Green Goblin (along with Rhino, Doc Ock, Venom, Hobgoblin, and Carnage) may be overlooked in the glut of 2010.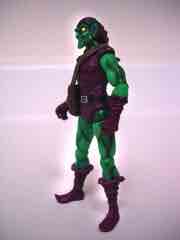 Norman Osborne's first alter-ego checks in at 12 points of articulation, and a design that's closer to the best of modern Star Wars and not Marvel Universe. Check out all the ball joints, the bright colors, and that awesome pumpkin bomb. It's a little squishy and he can hold it in his hand without pegs or fear of dropping it... so far, anyway. He has a great range of motion, but the head is all over the place. I examined several of these before I realized that "good ones" actually exist-- the eyes are often wonky. Be sure to examine yours before purchase.

Green Goblin has no problem standing on his glider, which has holes in the bottom which can connect with the web accessories included with some other figures. I found it awkward but I really enjoyed this figure overall, the scaley, freaky, retro dude-in-a-mask even has a removable satchel for added awesomeness. Just be warned, the figure's bag "stuck" to his side because of the paint, so you may experience some minor frustration in getting him up to snuff after removing him from his very colorful packaging. This was a pleasant surprise.
--Adam Pawlus
Additional Images

Click here to see more Hasbro figures in Figure of the Day.
See more Spider-Man figures in Figure of the Day:
Day 39: Hasbro Spider-Man Super Poseable Spider-Man Action Figure
Day 40: Hasbro Spider-Man Stealth Ninja Spider-Man
Day 50: Hasbro Spider-Man Toxic Blast Venom
Day 65: Hasbro Spider-Man Dive Bomber Green Goblin
Day 91: Hasbro Spider-Man (Kid Series) Monster Claw Carnage Action Figure
Day 108: Hasbro Marvel Universe Spider-Man Action Figure
Day 137: Toy Biz Spider-Man Animated Super Articulated Spider-Man
Day 290: Hasbro Spider-Man Mighty Muggs J. Jonah Jameson
Day 300: Hasbro Spider-Man Mighty Muggs Venom
Day 311: Hasbro Spider-Man Mighty Muggs Spider-Man
Day 336: Hasbro Spider-Man Mighty Muggs Demogoblin
Day 427: Funko Marvel Universe Pop! Vinyl SDCC Exlusive Spider-Man Vinyl Figure Bobble Head
Day 605: Hasbro Ultimate Spider-Man Night Mission Spider-Man Action Figure
Day 717: Hasbro Ultimate Spider-Man Crime Fightin' Spider-Man Action Figure
Day 862: Hasbro Ultimate Spider-Man Web Strike Spider-Man Action Figure
Day 876: Hasbro Spider-Man Marvel Legends Infinite Series The Amazing Spider-Man 2
Day 877: Hasbro Ultimate Spider-Man Iron Spider Armor Spider-Man
Day 916: Hasbro The Amazing Spider-Man Movie Ultra-Poseable Spider-Man
Day 936: Hasbro The Amazing Spider-Man Night Mission Spider-Man
Day 1,484: Hasbro Captain America Civil War Spider-Man, Captain America, and Iron Man Action Figures
Day 1,501: Hasbro Marvel Legends Series Spider-Man
Day 2,109: Hasbro Playskool Heroes Series 2 Marvel Super Hero Adventures Clear Spider-Man
Day 2,201: Hasbro Spider-Man Bend and Flex Spider-Man Action Figure
Day 2,229: Hasbro Spider-Man Marvel Legends Retro Spider-Man Action Figure
Day 2,342: Hasbro Marvel Legends 375 Spider-Man Action Figure
Day 2,453: Hasbro Marvel Spider-Man Action Figure
Day 2,459: Hasbro Marvel Legends 375 Iceman Action Figure
Day 2,476: Hasbro Marvel Legends 375 Firestar Action Figure
Day 2,491: Hasbro Marvel Legends 375 Venom Action Figure
Day 2,544: Hasbro Marvel Spider-Man Epic Hero Series Spider-Man Action Figure
Day 2,548: Hasbro Marvel Legends 375 Symbiote Spider-Man Action Figure
Day 2,560: Hasbro Marvel Legends 375 Green Goblin Action Figure
Day 2,564: Hasbro Marvel Legends 375 Amazing Fantasy Spider-Man Action Figure
Day 2,572: Hasbro Marvel Spider-Man Epic Hero Series Venom Action Figure
Day 2,592: Hasbro Marvel Legends 375 Spider-Woman Action Figure
Day 2,640: Hasbro Marvel Spider-Man Epic Hero Series Miles Morales Action Figure

Want to buy this figure? Check Spider-Man availability at our sponsors:
Entertainment Earth