Spider-Man
Kenner, but Not

Marvel Legends 375 Action Figure
Item No.: F2648 No. F2654
Manufacturer: Hasbro
Includes: n/a
Action Feature: n/a
Retail: $9.99-$12.99
Availability: Spring 2021
Other: Once cheap, now fancy

PREVIOUS
RSS
NEXT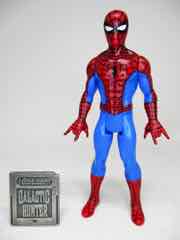 How times change! 10 years ago, fans were complaining that Hasbro was making $6 retro figures for Iron Man, Spider-Man, and others. It's kind of funny, now that they slapped a Kenner logo on the box this new Spider-Man can't be kept in stock - the reality-distortion field provided by gorgeous packaging and a Kenner logo probably helped, but also remember that this Ultimate Spider-Man Night Mission Spider-Man [FOTD #605] was one of the most Kenner things ever... and six bucks. The $6 figure has 5 joints, a web, and a spider. The $13 figure has 7 joints (they added wrists) and no accessories. Which is better? Well... you tell me.
Click here to check availability at Entertainment Earth.
I don't collect Marvel in a big way, but I usually wind up buying a Spider-Man every time there's a new format I like - "Kenner Spider-Man" scratched an itch. It's significantly better than other retro-style Spider-Man figures, like Mattel's Secret Wars line from the 1980s. He stands and sits well, and has no accessories - which is a lot like Kenner figures of the 1970s and 1980s with unique hands. Most C-3PO figures weren't designed to interact with accessories, and neither was this Spider-Man - he has the "thwip" hands and no webs, so his wrist articulation lets you move him around to pretend to fight with other figures. It's a good choice.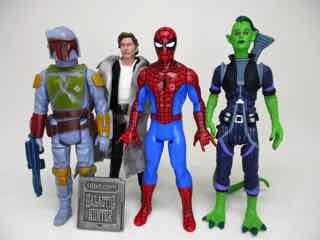 The 3 3/4-inch figure fits in with (and in) your old Kenner vehicles. I have an MTV-7 Mini-Rig on my desk and sure enough, he fits right in. In terms of functionality he works just as well as - if not better than - figures of the 1980s, but he's better. Individually-sculpted fingers on figures of this size were exceedingly rare until after the year 2000 (Power of the Jedi's sculptors made a fuss about it, keeping the width the same but making them thicker and deeper so it was harder to see and ensure they don't break.)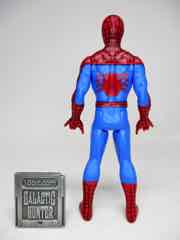 The sculpting is very flat - this is consistent with vintage toys - but the webbing pattern is great. The proportions are way better than the old Secret Wars figure, and the all-over web pattern puts the 1980s toys to shame. Toy Biz got it right in the 1990s, but Kenner probably wouldn't have been able to make something quite this good at this price point. Hey, maybe I'm wrong, but go look at the old Mattel Spider-Man. I can wait. Around the shoulders, there's un-webbed red, and the inner forearms also lack the black webbing. Combined with the pin head, a figure like this - with big eyes and all-over webs - is way better than you could expect.
Most fans will buy this and keep it packaged - the unpunch hang tag hole, the great card art, and the retro logo make this an absolute stunner of a presentation. (Exhibit B is Hasbro's Kenner Star Wars line, with ugly sickers, terrible fake weathering, and no unpunched peg hook holes.) Once opened, it's just a good action figure that looks sort of like something you'd find in the 1980s, but it's clearly superior to what production techniques and budgets of the Kenner era could muster. It also looks a lot like how I pictured Spider-Man as a kid, with a lot of black around the eyes. I don't plan on collecting this line, but if I can find Iceman and they someday make a Firestar I'm all set. I'd also love to see a whole suite of the Fox X-Men Cartoon in this format.
--Adam Pawlus
Additional Images

Click here to see more Hasbro figures in Figure of the Day.
Click here to see more Marvel figures in Figure of the Day.
See more Spider-Man figures in Figure of the Day:
Day 39: Hasbro Spider-Man Super Poseable Spider-Man Action Figure
Day 40: Hasbro Spider-Man Stealth Ninja Spider-Man
Day 50: Hasbro Spider-Man Toxic Blast Venom
Day 65: Hasbro Spider-Man Dive Bomber Green Goblin
Day 91: Hasbro Spider-Man (Kid Series) Monster Claw Carnage Action Figure
Day 108: Hasbro Marvel Universe Spider-Man Action Figure
Day 137: Toy Biz Spider-Man Animated Super Articulated Spider-Man
Day 290: Hasbro Spider-Man Mighty Muggs J. Jonah Jameson
Day 300: Hasbro Spider-Man Mighty Muggs Venom
Day 311: Hasbro Spider-Man Mighty Muggs Spider-Man
Day 336: Hasbro Spider-Man Mighty Muggs Demogoblin
Day 427: Funko Marvel Universe Pop! Vinyl SDCC Exlusive Spider-Man Vinyl Figure Bobble Head
Day 605: Hasbro Ultimate Spider-Man Night Mission Spider-Man Action Figure
Day 717: Hasbro Ultimate Spider-Man Crime Fightin' Spider-Man Action Figure
Day 862: Hasbro Ultimate Spider-Man Web Strike Spider-Man Action Figure
Day 876: Hasbro Spider-Man Marvel Legends Infinite Series The Amazing Spider-Man 2
Day 877: Hasbro Ultimate Spider-Man Iron Spider Armor Spider-Man
Day 916: Hasbro The Amazing Spider-Man Movie Ultra-Poseable Spider-Man
Day 936: Hasbro The Amazing Spider-Man Night Mission Spider-Man
Day 1,484: Hasbro Captain America Civil War Spider-Man, Captain America, and Iron Man Action Figures
Day 1,501: Hasbro Marvel Legends Series Spider-Man
Day 2,109: Hasbro Playskool Heroes Series 2 Marvel Super Hero Adventures Clear Spider-Man
Day 2,201: Hasbro Spider-Man Bend and Flex Spider-Man Action Figure
Day 2,229: Hasbro Spider-Man Marvel Legends Retro Spider-Man Action Figure
Day 2,342: Hasbro Marvel Legends 375 Spider-Man Action Figure
Day 2,453: Hasbro Marvel Spider-Man Action Figure
Day 2,459: Hasbro Marvel Legends 375 Iceman Action Figure
Day 2,476: Hasbro Marvel Legends 375 Firestar Action Figure
Day 2,491: Hasbro Marvel Legends 375 Venom Action Figure
Day 2,544: Hasbro Marvel Spider-Man Epic Hero Series Spider-Man Action Figure
Day 2,548: Hasbro Marvel Legends 375 Symbiote Spider-Man Action Figure
Day 2,560: Hasbro Marvel Legends 375 Green Goblin Action Figure
Day 2,564: Hasbro Marvel Legends 375 Amazing Fantasy Spider-Man Action Figure
Day 2,572: Hasbro Marvel Spider-Man Epic Hero Series Venom Action Figure
Day 2,592: Hasbro Marvel Legends 375 Spider-Woman Action Figure
Day 2,640: Hasbro Marvel Spider-Man Epic Hero Series Miles Morales Action Figure