Wolf Man Cellar Dweller
Surprisingly Good

Universal Monsters Action Figure
Item No.: n/a
Manufacturer: Burger King
Includes: Figure and coffin
Action Feature: Rises out of coffin, moon jumps up
Retail: $2.99ish
Availability: 1997
Other: Nifty

PREVIOUS
RSS
NEXT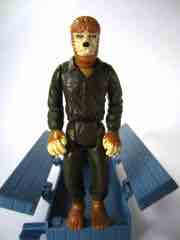 Back in the 1990s, fast food premium toys were pretty spectacular. Burger King tended to put out some of the best toys, including 3 3/4-inch action figures for Universal Monsters and McDonalds had a number of similarly sized small figures. In 1997 the Wolf Man Cellar Dweller was part of a line that, as a collector, I simply had to run out and get - full-size action figures? At a place that, at the time, I ate at regularly? For a couple of bucks, with food I'd buy anyway? You can't beat that. The quality of fast food toys has been on a rapid decline since LEGO stopped providing legit bricks and pieces to Mickey D at the dawn of the 21st century (and cereal toys are extinct), but as last hurrahs go this was pretty solid.
I have no idea who sculpted or designed these - if you do, please let me know - but I will say these were spectacular in their day. I would say that they were so good I had no desire to track down more from other lines - I was plenty happy with this set, even thought it was incomplete. (I snagged a Sideshow 8-inch Mummy around this time as well as Jack in the Box' horrific screaming Bride of Frankenstein. She did not age well.) Hasbro, Playmates, Sideshow Toys (now Collectibles), McFarlane's Monsters, and other figures in this era were all pretty fantastic, but they were more expensive. If you wanted something good and cheap, or free with "lunch," this was it!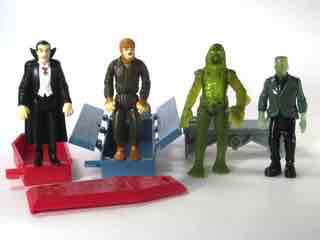 Lon Chaney, Jr.'s wolfy beast is a hair taller than a vintage Walrus Man figure, and painted quite lightly. The sculpting looks more 1980s than 1990s, and Remco's figure was very 1970s. Funko's just-announced Wolf Man ReAction Figure aims to ape this retro style, and is almost too good - the splotchy flesh colors on the Burger King figure are arguably wrong, which puts it more in line with the crappy and incorrect aesthetic Kenner applied to numerous figures before basically getting it right for Return of the Jedi onward. Other figures were made over the years, including a series of monsters for Jack in the Box. I like these more.
The figure is quite good, coming with an action coffin and 5 points of articulation. Every joint swivels easily and his articulation is basically on par with all those old Kenner toys. He stands and sits, with foot pegs roughly the same size as Kenner's. He can be plugged on foot pegs inside his cellar coffin, where you can rotate a lever which causes him to rise out for a scare. A spring-loaded backdrop featuring a dark forest and moon rises up as he escapes the depths, making it a clever and charming little toy for the money. Given that ReAction figures are about $10, and that a figure of this quality would be $5 or $6 in 1997, it's something of a miracle that this was a fast food premium and not an actual toy.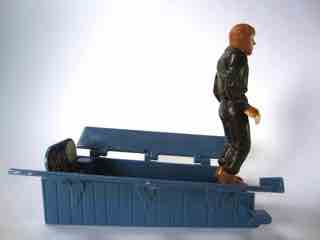 His texture and sculpting is quite simple, with copyright marks on the back of his shirt and limited fur detail on his head, hands, and feet. The simple pleats and wrinkles on his outfit resemble those old toys closely, which is bizarre given how most figures of the 1990s turned out. His deco is clean with bright, white eyes and all the paint seems properly aligned. And Burger King probably gave away hundreds of thousands if not millions of these things. Today a figure should set you back about $5 (or less) and the set is $20ish to $50ish. If you can get it cheap, do so - mine has aged quite well over the years with minimal damage. Wolf Man is one of the best in the set, I'd argue that the Creature from the Black Lagoon is the lone dud while Frankenstein and Dracula are just OK. We'll be looking at those later.
--Adam Pawlus
Additional Images

See more Burger King figures in Figure of the Day:
Day 883: Burger King Universal Monsters Wolf Man Cellar Dweller Action Figure
Day 894: Burger King Universal Monsters Down for the Count Dracula
Day 924: Burger King Universal Monsters Bolts and Volts Frankenstein
Day 931: Burger King Universal Monsters Scary Squirter Featuring the Creature from the Black Lagoon
Day 1,427: Burger King G.I. Joe AWE Striker with Snake Eyes Vehicle
Day 1,970: Burger King ThunderCats Snarf Figurine
Day 1,976: Burger King Smurfs: The Lost Village Brainy Smurf Action Figure
Day 2,298: Burger King Super Powers Superman Cup Holder Figure

See more Universal Monsters, Horror, and Monsters figures in Figure of the Day:
Day 76: Diamond Select Toys Black and White Wolfman
Day 777: Playmates Toys Monster Force Creature from the Black Lagoon
Day 883: Burger King Universal Monsters Wolf Man Cellar Dweller Action Figure
Day 894: Burger King Universal Monsters Down for the Count Dracula
Day 924: Burger King Universal Monsters Bolts and Volts Frankenstein
Day 931: Burger King Universal Monsters Scary Squirter Featuring the Creature from the Black Lagoon
Day 1,000: Funko Hikari Vinyl Freddy Funko (Creature from the Black Lagoon)
Day 1,005: Funko Universal Monsters The Mummy ReAction Figure
Day 1,038: Funko Universal Monsters Creature from the Black Lagoon ReAction Figure
Day 1,039: Funko Universal Monsters The Invisible Man ReAction Figure
Day 1,040: Funko Universal Monsters The Phantom of the Opera ReAction Figure
Day 1,041: Funko Universal Monsters The Wolf Man ReAction Figure
Day 1,042: Funko Universal Monsters The Bride of Frankenstein ReAction Figure
Day 1,068: Funko Universal Monsters Frankenstein's Monster ReAction Figure
Day 1,094: Funko Universal Monsters Dracula ReAction Figure
Day 1,108: Funko Universal Monsters The Invisible Man Clear Entertainment Earth Exclusive
Day 1,163: Funko Universal Monsters Life Force Metaluna Mutant
Day 1,165: Funko Hikari Vinyl Universal Monsters Glitter Shock Frankenstein
Day 1,257: Funko Hikari Vinyl Antique Verdigris Metaluna Mutant
Day 1,612: Hasbro Hero Mashers Monsters Fish Hook
Day 1,617: Playmobil 6824 Playmo-Friends Werewolf
Day 1,619: Hasbro Hero Mashers Monsters Grim Flame
Day 1,626: Hasbro Hero Mashers Monsters Iron Vulf
Day 1,636: Hasbro Hero Mashers Monsters Sir Jack-O-Lanternus
Day 1,675: Hasbro Hero Mashers Monsters Bone Thrasher
Day 1,920: Super7 Halloween Series Nosferatu Glow in the Dark
Day 2,011: Jack in the Box Universal Monsters Bride of Frankenstein
Day 2,104: Fisher-Price Imaginext Egypt Mummy Guards Action Figures
Day 2,137: Sideshow Toy Universal Monsters Boris Karloff The Mummy Glow in the Dark Action Figure
Day 2,412: Jada Toys Universal Monsters Entertainment Earth Exclusive Creature from the Black Lagoon Action Figure
Day 2,454: Super7 Metropolis Silver Maria ReAction Figure
Day 2,562: Super7 Universal Monsters The Mummy ReAction Figure
Day 2,570: Super7 Universal Monsters The Metaluna Mutant ReAction Figure
Day 2,606: Super7 Universal Monsters Official World Famous Super7 Monsters! Creature from the Black Lagoon (Super She Creature) Glow-in-the-Dark
Day 2,630: Super7 Universal Monsters The Metaluna Mutant ReAction Figure
Day 2,638: Super7 Universal Monsters Dracula ReAction Figure
Day 2,649: Super7 Universal Monsters Bride of Frankenstein ReAction Figure
Day 2,652: Super7 Universal Monsters The Mummy (Costume Colors) ReAction Figure
Day 2,657: Super7 Universal Monsters The Wolf Man ReAction Figure
Day 2,661: Super7 Svengoolie Horror Host Icon ReAction Figure

Want to buy this figure? Check Universal Monsters availability at our sponsors:
Entertainment Earth