Down for the Count Dracula
Surprisingly Good

Universal Monsters Action Figure
Item No.: n/a
Manufacturer: Burger King
Includes: Cape and coffin
Action Feature: Rises out of coffin, glow in the dark highlights
Retail: $2.99ish
Availability: 1997
Other: Quality

PREVIOUS
RSS
NEXT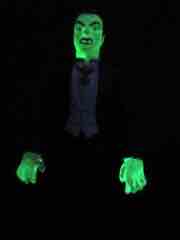 One ding! German. Two dings? Still German. Three dings? Dracula!
Since I started punching up these reviews, I started talking to collectors about Burger King's line of Universal Monsters and was surprised to hear not only how many people remembered them, but love them. Sure, they have goofy names like Down for the Count Dracula and the estate of Bela Lugosi prevents it from having a perfect likeness, but it looks better than Remco's figure. The hands and face both glow in the dark green thanks to some clever paint applications, and the outfit itself is quite ornate. The plastic cape fits snuggly and is arguably superior to vintage 1980s capes, if nothing else it looks pretty good.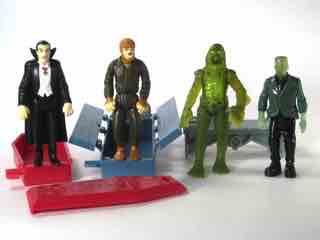 While odds are Sideshow Toy (today Sideshow Collectibles) had the best monster figures in the 1990s with its killer 8-inch line of action figures, these were the best toys for so many reasons - even if Lugosi's face didn't provide the basis for Drac, the outfit's about right. The sculpting is really good, with sharp lines and legs which can easily swing forward. The plug-in cape comes off without a hitch, making this arguably more playable than the bulk of Kenner figures of his era. The coffin gimmick is what really makes this one sing, since you can turn a knob and the Count rises from his coffin and casts aside the lid. Sure, the coffin has a bat cut-out and his name on the lid, but it's still a dang coffin!
As always you get 5 good joints in addition to his unpainted reddish coffin. It's a very simple design, as the foot pegs on the hinge peg in to the feet, more or less staying in there even if you flip it upside-down.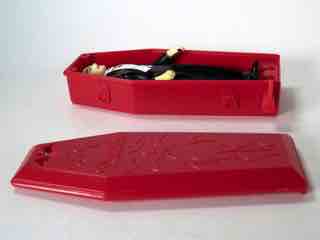 While not the perfect Dracula, it is pretty darned good - but without likeness rights, all of the Universal Dracula toys feel even cheaper than they should. It's a fun figure if you enjoy these charms, and would like a figure that's worth playing with rather than staring at. The little mechanism in the coffin is simple and fun, plus any figure that glows in the dark is worthy of some attention. Get this set if you can!
--Adam Pawlus
Additional Images

See more Burger King figures in Figure of the Day:
Day 883: Burger King Universal Monsters Wolf Man Cellar Dweller Action Figure
Day 894: Burger King Universal Monsters Down for the Count Dracula
Day 924: Burger King Universal Monsters Bolts and Volts Frankenstein
Day 931: Burger King Universal Monsters Scary Squirter Featuring the Creature from the Black Lagoon
Day 1,427: Burger King G.I. Joe AWE Striker with Snake Eyes Vehicle
Day 1,970: Burger King ThunderCats Snarf Figurine
Day 1,976: Burger King Smurfs: The Lost Village Brainy Smurf Action Figure
Day 2,298: Burger King Super Powers Superman Cup Holder Figure

See more Universal Monsters, Horror, and Monsters figures in Figure of the Day:
Day 76: Diamond Select Toys Black and White Wolfman
Day 777: Playmates Toys Monster Force Creature from the Black Lagoon
Day 883: Burger King Universal Monsters Wolf Man Cellar Dweller Action Figure
Day 894: Burger King Universal Monsters Down for the Count Dracula
Day 924: Burger King Universal Monsters Bolts and Volts Frankenstein
Day 931: Burger King Universal Monsters Scary Squirter Featuring the Creature from the Black Lagoon
Day 1,000: Funko Hikari Vinyl Freddy Funko (Creature from the Black Lagoon)
Day 1,005: Funko Universal Monsters The Mummy ReAction Figure
Day 1,038: Funko Universal Monsters Creature from the Black Lagoon ReAction Figure
Day 1,039: Funko Universal Monsters The Invisible Man ReAction Figure
Day 1,040: Funko Universal Monsters The Phantom of the Opera ReAction Figure
Day 1,041: Funko Universal Monsters The Wolf Man ReAction Figure
Day 1,042: Funko Universal Monsters The Bride of Frankenstein ReAction Figure
Day 1,068: Funko Universal Monsters Frankenstein's Monster ReAction Figure
Day 1,094: Funko Universal Monsters Dracula ReAction Figure
Day 1,108: Funko Universal Monsters The Invisible Man Clear Entertainment Earth Exclusive
Day 1,163: Funko Universal Monsters Life Force Metaluna Mutant
Day 1,165: Funko Hikari Vinyl Universal Monsters Glitter Shock Frankenstein
Day 1,257: Funko Hikari Vinyl Antique Verdigris Metaluna Mutant
Day 1,612: Hasbro Hero Mashers Monsters Fish Hook
Day 1,617: Playmobil 6824 Playmo-Friends Werewolf
Day 1,619: Hasbro Hero Mashers Monsters Grim Flame
Day 1,626: Hasbro Hero Mashers Monsters Iron Vulf
Day 1,636: Hasbro Hero Mashers Monsters Sir Jack-O-Lanternus
Day 1,675: Hasbro Hero Mashers Monsters Bone Thrasher
Day 1,920: Super7 Halloween Series Nosferatu Glow in the Dark
Day 2,011: Jack in the Box Universal Monsters Bride of Frankenstein
Day 2,104: Fisher-Price Imaginext Egypt Mummy Guards Action Figures
Day 2,137: Sideshow Toy Universal Monsters Boris Karloff The Mummy Glow in the Dark Action Figure
Day 2,412: Jada Toys Universal Monsters Entertainment Earth Exclusive Creature from the Black Lagoon Action Figure
Day 2,454: Super7 Metropolis Silver Maria ReAction Figure
Day 2,562: Super7 Universal Monsters The Mummy ReAction Figure
Day 2,570: Super7 Universal Monsters The Metaluna Mutant ReAction Figure
Day 2,606: Super7 Universal Monsters Official World Famous Super7 Monsters! Creature from the Black Lagoon (Super She Creature) Glow-in-the-Dark
Day 2,630: Super7 Universal Monsters The Metaluna Mutant ReAction Figure
Day 2,638: Super7 Universal Monsters Dracula ReAction Figure
Day 2,649: Super7 Universal Monsters Bride of Frankenstein ReAction Figure
Day 2,652: Super7 Universal Monsters The Mummy (Costume Colors) ReAction Figure
Day 2,657: Super7 Universal Monsters The Wolf Man ReAction Figure
Day 2,661: Super7 Svengoolie Horror Host Icon ReAction Figure

Want to buy this figure? Check Universal Monsters availability at our sponsors:
Entertainment Earth