The Wolf Man
You is a warwilf

Universal Monsters ReAction Figure
Item No.: No. 03221
Manufacturer: Super7
Includes: n/a
Action Feature: n/a
Retail: $17.99
Availability: April 2018?
Other: Is it man... or wolf man?

PREVIOUS
RSS
NEXT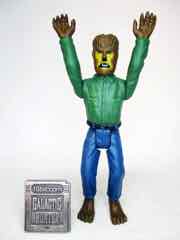 I skipped The Wolf Man from Universal Monsters at first. I bought the Funko Wolf Man ReAction Figure [FOTD #1,041] in 2014, and I thought "eh, it's good enough." To be honest, the head of this 2018 release is a little weird, but I bought it less for its many improvements but more for its pedigree. Allegedly it was sculpted by an ex-Kenner sculptor responsible for a lot of toys I had as a kid, and that was reason enough for me to seek it down and give it a good hard look.
Click here to check availability at Entertainment Earth.
Click here to check availability at eBay.
While I don't have the Remco The Wolf Man figure - despite my having a few action figures when those were still on the market, my parents did not give me monster toys that early - it's kind of fascinating to see multiple 3 3/4-inch versions of Lon Chaney Jr.'s The Wolf Man, all of which seem to be riffing from each other in interesting and weird ways. Some figures add elements, others remove them, and nobody can agree on what the right colors are - such is the challenge from being based on a black-and-white film from 1941.
If you've never seen The Wolf Man, go check it out. You'll understand why people are fanatical about it. If for any reason you don't, there are legions of now-old "monster kids" who are happy to talk about it. I'd recommend checking out The Dana Gould Hour or the late Gilbert Gottfried's Amazing Colossal Podcast for some fun discourse thrown in about the film on the regular, mostly because you really do want to hear about it through the eyes of fans. I'd argue the legends and backstory surrounding the film is more fascinating than the excellent film itself. If you're a Star Wars fan with mountains of reference books, you'll understand.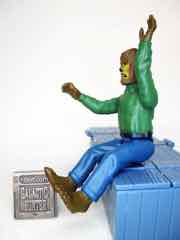 Normally I try to find novelty in this site, yet this time I went after something very similar to another, cheaper figure I already owned. The 1997 Burger King version has a very similar pose, and also eschews the rear pockets on the pants - curious! The 2018 figure's head seems to be more inspired by stylized designs from the 1960s - particularly the head reminding me of tiki stuff - but it could be my imagination. I appreciate the bent legs and elbows, which give it a lot more personality than the 2014 Funko x Super7 version. Funko's take is good, but more by the book - it feels more like a guy in a costume fitting photo, with his hands at the side, the pants nicely pleated, and generally just standing around being a good boy.
The 2018 figure got all the personality - the fingers are splayed out a bit, he's got more of a grimace, the clothes have more wrinkles that feel lively, and he's also standing up on the balls of his feet. The arms posed with the hands rotated gives the figure an air of movement we didn't necessarily see in the era of peak 3 3/4-inch figures, but there were loads of figures with poses that went beyond "posed at attention." It's a common misconception that these figures were just bored guys standing around, which you'll see if you compare the early Super7 x Funko ReAction Figures and compare them to Kenner's 1979 Cantina aliens or many other releases. There's some magic going on in the old toys, and you'll see some of that in this this figure too. The sculpted detail is a little more subtle than the deeper grooves of an old Remco or Kenner toy, but I think it get the point across a little better than the pose of the Funko Wolf Man. I will, however, give the Funko one points for materials - the glossy blue green shirt felt a lot more "old" than the matte green shirt of 2018.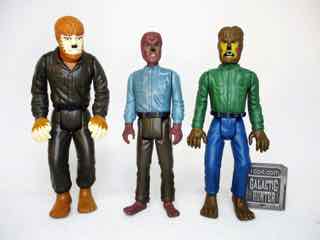 As to the colors, I don't even know what to say - when you look at photos that were probably colorized, old toys, newer toys, and other reference materials, I can't say I have a good sense as to what "right" is or even if they're all right because he changed his pants in the film. I don't know if I buy the technicolor green shirt and blue pants, but it looks cool - it works better than a black-and-white or sepia tone figure, and it's more vibrant than the old Remco figure.
Lawrence Talbot's cursed form looks just fine, with the bent knees giving him a little bonus functionality in that he can actually sit in some 3 3/4-inch figures that his straight-legged peers can't. I love that the hands look like they were elongated by the curse, and that the shirt's buttons and collar really look like they put some care into making them great. The mouth is really weird, and the head shape is striking in that it feels a little off. But so did all the other ones. The Burger King figure may have captured the personality but missed out on colors, so each figure is likely to give you something that the others are missing. I wouldn't say that the Wolf Man redux is as essential to a good toy box as Maria from Metropolis or Cornelius from Planet of the Apes, but I like it, and I don't regret buying it. And I assume he'll be menacing some Adventure People or Nancy Drew some day.
--Adam Pawlus
Additional Images

See more Super 7 and Funko x Super 7 figures in Figure of the Day:
Day 792: Super 7 ALIEN SDCC Exclusive Sales Samples
Day 821: Super7 x Funko Alien ReAction Ripley
Day 844: Super7 x Funko Alien ReAction Dallas
Day 852: Super7 x Funko Alien ReAction Alien
Day 857: Super7 x Funko Alien ReAction Kane in Space Suit
Day 861: Super7 x Funko Alien ReAction Ash
Day 945: Super7 x Funko The Rocketeer ReAction Rocketeer Action Figure
Day 945: Super7 x Funko Predator (Invisible, Bloody) Action Figure
Day 985: Funko Back to the Future Marty McFly ReAction Figure
Day 1001: Funko Nightmare Before Christmas Jack Skellington (Early Bird Figure) ReAction Figure
Day 1,005: Funko Universal Monsters The Mummy ReAction Figure
Day 1,008: Funko Back to the Future George McFly ReAction Figure
Day 1,008: Funko Back to the Future Doc Brown ReAction Figure
Day 1,029: Super7 x Funko Predator (Attack Mode) ReAction Figure
Day 1,037: Funko Nightmare Before Christmas Saly ReAction Figure
Day 1,038: Funko Universal Monsters Creature from the Black Lagoon ReAction Figure
Day 1,039: Funko Universal Monsters The Invisible Man ReAction Figure
Day 1,040: Funko Universal Monsters The Phantom of the Opera ReAction Figure
Day 1,041: Funko Universal Monsters The Wolf Man ReAction Figure
Day 1,042: Funko Universal Monsters The Bride of Frankenstein ReAction Figure
Day 1,059: Funko Predator (Masked) ReAction Figure
Day 1,068: Funko Universal Monsters Frankenstein's Monster ReAction Figure
Day 1,078: Funko Back to the Future Biff Tannen ReAction Figure
Day 1,082: Funko T800 Endoskeleton (Chrome) ReAction Figure
Day 1,094: Funko Universal Monsters Dracula ReAction Figure
Day 1,059: Funko Predator (Masked) ReAction Figure
Day 1,102: Funko Predator (Unmasked) ReAction Figure
Day 1,108: Funko Universal Monsters The Invisible Man
Day 1,108: Funko Universal Monsters The Invisible Man Clear Entertainment Earth Exclusive
Day 1,111: Funko Predator (Glow Version) ReAction Figure
Day 1,117: Funko The Terminator Sarah Connor ReAction Figure
Day 1,133: Funko The Terminator (Tech Noir Jacket) ReAction Figure
Day 1,138: Funko Pulp Fiction Mia Wallace ReAction Figure
Day 1,149: Super7 x Funko Alien Egg Chamber Action Playset
Day 1,183: Super7 x Funko Alien ReAction Alien (with Metallic Flesh)
Day 1,187: Funko Predator (Invisible) ReAction Figure
Day 1,199: Super7 x Funko Alien ReAction Ripley (Spacesuit)
Day 1,208: Funko Predator (Thermal Vision) ReAction Figure
Day 1,211: Funko The Fifth Element Leeloo ReAction Figure
Day 1,217: Funko The Fifth Element Diva Plavalaguna ReAction Figure
Day 1,222: Funko The Fifth Element Korben Dallas ReAction Figure
Day 1,227: Funko The Fifth Element Mangalore ReAction Figure
Day 1,236: Funko Gremlins Mogwai Stripe ReAction Figure
Day 1,244: Funko The Fifth Element Ruby Rhod ReAction Figure
Day 1,250: Super7 M.O.T.U.S.C.L.E. Set B
Day 1,252: Funko The Fifth Element Zorg ReAction Figure
Day 1,263: Super7 M.O.T.U.S.C.L.E. Set A
Day 1,267: Funko The Fifth Element Leeloo (Straps Costume) ReAction Figure
Day 1,272: Super7 x Funko Alien ReAction Kane (Chestburster)
Day 1,275: Funko Gremlins Billy Peltzer ReAction Figure
Day 1,277: Super7 x Funko Alien ReAction Kane (Facehugger)
Day 1,286: Funko Nightmare Before Christmas Behemoth
Day 1,288: Super7 M.O.T.U.S.C.L.E. Set C
Day 1,295: Funko Nightmare Before Christmas Mayor
Day 1,302: Super7 M.O.T.U.S.C.L.E. SDCC Promo Skeletor
Day 1,327: Super7 x Funko Alien ReAction Nostromo Crew (Dallas, Kane, Lambert)
Day 1,333: Funko Gremlins Cinema Gremlin ReAction Figure
Day 1,342: Funko Gremlins Gremlin Stripe ReAction Figure
Day 1,358: Funko Gremlins Bandit Gremlin ReAction Figure
Day 1,628: Super7 Masters of the Universe M.U.S.C.L.E. Series 2 Set C
Day 1,633: Super7 Masters of the Universe M.U.S.C.L.E. Series 2 Set B
Day 1,637: Funko E.T. The Extra-Terrestrial Elliot, E.T., and Gertie ReAction Figures
Day 1,639: Super7 Masters of the Universe M.U.S.C.L.E. Series 2 Set D
Day 1,639: Super7 Masters of the Universe M.U.S.C.L.E. Series 2 Set A
Day 1,656: Super7 Alien M.U.S.C.L.E. Set A
Day 1,676: Super7 Alien M.U.S.C.L.E. Set C
Day 1,686: Super7 Alien M.U.S.C.L.E. Set B
Day 1,693: Super7 Alien M.U.S.C.L.E. Set D
Day 1,801: Super7 Street Fighter II M.U.S.C.L.E. Set A
Day 1,817: Super7 Street Fighter II M.U.S.C.L.E. Set B
Day 1,834: Super7 Street Fighter II M.U.S.C.L.E. Set D
Day 1,840: Super7 Masters of the Universe M.U.S.C.L.E. Series 3 Set D
Day 1,846: Super7 Aliens M.U.S.C.L.E. Set E
Day 1,843: Super7 Masters of the Universe M.U.S.C.L.E. Series 3 Set E
Day 1,857: Super7 Street Fighter II M.U.S.C.L.E. Set C
Day 1,862: Super7 Masters of the Universe M.U.S.C.L.E. Series 3 Set C
Day 1,864: Super7 Aliens M.U.S.C.L.E. Set A
Day 1,877: Super7 Masters of the Universe M.U.S.C.L.E. Series 3 Set F
Day 1,881: Super7 Mega Man M.U.S.C.L.E. Series 1 Set B
Day 1,884: Super7 Aliens M.U.S.C.L.E. Set D
Day 1,894: Super7 Mega Man M.U.S.C.L.E. Series 1 Set D
Day 1,904: Super7 Mega Man M.U.S.C.L.E. Series 1 Set A
Day 1,914: Super7 Mega Man M.U.S.C.L.E. Series 1 Set C
Day 1,920: Super7 Halloween Series Nosferatu Glow in the Dark
Day 1,922: Super7 Masters of the Universe M.U.S.C.L.E. Series 3 Set B
Day 1,937: Super7 Masters of the Universe M.U.S.C.L.E. Series 3 Set A
Day 2,161: Super7 Masters of the Universe Transforming He-Man Action Figure
Day 2,211: Super7 Toxic Crusaders Glow in the Dark Toxie Action Figure
Day 2,235: Super7 Ultimates Voltron Action Figure
Day 2,237: Super7 Teenage Mutant Ninja Turtles Ultimates Raphael Action Figure
Day 2,253: Super7 Teenage Mutant Ninja Turtles Ultimates Foot Soldier Action Figure
Day 2,358: Super7 Killer Bootlegs Rhamnusia's Revenge Action Playset with Draco Knuckleduster and Phantom Starkiller Action Figures
Day 2,388: Super7 Teenage Mutant Ninja Turtles Ultimates Glow-in-the-Dark Mutagen Man Action Figure
Day 2,454: Super7 Metropolis Silver Maria ReAction Figure
Day 2,458: Super7 G.I. Joe Red Ninja ReAction Figure
Day 2,465: Super7 Godzilla Godzilla '54 (Glow-in-the-Dark) ReAction Figure
Day 2,480: Super7 Transformers Grimlock G2 ReAction Figure
Day 2,526: Super7 Vincent Price Master of Mayhem ReAction Figure
Day 2,530: Super7 Godzilla Mechagodzilla (Glow-in-the-Dark) ReAction Figure
Day 2,534: Super7 Planet of the Apes Mendez XXVI ReAction Figure
Day 2,546: Super7 Planet of the Apes Cornelius ReAction Figure
Day 2,554: Super7 Alien UCCSS Nostromo Action Figure Set 1 with Kane with Facehugger, Ripley with Jonesy, Ash with Removable Head
Day 2,562: Super7 Universal Monsters The Mummy ReAction Figure
Day 2,570: Super7 Universal Monsters The Metaluna Mutant ReAction Figure
Day 2,577: Super7 Transformers Hot Rod ReAction Figure
Day 2,590: Super7 Planet of the Apes General Aldo ReAction Figure
Day 2,594: Super7 Mars Attacks Destroying A Dog ReAction Figure
Day 2,598: Super7 Planet of the Apes Dr. Zaius ReAction Figure
Day 2,606: Super7 Universal Monsters Official World Famous Super7 Monsters! Creature from the Black Lagoon (Super She Creature) Glow-in-the-Dark
Day 2,610: Super7 Planet of the Apes Taylor ReAction Figure
Day 2,626: Super7 Planet of the Apes Zira ReAction Figure
Day 2,630: Super7 Universal Monsters The Metaluna Mutant ReAction Figure
Day 2,634: Super7 Planet of the Apes General Ursus ReAction Figure
Day 2,638: Super7 Universal Monsters Dracula ReAction Figure
Day 2,642: Super7 Star Trek: The Next Generation Armus ReAction Figures
Day 2,647: Super7 Devo Whip It Mark Mothersbaugh ReAction Figure
Day 2,649: Super7 Universal Monsters Bride of Frankenstein ReAction Figure
Day 2,652: Super7 Universal Monsters The Mummy (Costume Colors) ReAction Figure
Day 2,655: Super7 Planet of the Apes Nova ReAction Figure
Day 2,657: Super7 Universal Monsters The Wolf Man ReAction Figure
Day 2,659: Super7 Devo Satisfaction Bob Casale ReAction Figure
Day 2,661: Super7 Svengoolie Horror Host Icon ReAction Figure

See more Universal Monsters, Horror, and Monsters figures in Figure of the Day:
Day 76: Diamond Select Toys Black and White Wolfman
Day 777: Playmates Toys Monster Force Creature from the Black Lagoon
Day 883: Burger King Universal Monsters Wolf Man Cellar Dweller Action Figure
Day 894: Burger King Universal Monsters Down for the Count Dracula
Day 924: Burger King Universal Monsters Bolts and Volts Frankenstein
Day 931: Burger King Universal Monsters Scary Squirter Featuring the Creature from the Black Lagoon
Day 1,000: Funko Hikari Vinyl Freddy Funko (Creature from the Black Lagoon)
Day 1,005: Funko Universal Monsters The Mummy ReAction Figure
Day 1,038: Funko Universal Monsters Creature from the Black Lagoon ReAction Figure
Day 1,039: Funko Universal Monsters The Invisible Man ReAction Figure
Day 1,040: Funko Universal Monsters The Phantom of the Opera ReAction Figure
Day 1,041: Funko Universal Monsters The Wolf Man ReAction Figure
Day 1,042: Funko Universal Monsters The Bride of Frankenstein ReAction Figure
Day 1,068: Funko Universal Monsters Frankenstein's Monster ReAction Figure
Day 1,094: Funko Universal Monsters Dracula ReAction Figure
Day 1,108: Funko Universal Monsters The Invisible Man Clear Entertainment Earth Exclusive
Day 1,163: Funko Universal Monsters Life Force Metaluna Mutant
Day 1,165: Funko Hikari Vinyl Universal Monsters Glitter Shock Frankenstein
Day 1,257: Funko Hikari Vinyl Antique Verdigris Metaluna Mutant
Day 1,612: Hasbro Hero Mashers Monsters Fish Hook
Day 1,617: Playmobil 6824 Playmo-Friends Werewolf
Day 1,619: Hasbro Hero Mashers Monsters Grim Flame
Day 1,626: Hasbro Hero Mashers Monsters Iron Vulf
Day 1,636: Hasbro Hero Mashers Monsters Sir Jack-O-Lanternus
Day 1,675: Hasbro Hero Mashers Monsters Bone Thrasher
Day 1,920: Super7 Halloween Series Nosferatu Glow in the Dark
Day 2,011: Jack in the Box Universal Monsters Bride of Frankenstein
Day 2,104: Fisher-Price Imaginext Egypt Mummy Guards Action Figures
Day 2,137: Sideshow Toy Universal Monsters Boris Karloff The Mummy Glow in the Dark Action Figure
Day 2,412: Jada Toys Universal Monsters Entertainment Earth Exclusive Creature from the Black Lagoon Action Figure
Day 2,454: Super7 Metropolis Silver Maria ReAction Figure
Day 2,562: Super7 Universal Monsters The Mummy ReAction Figure
Day 2,570: Super7 Universal Monsters The Metaluna Mutant ReAction Figure
Day 2,606: Super7 Universal Monsters Official World Famous Super7 Monsters! Creature from the Black Lagoon (Super She Creature) Glow-in-the-Dark
Day 2,630: Super7 Universal Monsters The Metaluna Mutant ReAction Figure
Day 2,638: Super7 Universal Monsters Dracula ReAction Figure
Day 2,649: Super7 Universal Monsters Bride of Frankenstein ReAction Figure
Day 2,652: Super7 Universal Monsters The Mummy (Costume Colors) ReAction Figure
Day 2,657: Super7 Universal Monsters The Wolf Man ReAction Figure
Day 2,661: Super7 Svengoolie Horror Host Icon ReAction Figure