Creature from the Black Lagoon
Glow-in-the-Dark Exclusive

Universal Monsters Entertainment Earth Exclusive
Item No.: No. 33763
Manufacturer: Jada Toys
Includes: Gut gun, tail whip
Action Feature: Glows in the dark, swappable head and hand
Retail: $29.99
Availability: March 2022
Other: Glows best with sunlight

PREVIOUS
RSS
NEXT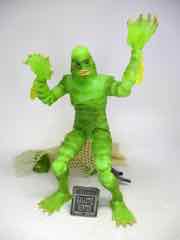 I was really excited when I saw the renders for these Universal Monsters figures because they looked good and were cheap, but I also asked about a Glow-in-the-Dark Creature from the Black Lagoon toy. Since I have a lot of figures, I held off for this one - and man, it was worth it. With about 30 points of articulation, this lanky gill man is molded in glow platic with some painted highlights. Each segment is a slightly different kind of plastic, so the glow effect varies by body part, but it still glows well when exposed to really bright UV light.
Click here to check availability at Entertainment Earth.
As a figure, it's really good - all the hallmarks of most relatively recent collector figures are here, like the buttefly-jointed knees and elbows, rocker ankles, and lots of swiveling elements. The hips have a great range of motion and can swing forward completely without looking goofy, plus all of the joints seem tight enough that you can pose him and he stays standing. With big feet and a good center of gravity, I don't think I need to worry about him tumbling off a shelf or falling on my hands as I type this review. He's going to stay put, and that's very necessary nowadays. Well, any time really - it's just not something guaranteed of all action toys. This one can even crouch and remain standing without leaning him against something. Some poses require hand support, but this figure doesn't seem to need a hand.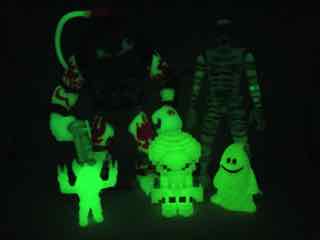 Speaking of hands, this set has two. A fossil hand accessory for your other toys to find in the jungle, and an alternate left hand that is designed to grip accessories. Sure Gill Man doesn't need to fire a dart gun, but he probably could. He also has a great alternate head - closed and open mouth versions are included - plus a net. The net is actually string and not rubbery plastic, so it should be pretty durable for the long haul.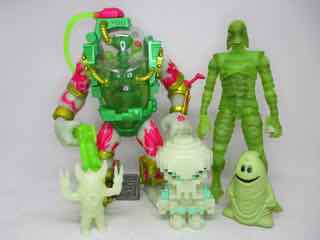 The eyes are very clearly printed, with various green scale stripes painted on the heads and body for added definition. I very much like plain green glow plastic, but it doesn't look as good in pictures nor does it show off the considerable sculpted detail of the costume. The green costume color is dark enough that I can actually see the scales in parts, as opposed to the lighter, more washed-out color of most glow plastics. The downside is that it doesn't glow quite as brightly as some other glow figures, but it's still quite impressive in person.
I haven't seen plastic Jada figures in stores much and they're pretty swell for a license that's closing in on being nearly 100 years old. Gill Man has only been with us since 1954, but maybe that's why he's so appealing. It's not a guy in a roughed-up suit with make-up, it's a full-body creature mask, and we saw him swim. NECA also has monster figures, as does Super7 and others, each of which capture something different, or inhabit a specific price point or unique corner of the toy world. These seem to be entry-tier, but still awesome, figures for adult fans and I hope they do well enough to warrant a few more. If you are so inclined, go ahead and get this figure - it seems nicely done and I also work at the place that sells it as an exclusive, so that's a totally biased plus there.
--Adam Pawlus
Additional Images

See more Jada Toys figures in Figure of the Day:
Day 2,412: Jada Toys Universal Monsters Entertainment Earth Exclusive Creature from the Black Lagoon Action Figure

See more Universal Monsters, Horror, and Monsters figures in Figure of the Day:
Day 76: Diamond Select Toys Black and White Wolfman
Day 777: Playmates Toys Monster Force Creature from the Black Lagoon
Day 883: Burger King Universal Monsters Wolf Man Cellar Dweller Action Figure
Day 894: Burger King Universal Monsters Down for the Count Dracula
Day 924: Burger King Universal Monsters Bolts and Volts Frankenstein
Day 931: Burger King Universal Monsters Scary Squirter Featuring the Creature from the Black Lagoon
Day 1,000: Funko Hikari Vinyl Freddy Funko (Creature from the Black Lagoon)
Day 1,005: Funko Universal Monsters The Mummy ReAction Figure
Day 1,038: Funko Universal Monsters Creature from the Black Lagoon ReAction Figure
Day 1,039: Funko Universal Monsters The Invisible Man ReAction Figure
Day 1,040: Funko Universal Monsters The Phantom of the Opera ReAction Figure
Day 1,041: Funko Universal Monsters The Wolf Man ReAction Figure
Day 1,042: Funko Universal Monsters The Bride of Frankenstein ReAction Figure
Day 1,068: Funko Universal Monsters Frankenstein's Monster ReAction Figure
Day 1,094: Funko Universal Monsters Dracula ReAction Figure
Day 1,108: Funko Universal Monsters The Invisible Man Clear Entertainment Earth Exclusive
Day 1,163: Funko Universal Monsters Life Force Metaluna Mutant
Day 1,165: Funko Hikari Vinyl Universal Monsters Glitter Shock Frankenstein
Day 1,257: Funko Hikari Vinyl Antique Verdigris Metaluna Mutant
Day 1,612: Hasbro Hero Mashers Monsters Fish Hook
Day 1,617: Playmobil 6824 Playmo-Friends Werewolf
Day 1,619: Hasbro Hero Mashers Monsters Grim Flame
Day 1,626: Hasbro Hero Mashers Monsters Iron Vulf
Day 1,636: Hasbro Hero Mashers Monsters Sir Jack-O-Lanternus
Day 1,675: Hasbro Hero Mashers Monsters Bone Thrasher
Day 1,920: Super7 Halloween Series Nosferatu Glow in the Dark
Day 2,011: Jack in the Box Universal Monsters Bride of Frankenstein
Day 2,104: Fisher-Price Imaginext Egypt Mummy Guards Action Figures
Day 2,137: Sideshow Toy Universal Monsters Boris Karloff The Mummy Glow in the Dark Action Figure
Day 2,412: Jada Toys Universal Monsters Entertainment Earth Exclusive Creature from the Black Lagoon Action Figure
Day 2,454: Super7 Metropolis Silver Maria ReAction Figure
Day 2,562: Super7 Universal Monsters The Mummy ReAction Figure
Day 2,570: Super7 Universal Monsters The Metaluna Mutant ReAction Figure
Day 2,606: Super7 Universal Monsters Official World Famous Super7 Monsters! Creature from the Black Lagoon (Super She Creature) Glow-in-the-Dark
Day 2,630: Super7 Universal Monsters The Metaluna Mutant ReAction Figure
Day 2,638: Super7 Universal Monsters Dracula ReAction Figure
Day 2,649: Super7 Universal Monsters Bride of Frankenstein ReAction Figure
Day 2,652: Super7 Universal Monsters The Mummy (Costume Colors) ReAction Figure
Day 2,657: Super7 Universal Monsters The Wolf Man ReAction Figure
Day 2,661: Super7 Svengoolie Horror Host Icon ReAction Figure