Bone Thrasher
U.K. Exclusive?

Hero Mashers Monsters Basic Figure
Item No.: Asst. B7124 No. B7214
Manufacturer: Hasbro
Includes: Non-rolling skateboard
Action Feature: Swaps parts with other figures
Retail: $10-$20
Availability: November 2016
Other: A '00s version of an 80s/90s Skater

PREVIOUS
RSS
NEXT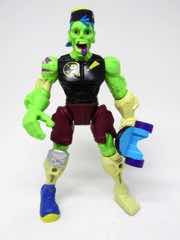 I know I'm getting old because I'm seeing trends in life repeat themselves. The Hero Mashers 6-inch tall Bone Thrasher is a more or less late 00s skater, which looks a lot like a late 1980s/early 1990s skater, except the hat is forward facing on this green-skinned skeletal zombie. It's sort of fascinating how this figure could be from 1987 or from 2007, but that's not nearly as interesting as how this figure was developed for America and ultimately dumped overseas. So far, only in Europe. Specifically, England. (Also thank Mr. Ayres for your kind assistance/donation here.) I didn't see any of this one show up on Amercian eBay, so at one per case it's in short supply. Naturally I opened it.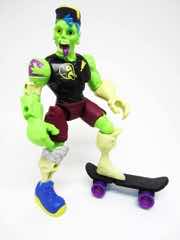 As the "Hero Mashers" brand fades a little more each year, the whole Monster concept put various monsters with other concepts to make something new - and on top of that, you can mix and match parts with other compatible Hasbro figures. It's a great idea for a 6-inch action figure line, and it'd have been even better if it kept rolling.
Mr. Vulf can split in to about 8 pieces with 15 points of articulation.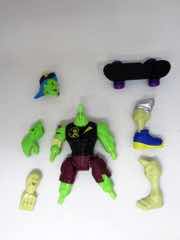 The sculpting is decent - I'm not as inspired as the other figures, but you do have warty flesh and exposed bones, not to mention very modern bright blue tennis shoes with yellow soles. A silver kneepad covers what is left of a leg, and there are some pretty nifty monster skate company designs on his shirt and on the bottom of his skate deck. The head is pretty fancy, with ugly long blue hair, missing teeth, and a tongue sticking out - clearly inspired by a rich history of the likes of Ed "Big Daddy" Roth and numerous gross-out toys which would follow in the 1980s. And tons of other stuff. It's a custom, clearly. The black shirt, green arms, and exposed bone make the figure look like a pre-made mash-up more than most of the others, with distinctive body parts and clothing coming together to build a disjointed yet youthful looking member of the undead. While he isn't a riff on classic monsters as much as the others, the strange level of originality here does impress.
His only accessory is decorated nicely and can be carried in his hand without a fight - but it's kinda cruddy. The skateboard is painted very nicely, with a purple top with a blue bottom featuring some decent graphics. The wheels are painted on, but don't turn - it's just one big (cheap) solid piece. As such it's great for holding, as it looks like a budget Tech Decks toy. The texture on top is fantastic, plus it has a foot peg - so he can stand on top. Balancing him can be tricky, but this is true of actual skateboards as well.
Bone Thrasher pops apart at the elbows, hips, knees, and neck so you can switch parts with other Hero Mashers toys. He's surprisingly sturdy and holds together well, with a decent level of painted detail and a bite taken out of his forearm. Some exposed muscle under his right shoulder amps up the gross-out factor, although he's bright-eyed and seemingly happy to be off to where ever he's going.
As far as I know, this figure will be the last of this line I can review since a bunch of other ones never actually got made. This was the last one I got, but it's no less impressive than the rest. It just looks like a stellar fit for the youth element, what with the hat and the brim going up and garish hair. I wouldn't make this the first figure you get from this line, unless of course you see one for sale in which case grab it. But you probably won't ever see it outside England, so just keep doing what you're doing.
--Adam Pawlus
Additional Images

Click here to see more Hasbro figures in Figure of the Day.
See more Universal Monsters, Horror, and Monsters figures in Figure of the Day:
Day 76: Diamond Select Toys Black and White Wolfman
Day 777: Playmates Toys Monster Force Creature from the Black Lagoon
Day 883: Burger King Universal Monsters Wolf Man Cellar Dweller Action Figure
Day 894: Burger King Universal Monsters Down for the Count Dracula
Day 924: Burger King Universal Monsters Bolts and Volts Frankenstein
Day 931: Burger King Universal Monsters Scary Squirter Featuring the Creature from the Black Lagoon
Day 1,000: Funko Hikari Vinyl Freddy Funko (Creature from the Black Lagoon)
Day 1,005: Funko Universal Monsters The Mummy ReAction Figure
Day 1,038: Funko Universal Monsters Creature from the Black Lagoon ReAction Figure
Day 1,039: Funko Universal Monsters The Invisible Man ReAction Figure
Day 1,040: Funko Universal Monsters The Phantom of the Opera ReAction Figure
Day 1,041: Funko Universal Monsters The Wolf Man ReAction Figure
Day 1,042: Funko Universal Monsters The Bride of Frankenstein ReAction Figure
Day 1,068: Funko Universal Monsters Frankenstein's Monster ReAction Figure
Day 1,094: Funko Universal Monsters Dracula ReAction Figure
Day 1,108: Funko Universal Monsters The Invisible Man Clear Entertainment Earth Exclusive
Day 1,163: Funko Universal Monsters Life Force Metaluna Mutant
Day 1,165: Funko Hikari Vinyl Universal Monsters Glitter Shock Frankenstein
Day 1,257: Funko Hikari Vinyl Antique Verdigris Metaluna Mutant
Day 1,612: Hasbro Hero Mashers Monsters Fish Hook
Day 1,617: Playmobil 6824 Playmo-Friends Werewolf
Day 1,619: Hasbro Hero Mashers Monsters Grim Flame
Day 1,626: Hasbro Hero Mashers Monsters Iron Vulf
Day 1,636: Hasbro Hero Mashers Monsters Sir Jack-O-Lanternus
Day 1,675: Hasbro Hero Mashers Monsters Bone Thrasher
Day 1,920: Super7 Halloween Series Nosferatu Glow in the Dark
Day 2,011: Jack in the Box Universal Monsters Bride of Frankenstein
Day 2,104: Fisher-Price Imaginext Egypt Mummy Guards Action Figures
Day 2,137: Sideshow Toy Universal Monsters Boris Karloff The Mummy Glow in the Dark Action Figure
Day 2,412: Jada Toys Universal Monsters Entertainment Earth Exclusive Creature from the Black Lagoon Action Figure
Day 2,454: Super7 Metropolis Silver Maria ReAction Figure
Day 2,562: Super7 Universal Monsters The Mummy ReAction Figure
Day 2,570: Super7 Universal Monsters The Metaluna Mutant ReAction Figure
Day 2,606: Super7 Universal Monsters Official World Famous Super7 Monsters! Creature from the Black Lagoon (Super She Creature) Glow-in-the-Dark
Day 2,630: Super7 Universal Monsters The Metaluna Mutant ReAction Figure
Day 2,638: Super7 Universal Monsters Dracula ReAction Figure
Day 2,649: Super7 Universal Monsters Bride of Frankenstein ReAction Figure
Day 2,652: Super7 Universal Monsters The Mummy (Costume Colors) ReAction Figure
Day 2,657: Super7 Universal Monsters The Wolf Man ReAction Figure
Day 2,661: Super7 Svengoolie Horror Host Icon ReAction Figure