Bolts and Volts Frankenstein
Surprisingly Decent

Universal Monsters Action Figure
Item No.: n/a
Manufacturer: Burger King
Includes: Glow in the Dark character sticker
Action Feature: Table lights up (or it did anyway)
Retail: $2.99ish
Availability: 1997
Other: Nifty

PREVIOUS
RSS
NEXT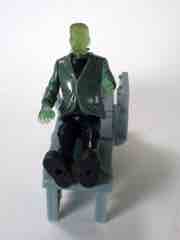 For the pedant in all of us, Universal Monsters nomenclature is probably like hearing nails on a chalkboard. The Bolts and Volts Frankenstein set features Frankenstein's Monster (see?) and an operating table of sorts, allowing you to recreate the "It's Alive!" moment at home. Consider that this figure was a fast food toy in 1997, and it's astonishing.
As with the others, it's roughly 3 3/4-inch scale - similar in size to an old Kenner Darth Vader. Like the Creature figure, Frankenstein's monster skin is transparent green - this lets it "light up" with the green LED embedded in the table with a non-replaceable battery that probably wore out midway through George W. Bush's first term in office. The table itself is a 3-piece outfit, you plug in the ill-fitting legs and it has no deco to speak of. You can see broken straps sculpted on the bed, with various dials and levers off to the side. A green switch activates the light - or it did once - but now it just does nothing. I believe if I crack open the battery compartment I could replace it, but I don't want to tear up the table so it'll just remain in non-working order.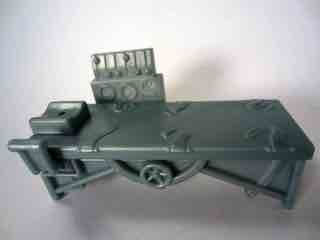 Due to the clear skin, the figure has a little less personality than his cohorts. There's no paint on the face, and I think that was a failing here. At least his silver neck bolts got a little paint, but the wonderful Karloff-esque face sculpt is difficult to see unless you hold him up to a light source. The hands are more Kenner-esque than modern ReAction figures, as they captured the essence of a hand not necessarily having to grip an accessory if one is not included. (See: 1979 Boba Fett, Walrus Man left hands.) The thick, platform boots are present as are black pants, plus a tattered-looking glossy painted jacket covering most of his body. The amazing thing is that given his action feature and overall scale, this figure probably could've sold for five or six bucks at a toy store rather than be relegated to the thing you have to throw out of the bag to get to your french fries faster.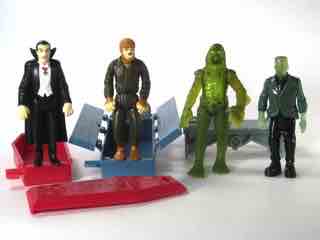 While far from perfect, this fun little toy has saved me a ton of money over the years - I didn't want to buy any other Frank toys because I had this one and I liked it so much I had no reason to upgrade. I love what Funko is doing with ReAction so I'll be getting those - but I feel this Frankenstein's Monster figure will probably occupy the same place in my heart as my old Boba Fett action figure. This line of Burger King fast food toys may be the only one I actually suggest people track down - the Universal Monsters license has been handed well by Sideshow, Hasbro, Remco, Funko, and so many companies over the years but I found these to be some of the most charming - and cheap - renditions. Seeing as how the figures like Frankie here can actually sit, I hope I never misplace him.
--Adam Pawlus
Additional Images

See more Burger King figures in Figure of the Day:
Day 883: Burger King Universal Monsters Wolf Man Cellar Dweller Action Figure
Day 894: Burger King Universal Monsters Down for the Count Dracula
Day 924: Burger King Universal Monsters Bolts and Volts Frankenstein
Day 931: Burger King Universal Monsters Scary Squirter Featuring the Creature from the Black Lagoon
Day 1,427: Burger King G.I. Joe AWE Striker with Snake Eyes Vehicle
Day 1,970: Burger King ThunderCats Snarf Figurine
Day 1,976: Burger King Smurfs: The Lost Village Brainy Smurf Action Figure
Day 2,298: Burger King Super Powers Superman Cup Holder Figure

See more Universal Monsters, Horror, and Monsters figures in Figure of the Day:
Day 76: Diamond Select Toys Black and White Wolfman
Day 777: Playmates Toys Monster Force Creature from the Black Lagoon
Day 883: Burger King Universal Monsters Wolf Man Cellar Dweller Action Figure
Day 894: Burger King Universal Monsters Down for the Count Dracula
Day 924: Burger King Universal Monsters Bolts and Volts Frankenstein
Day 931: Burger King Universal Monsters Scary Squirter Featuring the Creature from the Black Lagoon
Day 1,000: Funko Hikari Vinyl Freddy Funko (Creature from the Black Lagoon)
Day 1,005: Funko Universal Monsters The Mummy ReAction Figure
Day 1,038: Funko Universal Monsters Creature from the Black Lagoon ReAction Figure
Day 1,039: Funko Universal Monsters The Invisible Man ReAction Figure
Day 1,040: Funko Universal Monsters The Phantom of the Opera ReAction Figure
Day 1,041: Funko Universal Monsters The Wolf Man ReAction Figure
Day 1,042: Funko Universal Monsters The Bride of Frankenstein ReAction Figure
Day 1,068: Funko Universal Monsters Frankenstein's Monster ReAction Figure
Day 1,094: Funko Universal Monsters Dracula ReAction Figure
Day 1,108: Funko Universal Monsters The Invisible Man Clear Entertainment Earth Exclusive
Day 1,163: Funko Universal Monsters Life Force Metaluna Mutant
Day 1,165: Funko Hikari Vinyl Universal Monsters Glitter Shock Frankenstein
Day 1,257: Funko Hikari Vinyl Antique Verdigris Metaluna Mutant
Day 1,612: Hasbro Hero Mashers Monsters Fish Hook
Day 1,617: Playmobil 6824 Playmo-Friends Werewolf
Day 1,619: Hasbro Hero Mashers Monsters Grim Flame
Day 1,626: Hasbro Hero Mashers Monsters Iron Vulf
Day 1,636: Hasbro Hero Mashers Monsters Sir Jack-O-Lanternus
Day 1,675: Hasbro Hero Mashers Monsters Bone Thrasher
Day 1,920: Super7 Halloween Series Nosferatu Glow in the Dark
Day 2,011: Jack in the Box Universal Monsters Bride of Frankenstein
Day 2,104: Fisher-Price Imaginext Egypt Mummy Guards Action Figures
Day 2,137: Sideshow Toy Universal Monsters Boris Karloff The Mummy Glow in the Dark Action Figure
Day 2,412: Jada Toys Universal Monsters Entertainment Earth Exclusive Creature from the Black Lagoon Action Figure
Day 2,454: Super7 Metropolis Silver Maria ReAction Figure
Day 2,562: Super7 Universal Monsters The Mummy ReAction Figure
Day 2,570: Super7 Universal Monsters The Metaluna Mutant ReAction Figure
Day 2,606: Super7 Universal Monsters Official World Famous Super7 Monsters! Creature from the Black Lagoon (Super She Creature) Glow-in-the-Dark
Day 2,630: Super7 Universal Monsters The Metaluna Mutant ReAction Figure
Day 2,638: Super7 Universal Monsters Dracula ReAction Figure
Day 2,649: Super7 Universal Monsters Bride of Frankenstein ReAction Figure
Day 2,652: Super7 Universal Monsters The Mummy (Costume Colors) ReAction Figure
Day 2,657: Super7 Universal Monsters The Wolf Man ReAction Figure
Day 2,661: Super7 Svengoolie Horror Host Icon ReAction Figure

Want to buy this figure? Check Universal Monsters availability at our sponsors:
Entertainment Earth