Freddy Funko (Creature from the Black Lagoon)
1 of... a small run

Hikari Vinyl Premium Vinyl Figure
Item No.: FM 1022
Manufacturer: Funko
Includes: n/a
Action Feature: n/a
Retail: Funko giveaway
Availability: July 2014
Other: Spectacular

PREVIOUS
RSS
NEXT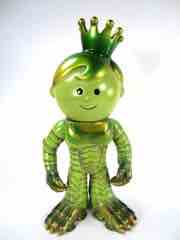 I started this column 1,000 entries ago with a Funko item I brought home from Comic-Con, and as luck worked out I've got another great one to talk about! This Freddy Funko (Creature from the Black Lagoon) was distributed in very small numbers at a Funko event in San Diego, which I can best describe as a cross between some sort of religious tent revival and a live taping of The Price Is Right. It had a DJ, light show, dinner, drinks, toys, and screaming - screaming so loud, it drowned out the DJ whose speakers I was sitting near. I can say, without hyperbole, that this event was the best way to see why Funko has its fervent following. The amount of toys, goodwill, smiles, and sugary snacks in circulation was nothing short of utter madness - and this followed short films, behind-the-scenes videos, and announcements of new toys to come in 2014 and 2015. I've never seen anything like it and I doubt any other collector company has done or ever will do anything quite this spectacular. And I mean it - this was a spectacle, there's no other way to put it. I wish you were there with me. You'd have loved it.
This figure was the first available Hikari body of the Creature from the Black Lagoon - other versions are coming, and brother, are they amazing. As far as I know none of this piece has gone up for sale, which probably means if you want one you'll be waiting out others on eBay for quite some time. Mine is taking up residence in my living room as a work of art. The figure is a hair over 8-inches tall at the crown, and feels like the greatest toy from the late 1970s you never got - and someone stuck a little boy's head on it, for some reason. It's pretty killer stuff.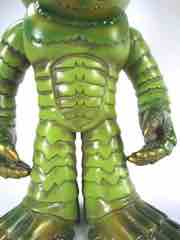 The figure has 3 points of articulation and is cast in hollow vinyl. The arms rotate and the head turns, but the figure's real charm comes from the deco. The body is green with a muddy brown was, bringing out the scaley detail in the arms. The claws are metallic gold, and other metallic green highlights are on the scales.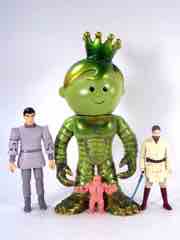 Freddy Funko's head has a metallic green finish over some gold. It can only be described as candy-like - it feels like some exotic, astonishing treat you were never allowed to have while also looking like a very expensive car. This kind of paint job is very rare on mass-produced toys, although you'll see it in the vinyl/kaiju scene from time to time at very high prices with low runs. To say the least, it's impressive - in person it feels like whatever it costs, it was worth it. As it was not for sale, it really kind of is priceless.
The Hikari figures are pretty stunning in person - the concept seemed like a tough sell, but the $50-$80 figures regularly pre-sell out in a few hours every Friday when Funko launches a new one. Due to the price (and availability) it may be difficult to collect them all, but there's no doubt in my mind that these are some of the most stunning pieces of the year. It's a fascinating alternative to mini-busts, high-end 1:6 scale figures, and polystone collectibles. It's not the most expensive "cheap" vinyl toy you can buy, but it's up there. With the amazing paint job it's hard to deny that it's worth it. The left hand is also sized to hold a pencil, but to use it for such a purpose is probably b.shtmlhemous. I'd suggest getting a cheap glass case at IKEA and stuffing it with these guys and a nice lighting rig. You won't be sorry! Hungry, maybe, but these things really light up a room. If they ever make jumbo ones in the 25-inch range I'll probably cave in quickly. If one comes up for sale, get Freddy - and if it doesn't, get one of the regular guys.
--Adam Pawlus
Additional Images

See more Funko figures in Figure of the Day:
Day 1: Funko Force 2.0 Comic-Con Exclusive Batman
Day 80: Metallic Cobra Commander Wackly Wobbler
Day 120: Funko Gremlins Pop! Vinyl Stripe Vinyl Figure
Day 126: Funko Beetlejuice Pop! Vinyl Beetlejuice Vinyl Figure
Day 131: Funko Thor Pop! Vinyl Thor Vinyl Figure Bobble Head
Day 141: Funko Thor Pop! Vinyl Loki Vinyl Figure Bobble Head
Day 151: Funko Music Pop! Vinyl Ozzy Osbourne Vinyl Figure
Day 160: Funko G.I. Joe "Pimp Daddy" Destro
Day 207: Funko Disney Pop! Vinyl Mr. Incredible Vinyl Figure
Day 224: Funko Batman Blox Vinyl Batman Vinyl Figure
Day 249: Funko Marvel Universe Pop! Vinyl Iron Man Vinyl Figure Bobble Head
Day 293: Funko Disney Pop! Vinyl Mike Wazowski Vinyl Figure
Day 306: Funko Marvel Universe Pop! Vinyl The Hulk Vinyl Figure Bobble Head
Day 345: Funko Disney Pop! Vinyl Sulley Vinyl Figure
Day 427: Funko Marvel Universe Pop! Vinyl SDCC Exlusive Spider-Man Vinyl Figure Bobble Head
Day 748: Funko Land of the Lost SDCC Exclusive Glow in the Dark Sleestak
Day 981: Funko Planet of the Apes Pop! Movies Cornelius Vinyl Figure
Day 1,000: Funko Hikari Vinyl Freddy Funko (Creature from the Black Lagoon)
Day 1,036: Funko Entertainment Earth Exclusive Kill Bill Gogo Yubari (Bloody) Pop! Vinyl Figure
Day 1,069: Funko Planet of the Apes Pop! Movies Dr. Zaius Vinyl Figure
Day 1,150: Funko Guardians of the Galaxy Pop! Vinyl Entertainment Earth Exclusive Ravagers Dancing Groot
Day 1,155: Funko Hikari Vinyl Marvel Guardians of the Galaxy Planet X Groot
Day 1,163: Funko Universal Monsters Life Force Metaluna Mutant
Day 1,164: Funko Hikari Vinyl Ghostbusters Pink Stay Puft Marshmallow Man
Day 1,165: Funko Hikari Vinyl Universal Monsters Glitter Shock Frankenstein
Day 1,166: Funko Hikari Vinyl Masters of the Universe Mystic Powers Skeletor
Day 1,167: Funko Hikari Vinyl Transformers Metallic Optimus
Day 1,197: Funko Batman Ice Freeze Batman Reject
Day 1,221: Funko Hikari Vinyl Transformers Metallic Bumblebee
Day 1,225: Funko Bravest Warriors Pop! Television Impossibear Vinyl Figure
Day 1,226: Funko Planet of the Apes Pop! Movies General Ursus Vinyl Figure
Day 1,229: Funko Bravest Warriors Pop! Television Catbug Vinyl Figure
Day 1,241: Funko Hikari Vinyl Gigantor Power Vision Gigantor
Day 1,257: Funko Hikari Vinyl Antique Verdigris Metaluna Mutant
Day 1,281: Funko Planet of the Apes Pop! Movies Ape Soldier Vinyl Figure
Day 1,285: Funko Bravest Warriors Pop! Television Commander Catbug Vinyl Figure
Day 1,300: Funko Hikari Vinyl Marvel Metallic Hulk Vinyl Figure
Day 1,305: Funko Pop! DC Comics Super Heroes Orange Batman Vinyl Figure
Day 1,340: Funko Pop! Sesame Street Season 1 Oscar the Grouch Vinyl Figure
Day 1,338: Funko Pop! Animation Bob's Burgers Gene Belcher Vinyl Figure
Day 1,350: Funko Hikari Vinyl Predator Original Predator Unmasked
Day 1,355: Funko Pop! Animation Bob's Burgers Linda Belcher Vinyl Figure
Day 1,361: Funko Pop! Animation Bob's Burgers Louise Belcher Vinyl Figure
Day 1,365: Funko Pop! Animation Bob's Burgers Tina Belcher Vinyl Figure
Day 1,374: Funko Pop! Animation Bob's Burgers Bob Belcher Vinyl Figure
Day 1,382: Funko Hikari Vinyl Toy Story Original Buzz Lightyear
Day 1,390: Funko Pop! Movies Back to the Future Marty McFly Vinyl Figure
Day 1,396: Funko Pop! Television Last Week Tonight with John Oliver Vinyl Figure
Day 1,400: Funko Dorbz DC Comics Super Heroes Orange Batman Vinyl Figure
Day 1,540: Funko Pop! Movies Atomic Breath Godzilla Pop! Vinyl Figure
Day 1,620: Funko Son of Zorn Zorn Action Figure
Day 1,645: Funko Masters of the Universe Dorbz Skeletor
Day 1,650: Funko x Playmobil Willy Wonka
Day 1,657: Funko x Playmobil Teenage Mutant Ninja Turtles Black and White Raphael
Day 1,659: Funko Pop! Television Stranger Things Eleven with Eggos Pop! Vinyl Figure
Day 1,671: Funko Pop! Television Stranger Things Joyce Pop! Vinyl Figure
Day 1,685: Funko Pop! Television Twin Peaks Agent Cooper Pop! Vinyl Figure
Day 1,687: Funko Pop! Television Stranger Things Lucas Pop! Vinyl Figure
Day 1,694: Funko Pop! Television Stranger Things Barb Pop! Vinyl Figure
Day 1,706: Funko Pop! Television Stranger Things Dustin Pop! Vinyl Figure
Day 1,707: Funko Pop! Television Twin Peaks Audrey Horne Pop! Vinyl Figure
Day 1,710: Funko Pop! Television Twin Peaks Laura Palmer Pop! Vinyl Figure
Day 1,714: Funko Pop! Television Stranger Things Demogorgon Pop! Vinyl Figure
Day 1,717: Funko Pop! Television Twin Peaks The Giant Pop! Vinyl Figure
Day 1,722: Funko Pop! Television Twin Peaks Log Lady Pop! Vinyl Figure
Day 1,732: Funko Pop! Television Stranger Things Will Pop! Vinyl Figure
Day 1,736: Funko 9POA Twin Peaks Action Figure Set
Day 1,745: Funko Pop! Television Twin Peaks Leland Palmer Pop! Vinyl Figure
Day 1,753: Funko 9POA Batman 1966 TV Series Batman and Robin Action Figures with Batmobile
Day 1,761: Funko Pop! Heroes Wonder Woman Diana Prince Pop! Vinyl Figure
Day 1,766: Funko Pop! Television Twin Peaks Bob Pop! Vinyl Figure
Day 1,777: Funko Pop! Television Ash vs. Evil Dead Entertainment Earth Exclusive Bloody Ash Pop! Vinyl Figure
Day 1,793: Funko Pop! Television Stranger Things Mike Pop! Vinyl Figure
Day 1,832: Funko x Playmobil Doctor Who Fourth Doctor
Day 1,838: Funko Pop! Television Twin Peaks Black Lodge Cooper / Black Lodge Laura Pop! Vinyl Figures
Day 1,841: Funko Pop! Animation Glow in the Dark Reptar Pop! Vinyl Figure
Day 1,847: Funko Pop! DC Comics Super Heroes Retro Batman Vinyl Figure
Day 1,850: Funko Pop! Disney Coco Ernesto Pop! Vinyl Figure
Day 1,852: Funko Son of Zorn Office Zorn
Day 1,908: Funko x Playmobil Teenage Mutant Ninja Turtles Shredder
Day 1,927: Funko Pop! Movies Star Trek Beyond Captain Kirk (Survival Suit) Pop! Vinyl Figure
Day 1,938: Funko Pop! Movies Jurassic Park Dr. Ian Malcolm (Wounded) Pop! Vinyl Figure
Day 1,939: Funko Pop! Games Portal 2 Chell Pop! Vinyl Figure
Day 1,957: Funko VYNL The Life Aquatic Steve and Ned Vinyl Figures
Day 1,984: Funko Pop! Movies Jurassic Park Dr. Ian Malcolm Pop! Vinyl Figure
Day 1,985: Funko Pop! 8-Bit Alien Xenomorph (Video Game) Pop! Vinyl Figure
Day 2,045: Funko GLOW Debbie Eagan vs. Ruth Wilder Action Figures
Day 2,124: Funko DuckTales Scrooge McDuck (Red Coat) Pop! Vinyl Figure
Day 2,244: Funko Pop! Television Schitt's Creek David Rose Action Figure
Day 2,315: Funko Soda Devo Satisfaction Vinyl Figure
Day 2,440: Funko Pop! Rocks Frank Zappa Action Figure

See more Universal Monsters, Horror, and Monsters figures in Figure of the Day:
Day 76: Diamond Select Toys Black and White Wolfman
Day 777: Playmates Toys Monster Force Creature from the Black Lagoon
Day 883: Burger King Universal Monsters Wolf Man Cellar Dweller Action Figure
Day 894: Burger King Universal Monsters Down for the Count Dracula
Day 924: Burger King Universal Monsters Bolts and Volts Frankenstein
Day 931: Burger King Universal Monsters Scary Squirter Featuring the Creature from the Black Lagoon
Day 1,000: Funko Hikari Vinyl Freddy Funko (Creature from the Black Lagoon)
Day 1,005: Funko Universal Monsters The Mummy ReAction Figure
Day 1,038: Funko Universal Monsters Creature from the Black Lagoon ReAction Figure
Day 1,039: Funko Universal Monsters The Invisible Man ReAction Figure
Day 1,040: Funko Universal Monsters The Phantom of the Opera ReAction Figure
Day 1,041: Funko Universal Monsters The Wolf Man ReAction Figure
Day 1,042: Funko Universal Monsters The Bride of Frankenstein ReAction Figure
Day 1,068: Funko Universal Monsters Frankenstein's Monster ReAction Figure
Day 1,094: Funko Universal Monsters Dracula ReAction Figure
Day 1,108: Funko Universal Monsters The Invisible Man Clear Entertainment Earth Exclusive
Day 1,163: Funko Universal Monsters Life Force Metaluna Mutant
Day 1,165: Funko Hikari Vinyl Universal Monsters Glitter Shock Frankenstein
Day 1,257: Funko Hikari Vinyl Antique Verdigris Metaluna Mutant
Day 1,612: Hasbro Hero Mashers Monsters Fish Hook
Day 1,617: Playmobil 6824 Playmo-Friends Werewolf
Day 1,619: Hasbro Hero Mashers Monsters Grim Flame
Day 1,626: Hasbro Hero Mashers Monsters Iron Vulf
Day 1,636: Hasbro Hero Mashers Monsters Sir Jack-O-Lanternus
Day 1,675: Hasbro Hero Mashers Monsters Bone Thrasher
Day 1,920: Super7 Halloween Series Nosferatu Glow in the Dark
Day 2,011: Jack in the Box Universal Monsters Bride of Frankenstein
Day 2,104: Fisher-Price Imaginext Egypt Mummy Guards Action Figures
Day 2,137: Sideshow Toy Universal Monsters Boris Karloff The Mummy Glow in the Dark Action Figure
Day 2,412: Jada Toys Universal Monsters Entertainment Earth Exclusive Creature from the Black Lagoon Action Figure
Day 2,454: Super7 Metropolis Silver Maria ReAction Figure
Day 2,562: Super7 Universal Monsters The Mummy ReAction Figure
Day 2,570: Super7 Universal Monsters The Metaluna Mutant ReAction Figure
Day 2,606: Super7 Universal Monsters Official World Famous Super7 Monsters! Creature from the Black Lagoon (Super She Creature) Glow-in-the-Dark
Day 2,630: Super7 Universal Monsters The Metaluna Mutant ReAction Figure
Day 2,638: Super7 Universal Monsters Dracula ReAction Figure
Day 2,649: Super7 Universal Monsters Bride of Frankenstein ReAction Figure
Day 2,652: Super7 Universal Monsters The Mummy (Costume Colors) ReAction Figure
Day 2,657: Super7 Universal Monsters The Wolf Man ReAction Figure
Day 2,661: Super7 Svengoolie Horror Host Icon ReAction Figure