Bride of Frankenstein
Less Decent

Universal Monsters Action Figure
Item No.: n/a
Manufacturer: PPW Toys for Jack in the Box
Includes: n/a
Action Feature: Shrieks
Retail: $2.99ish
Availability: ca. 2002
Other: Nifty

PREVIOUS
RSS
NEXT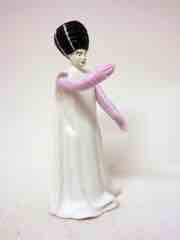 While Burger King got some of the finest Universal Monsters of the decade, Jack in the Box did not. I couldn't even find much information online about this Bride of Frankenstein, and while I remember buying it now I completely forgot it existed until recently. Standing about 3 3/4-inches tall with jointed arms and a screaming sound chip, this toy is a bit more of what you might expect from the era - bigger, sure. Louder, yes. But it's not impressive.
This is an oddity - the sculpting is pretty wonky with what may well be the worst head sculpt I've ever seen, unless it was modeled after an older gentleman. The deep lines and big eyes look monster-iffic with pretty good make-up deco, but can anyone even tell she has green paint on her eyelids unless they get in close? I doubt it. It's so strange that the paint is clean and on-point, especially given the small details. The hair is similarly well-painted. But the neck doesn't turn, and that head sculpt is just not a winner.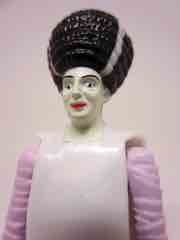 The jointed arms swing forward, but the core of the toy is a generic woman screaming embedded in the sound chip somehow. It's magical, but after almost two decades the battery is weakening and the screech becomes considerably more inhuman. The body doesn't flow much, but there's a speaker embedded in the back.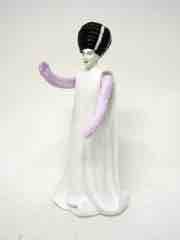 I'd say "it's OK" but it's not really great. There were far better toys during this era, and even better ones years before. Funko's ReAction Bride of Frankenstein [FOTD #1,042] was a lot better, and I hope Super7 does a new version of her to go along with their other new resculpts of these guys. They're cool, they're nice when done well, and there's room to do something even better if someone decided to try for that.
--Adam Pawlus
Additional Images

See more PPW Toys items in Figure of the Day:
Day 2,011: Jack in the Box Universal Monsters Bride of Frankenstein

See more Jack in the Box items in Figure of the Day:
Day 2,011: Jack in the Box Universal Monsters Bride of Frankenstein

See more Universal Monsters, Horror, and Monsters figures in Figure of the Day:
Day 76: Diamond Select Toys Black and White Wolfman
Day 777: Playmates Toys Monster Force Creature from the Black Lagoon
Day 883: Burger King Universal Monsters Wolf Man Cellar Dweller Action Figure
Day 894: Burger King Universal Monsters Down for the Count Dracula
Day 924: Burger King Universal Monsters Bolts and Volts Frankenstein
Day 931: Burger King Universal Monsters Scary Squirter Featuring the Creature from the Black Lagoon
Day 1,000: Funko Hikari Vinyl Freddy Funko (Creature from the Black Lagoon)
Day 1,005: Funko Universal Monsters The Mummy ReAction Figure
Day 1,038: Funko Universal Monsters Creature from the Black Lagoon ReAction Figure
Day 1,039: Funko Universal Monsters The Invisible Man ReAction Figure
Day 1,040: Funko Universal Monsters The Phantom of the Opera ReAction Figure
Day 1,041: Funko Universal Monsters The Wolf Man ReAction Figure
Day 1,042: Funko Universal Monsters The Bride of Frankenstein ReAction Figure
Day 1,068: Funko Universal Monsters Frankenstein's Monster ReAction Figure
Day 1,094: Funko Universal Monsters Dracula ReAction Figure
Day 1,108: Funko Universal Monsters The Invisible Man Clear Entertainment Earth Exclusive
Day 1,163: Funko Universal Monsters Life Force Metaluna Mutant
Day 1,165: Funko Hikari Vinyl Universal Monsters Glitter Shock Frankenstein
Day 1,257: Funko Hikari Vinyl Antique Verdigris Metaluna Mutant
Day 1,612: Hasbro Hero Mashers Monsters Fish Hook
Day 1,617: Playmobil 6824 Playmo-Friends Werewolf
Day 1,619: Hasbro Hero Mashers Monsters Grim Flame
Day 1,626: Hasbro Hero Mashers Monsters Iron Vulf
Day 1,636: Hasbro Hero Mashers Monsters Sir Jack-O-Lanternus
Day 1,675: Hasbro Hero Mashers Monsters Bone Thrasher
Day 1,920: Super7 Halloween Series Nosferatu Glow in the Dark
Day 2,011: Jack in the Box Universal Monsters Bride of Frankenstein
Day 2,104: Fisher-Price Imaginext Egypt Mummy Guards Action Figures
Day 2,137: Sideshow Toy Universal Monsters Boris Karloff The Mummy Glow in the Dark Action Figure
Day 2,412: Jada Toys Universal Monsters Entertainment Earth Exclusive Creature from the Black Lagoon Action Figure
Day 2,454: Super7 Metropolis Silver Maria ReAction Figure
Day 2,562: Super7 Universal Monsters The Mummy ReAction Figure
Day 2,570: Super7 Universal Monsters The Metaluna Mutant ReAction Figure
Day 2,606: Super7 Universal Monsters Official World Famous Super7 Monsters! Creature from the Black Lagoon (Super She Creature) Glow-in-the-Dark
Day 2,630: Super7 Universal Monsters The Metaluna Mutant ReAction Figure
Day 2,638: Super7 Universal Monsters Dracula ReAction Figure
Day 2,649: Super7 Universal Monsters Bride of Frankenstein ReAction Figure
Day 2,652: Super7 Universal Monsters The Mummy (Costume Colors) ReAction Figure
Day 2,657: Super7 Universal Monsters The Wolf Man ReAction Figure
Day 2,661: Super7 Svengoolie Horror Host Icon ReAction Figure