Blue and Green
with Space Monsters & Starships

Galaxy Laser Team "Army Men"
Item No.: No. 11147
Manufacturer: Tim Mee Toys
Includes: 48 figures, 2 Starships
Action Feature: n/a
Retail: $11.80
Availability: Late 2013
Other: Mine had 49 figures

PREVIOUS
RSS
NEXT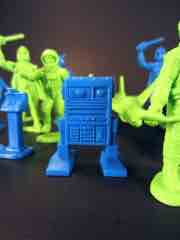 I'm fairly sure some toys exist purely to be written about. The Galaxy Laser Team (supposedly also marketed under other names like Star Patrol figures back in the 1970s) are a neat item - reissued by Tim Mee Toys, these are made in the USA and come from vintage molds. They're just new colors, but for all intents and purposes are identical to the sci-fi "army men" from back in the day. Amazon lists them as being 54mm scale, but I'm not sure who is the one they picked to make that selection - they seem closer to 60mm to me, and they are effectively the same size as Hasbro's most excellent 2014 Star Wars Command "army men" (click that to see some reviews) and are as far as I can tell impossible to find except Amazon or through the manufacturers. Perhaps someone has a better toy store near them than I do, but I haven't seen Tim Mee products outside of (I think) Sears catalogs of the 1980s and one or two little cheap craft shops around the same time period.
Let me tell you right now that if you think you might want this, just buy it. For $12 you get a ton of figures with enough extras to give away to friends, keep a set at the office, take some to customize, or just melt them on the BBQ as the good toy lords intended.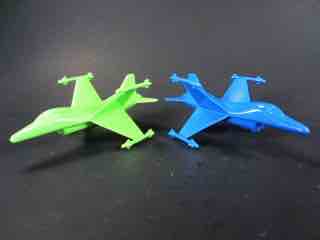 Needless to say, you get your money's worth - 48 figures are advertised as coming in the bag, but mine had an extra of the girl figure. There are 8 sculpts, and you get 3 each of 2 different colors in the bag plus one of the dubiously christened "X-Wing Rocket." The rocket itself is the least interesting part of the seat with no deco and a preassembled 2-piece construction. It's clever and fun, and at 3 1/2-inches long it's larger than Command's vehicles, most micro vehicles, and Titanium series vehicles. It basically looks like a Brand X jetfighter with its wings split and arrows grafted to each wing - it's silly, but neat. In the right color scheme it would look like something out of a concept painting for that amazing future that we were all promised with jet packs and moon colonies - what's more, it stands up on its own. This is a small miracle. It's goofy and fun, light and small, and if it were missing odds are you wouldn't have noticed.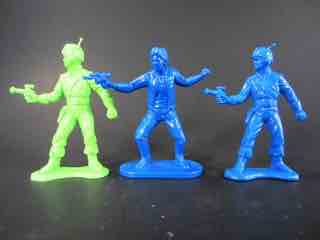 The set's 8 nameless figures are the real draw and at $12 per sack you can collect them all and give away sets to friends or trick-or-treaters. A "hero" figure is seen pointing his gun to the side, in a helmet that looks like Buck Rogers and Flash Gordon decided to donate their wardrobe to a 1950s creature feature. My research tells me that his gun is modeled after a roleplay plaything called the Tim Mee Toys Laser Ray Gun. The reasonably hard plastic figure feels sturdy and durable, likely to survive the sandbox for a few years if not longer while you ignore the subtle folds on his shirt, the bandoliers across his torso, or the surprisingly ornate belt. He wears a holster and seems to have some sort of communication device in his helmet, which in the era of Google Glass and cell phones is impossibly quaint. Most likely, this guy was the stand-in for Han Solo or someone aped a pulp novel cover and nobody took notice yet. It stands well and all of my samples were in good shape, although some had slightly bent helmet antenna.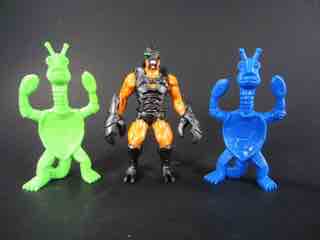 Next up is... I don't know what this is. Most of the figures are clearly meant to channel the spirit of something, but this is a concave turtle shell with a lobster claw, insect-like head, crocodile feet, and some sort of lizard tail. The figure itself is shiny and crisp, with some decent sculpting and a head that could be described as unfinished. This figure fits the theme of the set but not the style, making it the kind of thing you just want to show people to get their reactions to it. After all, here we are - what do you think?
At 2 1/2-inches high he's the tallest figure in the set, and certainly the oddest. This could be a Japanese TV show character and I'd never know it - the origins are unknown and the end result has decent scaley sculpting on the feet while the top seems pretty smooth and largely fancy. The back of the shell is similar to pill bugs, while the elbows have some sort of arm band or accordion joint. I'm not quite sure I know what the sculptor was.shtmliring toward here, and I am similarly unsure that the sculptor knew either. Regardless, this is one of the draws of the set.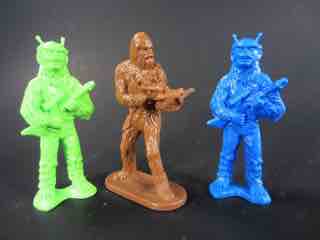 The main reason I caved and bought this set is this guy. The design betrays numerous inspirations - at first glance, it's Chewbacca. But he has antenna - why? A somewhat hairless face and pants may remind hardcore fans of the McQuarrie concept art for Chewie, as should the pose. The face is growling, and the head is balding. The best part of all isn't the scaley-furry legs, but the pants themselves. These are boring Earth pants - you can see he has back pockets and a belt, and they were clearly cut off around the knee. When given the tools and inspiration to make anything, the toy sculptor didn't want to spend a lot of time mucking about outside what was on sale at Montgomery Ward's sales rack.
His laser rifle is based on another real product, Tim Mee's Laser Rifle (which says "Laser Rescue Team" on a sticker on it) which was available in numerous colors. I have to wonder what - if any - story existed for these guys, beyond appearing in an Argentinian children's magazine.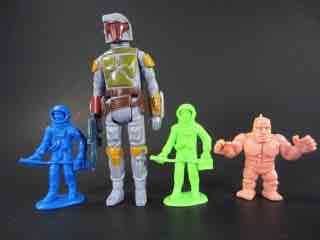 A couple of astronauts make an appearance in this line, and they resemble other similar space men from the time. Louis Marx Toys and other companies put out similarly styled and sized astronauts, and these look very close to a few of them. Each face has very little detail, and this one seems to be carrying what I believe to be a microphone. I could be wrong. He also has a little camera around his neck. He seems to be an explorer, just like his (or maybe her) companion.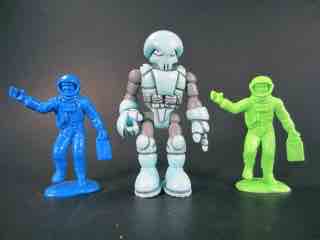 The other one seems to be enjoying a moonwalk with a very large cassette tape player - again, similar to various Marx astronauts. His right hand seems to be designed to hold on to some flag which wasn't produced, or perhaps a ladder or some other craft we never got to see. He's clearly from the same squad as his associate, with the same kinds of tubes and helmets and backpacks. They're also rather short, but not as short as the robot in this set. He's about 2-inches tall, which I suppose is the right size for this sort of thing.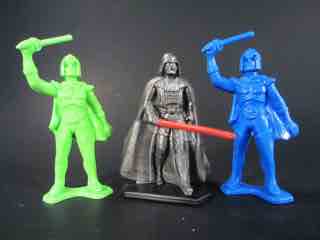 At first glance, this is fake Darth Vader. You would be right to assume this, but it goes weird places. The helmet has a face, or rather, perhaps the alien's face has a helmet. I'm not sure which because there's a mouth and a chin not unlike that of Thanos the Mad Titan. Thigh-high boots are certainly a surprise, as is the short cape and a massive belt. His short sword - or baton - resembles a lightsaber. I should also note, I'm not sure if I'm looking at a bare chest or armor. It's hard to tell what he is, but I can say with certainty that he does indeed have gloves on. The sculpting is not particularly amazing, but it is pretty good and has a lot to go on here. At this scale it's easy to mistake it for Darth Vader, but a larger figure of this design - especially with paint - may resemble something more wholly original. Still, I assume the kids that got this set for $2 or less back in the day used him as a stand-in for the Sith lord.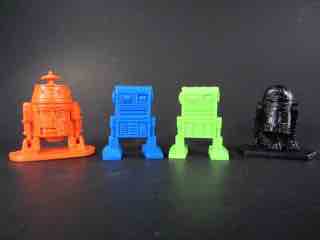 Equally evocative of a Star Wars character is this robot. He looks a lot like Kenner's R2-D2 in that it's sort of an abstract take on the character, but the elements are all there. The feet are basically the right shape, but the character is shaped more like an old washboard than a garbage can. It's a wonderful example of how to borrow liberally from an inspiration without totally ripping it off - as you can see, a similarly sized R2-D2 from Command looks quite a bit different. The back of the figure is hollow with a grid pattern for reasons I don't understand - again, it stands out as being unique and once again worthy of your attention. It looks better from the front, though.
I should also note, as of last week, a robot of a seemingly identical design is showing up in Revenge of Suckle as "Douche-Bot 2000." If my assumptions about copyright and trademark in toys are right, this means absolutely nothing is about to happen and he'll show up next year in this other toy line without a hitch. (No, I'm not being sarcastic.)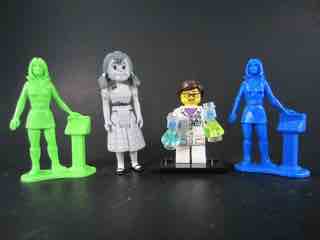 Rounding out the set is the sole (obviously) female figure in the bag. The space lady has a short skirt, high collar, and is standing next to a computer... or perhaps the telephone or a cash register. My instincts were to call her the space secretary, but she does seem to be a mishmash of various sci-fi staples of her era. I can't tell if she was meant to be anyone in particular, but she does seem to have enough familiar elements that she can almost look like any of a number of sci-fi women from the 20th century pre-Leia and pre-Ripley. The sculpting feels a little more unfinished than most of the guys, with the back of the figure looking particularly unformed. I'd expect a little more detail in the dress, be it in tone or in pleats or wrinkles, but it is what it is - a pretty great reissue of a superbly cheap toy.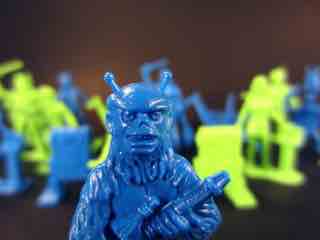 The best way I could describe these figures is that they make perfect sense for the contemporaries of Star Wars in the 1970s. If you have ever read Marvel's earlier comic books, there was a clear struggle to reconcile how Lucas saw space fantasy and the previous decades of Buck and Flash, as short skirts and strange toga-like garments ruled the roost. It didn't seem weird for Star Wars mainstays like Han Solo in his relatively nondescript vest and pants to pal around with a pantsless red-haired space pirate, and as such these figures could fit in as cousins with modern Star Wars toys of this style. I know little army men were supposedly out of vogue for quite some time and declared more or less dead in the 1980s, but there's still a market for buckets of figures at big box and 99 cent stores. Sadly they're not as imaginative as these, but I can say I'm glad they reissued them so I could get a set on the cheap. Here's hoping new kids, somewhere, are also stumbling on these toys and are being similarly confused by them.
--Adam Pawlus
Additional Images

See more Tim Mee Toys figures in Figure of the Day:
Day 645: Tim Mee Toys Battle Mountain Playset
Day 1,049: Tim Mee Toys Galaxy Laser Team Blue and Green Figure Set
Day 1,062: Tim Mee Toys Green and Yellow Prehistoric Dinosaurs Figure Set
Day 1,065: Tim Mee Toys Green Galaxy Laser Team Star Patrol Jumbo Figure Set
Day 1,087: Tim Mee Toys Green and Grey Legendary Battle Figure Set
Day 1,092: Tim Mee Toys Brown Backwoods Battle Frontiersmen Figure Set
Day 1,215: Tim Mee Toys People at Play Atomic Family Putty and Green Figure Set
Day 1,232: Tim Mee Toys Green vs. Green Soldiers Figure Set
Day 1,237: Tim Mee Toys Tank Command Desert Command Vehicle Set
Day 1,276: Tim Mee Toys Combat Patrol Army Vehicles and Artillery Vehicle Set
Day 1,330: Tim Mee Toys Shadow Ops Black Helicopter Strikeforce Figure and Vehicle Set
Day 1,372: Tim Mee Toys Tan vs. Green Soldiers Bucket Figure Set

See more otherwise uncategorized figures in Figure of the Day:
Day 22: Tamagoras Get Back To Job Lion
Day 35: Mattel Xtractaurs Comic Series Battlespike Styracosaurus
Day 133: Kenner Q*Bert Wind-Up Q*Bert Action Figure
Day 200: Hasbro Cloverfield Electronic Action Figure
Day 216: BanDai Tick Bounding Tick Action Figure
Day 286: Mugo Kung Fu Panda 2 Po Designer MP3 Player
Day 325: Spy Monkey Creations Doppelganger Armory Series 1 Accessory Pack
Day 352: Mezco The Goon Action Figure
Day 357: McFarlane Toys The Maxx Action Figure
Day 384: Beeline Creative Parks and Recreation Ron Swanson Bobble Head
Day 392: Blizzard Starcraft Zerg Hydralisk Action Figure
Day 399: Tyco Looney Tunes Marvin the Martian
Day 483: Pineapple Ltd. Glow Ghosts Baggs Collectible Figure
Day 485: Remco Mel Appel Extraterrestrials Captain Evets Collectible Figure
Day 494: October Toys Zillions of Mutated Bodies Infecting Everyone (ZOMBIE) Series 1 Neon Orange Minifigures
Day 524: NiStuff Terrestrial and Outer Anomalies Metallic PVC Figures
Day 526: Jazwares Mortal Kombat 20th Anniversary Shao Kahn Action Figure
Day 541: NECA Terminator Kyle Reese Action Figure Day 615: Deep Fried Figures Mechawhales Action Figure
Day 645: Tim Mee Toys Battle Mountain Playset
Day 700: Elly Font Art Elephant Magnets Overview
Day 748: Funko Land of the Lost SDCC Exclusive Glow in the Dark Sleestak
Day 751: October Toys Zillions of Mutated Bodies Infecting Everyone (ZOMBIE) Series 1 Blue Glow in the Dark Minifigures
Day 785: Topps MiniKins 4-Pack Mini-Figures
Day 874: Yujin Shooting Game Historica Metarion Capsule Toy
Day 1,049: Tim Mee Toys Galaxy Laser Team Blue and Green Figure Set
Day 1,065: Tim Mee Toys Green Galaxy Laser Team Star Patrol Jumbo Figure Set
Day 1,087: Tim Mee Toys Green and Grey Legendary Battle Figure Set
Day 1,092: Tim Mee Toys Brown Backwoods Battle Frontiersmen Figure Set
Day 1,146: Wendy's Night at the Museum 3 Jedediah in the Wild West
Day 1,189: Remco Mel Appel Extraterrestrials Trebor
Day 1,215: Tim Mee Toys People at Play Atomic Family Putty and Green Figure Set
Day 1,232: Tim Mee Toys Green vs. Green Soldiers Figure Set
Day 1,237: Tim Mee Toys Tank Command Desert Command Vehicle Set
Day 1,241: Funko Hikari Vinyl Gigantor Power Vision Gigantor
Day 1,276: Tim Mee Toys Combat Patrol Army Vehicles and Artillery Vehicle Set
Day 1,330: Tim Mee Toys Shadow Ops Black Helicopter Strikeforce Figure and Vehicle Set
Day 1,372: Tim Mee Toys Tan vs. Green Soldiers Bucket Figure Set
Day 1,396: Funko Pop! Television Last Week Tonight with John Oliver Vinyl Figure
Day 1,406: McDonald's Changeables Egg McMuffin Robot
Day 1,418: Jesse Narens Stegoforest Brown Stegoforest with Acorn Warrior
Day 1,423: McDonald's Changeables French Fries Robot
Day 1,458: BanDai Gamera Heisei Gamera Action Figure
Day 1,474: Remco Mel Appel Extraterrestrials Egroeg
Day 1,539: Pineapple Ltd. Glow Ghosts Catcherpillar Collectible Figure
Day 1,563: A&A Global Industries Dogs in Disguise Nanner Action Figure
Day 1,620: Funko Son of Zorn Zorn Action Figure
Day 1,637: Funko E.T. The Extra-Terrestrial Elliot, E.T., and Gertie ReAction Figures
Day 1,746: Hasbro Littlest Pet Shop Pets in the City Puttin' on the Glitz #24 Pony
Day 1,773: BanDai Xyber 9 New Dawn Ikira's Speeder
Day 1,777: Funko Pop! Television Ash vs. Evil Dead Entertainment Earth Exclusive Bloody Ash Pop! Vinyl Figure
Day 1,841: Funko Pop! Animation Glow in the Dark Reptar Pop! Vinyl Figure
Day 1,852: Funko Son of Zorn Office Zorn
Day 1,891: Parker Bros. Q*Bert Flying Disc Action Figure
Day 1,957: Funko VYNL The Life Aquatic Steve and Ned Vinyl Figures
Day 1,976: Burger King Smurfs: The Lost Village Brainy Smurf Action Figure
Day 1,980: BanDai Saban's BeetleBorgs Metallix Mega Spectra Titanium Silver Sector Cycle Vehicle with Action Figure
Day 1,982: Titan Merchandise Cartoon Network Collection Samurai Jack
Day 2,021: BanDai Mystic Knights of Tir Na Nog The Drageen Action Figure
Day 2,026: Unknown Diplodocus Figure
Day 2,045: Funko GLOW Debbie Eagan vs. Ruth Wilder Action Figures
Day 2,054: Max Toy Co. Designer Con 2018 Exclusive Glow in the Dark Otta Otter Sofubi Vinyl Figure
Day 2,061: Just Toys Intl. Fallout Mega Merge Nuka T-51 Power Armor
Day 2,070: Mechazone Mechanauts Epsilon Buggy NP-03 Action Vehicle
Day 2,077: ThreeZero PopFuzz Glow in the Dark The Robot Vinyl Figure
Day 2,132: Pineapple Ltd. Glow Ghosts Boohoo Collectible Figure
Day 2,203: Sonic Kidrobot Dunny Strawberry, Lime, and Red Button Action Figure
Day 2,211: Super7 Toxic Crusaders Glow in the Dark Toxie Action Figure
Day 2,235: Super7 Ultimates Voltron Action Figure
Day 2,244: Funko Pop! Television Schitt's Creek David Rose Action Figure
Day 2,315: Funko Soda Devo Satisfaction Vinyl Figure
Day 2,344: Orbitdyne Gee Two HEAP Vinyl Figure
Day 2,358: Super7 Killer Bootlegs Rhamnusia's Revenge Action Playset with Draco Knuckleduster and Phantom Starkiller Action Figures
Day 2,526: Super7 Vincent Price Master of Mayhem ReAction Figure
Day 2,574: Garden State Kaiju Space Beasts Mudbelly "Wild Type" Soft Vinyl Figure
Day 2,582: Orbitdyne HEAP Glow Head Vinyl Figure
Day 2,594: Super7 Mars Attacks Destroying A Dog ReAction Figure