Destroying A Dog
I'm looking over my dead dog Rover

Mars Attacks ReAction Figure
Item No.: No. 03843
Manufacturer: Super7
Includes: Helmet, blaster, dog
Action Feature: n/a
Retail: $17.99
Availability: November 2019
Other: Dead Puppies Aren't Much Fun

PREVIOUS
RSS
NEXT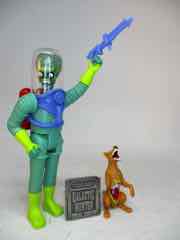 Super7 made Destroying A Dog as a tribute to the classic Topps "Mars Attacks" trading cards, which were before my time and supposedly banned/offensive/confiscated/etc. The whole idea was it depicted alien gore and mayhem on trading cards - and there was no Trading Card Authority like the Comics Code Authority to tell people what belonged on their cards. They were such a success that they spawned a Tim Burton movie, which seemed like a nod to 1970s disaster films as a packed-with-celebrities comedy that I genuinely enjoy. Can you name another movie with Natalie Portman, Jack Nicholson, Michael J. Fox, Sarah Jessica Parker, Pam Grier, and... gosh just typing all this out makes me want to watch it again. It was a lot of fun.
This figure from 2021 has Super7's typically lavish attention to packaging art, adopting the original "Destroying a Dog" trading card with big yellow and red graphics inspired by the trading card wax packs from 1962. I felt bad opening this one - it's flawless. Beautiful. Whoever designed this nailed it. It doesn't evoke a retro era of package design, it's more of an art piece. The same is true of the figure inside - it falls a little short of retro in some places, but it reminded me a lot of other space toys that I loved - so I wanted to play with one. As I am writing reviews of these guys, I'm checking Google and I'm not seeing anybody else writing reviews of him or most of Super7's other ReAction Figures anywhere. Nobody bothered! Why the heck not? These are neat, and worthy of a few inches of copy.
Click here to check availability at Entertainment Earth.
Click here to check availability at eBay.
Super7's Planet of the Apes and Universal Monsters line look like they were mostly crafted by old-hat Kenner sculptors. If I remember my trivia, the Alien figures - at least the first five - were new sculpts made inspired by the original Kenner prototypes from 1979. These things look like they belong next to your recalled Battlestar Galactica figures and your Fisher-Price Adventure People. But the Martian here is kind of an odd duck. It's rare that my initial opinion of a toy is "I don't know."
He has a removable helmet that comes off and on easily, and it holds well. That's good. His blaster was unable to fit in his right hand (with the bent arm) when I was taking photos - I had to poke out some paint with a screwdriver, so it fits now. If you buy one, it will most likely be able to be held in either hand. I have no problem keeping him standing, and he fit in the vehicles I had handy. Super7 sculpted him with a rounded butt so no corners of his legs stick out when he sits down, so that's good!
The body itself is odd. I always viewed the Martians as shorter than human adults, and he's taller than most people figures. (To be fair, this is the kind of thing Kenner would do and actually did in the 1970s with Snaggletooth.) I don't know if it was a design choice - if it was, good on them. It makes the monster look more menacing than some tween-height creatures from the red planet. The sculpt seems to be incredibly simple, with smooth torso costuming not matching the textured suit on the trading cards. Similarly, his limbs are much thicker than the card art, and the gloves don't match what I see there either. If anything, the design seems to borrow more from the movie creature designs, minus the height, with a pose that seems to match that of my 1978 Han Solo action figure.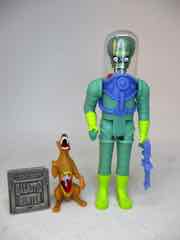 The tanks on the back look great, with some simple black painted vents on the side. Where the figure went overboard for me was the head - it's gorgeous. The mouth is open in that "ack ack ack" movie pose, with a green textured brain with tons of paint. The eyes are multiple colors, and the level of detail is too good for the 1970s. It looks a lot closer to what Hasbro was doing in 1999, with lots of ridges and grooves making it look like a state-of-the-art head on what may be a simpler body sculpt. The very smooth boots and the simple bands look like a distant cousin of the Kenner Greedo figure, with the head not looking too far off from the movie Trendmasters figures. Since the trading card has a pink brain on the martians, I would say they whiffed it as far as those go - but this figure is a pretty good movie-ish figure. And maybe that's the point - the card art is one thing, while the figure is something else. Something you'll probably ignore, because you're going to be too distracted by a generously sized reproduction of a dog being disemboweled - and that's something a lot of people don't have a sense of humor about. (Have you ever played the song "Dead Puppies Aren't Much Fun" for people? Their reaction says a lot.)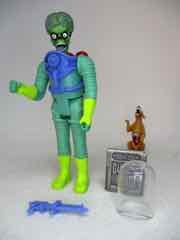 He's joined by a tiny dog being blown up. You can see the blast mark went clear through him with a blast mark on both sides plus visible bones. It's gory. The little guy has a fully-painted mouth with white teeth and a pink tongue, plus wide dead eyes and an ear flopped back probably indicating a moment of absolute surprise. It's a nice extra for no extra money - a plain Martian "The Invasion Begins" figures has variant arms and no dog for the same price.
For those obsessed with mid-century sci-fi, late 20th-century space toys, and 3 3/4-inch action figures in particular, you may need to buy one of these. I would put this in the same category as their Vincent Price ReAction Figure [FOTD #2,526] in that it's not an impressive body. But the head is very good, and the accessories aren't bad. At below the standard $18-$20 this is a real gem, above $20 and I don't know if I'd highly recommend it, but I am enjoying playing around with it and given the unusual stylistic choices made in its design, sculpting, and size, Super7 made one of the perfect Mars Attacks! collectibles and a pretty good little action figure. Having said that, they could go back and redo it to better match the art some day - it's not quite a 1970s-1980s figure, but it's a unique interpretation of the monsters as a fake retro licensed toy. I don't regret picking it up but I'd nudge you to get a Ripley or Metaluna Muntant or Dr. Zaius first.
--Adam Pawlus
Additional Images

See more Super 7 and Funko x Super 7 figures in Figure of the Day:
Day 792: Super 7 ALIEN SDCC Exclusive Sales Samples
Day 821: Super7 x Funko Alien ReAction Ripley
Day 844: Super7 x Funko Alien ReAction Dallas
Day 852: Super7 x Funko Alien ReAction Alien
Day 857: Super7 x Funko Alien ReAction Kane in Space Suit
Day 861: Super7 x Funko Alien ReAction Ash
Day 945: Super7 x Funko The Rocketeer ReAction Rocketeer Action Figure
Day 945: Super7 x Funko Predator (Invisible, Bloody) Action Figure
Day 985: Funko Back to the Future Marty McFly ReAction Figure
Day 1001: Funko Nightmare Before Christmas Jack Skellington (Early Bird Figure) ReAction Figure
Day 1,005: Funko Universal Monsters The Mummy ReAction Figure
Day 1,008: Funko Back to the Future George McFly ReAction Figure
Day 1,008: Funko Back to the Future Doc Brown ReAction Figure
Day 1,029: Super7 x Funko Predator (Attack Mode) ReAction Figure
Day 1,037: Funko Nightmare Before Christmas Saly ReAction Figure
Day 1,038: Funko Universal Monsters Creature from the Black Lagoon ReAction Figure
Day 1,039: Funko Universal Monsters The Invisible Man ReAction Figure
Day 1,040: Funko Universal Monsters The Phantom of the Opera ReAction Figure
Day 1,041: Funko Universal Monsters The Wolf Man ReAction Figure
Day 1,042: Funko Universal Monsters The Bride of Frankenstein ReAction Figure
Day 1,059: Funko Predator (Masked) ReAction Figure
Day 1,068: Funko Universal Monsters Frankenstein's Monster ReAction Figure
Day 1,078: Funko Back to the Future Biff Tannen ReAction Figure
Day 1,082: Funko T800 Endoskeleton (Chrome) ReAction Figure
Day 1,094: Funko Universal Monsters Dracula ReAction Figure
Day 1,059: Funko Predator (Masked) ReAction Figure
Day 1,102: Funko Predator (Unmasked) ReAction Figure
Day 1,108: Funko Universal Monsters The Invisible Man
Day 1,108: Funko Universal Monsters The Invisible Man Clear Entertainment Earth Exclusive
Day 1,111: Funko Predator (Glow Version) ReAction Figure
Day 1,117: Funko The Terminator Sarah Connor ReAction Figure
Day 1,133: Funko The Terminator (Tech Noir Jacket) ReAction Figure
Day 1,138: Funko Pulp Fiction Mia Wallace ReAction Figure
Day 1,149: Super7 x Funko Alien Egg Chamber Action Playset
Day 1,183: Super7 x Funko Alien ReAction Alien (with Metallic Flesh)
Day 1,187: Funko Predator (Invisible) ReAction Figure
Day 1,199: Super7 x Funko Alien ReAction Ripley (Spacesuit)
Day 1,208: Funko Predator (Thermal Vision) ReAction Figure
Day 1,211: Funko The Fifth Element Leeloo ReAction Figure
Day 1,217: Funko The Fifth Element Diva Plavalaguna ReAction Figure
Day 1,222: Funko The Fifth Element Korben Dallas ReAction Figure
Day 1,227: Funko The Fifth Element Mangalore ReAction Figure
Day 1,236: Funko Gremlins Mogwai Stripe ReAction Figure
Day 1,244: Funko The Fifth Element Ruby Rhod ReAction Figure
Day 1,250: Super7 M.O.T.U.S.C.L.E. Set B
Day 1,252: Funko The Fifth Element Zorg ReAction Figure
Day 1,263: Super7 M.O.T.U.S.C.L.E. Set A
Day 1,267: Funko The Fifth Element Leeloo (Straps Costume) ReAction Figure
Day 1,272: Super7 x Funko Alien ReAction Kane (Chestburster)
Day 1,275: Funko Gremlins Billy Peltzer ReAction Figure
Day 1,277: Super7 x Funko Alien ReAction Kane (Facehugger)
Day 1,286: Funko Nightmare Before Christmas Behemoth
Day 1,288: Super7 M.O.T.U.S.C.L.E. Set C
Day 1,295: Funko Nightmare Before Christmas Mayor
Day 1,302: Super7 M.O.T.U.S.C.L.E. SDCC Promo Skeletor
Day 1,327: Super7 x Funko Alien ReAction Nostromo Crew (Dallas, Kane, Lambert)
Day 1,333: Funko Gremlins Cinema Gremlin ReAction Figure
Day 1,342: Funko Gremlins Gremlin Stripe ReAction Figure
Day 1,358: Funko Gremlins Bandit Gremlin ReAction Figure
Day 1,628: Super7 Masters of the Universe M.U.S.C.L.E. Series 2 Set C
Day 1,633: Super7 Masters of the Universe M.U.S.C.L.E. Series 2 Set B
Day 1,637: Funko E.T. The Extra-Terrestrial Elliot, E.T., and Gertie ReAction Figures
Day 1,639: Super7 Masters of the Universe M.U.S.C.L.E. Series 2 Set D
Day 1,639: Super7 Masters of the Universe M.U.S.C.L.E. Series 2 Set A
Day 1,656: Super7 Alien M.U.S.C.L.E. Set A
Day 1,676: Super7 Alien M.U.S.C.L.E. Set C
Day 1,686: Super7 Alien M.U.S.C.L.E. Set B
Day 1,693: Super7 Alien M.U.S.C.L.E. Set D
Day 1,801: Super7 Street Fighter II M.U.S.C.L.E. Set A
Day 1,817: Super7 Street Fighter II M.U.S.C.L.E. Set B
Day 1,834: Super7 Street Fighter II M.U.S.C.L.E. Set D
Day 1,840: Super7 Masters of the Universe M.U.S.C.L.E. Series 3 Set D
Day 1,846: Super7 Aliens M.U.S.C.L.E. Set E
Day 1,843: Super7 Masters of the Universe M.U.S.C.L.E. Series 3 Set E
Day 1,857: Super7 Street Fighter II M.U.S.C.L.E. Set C
Day 1,862: Super7 Masters of the Universe M.U.S.C.L.E. Series 3 Set C
Day 1,864: Super7 Aliens M.U.S.C.L.E. Set A
Day 1,877: Super7 Masters of the Universe M.U.S.C.L.E. Series 3 Set F
Day 1,881: Super7 Mega Man M.U.S.C.L.E. Series 1 Set B
Day 1,884: Super7 Aliens M.U.S.C.L.E. Set D
Day 1,894: Super7 Mega Man M.U.S.C.L.E. Series 1 Set D
Day 1,904: Super7 Mega Man M.U.S.C.L.E. Series 1 Set A
Day 1,914: Super7 Mega Man M.U.S.C.L.E. Series 1 Set C
Day 1,920: Super7 Halloween Series Nosferatu Glow in the Dark
Day 1,922: Super7 Masters of the Universe M.U.S.C.L.E. Series 3 Set B
Day 1,937: Super7 Masters of the Universe M.U.S.C.L.E. Series 3 Set A
Day 2,161: Super7 Masters of the Universe Transforming He-Man Action Figure
Day 2,211: Super7 Toxic Crusaders Glow in the Dark Toxie Action Figure
Day 2,235: Super7 Ultimates Voltron Action Figure
Day 2,237: Super7 Teenage Mutant Ninja Turtles Ultimates Raphael Action Figure
Day 2,253: Super7 Teenage Mutant Ninja Turtles Ultimates Foot Soldier Action Figure
Day 2,358: Super7 Killer Bootlegs Rhamnusia's Revenge Action Playset with Draco Knuckleduster and Phantom Starkiller Action Figures
Day 2,388: Super7 Teenage Mutant Ninja Turtles Ultimates Glow-in-the-Dark Mutagen Man Action Figure
Day 2,454: Super7 Metropolis Silver Maria ReAction Figure
Day 2,458: Super7 G.I. Joe Red Ninja ReAction Figure
Day 2,465: Super7 Godzilla Godzilla '54 (Glow-in-the-Dark) ReAction Figure
Day 2,480: Super7 Transformers Grimlock G2 ReAction Figure
Day 2,526: Super7 Vincent Price Master of Mayhem ReAction Figure
Day 2,530: Super7 Godzilla Mechagodzilla (Glow-in-the-Dark) ReAction Figure
Day 2,534: Super7 Planet of the Apes Mendez XXVI ReAction Figure
Day 2,546: Super7 Planet of the Apes Cornelius ReAction Figure
Day 2,554: Super7 Alien UCCSS Nostromo Action Figure Set 1 with Kane with Facehugger, Ripley with Jonesy, Ash with Removable Head
Day 2,562: Super7 Universal Monsters The Mummy ReAction Figure
Day 2,570: Super7 Universal Monsters The Metaluna Mutant ReAction Figure
Day 2,577: Super7 Transformers Hot Rod ReAction Figure
Day 2,590: Super7 Planet of the Apes General Aldo ReAction Figure
Day 2,594: Super7 Mars Attacks Destroying A Dog ReAction Figure
Day 2,598: Super7 Planet of the Apes Dr. Zaius ReAction Figure
Day 2,606: Super7 Universal Monsters Official World Famous Super7 Monsters! Creature from the Black Lagoon (Super She Creature) Glow-in-the-Dark
Day 2,610: Super7 Planet of the Apes Taylor ReAction Figure
Day 2,626: Super7 Planet of the Apes Zira ReAction Figure
Day 2,630: Super7 Universal Monsters The Metaluna Mutant ReAction Figure
Day 2,634: Super7 Planet of the Apes General Ursus ReAction Figure
Day 2,638: Super7 Universal Monsters Dracula ReAction Figure
Day 2,642: Super7 Star Trek: The Next Generation Armus ReAction Figures
Day 2,647: Super7 Devo Whip It Mark Mothersbaugh ReAction Figure
Day 2,649: Super7 Universal Monsters Bride of Frankenstein ReAction Figure
Day 2,652: Super7 Universal Monsters The Mummy (Costume Colors) ReAction Figure
Day 2,655: Super7 Planet of the Apes Nova ReAction Figure
Day 2,657: Super7 Universal Monsters The Wolf Man ReAction Figure
Day 2,659: Super7 Devo Satisfaction Bob Casale ReAction Figure
Day 2,661: Super7 Svengoolie Horror Host Icon ReAction Figure

See more otherwise uncategorized figures in Figure of the Day:
Day 22: Tamagoras Get Back To Job Lion
Day 35: Mattel Xtractaurs Comic Series Battlespike Styracosaurus
Day 133: Kenner Q*Bert Wind-Up Q*Bert Action Figure
Day 200: Hasbro Cloverfield Electronic Action Figure
Day 216: BanDai Tick Bounding Tick Action Figure
Day 286: Mugo Kung Fu Panda 2 Po Designer MP3 Player
Day 325: Spy Monkey Creations Doppelganger Armory Series 1 Accessory Pack
Day 352: Mezco The Goon Action Figure
Day 357: McFarlane Toys The Maxx Action Figure
Day 384: Beeline Creative Parks and Recreation Ron Swanson Bobble Head
Day 392: Blizzard Starcraft Zerg Hydralisk Action Figure
Day 399: Tyco Looney Tunes Marvin the Martian
Day 483: Pineapple Ltd. Glow Ghosts Baggs Collectible Figure
Day 485: Remco Mel Appel Extraterrestrials Captain Evets Collectible Figure
Day 494: October Toys Zillions of Mutated Bodies Infecting Everyone (ZOMBIE) Series 1 Neon Orange Minifigures
Day 524: NiStuff Terrestrial and Outer Anomalies Metallic PVC Figures
Day 526: Jazwares Mortal Kombat 20th Anniversary Shao Kahn Action Figure
Day 541: NECA Terminator Kyle Reese Action Figure Day 615: Deep Fried Figures Mechawhales Action Figure
Day 645: Tim Mee Toys Battle Mountain Playset
Day 700: Elly Font Art Elephant Magnets Overview
Day 748: Funko Land of the Lost SDCC Exclusive Glow in the Dark Sleestak
Day 751: October Toys Zillions of Mutated Bodies Infecting Everyone (ZOMBIE) Series 1 Blue Glow in the Dark Minifigures
Day 785: Topps MiniKins 4-Pack Mini-Figures
Day 874: Yujin Shooting Game Historica Metarion Capsule Toy
Day 1,049: Tim Mee Toys Galaxy Laser Team Blue and Green Figure Set
Day 1,065: Tim Mee Toys Green Galaxy Laser Team Star Patrol Jumbo Figure Set
Day 1,087: Tim Mee Toys Green and Grey Legendary Battle Figure Set
Day 1,092: Tim Mee Toys Brown Backwoods Battle Frontiersmen Figure Set
Day 1,146: Wendy's Night at the Museum 3 Jedediah in the Wild West
Day 1,189: Remco Mel Appel Extraterrestrials Trebor
Day 1,215: Tim Mee Toys People at Play Atomic Family Putty and Green Figure Set
Day 1,232: Tim Mee Toys Green vs. Green Soldiers Figure Set
Day 1,237: Tim Mee Toys Tank Command Desert Command Vehicle Set
Day 1,241: Funko Hikari Vinyl Gigantor Power Vision Gigantor
Day 1,276: Tim Mee Toys Combat Patrol Army Vehicles and Artillery Vehicle Set
Day 1,330: Tim Mee Toys Shadow Ops Black Helicopter Strikeforce Figure and Vehicle Set
Day 1,372: Tim Mee Toys Tan vs. Green Soldiers Bucket Figure Set
Day 1,396: Funko Pop! Television Last Week Tonight with John Oliver Vinyl Figure
Day 1,406: McDonald's Changeables Egg McMuffin Robot
Day 1,418: Jesse Narens Stegoforest Brown Stegoforest with Acorn Warrior
Day 1,423: McDonald's Changeables French Fries Robot
Day 1,458: BanDai Gamera Heisei Gamera Action Figure
Day 1,474: Remco Mel Appel Extraterrestrials Egroeg
Day 1,539: Pineapple Ltd. Glow Ghosts Catcherpillar Collectible Figure
Day 1,563: A&A Global Industries Dogs in Disguise Nanner Action Figure
Day 1,620: Funko Son of Zorn Zorn Action Figure
Day 1,637: Funko E.T. The Extra-Terrestrial Elliot, E.T., and Gertie ReAction Figures
Day 1,746: Hasbro Littlest Pet Shop Pets in the City Puttin' on the Glitz #24 Pony
Day 1,773: BanDai Xyber 9 New Dawn Ikira's Speeder
Day 1,777: Funko Pop! Television Ash vs. Evil Dead Entertainment Earth Exclusive Bloody Ash Pop! Vinyl Figure
Day 1,841: Funko Pop! Animation Glow in the Dark Reptar Pop! Vinyl Figure
Day 1,852: Funko Son of Zorn Office Zorn
Day 1,891: Parker Bros. Q*Bert Flying Disc Action Figure
Day 1,957: Funko VYNL The Life Aquatic Steve and Ned Vinyl Figures
Day 1,976: Burger King Smurfs: The Lost Village Brainy Smurf Action Figure
Day 1,980: BanDai Saban's BeetleBorgs Metallix Mega Spectra Titanium Silver Sector Cycle Vehicle with Action Figure
Day 1,982: Titan Merchandise Cartoon Network Collection Samurai Jack
Day 2,021: BanDai Mystic Knights of Tir Na Nog The Drageen Action Figure
Day 2,026: Unknown Diplodocus Figure
Day 2,045: Funko GLOW Debbie Eagan vs. Ruth Wilder Action Figures
Day 2,054: Max Toy Co. Designer Con 2018 Exclusive Glow in the Dark Otta Otter Sofubi Vinyl Figure
Day 2,061: Just Toys Intl. Fallout Mega Merge Nuka T-51 Power Armor
Day 2,070: Mechazone Mechanauts Epsilon Buggy NP-03 Action Vehicle
Day 2,077: ThreeZero PopFuzz Glow in the Dark The Robot Vinyl Figure
Day 2,132: Pineapple Ltd. Glow Ghosts Boohoo Collectible Figure
Day 2,203: Sonic Kidrobot Dunny Strawberry, Lime, and Red Button Action Figure
Day 2,211: Super7 Toxic Crusaders Glow in the Dark Toxie Action Figure
Day 2,235: Super7 Ultimates Voltron Action Figure
Day 2,244: Funko Pop! Television Schitt's Creek David Rose Action Figure
Day 2,315: Funko Soda Devo Satisfaction Vinyl Figure
Day 2,344: Orbitdyne Gee Two HEAP Vinyl Figure
Day 2,358: Super7 Killer Bootlegs Rhamnusia's Revenge Action Playset with Draco Knuckleduster and Phantom Starkiller Action Figures
Day 2,526: Super7 Vincent Price Master of Mayhem ReAction Figure
Day 2,574: Garden State Kaiju Space Beasts Mudbelly "Wild Type" Soft Vinyl Figure
Day 2,582: Orbitdyne HEAP Glow Head Vinyl Figure
Day 2,594: Super7 Mars Attacks Destroying A Dog ReAction Figure