Green and Grey
6 Styles, 2 Colors

Legendary Battle "Army Men"
Item No.: No. 11150
Manufacturer: Tim Mee Toys
Includes: 32 figures
Action Feature: n/a
Retail: $12.80
Availability: Fall 2013
Other: Sprite edition

PREVIOUS
RSS
NEXT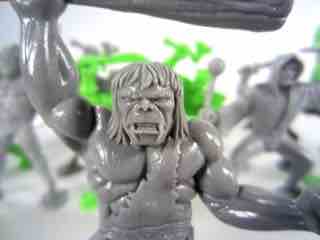 Army men are usually pretty small, but the Green and Grey Legendary Battle Figure Set is a lot larger. Normally toy green army men are around 60mm tall, these clock in at about 80mm - 30% larger, roughly 3-inches tall in some cases. Not only is the quality really good with the best details in the line thus far, but there's also fun history here - they were originally Marvel figures, retooled and reissued as generic fantasy figures that might be at home in your RPG campaign.
Like with the other sacks, you get 2 colors of each of 6 molds, and about 2-4 of each style. I'm not sure why some are higher than others as they're not consistent between the sculpts, but you get a selection figures with the best texture and clarity of any figure I've bought in this style so far, and that includes some of the recent Hasbro stuff. For a line of figures that feel like what kids whose parents didn't love them bought instead of Masters of the Universe, they're quite nice. I wish there were more!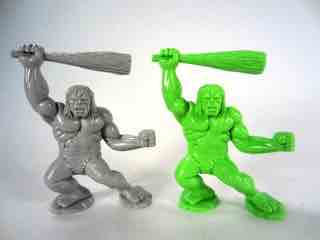 First up is a Fanged Neanderthal, which is based on Hulk. This one is obvious - he's green or grey this time, just like regular Hulk. Changes include longer hair, fangs, a toga of sorts, and a club. The face still looks Hulk-y, but so do a lot of cavemen. Tis is one of the shorter figures, made of some incredibly solid-feeling plastic. There's no translucency to it, it's just solid throughout with a little give on the club. The sound it makes when hitting a hard surface is quite pleasing, and the way the light dances off of it gives it nice shadows that bring out all of the sculpted detail. Given the toy's history, I'm quite glad that this alternate version exists - I can buy a lot of the green angry guy at Walmart. But caveman costumed versions? That ain't happening anywhere else.
I should also mention these figures are some of very few to feature sculpted identification marks on the bottom of the feet. "P.P.C. MONTGOMERY IL" can be found, letting you know that these were made by Processed Plastics Company. Which is now being cranked out by J. Lloyd International, and was also branded Tim Mee before. The look and feel of the reissue set is just plain wonderful, when comparing them to vintage figures I daresay the new ones are better. I'd also like to see some new colors, but the plastic quality is just exquisite.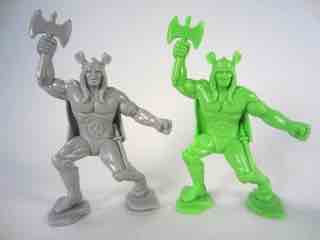 Inspired by a certain God of Thunder, the Medieval Viking has a big axe and a cape, with nary a hammer in sight. A dagger on his belt, a cape on his back, retooled wings on his helmet, and a revised belt make this figure feel quite a bit different from the original - but there are some looks that are hard to avoid. There's a slightly grainy texture on the cape and costume which looks and feels great, especially on the grey figures. The axe is nifty and the boot detail is pretty great, too. A lot of work seems to have gone into this one, although it isn't obvious at first glance.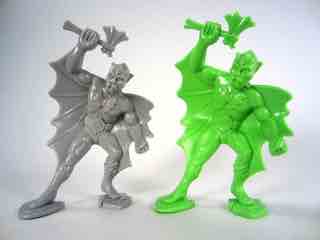 A horde of Winged-Tiger Demon figures based loosely on the pose of an old Falcon in some regions (and Human Torch in others) will just baffle you - there's very little similarity. Now given an axe, wings, and freaky heads, it's a unique monster unto itself The head sculpt is a smidgen rough around the edges, but the Demon - one of few figures I own called a demon - has slicked-back hair and great teeth. I assume the areas under the chin and behind the face were cut this way to function correctly in the tool, as there are some great details elsewhere that the head lacks. The axe looks like a bone and a bat wing joined up, while the chest and belt have some really good design work. This looks like a refugee from Eternia, or a gargoyle of some sort. It's a great design and likely a good addition to Hordak's forces. Each boot also has some nice design work, with a little bat symbol on each shin. It's an old fantasy figure that looks and feels like an old fantasy figure.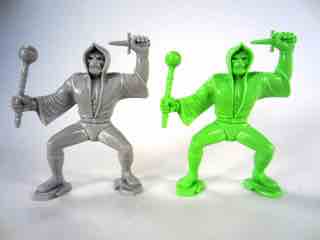 A Skull-Faced Sorcerer reminded me more of He-Ro with Skeletor's head, given its dagger and orb-on-a-stick. The figure's lack of pants feels right at home with Masters of the Universe while his hooded tunic has a wonderful texture on it that elevates it above most of the other figures in the set. It's hard to tell, but it looks like it was originally a Red Skull figure - this makes sense. His boots and exposed chest are somewhat lacking in detail, but the face is pretty freaky with beady eyes, exposed teeth, and a good, solid deadly expression. I'm kind of disappointed he doesn't exist as a full-size articulated action figure too, it's a striking design and it's not like we get new, magical, pants-free beings every day.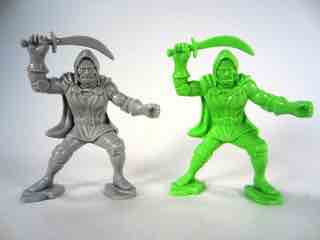 One figure looks exactly like Doctor Doom, but the marketing copy tells me he is actually a Mysterious Hooded Samurai Warrior. Hey, whatever works. The figure itself has a new mask that may remind you of actual Samurai masks, and a sword for reasons I don't know. Basically what matters here is the figure has the same great detail and various elements are undeniably close to the source material - it's brilliant. The figure looks down and is hunched over, plus he's got big armor on his elbows and knees. The cloak and cape look a lot like the Marvel villain, while the mask looks less and less like him the more you look at it. The details are quite crisp, and while some of the Tim Mee figures look like they came out of a three-decade-old-mold this entire series looks about as fresh and new as you could possibly hope for.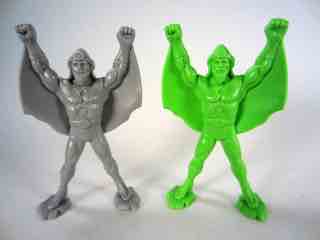 Rounding out the collection with arms raised high is a Super Sorcerer. I assumed it would have been Banshee in a previous life, but no - it was Namor, the Sub-Mariner. With the pitchfork gone, he was given a bit of an overhaul with new boots, a cape, a beard, a hat, and some sort of skin-tight onesie. He's mostly smooth with some light texture on the back and a lot of really great sculpting work on the head. The hat and beard really pop nicely, and the muscular arms just seem a little goofy given his job - but then again, maybe it's a perfect avatar for someone's D&D game. Like all of these figures, they have no problems standing and need support in the form of small bases under each foot.
As an unapologetic fan of fixed-pose figures, these are pretty clever. Mixing the Marvel roots with popular 1980s-style fantasy designs really worked here, and the fact that these 2013 reissues are in exquisite condition leads me to believe that they weren't very popular during their initial run. At 40 cents a pop they're not as cheap as other Tim Mee figures, but the size and quality are possibly the best you can get for the price. (The jumbo Galaxy Laser Team Star Patrol are $2.63 a whack.) The figures all look great, but I wish they picked other (or different) colors than grey. It's gorgeous and great for showing off detail, but it matches the Battle Mountain quite closely. These are good, I wish there were more like them - not just more colors, but more characters. They're good examples of what they are - authentic toy industry weirdness with a great story. If I ever meet anyone new who loves RPGs, I'll probably buy them a set (or buy a bag, and give them one set) just because. If you like 1980s weirdness, this is it.
--Adam Pawlus
Additional Images

See more Tim Mee Toys figures in Figure of the Day:
Day 645: Tim Mee Toys Battle Mountain Playset
Day 1,049: Tim Mee Toys Galaxy Laser Team Blue and Green Figure Set
Day 1,062: Tim Mee Toys Green and Yellow Prehistoric Dinosaurs Figure Set
Day 1,065: Tim Mee Toys Green Galaxy Laser Team Star Patrol Jumbo Figure Set
Day 1,087: Tim Mee Toys Green and Grey Legendary Battle Figure Set
Day 1,092: Tim Mee Toys Brown Backwoods Battle Frontiersmen Figure Set
Day 1,215: Tim Mee Toys People at Play Atomic Family Putty and Green Figure Set
Day 1,232: Tim Mee Toys Green vs. Green Soldiers Figure Set
Day 1,237: Tim Mee Toys Tank Command Desert Command Vehicle Set
Day 1,276: Tim Mee Toys Combat Patrol Army Vehicles and Artillery Vehicle Set
Day 1,330: Tim Mee Toys Shadow Ops Black Helicopter Strikeforce Figure and Vehicle Set
Day 1,372: Tim Mee Toys Tan vs. Green Soldiers Bucket Figure Set

See more otherwise uncategorized figures in Figure of the Day:
Day 22: Tamagoras Get Back To Job Lion
Day 35: Mattel Xtractaurs Comic Series Battlespike Styracosaurus
Day 133: Kenner Q*Bert Wind-Up Q*Bert Action Figure
Day 200: Hasbro Cloverfield Electronic Action Figure
Day 216: BanDai Tick Bounding Tick Action Figure
Day 286: Mugo Kung Fu Panda 2 Po Designer MP3 Player
Day 325: Spy Monkey Creations Doppelganger Armory Series 1 Accessory Pack
Day 352: Mezco The Goon Action Figure
Day 357: McFarlane Toys The Maxx Action Figure
Day 384: Beeline Creative Parks and Recreation Ron Swanson Bobble Head
Day 392: Blizzard Starcraft Zerg Hydralisk Action Figure
Day 399: Tyco Looney Tunes Marvin the Martian
Day 483: Pineapple Ltd. Glow Ghosts Baggs Collectible Figure
Day 485: Remco Mel Appel Extraterrestrials Captain Evets Collectible Figure
Day 494: October Toys Zillions of Mutated Bodies Infecting Everyone (ZOMBIE) Series 1 Neon Orange Minifigures
Day 524: NiStuff Terrestrial and Outer Anomalies Metallic PVC Figures
Day 526: Jazwares Mortal Kombat 20th Anniversary Shao Kahn Action Figure
Day 541: NECA Terminator Kyle Reese Action Figure Day 615: Deep Fried Figures Mechawhales Action Figure
Day 645: Tim Mee Toys Battle Mountain Playset
Day 700: Elly Font Art Elephant Magnets Overview
Day 748: Funko Land of the Lost SDCC Exclusive Glow in the Dark Sleestak
Day 751: October Toys Zillions of Mutated Bodies Infecting Everyone (ZOMBIE) Series 1 Blue Glow in the Dark Minifigures
Day 785: Topps MiniKins 4-Pack Mini-Figures
Day 874: Yujin Shooting Game Historica Metarion Capsule Toy
Day 1,049: Tim Mee Toys Galaxy Laser Team Blue and Green Figure Set
Day 1,065: Tim Mee Toys Green Galaxy Laser Team Star Patrol Jumbo Figure Set
Day 1,087: Tim Mee Toys Green and Grey Legendary Battle Figure Set
Day 1,092: Tim Mee Toys Brown Backwoods Battle Frontiersmen Figure Set
Day 1,146: Wendy's Night at the Museum 3 Jedediah in the Wild West
Day 1,189: Remco Mel Appel Extraterrestrials Trebor
Day 1,215: Tim Mee Toys People at Play Atomic Family Putty and Green Figure Set
Day 1,232: Tim Mee Toys Green vs. Green Soldiers Figure Set
Day 1,237: Tim Mee Toys Tank Command Desert Command Vehicle Set
Day 1,241: Funko Hikari Vinyl Gigantor Power Vision Gigantor
Day 1,276: Tim Mee Toys Combat Patrol Army Vehicles and Artillery Vehicle Set
Day 1,330: Tim Mee Toys Shadow Ops Black Helicopter Strikeforce Figure and Vehicle Set
Day 1,372: Tim Mee Toys Tan vs. Green Soldiers Bucket Figure Set
Day 1,396: Funko Pop! Television Last Week Tonight with John Oliver Vinyl Figure
Day 1,406: McDonald's Changeables Egg McMuffin Robot
Day 1,418: Jesse Narens Stegoforest Brown Stegoforest with Acorn Warrior
Day 1,423: McDonald's Changeables French Fries Robot
Day 1,458: BanDai Gamera Heisei Gamera Action Figure
Day 1,474: Remco Mel Appel Extraterrestrials Egroeg
Day 1,539: Pineapple Ltd. Glow Ghosts Catcherpillar Collectible Figure
Day 1,563: A&A Global Industries Dogs in Disguise Nanner Action Figure
Day 1,620: Funko Son of Zorn Zorn Action Figure
Day 1,637: Funko E.T. The Extra-Terrestrial Elliot, E.T., and Gertie ReAction Figures
Day 1,746: Hasbro Littlest Pet Shop Pets in the City Puttin' on the Glitz #24 Pony
Day 1,773: BanDai Xyber 9 New Dawn Ikira's Speeder
Day 1,777: Funko Pop! Television Ash vs. Evil Dead Entertainment Earth Exclusive Bloody Ash Pop! Vinyl Figure
Day 1,841: Funko Pop! Animation Glow in the Dark Reptar Pop! Vinyl Figure
Day 1,852: Funko Son of Zorn Office Zorn
Day 1,891: Parker Bros. Q*Bert Flying Disc Action Figure
Day 1,957: Funko VYNL The Life Aquatic Steve and Ned Vinyl Figures
Day 1,976: Burger King Smurfs: The Lost Village Brainy Smurf Action Figure
Day 1,980: BanDai Saban's BeetleBorgs Metallix Mega Spectra Titanium Silver Sector Cycle Vehicle with Action Figure
Day 1,982: Titan Merchandise Cartoon Network Collection Samurai Jack
Day 2,021: BanDai Mystic Knights of Tir Na Nog The Drageen Action Figure
Day 2,026: Unknown Diplodocus Figure
Day 2,045: Funko GLOW Debbie Eagan vs. Ruth Wilder Action Figures
Day 2,054: Max Toy Co. Designer Con 2018 Exclusive Glow in the Dark Otta Otter Sofubi Vinyl Figure
Day 2,061: Just Toys Intl. Fallout Mega Merge Nuka T-51 Power Armor
Day 2,070: Mechazone Mechanauts Epsilon Buggy NP-03 Action Vehicle
Day 2,077: ThreeZero PopFuzz Glow in the Dark The Robot Vinyl Figure
Day 2,132: Pineapple Ltd. Glow Ghosts Boohoo Collectible Figure
Day 2,203: Sonic Kidrobot Dunny Strawberry, Lime, and Red Button Action Figure
Day 2,211: Super7 Toxic Crusaders Glow in the Dark Toxie Action Figure
Day 2,235: Super7 Ultimates Voltron Action Figure
Day 2,244: Funko Pop! Television Schitt's Creek David Rose Action Figure
Day 2,315: Funko Soda Devo Satisfaction Vinyl Figure
Day 2,344: Orbitdyne Gee Two HEAP Vinyl Figure
Day 2,358: Super7 Killer Bootlegs Rhamnusia's Revenge Action Playset with Draco Knuckleduster and Phantom Starkiller Action Figures
Day 2,526: Super7 Vincent Price Master of Mayhem ReAction Figure
Day 2,574: Garden State Kaiju Space Beasts Mudbelly "Wild Type" Soft Vinyl Figure
Day 2,582: Orbitdyne HEAP Glow Head Vinyl Figure
Day 2,594: Super7 Mars Attacks Destroying A Dog ReAction Figure