Terrestrial and Outer Anomalies Silver PVC Figures
Laion, Adaman, the Strugg, SEG, Slir, and Ancient Astronaut

Terrestrial and Outer Anomalies Metallic PVC Figures
Item No.: n/a
Manufacturer: NiStuff
Includes: 3 figures per set (2 sets shown)
Action Feature: n/a
Retail: $12.00 ($6 per 3-pack, all 6 came in a nice big bag)
Availability: 2011
Other: Available in multiple colors

PREVIOUS
RSS
NEXT

There's been quite a few "designer" vinyl items, I hesitate to say "toys," over the last few years but I am glad to say that the Terrestrial and Outer Anomalies Silver PVC Figures are much closer to playthings than not. They're from NiStuff, and the Ni is Nicholas, a guy who knows his way around a can of Monster Kolor paint as well as sculpting. He has done a number of hand-cast figures and Glyos parts, but these PVC figures are mass-produced and fairly cheap releases that are a sort of a mix between OMFG and Glyos. They're also all over the place in terms of size, the smallest is a hair over 2-inches tall and the tallest is about 3 1/4-inches high.
These guys are sold in 3-packs (usually) for $6 per pack, but I bought both sets and got what looked like a factory-sealed clear plastic baggie. The Terrestrial Anomalies include more humanoid creations with things that could more or less resemble a head and hands, while the Outer Anomalies are more freaky alien things. When I first saw these at New York Comic Con 2011 I really wasn't sure at all of what to make of them, but now that I have a set in my hands I quite like them. I'm unskilled with paint, so I noted that silver tends to bring out detail nicely without me having to ruin paint the figures myself. NiStuff captured the unique look and feel of the Onell Design Glyosverse while making new characters with unique personalities all their own... so let's get into those!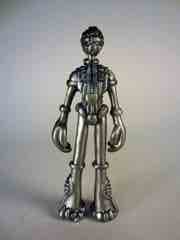 The tallest figure in the sets is Laion, an alien race divided between peaceniks and warmongers. With elephant-like feet, massive paws, and sculpted space suits, it stands out as one of the more instantly recognizable figures in the set due to its familiar features. Eyes, a mouth, and what may or may not be alien facial hair go a long way to giving this non-articulated collectible figure a fair amount of personality. The silver color also does a good job of adding depth to the figures, as the light bounces off them in such a way that it appears they have additional deco when they are, in fact, unpainted figures.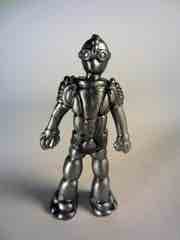 The shortest figure in the set is the Adaman, taller than a MUSCLE figure and close to an average OMFG release. With his goggles and a padded suit, it tends to look like something of a person. I think. Taking a page from Onell Design, a lot of NiStuff tends to be a smidgen more on the abstract side, what you're looking at isn't obviously a space suit or a metal texture, but it definitely gives that sort of a feel to it.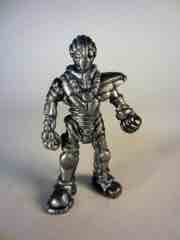 Rounding out the Terrestrial figures is the robotic Strugg, a swell design that seems to be made of cast-off parts from other figures. If you look real close, you might even recognize a couple of bits that look like they could have been taken from Pheyden or an other Glyos character. It's easily the most detailed figure of the set, with a lot of different textures and elements coming together to make a PVC figure that, when you look at it, you'll immediately wish was larger and articulated. Its design also gives off a feeling of a space suit with a head featuring a helmet and eyes, which makes sense because the backstory is that it's made of spare parts. People parts. Creepy! It's a nifty idea and if NiStuff ever does larger, articulated figures I'd love to see this one make it out there.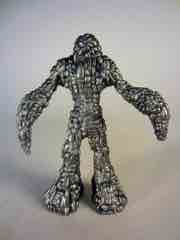 I think the SEG Construct was the first one of these I saw, and I didn't know what I was looking at. It's in the Outer Anomalies pack, and is a more alien design. Standing 2 3/4-inches tall, he's the tallest of the second set of figures and is said to be a giant nano-bot monster. The figure is really tough to describe other than as a large, dripping mass of shapes. It appears as if it were melting, but into what, it's tough to say. Because its surface is covered in little... tiles or chunks or something, this seems like you could have a field day painting it up. I mean, as texture goes, I dare you to find anything else that looks quite like this. If you put it on your desk, people may consider it some form of desk-based high art. It's quite unusual.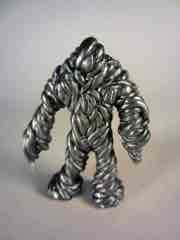 The Slir struck me as a funny name, and then I realized it's a tentacle monster. Like the other Outer Anomalies there's no real face, and its abstract look seems like a man wrapped in tentacles or rubber bands or something. It's like some weird organic mummy thing, and as the creator encourages people to paint them, I would assume there's a lot of fun to be had if you have any sort of skill with a brush. As it is, it feels like some weird alien toy artifact you'd find in a box and spend years trying to understand. It's hard to ignore these things.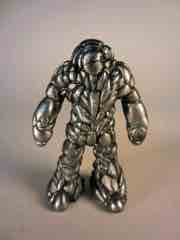 Rounding out the set is the Ancient Astronaut, which is easily one of the most straightforward concepts in this very alien line. You can make out what seems to be a face, sort of, in the form of a glass helmet piece right smack dab in the middle of the head. The arms look something like a space suit, but with these funky organic (maybe) elements that seem straight out of a particularly strange and memorable issue of Star Wars. Even the NiStuff bio page for this character is something of a mystery, giving no firm answers but opening the door to interpretations of what this design is and what this creature may be.
It's an extremely strange set given that it abandons recognizable forms in favor of something that requires you to put a lot of interpretation into it. Most vinyl toys or traditional action figures hand you a concept, like a frog king or a robot warrior or even a ninja turtle, but these things are essentially freaks from space. There's a little story to go on, and these things have a look and feel that seems like something you might have found in a smaller toy store in the 1980s. They're quite out-there but are also incredibly charming, plus at the price it was hard to pass up a set. These freaky little dudes are probably going to hang around my Glyos and Outer Space Men collections, and I really hope other fans can do what NiStuff did and crank out some nifty, small, original, and most importantly cheap PVC figures like these. NiStuff seems to do a good business on these guys as well as limited edition custom Glyos items, so hopefully they're making enough money to bring more items like these to the table in the coming year. If you've already got a shelf with some Glyos or Outer Space Men or OMFG, this is a good next step to take into the indie toy world. Also they're cheap, and I like doing cheap.
--Adam Pawlus
Additional Images

See more NiStuff and 481 Universe figures in Figure of the Day:
Day 524: NiStuff Terrestrial and Outer Anomalies Metallic PVC Figures
Day 704: NiStuff 481 Universe Outlander Silas Action Figure
Day 769: NiStuff 481 Universe NV Subject Action Figure
Day 769: NiStuff 481 Universe NV Subject Action Figure
Day 804: NiStuff 481 Universe Zeta Force Dig Crew Action Figure
Day 892: NiStuff 481 Universe Maigus Action Figure
Day 908: NiStuff 481 Universe Spectre Leyden Action Figure

See more otherwise uncategorized figures in Figure of the Day:
Day 22: Tamagoras Get Back To Job Lion
Day 35: Mattel Xtractaurs Comic Series Battlespike Styracosaurus
Day 133: Kenner Q*Bert Wind-Up Q*Bert Action Figure
Day 200: Hasbro Cloverfield Electronic Action Figure
Day 216: BanDai Tick Bounding Tick Action Figure
Day 286: Mugo Kung Fu Panda 2 Po Designer MP3 Player
Day 325: Spy Monkey Creations Doppelganger Armory Series 1 Accessory Pack
Day 352: Mezco The Goon Action Figure
Day 357: McFarlane Toys The Maxx Action Figure
Day 384: Beeline Creative Parks and Recreation Ron Swanson Bobble Head
Day 392: Blizzard Starcraft Zerg Hydralisk Action Figure
Day 399: Tyco Looney Tunes Marvin the Martian
Day 483: Pineapple Ltd. Glow Ghosts Baggs Collectible Figure
Day 485: Remco Mel Appel Extraterrestrials Captain Evets Collectible Figure
Day 494: October Toys Zillions of Mutated Bodies Infecting Everyone (ZOMBIE) Series 1 Neon Orange Minifigures
Day 524: NiStuff Terrestrial and Outer Anomalies Metallic PVC Figures
Day 526: Jazwares Mortal Kombat 20th Anniversary Shao Kahn Action Figure
Day 541: NECA Terminator Kyle Reese Action Figure Day 615: Deep Fried Figures Mechawhales Action Figure
Day 645: Tim Mee Toys Battle Mountain Playset
Day 700: Elly Font Art Elephant Magnets Overview
Day 748: Funko Land of the Lost SDCC Exclusive Glow in the Dark Sleestak
Day 751: October Toys Zillions of Mutated Bodies Infecting Everyone (ZOMBIE) Series 1 Blue Glow in the Dark Minifigures
Day 785: Topps MiniKins 4-Pack Mini-Figures
Day 874: Yujin Shooting Game Historica Metarion Capsule Toy
Day 1,049: Tim Mee Toys Galaxy Laser Team Blue and Green Figure Set
Day 1,065: Tim Mee Toys Green Galaxy Laser Team Star Patrol Jumbo Figure Set
Day 1,087: Tim Mee Toys Green and Grey Legendary Battle Figure Set
Day 1,092: Tim Mee Toys Brown Backwoods Battle Frontiersmen Figure Set
Day 1,146: Wendy's Night at the Museum 3 Jedediah in the Wild West
Day 1,189: Remco Mel Appel Extraterrestrials Trebor
Day 1,215: Tim Mee Toys People at Play Atomic Family Putty and Green Figure Set
Day 1,232: Tim Mee Toys Green vs. Green Soldiers Figure Set
Day 1,237: Tim Mee Toys Tank Command Desert Command Vehicle Set
Day 1,241: Funko Hikari Vinyl Gigantor Power Vision Gigantor
Day 1,276: Tim Mee Toys Combat Patrol Army Vehicles and Artillery Vehicle Set
Day 1,330: Tim Mee Toys Shadow Ops Black Helicopter Strikeforce Figure and Vehicle Set
Day 1,372: Tim Mee Toys Tan vs. Green Soldiers Bucket Figure Set
Day 1,396: Funko Pop! Television Last Week Tonight with John Oliver Vinyl Figure
Day 1,406: McDonald's Changeables Egg McMuffin Robot
Day 1,418: Jesse Narens Stegoforest Brown Stegoforest with Acorn Warrior
Day 1,423: McDonald's Changeables French Fries Robot
Day 1,458: BanDai Gamera Heisei Gamera Action Figure
Day 1,474: Remco Mel Appel Extraterrestrials Egroeg
Day 1,539: Pineapple Ltd. Glow Ghosts Catcherpillar Collectible Figure
Day 1,563: A&A Global Industries Dogs in Disguise Nanner Action Figure
Day 1,620: Funko Son of Zorn Zorn Action Figure
Day 1,637: Funko E.T. The Extra-Terrestrial Elliot, E.T., and Gertie ReAction Figures
Day 1,746: Hasbro Littlest Pet Shop Pets in the City Puttin' on the Glitz #24 Pony
Day 1,773: BanDai Xyber 9 New Dawn Ikira's Speeder
Day 1,777: Funko Pop! Television Ash vs. Evil Dead Entertainment Earth Exclusive Bloody Ash Pop! Vinyl Figure
Day 1,841: Funko Pop! Animation Glow in the Dark Reptar Pop! Vinyl Figure
Day 1,852: Funko Son of Zorn Office Zorn
Day 1,891: Parker Bros. Q*Bert Flying Disc Action Figure
Day 1,957: Funko VYNL The Life Aquatic Steve and Ned Vinyl Figures
Day 1,976: Burger King Smurfs: The Lost Village Brainy Smurf Action Figure
Day 1,980: BanDai Saban's BeetleBorgs Metallix Mega Spectra Titanium Silver Sector Cycle Vehicle with Action Figure
Day 1,982: Titan Merchandise Cartoon Network Collection Samurai Jack
Day 2,021: BanDai Mystic Knights of Tir Na Nog The Drageen Action Figure
Day 2,026: Unknown Diplodocus Figure
Day 2,045: Funko GLOW Debbie Eagan vs. Ruth Wilder Action Figures
Day 2,054: Max Toy Co. Designer Con 2018 Exclusive Glow in the Dark Otta Otter Sofubi Vinyl Figure
Day 2,061: Just Toys Intl. Fallout Mega Merge Nuka T-51 Power Armor
Day 2,070: Mechazone Mechanauts Epsilon Buggy NP-03 Action Vehicle
Day 2,077: ThreeZero PopFuzz Glow in the Dark The Robot Vinyl Figure
Day 2,132: Pineapple Ltd. Glow Ghosts Boohoo Collectible Figure
Day 2,203: Sonic Kidrobot Dunny Strawberry, Lime, and Red Button Action Figure
Day 2,211: Super7 Toxic Crusaders Glow in the Dark Toxie Action Figure
Day 2,235: Super7 Ultimates Voltron Action Figure
Day 2,244: Funko Pop! Television Schitt's Creek David Rose Action Figure
Day 2,315: Funko Soda Devo Satisfaction Vinyl Figure
Day 2,344: Orbitdyne Gee Two HEAP Vinyl Figure
Day 2,358: Super7 Killer Bootlegs Rhamnusia's Revenge Action Playset with Draco Knuckleduster and Phantom Starkiller Action Figures
Day 2,526: Super7 Vincent Price Master of Mayhem ReAction Figure
Day 2,574: Garden State Kaiju Space Beasts Mudbelly "Wild Type" Soft Vinyl Figure
Day 2,582: Orbitdyne HEAP Glow Head Vinyl Figure
Day 2,594: Super7 Mars Attacks Destroying A Dog ReAction Figure