Brown
12 styles, 1-8 of each style per color

Soldiers "Army Men"
Item No.: No. 6125
Manufacturer: Tim Mee Toys
Includes: 96 figures
Action Feature: n/a
Retail: $12.40
Availability: November 2014
Other: New

PREVIOUS
RSS
NEXT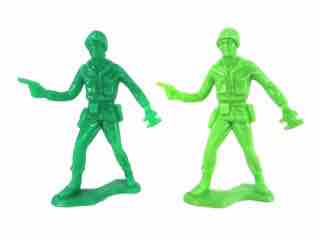 This is kind of funny, if you think about it. The 60mm Green vs. Green Soldiers Figure Set is old hat. It's kitsch. It's old technology, last-generation stuff several times over. Hasbro supposedly decimated this play pattern in the 1960s with G.I. Joe, but the somewhat hilarious hand of history has been unkind to America's moveable fighting man, while the posed soldiers - declared dead many times for many reasons - still get made. Go into any toy store and you're likely to see figures similar to these, but you'll only get these figures via Amazon as far as I can tell. This set was released in a few different colors and late last year I was sent a bag of a light green and darker traditional "Army Man green" figures. I for some reason neglected to open it, which was a mistake. These are neat, and it's more than a little amusing to me how this format struggled but still has a place in the market. I guess G.I. Joe does too, but the key difference is that in 2015 there's a chance kids might actually be playing with these toy soldiers thanks to the preposterous low prices. This set averages 12.9 cents per figure.
The mostly glossy HDPE figures come in 12 styles, with a minimum of 1 of each style in each color - some have several more. The Officer with Binoculars and Handgun is in the shortest supply. My bag had 2 light green and 1 dark green. His name is descriptive - he looks like he just saw something off in the distance, put down his binoculars, and now is going to shoot it. The detail is pretty nice, but not too fancy. It's sharp for an older design, with a nondescript base which reveals no specific environment. I should note the dark green has a slight translucent tinge to it, while the light green is quite possibly the most perfect shade of plastic to show off detail. It shades nicely and the light bounces right off. I hope Tim Mee uses this color a lot more.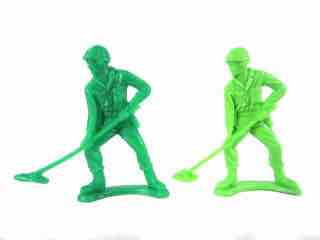 The Minesweeper has nothing to do with the Windows game and everything to do with finding metal. The accessory hovers above the feet so you can actually slide little rocks or pennies or whatever under the tool, as he tries not not get his legs blowed up. It's actually pretty horrifying in this context, but if you put him in a hawaiian shirt and flip-flops it would be horrifying for entirely different reasons. There is some mold flash on the back of one of the figures, but the wrinkles of the uniform turned out nicely and the figure's face - split down the middle with a mold seam - actually turned out pretty nice and even. I wouldn't have expected that. I got two Minesweepers of each color.
As with the others, the light green color looks positively modern and futuristic, while the dark green seems like a relic of the past. It really is amazing what difference the plastic can make from making a cheap toy look like more of a collectible than something you melt on the grill.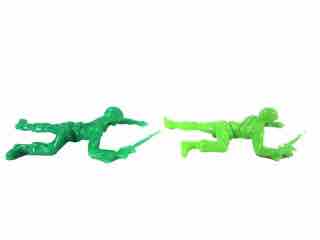 Two crawling molds are included, like the Crawling Rifleman. He's got his finger on the trigger while he goes across the land, with each foot pointing in an opposite direction. That seems incredibly unpleasant, but the figure still looks good - some folds in the uniform make him seem surprisingly unstressed given his circumstances, plus the figure is fully sculpted. The uniform detail doesn't stop just because you can't see it, all of his belts, pockets, and holsters are represented, and his nose seems a tiny but smooshed. Other than that, it's a good one.
Joining him is the Prone Rifleman. He's using his elbow as a tripod and looks like he has one eye closed to aim. Neato. Unlike the other dirt-adjacent trooper, this one has feet in a slightly less awkward position with decent detail. One of his boots has pretty visible laces, while the other is on a mold seam and it's merely pretty close. This is a good one.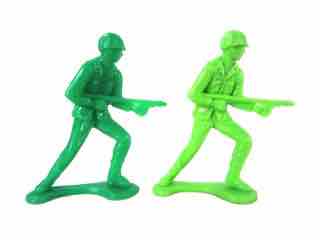 Although there are no snap-on flames, the Flame Thrower brings you the same kind of detail with a skinny soldier. The backpack is basically merged to his back, and the hose reaches around the back to power the deadly weapon. The face doesn't have a lot going on, but the helmet seems to be one of the more detailed ones.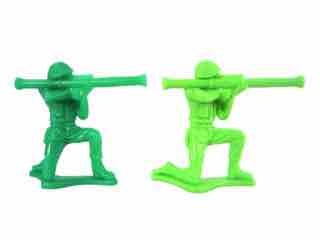 Next up, the Bazookaman is kneeling with a bazooka. What else can you say? He's got a bazooka. He's going to blow up your tanks. The face is mostly obscured by the weapon, and these look funnier if you get a bent one. It's a nice figure. It's also very skinny relative to pretty much any military toy you've bought since Hasbro's 1982 reinvention of Joe.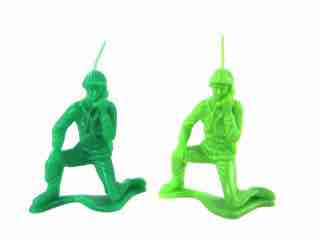 The Radio Operator was high-tech amazing stuff once. Now we've all got little phones with us, without the need for his antenna or backpack. He seems somewhat relaxed, kneeling with a gun in his holster. His face is mildly concerned as his mouth is open, talking into the receiver. It has a little bit of personality as a result, his weight seems to be shifted in such a way that's not quite super-casual, but not overly worried about being shot in the head either. He naturally still has a helmet, and the antenna probably doubles as a ring-toss game for the other men in his company.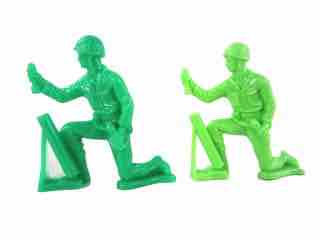 The 60mm Mortar Operator is stuffing a thing into a tube that could well blow up in his face - dangerous stuff. He's got a shell in each hand and a non-specific face sculpt, plus a uniform featuring a decent array of wrinkles and such.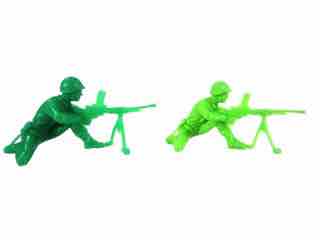 A Light Machine Gunner is notable in that like the Doors, he has no base. (That's a hilarious joke.) The kneeling figure is perfectly stable, as is the weapon on a bipod. It's incredibly thin without being totally flimsy, but you'll notice some plastic flash around the thinner bits. The figure is very efficient in that they didn't waste time sculpting the parts you don't see - the underside of his right leg more or less faces the ground, so they don't detail the area where the leg bends or the boot part that touches the ground. The area in between his bent arms and the gun are also filled in, likely to keep costs down and the molds simple. These are one-piece figures, without glued-on elements. There's a bit of plastic flash with the boot connecting to the belt on the back, no doubt due to the manufacturing process.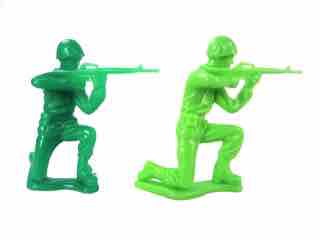 A Kneeling Rifleman is what it sounds like - there are some very thin cuts which are quite admirable. There's a canteen on his belt, but aside from that there's not a lot overly notable here.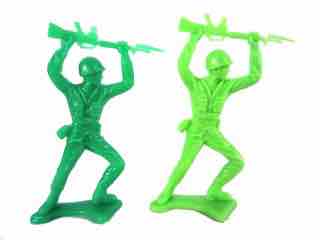 A Bayonet Fighter is going to take a stab at going to war, with the sharp and thin weapon above his head with expert trimming. For its size, the weapon is quite amazing - this level of tiny detail is something to see, and the tip is a little bit flexible. The pose doesn't feel overly natural - think "man poses for toy figure" - but it does look pretty dynamic with long legs and a build that seems on the tall side for this assortment.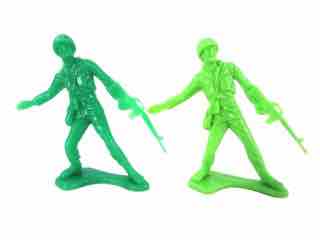 A Waving Rifleman could be a variety of things. Maybe he's tossing a grenade, or signaling his friends, or surrendering. He does seem to be quite alive, but unlike the others he's not actively engaged in blowing someone else away. With his bag it's possible he's a messenger or any of a variety of things, as his face is a bit more concerned with an open mouth expressing some sort of message or communication. Not knowing what the sculptor had in mind it's tough to say what it's all about, but it does look pretty cool and is a nice change of pace to the "guy points a gun at someone" of the others. It's one of the things that's not like the others.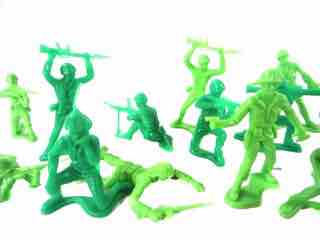 And there you have it! I have now written both too much and not enough about green army men. These things look great and have crisp detailing, but it seems the color of plastic dictates just how good they'll look. Dark green is traditional, but light green lets you see just how much detail went in to each one. That means this pairing is a good one, and if you want something better than the army men at the dollar store this is clearly it. I much prefer the weirder Tim Mee offerings - the fantasy sets, the Galaxy Laser Team, the Atomic Family - but I do appreciate getting a look at the figures that are the reason other properties are experimenting with the green army man format. If you want some, get some - they're decent.
--Adam Pawlus
Review sample courtesy Victory Buy / Tim Mee Toys
Additional Images

See more Tim Mee Toys figures in Figure of the Day:
Day 645: Tim Mee Toys Battle Mountain Playset
Day 1,049: Tim Mee Toys Galaxy Laser Team Blue and Green Figure Set
Day 1,062: Tim Mee Toys Green and Yellow Prehistoric Dinosaurs Figure Set
Day 1,065: Tim Mee Toys Green Galaxy Laser Team Star Patrol Jumbo Figure Set
Day 1,087: Tim Mee Toys Green and Grey Legendary Battle Figure Set
Day 1,092: Tim Mee Toys Brown Backwoods Battle Frontiersmen Figure Set
Day 1,215: Tim Mee Toys People at Play Atomic Family Putty and Green Figure Set
Day 1,232: Tim Mee Toys Green vs. Green Soldiers Figure Set
Day 1,237: Tim Mee Toys Tank Command Desert Command Vehicle Set
Day 1,276: Tim Mee Toys Combat Patrol Army Vehicles and Artillery Vehicle Set
Day 1,330: Tim Mee Toys Shadow Ops Black Helicopter Strikeforce Figure and Vehicle Set
Day 1,372: Tim Mee Toys Tan vs. Green Soldiers Bucket Figure Set

See more otherwise uncategorized figures in Figure of the Day:
Day 22: Tamagoras Get Back To Job Lion
Day 35: Mattel Xtractaurs Comic Series Battlespike Styracosaurus
Day 133: Kenner Q*Bert Wind-Up Q*Bert Action Figure
Day 200: Hasbro Cloverfield Electronic Action Figure
Day 216: BanDai Tick Bounding Tick Action Figure
Day 286: Mugo Kung Fu Panda 2 Po Designer MP3 Player
Day 325: Spy Monkey Creations Doppelganger Armory Series 1 Accessory Pack
Day 352: Mezco The Goon Action Figure
Day 357: McFarlane Toys The Maxx Action Figure
Day 384: Beeline Creative Parks and Recreation Ron Swanson Bobble Head
Day 392: Blizzard Starcraft Zerg Hydralisk Action Figure
Day 399: Tyco Looney Tunes Marvin the Martian
Day 483: Pineapple Ltd. Glow Ghosts Baggs Collectible Figure
Day 485: Remco Mel Appel Extraterrestrials Captain Evets Collectible Figure
Day 494: October Toys Zillions of Mutated Bodies Infecting Everyone (ZOMBIE) Series 1 Neon Orange Minifigures
Day 524: NiStuff Terrestrial and Outer Anomalies Metallic PVC Figures
Day 526: Jazwares Mortal Kombat 20th Anniversary Shao Kahn Action Figure
Day 541: NECA Terminator Kyle Reese Action Figure Day 615: Deep Fried Figures Mechawhales Action Figure
Day 645: Tim Mee Toys Battle Mountain Playset
Day 700: Elly Font Art Elephant Magnets Overview
Day 748: Funko Land of the Lost SDCC Exclusive Glow in the Dark Sleestak
Day 751: October Toys Zillions of Mutated Bodies Infecting Everyone (ZOMBIE) Series 1 Blue Glow in the Dark Minifigures
Day 785: Topps MiniKins 4-Pack Mini-Figures
Day 874: Yujin Shooting Game Historica Metarion Capsule Toy
Day 1,049: Tim Mee Toys Galaxy Laser Team Blue and Green Figure Set
Day 1,065: Tim Mee Toys Green Galaxy Laser Team Star Patrol Jumbo Figure Set
Day 1,087: Tim Mee Toys Green and Grey Legendary Battle Figure Set
Day 1,092: Tim Mee Toys Brown Backwoods Battle Frontiersmen Figure Set
Day 1,146: Wendy's Night at the Museum 3 Jedediah in the Wild West
Day 1,189: Remco Mel Appel Extraterrestrials Trebor
Day 1,215: Tim Mee Toys People at Play Atomic Family Putty and Green Figure Set
Day 1,232: Tim Mee Toys Green vs. Green Soldiers Figure Set
Day 1,237: Tim Mee Toys Tank Command Desert Command Vehicle Set
Day 1,241: Funko Hikari Vinyl Gigantor Power Vision Gigantor
Day 1,276: Tim Mee Toys Combat Patrol Army Vehicles and Artillery Vehicle Set
Day 1,330: Tim Mee Toys Shadow Ops Black Helicopter Strikeforce Figure and Vehicle Set
Day 1,372: Tim Mee Toys Tan vs. Green Soldiers Bucket Figure Set
Day 1,396: Funko Pop! Television Last Week Tonight with John Oliver Vinyl Figure
Day 1,406: McDonald's Changeables Egg McMuffin Robot
Day 1,418: Jesse Narens Stegoforest Brown Stegoforest with Acorn Warrior
Day 1,423: McDonald's Changeables French Fries Robot
Day 1,458: BanDai Gamera Heisei Gamera Action Figure
Day 1,474: Remco Mel Appel Extraterrestrials Egroeg
Day 1,539: Pineapple Ltd. Glow Ghosts Catcherpillar Collectible Figure
Day 1,563: A&A Global Industries Dogs in Disguise Nanner Action Figure
Day 1,620: Funko Son of Zorn Zorn Action Figure
Day 1,637: Funko E.T. The Extra-Terrestrial Elliot, E.T., and Gertie ReAction Figures
Day 1,746: Hasbro Littlest Pet Shop Pets in the City Puttin' on the Glitz #24 Pony
Day 1,773: BanDai Xyber 9 New Dawn Ikira's Speeder
Day 1,777: Funko Pop! Television Ash vs. Evil Dead Entertainment Earth Exclusive Bloody Ash Pop! Vinyl Figure
Day 1,841: Funko Pop! Animation Glow in the Dark Reptar Pop! Vinyl Figure
Day 1,852: Funko Son of Zorn Office Zorn
Day 1,891: Parker Bros. Q*Bert Flying Disc Action Figure
Day 1,957: Funko VYNL The Life Aquatic Steve and Ned Vinyl Figures
Day 1,976: Burger King Smurfs: The Lost Village Brainy Smurf Action Figure
Day 1,980: BanDai Saban's BeetleBorgs Metallix Mega Spectra Titanium Silver Sector Cycle Vehicle with Action Figure
Day 1,982: Titan Merchandise Cartoon Network Collection Samurai Jack
Day 2,021: BanDai Mystic Knights of Tir Na Nog The Drageen Action Figure
Day 2,026: Unknown Diplodocus Figure
Day 2,045: Funko GLOW Debbie Eagan vs. Ruth Wilder Action Figures
Day 2,054: Max Toy Co. Designer Con 2018 Exclusive Glow in the Dark Otta Otter Sofubi Vinyl Figure
Day 2,061: Just Toys Intl. Fallout Mega Merge Nuka T-51 Power Armor
Day 2,070: Mechazone Mechanauts Epsilon Buggy NP-03 Action Vehicle
Day 2,077: ThreeZero PopFuzz Glow in the Dark The Robot Vinyl Figure
Day 2,132: Pineapple Ltd. Glow Ghosts Boohoo Collectible Figure
Day 2,203: Sonic Kidrobot Dunny Strawberry, Lime, and Red Button Action Figure
Day 2,211: Super7 Toxic Crusaders Glow in the Dark Toxie Action Figure
Day 2,235: Super7 Ultimates Voltron Action Figure
Day 2,244: Funko Pop! Television Schitt's Creek David Rose Action Figure
Day 2,315: Funko Soda Devo Satisfaction Vinyl Figure
Day 2,344: Orbitdyne Gee Two HEAP Vinyl Figure
Day 2,358: Super7 Killer Bootlegs Rhamnusia's Revenge Action Playset with Draco Knuckleduster and Phantom Starkiller Action Figures
Day 2,526: Super7 Vincent Price Master of Mayhem ReAction Figure
Day 2,574: Garden State Kaiju Space Beasts Mudbelly "Wild Type" Soft Vinyl Figure
Day 2,582: Orbitdyne HEAP Glow Head Vinyl Figure
Day 2,594: Super7 Mars Attacks Destroying A Dog ReAction Figure