Mattel Batman The Joker
Mattel, 2013

Day #1,172: May 1, 2015
The Joker
The Clown Prince of Toys

Batman Action Figure
Item No.: Asst. Y7572 No. Y8164
Manufacturer: Mattel
Includes: Nothing
Action Feature: n/a
Retail: $5.00
Availability: June 2013
Other: Now $3 at Tuesday Morning if you can find one

PREVIOUS
RSS
NEXT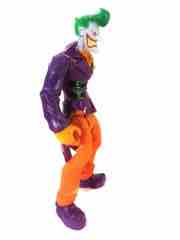 I bought The Joker a couple of years ago when the action figure world was forking itself into a couple of directions. One were large, cheap figures that made a value proposition in giving you 12-inches of toy for about $10, or 31-inches for about $30. The other was to go cheaper, $5 for a 3 3/4-inch action figure. The big guys seem to be doing quite well now, while the 3 3/4-inch ones are getting more and more expensive and seem to have forgotten the whole "this was supposed to be cheap" mandate. Good luck finding a $5 Mattel Batman in 2015, and the $6 figures are anywhere from $6-$10 from Hasbro now as retailers realized consumers will pay more - they're just jacking up the prices. Most of the 3 3/4-inch Marvel $6 lines are fading away, so it looks like 3 3/4-inch action figure newness is increasingly expensive except for a few figures for a few very big movies. But at least we got this weirdo Joker for $5, right?
The stylized figure looks like other Jokers we got out of Mattel, plus other Batman figures. We've seen numerous other characters at higher price points in this scale, from boxed sets to fancy robot sidekicks with Batman. There's a lot going on here that we're ignoring, but I jumped on this figure because I was having a bad day and there's very little $5 can't cure. The funny thing is despite being sold at discount stores for kids, it's a lot ore fun as a weird collector figure. He can stand, he's colorful, and his joints move nicely. However he can't sit, as his coattails are long and not flexible with hip joins that don't rotate all the way.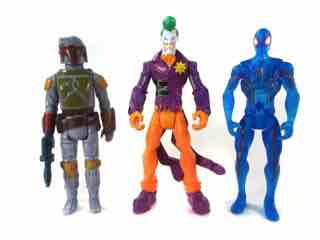 Thanks to the big purple feet, the figure stands quite nicely. There's no need for a display stand and this is handy as Mattel neglected to give him holes for foot pegs. Each hand looks as if it was sculpted for a gun, but no accessory was included. The figure is molded in a mix of purple, white, and orange plastics giving the figure this wonderful look that really does make it feel like what it is - a toy. The Joker's head has a super-pointy, Jughead-esque nose and a hairstyle that's part classic Joker and part green Ruby Rhod. The grin is grotesque as always with huge, off-white teeth and a really clean red outline around his lips. The eyes are small red dots, making the head the most nicely decorated part of a very nicely decorated figure. The torso has some straps and buckles painted, as well as an ascot and a flower. The Mattel people did a really nice job here as it's difficult to make figure details at this size nice and clean. Look at Hasbro's collector lines if you have any doubts - getting it right is tough!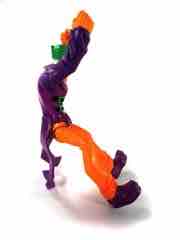 The hunched-over figure has huge mitts and big boots, but it still seems more or less human in proportions. This is a figure that seems to borrow a little from the whole designer toy movement while also reaching back into the simpler Kenner toys of the 1990s. The lack of stripes or boot soles or other painted extras may turn you off, but this was a $5 figure. Such things are novel in and of themselves, and I try to make sure I support a nice cheap toy whenever I see it. Not every parent is going to drop $10-$20 on a collector figure for their child, nor will most kids want to "collect them all!" like in the old days. If you're lucky, most new 3 3/4-inch kid-driven superhero lines will yield 3-6 figures per year so grab the good ones when you can. This is a good one... it's not impressive, it's not bad, it's just a fine example of what a good toy action figure for kids can be if a company really puts their mind do it. For $7 or $8, this figure fails to impress. If the face paint was bad, I wouldn't suggest getting it. But if you happen across one in your travels, just buy it. It's neat.
--Adam Pawlus
Additional Images

Click here to see more Mattel figures in Figure of the Day.

See more Batman figures in Figure of the Day:
Day 1: Funko Force 2.0 Comic-Con Exclusive Batman
Day 398: Kenner Batman: The Animated Series Clayface
Day 408: Kenner Legends of Batman Future Batman
Day 441: Kenner Batman: The Animated Series Harley Quinn
Day 443: Kenner Batman: The Animated Series Machine Gun Joker
Day 444: Kenner Batman: The Animated Movie Mask of the Phantasm Phantasm
Day 445: Ertl Batman Returns Penguin Commando Die-Cast Metal Figure
Day 446: Kenner Legends of Batman Knightquest Batman
Day 447: Mattel DC Universe Classics All-Stars Batman
Day 457: Kenner Batman: The Animated Series Ra's Al Ghul
Day 685: Mattel Hot Wheels Batmobile (Tim Burton, 2013)
Day 708: Mattel Hot Wheels Batman Live Batmobile
Day 714: Mattel Matchbox Batmobile Die-Cast Metal Vehicle
Day 735: Mattel Batman Classic TV Series Batman & Robin Action Figure Set
Day 740: Mattel Batman Classic TV Series The Penguin Action Figure
Day 742: Mattel Hot Wheels Batcopter Die-Cast Metal Vehicle
Day 756: Mattel Batman Classic TV Series The Joker Action Figure
Day 761: Mattel Batman Classic TV Series The Riddler Action Figure
Day 778: Mattel Batman Classic TV Series Batman Action Figure
Day 780: Mattel Batman Classic TV Series Catwoman Action Figure
Day 783: Mattel Batman Classic TV Series Surf's Up Batman Action Figure
Day 898: Mattel Batman Batman
Day 1.172: Mattel Batman The Joker
Day 1,197: Funko Batman Ice Freeze Batman Reject
Day 1,305: Funko Pop! DC Comics Super Heroes Orange Batman Vinyl Figure
Day 1,312: DC Collectibles Batman Tony Millionaire Batman Statue
Day 1,383: Mattel Hot Wheels Dawn of Justice Batmobile
Day 1,388: Bif Bang Pow! Peg Pals Batman Armored
Day 1,400: Funko Dorbz DC Comics Super Heroes Orange Batman Vinyl Figure
Day 1,512: Jakks Pacific Batman v. Superman: Dawn of Justice Jokers Wild Batman
Day 1,539: Mattel Batman v. Superman Mighty Minis Series 2 Silver Batman
Day 1,680: The LEGO Batman Movie Catman
Day 1,753: Funko 9POA Batman 1966 TV Series Batman and Robin Action Figures with Batmobile
Day 1,847: Funko Pop! DC Comics Super Heroes Retro Batman Vinyl Figure
Day 1,983: Entertainment Earth Justice League Batman Push Puppet
Day 2,100: Fisher-Price Imaginext DC Super Friends Batman & Swamp Thing Action Figures
Day 2,190: Kenner Batman: The Dark Knight Collection Tec-Shield Batman Action Figure
Day 2,199: Kenner Batman Returns Penguin Commandos Action Figures
Day 2,217: Kenner Batman: The Dark Knight Collection Iron Winch Batman Action Figure
Day 2,239: Fisher-Price Imaginext DC Super Friends Slammers Arctic Sled with Mr. Freeze Set
Day 2,249: Fisher-Price Imaginext DC Super Friends Slammers Batmobile with Batman Set
Day 2,257: Fisher-Price Imaginext DC Super Friends Surround Sound Batcave Playset
Day 2,493: Spin Master DC Comics Justice League 4-Inch Action Figures 6-Pack
Day 2,622: Kenner Batman: The Animated Series Killer Croc Action Figure
Day 2,645: Kenner Batman: The Animated Series The Riddler Action Figure
Day 2,651: Wendy's DC Universe Batman, Catwoman, and Nightwing (Red)


Want to buy this figure? Check Batman availability at our sponsors:
Entertainment Earth