Batman
Entertainment Earth / SDCC Exclusive

Batman v. Superman: Dawn of Justice Comic-Con International Exclusive
Item No.: No. 04624
Manufacturer: Jakks Pacific
Includes: n/a
Action Feature: It's huge
Retail: $59.99
Availability: July 2016
Other: 20-inches tall, baby

PREVIOUS
RSS
NEXT

"Listen to this, Mulligan, I'll read it to you. It says: I have escaped from Arkham Asylum and revenge will be sweet! Free once again to pursue my dishonorable profession. If you try to play your hand against mine, you will find the Joker is wild, signed, The Joker."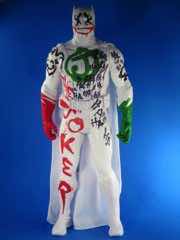 A nod to Suicide Squad but actually a Dawn of Justice product (ask the licensors), Jokers Wild Batman was something Jakks Pacific brought to us at Entertainment Earth (I work there) as a possible exclusive - we thought it'd be a solid fit for Comic-Con and it did pretty dang well. Of course, you can order Batman v Superman: Jokers Wild Batman - the Convention Exclusive from Entertainment Earth if units are still available. The gimmick - like last year's duo - was to do some big, nicer, more decked-out collectory figures. If you've been buying Hikari vinyl figures, you get the idea - the same big 20-inch Batman you've seen in stores (if it didn't sell out, it's quite popular) was cast in white and basically defaced by the Joker. It's not based on anything specific, but I saw the design and thought "Wow. That's nuts." Now I have one in my office.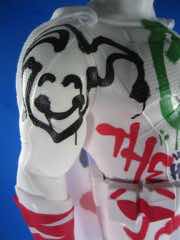 It's cheaper than designer toys, but more expensive than the basic figure in stores thanks to the lower 3,000-piece run and enhanced deco. A long time ago I floated the idea of blind-box designer astromech droids and blank R2-D2s for customizers, which needless to say never materialized under Hasbro, so I'm a fan of this kind of thing - what can you do to make a robot or a superhero really different? Well, this is it - it's covered in tags. "The Joker" signed his work while dipping ol' pointy ears' hands in red and green. The defacing of a hypothetical statue added "HAHAHA" all over in purple, a black jester, and a spade in addition to a circled J on his chest - a nice nod to traditional superhero design. The eyes are Xed out, and there's a Joker grin slathered over the bat-face. What's more, the backside of the figure has even more markings which you won't see until you pop him out of the box.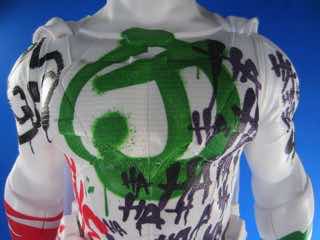 A simple - if distorted - Joker self-portrait on the back of the cape came out really nicely. The paint is dripping, and I almost wish I could see more of these so I can see if they're all the same or just very similar. The black eyes and tooth caps orbit a blood-red grin, with a few green dots representing the character's famous green hair. Of course, I haven't even mentioned yet that this is an action figure, not a statue - the hips, shoulders, neck, and wrists are all jointed. You probably will want to leave him in the pose in which he was boxed, mostly so the tagging lines up and looks swell. Bruce's quilted suit is still present, the detail almost obliterated by ghostly white plastic. You really can't see how good the Batfleck sculpt is here, but it's here - this is the new movie figure and not the comic sculpt.
You don't need one of these. It's not essential, but man is it cool. I love how utterly nuts this is for a major toy company like Jakks Pacific, as I don't think I've seen much like this out of a Hasbro or a Mattel (except maybe in Hot Wheels?) - the utter desecration of one of DC Comics' most famous characters as a collectible could serve as a metaphor for the cinematic franchise at the moment, or as something as a palette cleanser for whatever happens next. Obviously it's not Jared Leto's Joker because there would probably be used contraception or a dead cat stapled to it somewhere, but it's still a bizarre and mildly disturbing take on the Dark Knight. I mean, a lot of products purport "as you've never seen him before!" but this delivers. It's big, it's freakish, it's basically a weirdo art piece. Get one if you can. It wasn't terribly expensive given the edition size (and the product size) and I'm also 100% biased, so get it if you think it's good. The paint is nice and clean, and the idea is just twisted enough that it works. I'd love to see Deadpool defile a Spider-Man or a Professor X some day.
--Adam Pawlus
Additional Images


See more Jakks Pacific figures in Figure of the Day:
Day 471: Jakks Pacific S.L.U.G. Zombies Macho Mangler, Flesh-Eatin' Phil, Buck Wilde Minifigures 3-Pack
Day 503: Jakks Pacific S.L.U.G. Zombies Extra Crispy, Zero Hero, Riled-Up Riley Minifigures
Day 545: Jakks Pacific S.L.U.G. Zombies Hungry Humbug, Nutty Nate, Captain Payback Minifigures
Day 818: Jakks Pacific S.L.U.G. Zombies Ralph Reindead, Surprise Demise, Blazin' Basel Minifigures 3-Pack
Day 1,032: Jakks Pacific World of Nintendo Skyward Sword Link Action Figure
Day 1,125: Jakks Pacific World of Nintendo Metroid Action Figure
Day 1,162: Jakks Pacific World of Nintendo Metroid Samus Action Figure
Day 1,182: Jakks Pacific World of Nintendo Mario Action Figure
Day 1,186: Jakks Pacific World of Nintendo Luigi Action Figure
Day 1,320: Jakks Pacific World of Nintendo 8-Bit Link Action Figure
Day 1,336: Jakks Pacific World of Nintendo 8-Bit Luigi Action Figure
Day 1,341: Jakks Pacific World of Nintendo 8-Bit Donkey Kong Action Figure
Day 1,347: Jakks Pacific World of Nintendo ComicConBox.com Metallic Metroid Samus Action Figure
Day 1,349: Jakks Pacific World of Nintendo 8-Bit Mario Action Figure
Day 1,363: Jakks Pacific World of Nintendo Shy Guy Action Figure
Day 1,367: Jakks Pacific World of Nintendo Convention Exclusive Jakks Giants Link Action Figure
Day 1,369: Jakks Pacific World of Nintendo Jakks Giants Mario Action Figure
Day 1,380: Jakks Pacific World of Nintendo Tanooki Mario Action Figure
Day 1,398: Jakks Pacific World of Nintendo Boo Action Figure
Day 1,438: Jakks Pacific World of Nintendo Metroid Gravity Suit Samus Action Figure
Day 1,444: Jakks Pacific World of Nintendo 8-Bit Red Link Action Figure
Day 1,447: Jakks Pacific World of Nintendo 8-Bit Star Power Mario Action Figure
Day 1,454: Jakks Pacific World of Nintendo 8-Bit White Link Action Figure
Day 1,475: Jakks Pacific World of Nintendo Samus Mini Action Figure
Day 1,490: Jakks Pacific World of Nintendo 8-Bit Classic Mario Action Figure
Day 1,512: Jakks Pacific Batman v. Superman: Dawn of Justice Jokers Wild Batman
Day 1,537: Jakks Pacific World of Nintendo Metroid Action Figure
Day 1,624: Jakks Pacific World of Nintendo Blooper Action Figure
Day 1,647: Jakks Pacific World of Nintendo Metroid Phazon Suit Samus Action Figure
Day 1,652: Jakks Pacific World of Nintendo Goomba Action Figure
Day 1,668: Jakks Pacific World of Nintendo 8-Bit Toad Action Figure
Day 1,672: Jakks Pacific World of Nintendo Boo Glow Action Figure
Day 1,677: Jakks Pacific World of Nintendo 8-Bit Star Luigi Action Figure
Day 1,751: Jakks Pacific World of Nintendo 8-Bit Toad Variant Action Figure
Day 1,824: Jakks Pacific S.L.U.G. Zombies Gangrene Gene, Ferpcious Frankie, Johnson Minifigures 3-Pack
Day 1,863: Jakks Pacific S.L.U.G. Zombies Santa Claws, Eli the Expired Elf, Gator Jones Minifigures 3-Pack
Day 1,991: Jakks Pacific World of Nintendo 8-Bit Princess Peach Action Figure
Day 2,490: Jakks Pacific S.L.U.G. Zombies Frozen Fright, Johnny Hammer-stix, Buck Wilde Minifigures 3-Pack
Day 2,614: Jakks Pacific Metroid Samus

See more Batman figures in Figure of the Day:
Day 1: Funko Force 2.0 Comic-Con Exclusive Batman
Day 398: Kenner Batman: The Animated Series Clayface
Day 408: Kenner Legends of Batman Future Batman
Day 441: Kenner Batman: The Animated Series Harley Quinn
Day 443: Kenner Batman: The Animated Series Machine Gun Joker
Day 444: Kenner Batman: The Animated Movie Mask of the Phantasm Phantasm
Day 445: Ertl Batman Returns Penguin Commando Die-Cast Metal Figure
Day 446: Kenner Legends of Batman Knightquest Batman
Day 447: Mattel DC Universe Classics All-Stars Batman
Day 457: Kenner Batman: The Animated Series Ra's Al Ghul
Day 685: Mattel Hot Wheels Batmobile (Tim Burton, 2013)
Day 708: Mattel Hot Wheels Batman Live Batmobile
Day 714: Mattel Matchbox Batmobile Die-Cast Metal Vehicle
Day 735: Mattel Batman Classic TV Series Batman & Robin Action Figure Set
Day 740: Mattel Batman Classic TV Series The Penguin Action Figure
Day 742: Mattel Hot Wheels Batcopter Die-Cast Metal Vehicle
Day 756: Mattel Batman Classic TV Series The Joker Action Figure
Day 761: Mattel Batman Classic TV Series The Riddler Action Figure
Day 778: Mattel Batman Classic TV Series Batman Action Figure
Day 780: Mattel Batman Classic TV Series Catwoman Action Figure
Day 783: Mattel Batman Classic TV Series Surf's Up Batman Action Figure
Day 898: Mattel Batman Batman
Day 1.172: Mattel Batman The Joker
Day 1,197: Funko Batman Ice Freeze Batman Reject
Day 1,305: Funko Pop! DC Comics Super Heroes Orange Batman Vinyl Figure
Day 1,312: DC Collectibles Batman Tony Millionaire Batman Statue
Day 1,383: Mattel Hot Wheels Dawn of Justice Batmobile
Day 1,388: Bif Bang Pow! Peg Pals Batman Armored
Day 1,400: Funko Dorbz DC Comics Super Heroes Orange Batman Vinyl Figure
Day 1,512: Jakks Pacific Batman v. Superman: Dawn of Justice Jokers Wild Batman
Day 1,539: Mattel Batman v. Superman Mighty Minis Series 2 Silver Batman
Day 1,680: The LEGO Batman Movie Catman
Day 1,753: Funko 9POA Batman 1966 TV Series Batman and Robin Action Figures with Batmobile
Day 1,847: Funko Pop! DC Comics Super Heroes Retro Batman Vinyl Figure
Day 1,983: Entertainment Earth Justice League Batman Push Puppet
Day 2,100: Fisher-Price Imaginext DC Super Friends Batman & Swamp Thing Action Figures
Day 2,190: Kenner Batman: The Dark Knight Collection Tec-Shield Batman Action Figure
Day 2,199: Kenner Batman Returns Penguin Commandos Action Figures
Day 2,217: Kenner Batman: The Dark Knight Collection Iron Winch Batman Action Figure
Day 2,239: Fisher-Price Imaginext DC Super Friends Slammers Arctic Sled with Mr. Freeze Set
Day 2,249: Fisher-Price Imaginext DC Super Friends Slammers Batmobile with Batman Set
Day 2,257: Fisher-Price Imaginext DC Super Friends Surround Sound Batcave Playset
Day 2,493: Spin Master DC Comics Justice League 4-Inch Action Figures 6-Pack
Day 2,622: Kenner Batman: The Animated Series Killer Croc Action Figure

Want to buy this figure? Check Batman availability at our sponsors:
Entertainment Earth