Killer Croc
with Power-Punch Arm and Pet Crocodile

Batman: The Animated Series Action Figure
Item No.: Asst. ??? No. 64009
Manufacturer: Kenner
Includes: Pet crocodile
Action Feature: Arm punches
Retail: $5.99
Availability: 1994
Other: Sounds like Hellboy, kinda looks like Hellboy

PREVIOUS
RSS
NEXT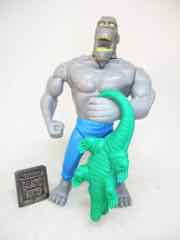 The smooth designs of Batman: The Animated Series seemed like they could easily translate to action figures, but everything was a little off-model. Therin lies the Kenner charm. Killer Croc got a lot of it right - no shirt, blue pants, scaly skin, bumps, and a creepy big mouth. The Kenner figure lacks eye detail, and for some reason has a little green alligator pal. He was also a huge pain in the neck to find back in the 1990s, when Kenner frequently shipped Batman figures in 24-piece cases... and 22 of those figures were either Batman or Robin. If memory serves, Croc and Poison Ivy shipped at about the same time, both at one per case, and I found him at a Kmart.
Click here to check availability at eBay.
By modern standards there isn't much to him - he's incredibly simple with five joints, one of which is an arm you can pull back so he can punch somebody. It's a nice action feature, in part because it actually works.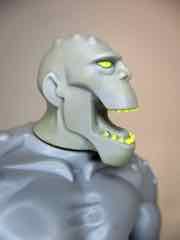 With his wide mouth, open eyes, and generally menacing - but not necessarily sinister - appearance, Killer Croc looks more like a background demon or creature out of Hellboy than his lurching on-screen counterpart. The colors seem right on the money though, although there was a Diamond-exclusive boxed set with a repaint of him in green. (I didn't like that set much, but it was good Kenner understood the market and produced it.) This Croc came on a single card with a blue backdrop, and it was pretty striking. Seeing Batman villains in stores in the 1990s was like witnessing an eclipse - it didn't happen very often.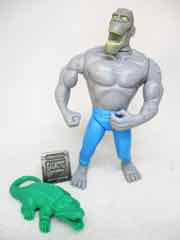 His croc buddy is cute, cartoony, and in line with the competition of the time. Playmates had a lot of one-color sidekick critters in its Teenage Mutant Ninja Turtles line while a small number of G.I. Joe figures had sidekick pets too. It was a bit more of a rarity at Kenner, and it might have something to do with Kenner having most of the better licenses and even at higher prices, their products sold fairly well. This rubbery reptile doesn't really do much - it's cute. If you like it, you can carry him by the tail, or have him standing up. It's not exactly fantastic, but I assume Kenner didn't feel like giving you a crowbar to smack somebody over the head with, although Bane would include a girder later on.
With an articulated punching arm and the unpainted crocobuddy, it's a pretty nice toy - but he had a hard time competing for kids' love with Batman and Robin. Back in the 1990s, those figures often had ridiculous gliders with dropping bombs, or winged jetpacks, or other cool accessories for the same price. All Croc had were his fists, and admittedly, they were swell fists. I think this figure is going to be more of interest to fans of old Kenner toys and monster stuff than Batman purists, but you can just buy the mega-articulated DC Collectibles release for that. This is a nice figure and a great example of the kind of 5-inch fun for kids that collectors would also camp out in front of stores to buy. Oh, how I miss the 1990s.
--Adam Pawlus
Additional Images

See more Kenner figures in Figure of the Day:
Day 98: Kenner Beast Wars Transformers Noctorro Action Figure
Day 99: Kenner Beast Wars Transformers Air Hammer Action Figure
Day 100: Kenner Beast Wars Transformers Torca Action Figure
Day 101: Kenner Beast Wars Transformers Terragator Action Figure
Day 102: Kenner Beast Wars Transformers Quickstrike Action Figure
Day 114: Kenner Total Justice Mail-In Superman Action Figure
Day 133: Kenner Q*Bert Wind-Up Q*Bert Action Figure
Day 138: Kenner Jurassic Park Chaos Effect Compstegnathus Action Figure
Day 172: Kenner Jurassic Park The Lost World Chasmosaurus Action Figure
Day 195: Kenner ALIENS Arachnid Alien Action Figure
Day 211: Kenner Predator Cracked Tusk Predator Action Figure
Day 234: Kenner ALIENS Scorpion Alien Action Figure
Day 250: Kenner ALIENS Panther Alien Action Figure
Day 256: Kenner ALIENS Gorilla Alien Action Figure
Day 261: Kenner ALIENS Bull Alien Action Figure
Day 285: Kenner ALIENS Hive Wars Warrior Predator
Day 317: Kenner ALIENS vs. Predator 10-Inch Alien Action Figure
Day 346: Kenner Jurassic Park Ian Malcolm Action Figure
Day 356: Kenner Action Masters Predator
Day 359: Kenner ALIENS Hive Wars Acid Alien Action Figure
Day 365: Kenner ALIENS Vasquez Action Figure
Day 366: Kenner Jurassic Park Ellie Sattler Action Figure
Day 381: Kenner ALIENS Action Masters Ripley
Day 397: Kenner ALIENS Mantis Alien
Day 398: Kenner Batman: The Animated Series Clayface
Day 408: Kenner Legends of Batman Future Batman
Day 421: Kenner Bone Age Crag the Clubber Action Figure
Day 437: Kenner SilverHawks Copper Kidd Action Figure
Day 441: Kenner Batman: The Animated Series Harley Quinn
Day 443: Kenner Batman: The Animated Series Machine Gun Joker
Day 444: Kenner Batman: The Animated Movie Mask of the Phantasm Phantasm
Day 446: Kenner Legends of Batman Knightquest Batman
Day 457: Kenner Batman: The Animated Series Ra's Al Ghul
Day 533: Kenner Jurassic Park Chaos Effect Amargospinus
Day 848: Kenner Transformers Beast Wars Terrorsaur
Day 903: Kenner Transformers Beast Wars Rattrap
Day 956: Kenner Transformers Beast Wars Claw Jaw
Day 1,140: Kenner M.A.S.K. T-Bob with Scott Trakker Action Figure
Day 1,180: Kenner Jurassic Park Alan Grant Action Figure
Day 1,198: Kenner Jurassic Park Tim Murphy Action Figure
Day 1,212: Kenner Jurassic Park Chaos Effect Ian Malcolm Action Figure
Day 1,248: Kenner M.A.S.K. Condor with Brad Turner Action Figure
Day 1,445: Kenner Transformers Beast Wars Cybershark
Day 1,452: Kenner Beast Wars Transformers Fuzors Injector
Day 1,486: Kenner Beast Wars Transformers Spittor
Day 2,179: Kenner Aliens Wild Boar Alien Action Figure
Day 2,190: Kenner Batman: The Dark Knight Collection Tec-Shield Batman Action Figure
Day 2,199: Kenner Batman Returns Penguin Commandos Action Figures
Day 2,217: Kenner Batman: The Dark Knight Collection Iron Winch Batman Action Figure
Day 2,622: Kenner Batman: The Animated Series Killer Croc Action Figure
Day 2,645: Kenner Batman: The Animated Series The Riddler Action Figure

See more Batman figures in Figure of the Day:
Day 1: Funko Force 2.0 Comic-Con Exclusive Batman
Day 398: Kenner Batman: The Animated Series Clayface
Day 408: Kenner Legends of Batman Future Batman
Day 441: Kenner Batman: The Animated Series Harley Quinn
Day 443: Kenner Batman: The Animated Series Machine Gun Joker
Day 444: Kenner Batman: The Animated Movie Mask of the Phantasm Phantasm
Day 445: Ertl Batman Returns Penguin Commando Die-Cast Metal Figure
Day 446: Kenner Legends of Batman Knightquest Batman
Day 447: Mattel DC Universe Classics All-Stars Batman
Day 457: Kenner Batman: The Animated Series Ra's Al Ghul
Day 685: Mattel Hot Wheels Batmobile (Tim Burton, 2013)
Day 708: Mattel Hot Wheels Batman Live Batmobile
Day 714: Mattel Matchbox Batmobile Die-Cast Metal Vehicle
Day 735: Mattel Batman Classic TV Series Batman & Robin Action Figure Set
Day 740: Mattel Batman Classic TV Series The Penguin Action Figure
Day 742: Mattel Hot Wheels Batcopter Die-Cast Metal Vehicle
Day 756: Mattel Batman Classic TV Series The Joker Action Figure
Day 761: Mattel Batman Classic TV Series The Riddler Action Figure
Day 778: Mattel Batman Classic TV Series Batman Action Figure
Day 780: Mattel Batman Classic TV Series Catwoman Action Figure
Day 783: Mattel Batman Classic TV Series Surf's Up Batman Action Figure
Day 898: Mattel Batman Batman
Day 1.172: Mattel Batman The Joker
Day 1,197: Funko Batman Ice Freeze Batman Reject
Day 1,305: Funko Pop! DC Comics Super Heroes Orange Batman Vinyl Figure
Day 1,312: DC Collectibles Batman Tony Millionaire Batman Statue
Day 1,383: Mattel Hot Wheels Dawn of Justice Batmobile
Day 1,388: Bif Bang Pow! Peg Pals Batman Armored
Day 1,400: Funko Dorbz DC Comics Super Heroes Orange Batman Vinyl Figure
Day 1,512: Jakks Pacific Batman v. Superman: Dawn of Justice Jokers Wild Batman
Day 1,539: Mattel Batman v. Superman Mighty Minis Series 2 Silver Batman
Day 1,680: The LEGO Batman Movie Catman
Day 1,753: Funko 9POA Batman 1966 TV Series Batman and Robin Action Figures with Batmobile
Day 1,847: Funko Pop! DC Comics Super Heroes Retro Batman Vinyl Figure
Day 1,983: Entertainment Earth Justice League Batman Push Puppet
Day 2,100: Fisher-Price Imaginext DC Super Friends Batman & Swamp Thing Action Figures
Day 2,190: Kenner Batman: The Dark Knight Collection Tec-Shield Batman Action Figure
Day 2,199: Kenner Batman Returns Penguin Commandos Action Figures
Day 2,217: Kenner Batman: The Dark Knight Collection Iron Winch Batman Action Figure
Day 2,239: Fisher-Price Imaginext DC Super Friends Slammers Arctic Sled with Mr. Freeze Set
Day 2,249: Fisher-Price Imaginext DC Super Friends Slammers Batmobile with Batman Set
Day 2,257: Fisher-Price Imaginext DC Super Friends Surround Sound Batcave Playset
Day 2,493: Spin Master DC Comics Justice League 4-Inch Action Figures 6-Pack
Day 2,622: Kenner Batman: The Animated Series Killer Croc Action Figure
Day 2,645: Kenner Batman: The Animated Series The Riddler Action Figure
Day 2,651: Wendy's DC Universe Batman, Catwoman, and Nightwing (Red)