Batman & Robin
Clever

Batman Classic TV Series Action Figure Set
Item No.: No. BBJ45
Manufacturer: Mattel
Includes: 2 figures, display base, batarang
Action Feature: Wire capes, display can hang on wall
Retail: $29.99-$34.99
Availability: August 2013
Other: Acceptable

PREVIOUS
RSS
NEXT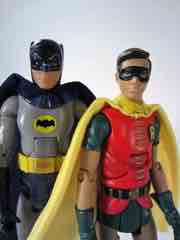 I couldn't be more excited when I found out that the Batman Classic TV Series line was happening, and the Batman & Robin was just the thing I've been itching for. Unfortunately a few design flaws ticked me off to the point where I went from absolutely adoring this to suggesting you consider not buying it until you see if a superior Robin action figure comes out later. It's cool and something I've been wanting to own since I was very young, but ultimately a frustrating piece once you open the box. If you collect boxed toys, you should buy and enjoy this.
It was an absolute delight to open the box and see Batman and Robin as I knew them first - two guys of decidedly non-heroic builds in silly bright outfits running around in an entertaining, colorful Gotham City populated by the day's TV stars. Carolyn "Morticia Addams" Jones, Vincent "Vincent Price" Price, and Otto Preminger were just a few of the names to grace the show in its three-year, 120-episode run that to this day isn't on DVD or Blu-Ray which may mean it's a TV show whose core audience may be dead before they have the chance to cash in on its home video revenues.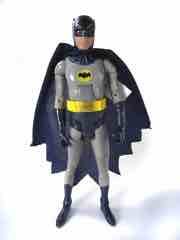 Let's start with the big flaw - each figure has an articulated wire cape, which is cool. Unfortunately each 6-inch figure has a 2 1/4-inch paper tag that's too large for your average fortune cookie sewn into it, so cutting it and removal proves difficult - and yes, I am upset that my Robin cape got damaged in the removal process. Extremely so. The Robin cape is not only affixed to the figure in a strange sandwich of plastic, but Mattel took the added step of gluing the fabric to the figure's back, making a clean cut on my sample all but impossible so now the cape has a couple of cuts in it. I'm really unhappy. If I hadn't already spent $60 on the Batmobile, I'd probably torpedo the line completely - and keep in mind, this is something I've been asking toy companies to make for several years now. I do not like it when the toy manufacturer puts a major part of the figure out with a built-in, broken-by-design flaw that can be remedied by the consumer easily, while at the same time opening itself up for damage by said consumer. It could be better - the tag should be smaller and easily removed.
If you can get past the capes - and as of my writing this, I'm working on it - the figures are decent. The figures have an overly thick paint used for their flesh, which absorbs much of the sculpted detail of Adam West and Burt Ward. My sample has what I consider to be a great paint job, but I've seen some smudgy, blobby deco that just doesn't look quite right on either figure. Aside from this it's pretty solid - Batman's painted eyebrows are here, Robin's look is pretty good with the tights not quite matching his skin color, and for some reason Batman's pants have a little dirt on them. The figures are generally pleasing to look at, with a two-tone gold buckle on Batman's belt and the sharp deco on Robin's fasteners. Molded flesh rather than painted flesh would be an improvement, should Robin get a second go at it or if Batman gets a re-re-release. (Adam West Batman has no fewer than 5 figures planned from Mattel alone before the end of 2013.)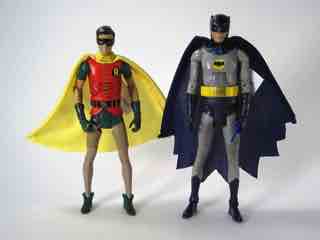 Each figure is designed with articulation that's on par with DC Universe Classics - it's pretty good, but not state-of-the-art. It's a strange position for the figures to be in, as they feel like the best 2008 had to offer while providing us with character designs from 1966. They're able to stand fairly well and use their display base properly, but no "rope" was included and the one in the packaging is just a twisted strand of paper, similar to what Hasbro uses to secure its figures in their packages since 2010. Both figures are able to be posed fairly well, with Batman's arms posed slightly wonky at the shoulders. The figures have no problems getting into the Batmobile (Toys R Us exclusive) as their legs go, but the wire capes tend to get in the way and the Batmobile's seat belts - its only action feature - are maddening to buckle closed. It's also worth noting that each figure has an ab crunch joint that is completely worthless - it gives about the same amount of reclining or moving forward as a below-average airplane seat.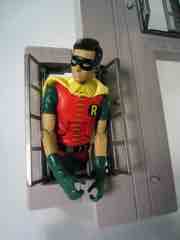 Adam West looks close enough to Adam West - the build isn't too beefy or muscular, and the Boy Wonder really does look like a boy. He's skinny - and the outfit sculpts on both are well-executed, as they should be given their simplicity. Burt Ward's head sculpt looks acceptable, but not perfect. It could be the thick layer of flesh paint on his skin, so while I wouldn't say it's amazing it certainly is Robin-y enough to be a great classic TV Robin.
Packaging is a mix of bland and clever - it lacks the joy of Shag's art from Comic-Con, it features no images of any of the actors - everything looks cartoon-inspired, and the wildly bright colors seems an odd choice for a show so old that my parents watched it when they were young. The box doesn't convey that this is a product for adults - probably adults over 40 - and instead looks like something you'd throw at a kid, which is unfortunate. Of course, if it all sells through, none of this matters one bit.
Since these figures were teased at Comic-Con 2012, we know they've been in development for some time - but the final product feels a little rushed, tantalizingly close to being really great. If Mattel has the guts, I hope they continue this line so we can see some refinements in year 2. I realize it is ludicrous to say "I spent $30 on a figure set that didn't wow me, now please sell me more" but it doesn't seem like it would be that tough to turn these two into superior figures. As it stands, this is the only consumer-priced Burt Ward-inspired Robin action figure - if you want it, go get it. Regardless of what I'd read, hear, or even say, I'd still buy this set purely out of the nostalgia factor. Be careful with the capes when you open it, and if you bought the Batmobile be prepared for frustration getting the capes and seatbelts in place. Otherwise, it's a solid set.
--Adam Pawlus
Additional Images

Want to buy this figure? Check Batman availability at our sponsors:
Entertainment Earth

See more Batman figures in Figure of the Day:
Day 1: Funko Force 2.0 Comic-Con Exclusive Batman
Day 398: Kenner Batman: The Animated Series Clayface
Day 408: Kenner Legends of Batman Future Batman
Day 441: Kenner Batman: The Animated Series Harley Quinn
Day 443: Kenner Batman: The Animated Series Machine Gun Joker
Day 444: Kenner Batman: The Animated Movie Mask of the Phantasm Phantasm
Day 445: Ertl Batman Returns Penguin Commando Die-Cast Metal Figure
Day 446: Kenner Legends of Batman Knightquest Batman
Day 447: Mattel DC Universe Classics All-Stars Batman
Day 457: Kenner Batman: The Animated Series Ra's Al Ghul
Day 685: Mattel Hot Wheels Batmobile (Tim Burton, 2013)
Day 708: Mattel Hot Wheels Batman Live Batmobile
Day 714: Mattel Matchbox Batmobile Die-Cast Metal Vehicle
Day 735: Mattel Batman Classic TV Series Batman & Robin Action Figure Set
Day 740: Mattel Batman Classic TV Series The Penguin Action Figure
Day 742: Mattel Hot Wheels Batcopter Die-Cast Metal Vehicle
Day 756: Mattel Batman Classic TV Series The Joker Action Figure
Day 761: Mattel Batman Classic TV Series The Riddler Action Figure
Day 778: Mattel Batman Classic TV Series Batman Action Figure
Day 780: Mattel Batman Classic TV Series Catwoman Action Figure
Day 783: Mattel Batman Classic TV Series Surf's Up Batman Action Figure
Day 898: Mattel Batman Batman
Day 1.172: Mattel Batman The Joker
Day 1,197: Funko Batman Ice Freeze Batman Reject
Day 1,305: Funko Pop! DC Comics Super Heroes Orange Batman Vinyl Figure
Day 1,312: DC Collectibles Batman Tony Millionaire Batman Statue
Day 1,383: Mattel Hot Wheels Dawn of Justice Batmobile
Day 1,388: Bif Bang Pow! Peg Pals Batman Armored
Day 1,400: Funko Dorbz DC Comics Super Heroes Orange Batman Vinyl Figure
Day 1,512: Jakks Pacific Batman v. Superman: Dawn of Justice Jokers Wild Batman
Day 1,539: Mattel Batman v. Superman Mighty Minis Series 2 Silver Batman
Day 1,680: The LEGO Batman Movie Catman
Day 1,753: Funko 9POA Batman 1966 TV Series Batman and Robin Action Figures with Batmobile
Day 1,847: Funko Pop! DC Comics Super Heroes Retro Batman Vinyl Figure
Day 1,983: Entertainment Earth Justice League Batman Push Puppet
Day 2,100: Fisher-Price Imaginext DC Super Friends Batman & Swamp Thing Action Figures
Day 2,190: Kenner Batman: The Dark Knight Collection Tec-Shield Batman Action Figure
Day 2,199: Kenner Batman Returns Penguin Commandos Action Figures
Day 2,217: Kenner Batman: The Dark Knight Collection Iron Winch Batman Action Figure
Day 2,239: Fisher-Price Imaginext DC Super Friends Slammers Arctic Sled with Mr. Freeze Set
Day 2,249: Fisher-Price Imaginext DC Super Friends Slammers Batmobile with Batman Set
Day 2,257: Fisher-Price Imaginext DC Super Friends Surround Sound Batcave Playset
Day 2,493: Spin Master DC Comics Justice League 4-Inch Action Figures 6-Pack
Day 2,622: Kenner Batman: The Animated Series Killer Croc Action Figure
Day 2,645: Kenner Batman: The Animated Series The Riddler Action Figure
Day 2,651: Wendy's DC Universe Batman, Catwoman, and Nightwing (Red)


Click here to see more Mattel figures in Figure of the Day.