Penguin Commandos
With Mind Control Gear and Firing Missile

Batman Returns Action Figures
Item No.: Asst. ??? No. ???
Manufacturer: Kenner
Includes: n/a
Action Feature: Grey backpack shoots rockets
Retail: $5.99
Availability: Late 1991?
Other: Off-model but pure Kenner

PREVIOUS
RSS
NEXT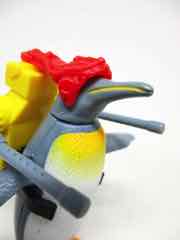 I remember hunting down Penguin Commandos - it took a while. Action figure magazines weren't really a thing during Batman Returns' debut - so late-era figures were things you found out about through hearsay and rumors. They didn't always show up on other figures' cardbacks, so you might get tipped off to them existing by a stock photo of a vehicle accidentally revealing it. Kenner didn't do a bang-up job actually announcing figures, so you saw it on a TV commercial or maybe at a flea market or comic shop. And if you were really lucky, at a toy store.
I loved Battle Beasts as a kid, so penguins with garish rocket launchers were right up my alley. Sure, Kenner didn't really model them after the movie - but the Batman Returns line didn't concern itself with authenticity. The Penguin was a tweaked Super Powers figure with nothing in common with Danny DeVito. Catwoman, at least, was close. The Penguin Commando figures are indeed penguins with weird mechanical stuff on them, but it owes everything to Kenner's 1990s-style imagination and eschews the weird pre-WWII German expressionist film bent that Tim Burton likes to apply to his films.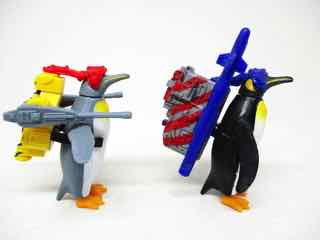 The 2 1/2-inch figures seem to be original penguin sculpts with jointed feet, wings, and neck - they stand fairly nicely. The bodies seem similar with different wings and the exact same deco. The sculpted feathers and orange feet are decent, but the feel of the figures and level of detail are pure 1980s and 1990s toy cheese. You're getting two for six bucks, which was a lot of toy for the money - if you wanted penguins. You didn't, you wanted Batman. Batmen? Well, whatever you wanted, it probably wasn't these late-era army builders.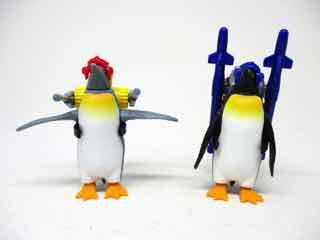 If the backpacks are recycled, I don't immediately recognize them. The yellow one has black tiger stripes, a red helmet, and articulated grey cannons. It doesn't do anything other than look menacing and/or silly. The grey one has red stripes and a blue helmet, but it does stuff. There are posts on the side to mount rockets when they aren't being fired, and the blue rockets can be fired from the spring-loaded mechanism on their backs. It's cute and deadly. It reeks of a toy from 1991. Kid toys based on R-rated movies were increasingly normal, and they toymakers went out of their way to include bright colors to ensure they were appealing to children who, most likely, would not see the movie until it was on cable or their parents rented the video.
I got two packs back in the day because I liked the idea of a penguin army and you can swap backpacks between the figures. I didn't do much with them - but I did keep them, and I pulled them out to show you. Cool, aren't they? They're also largely worthless, so if you find them on the cheap you can afford them. But as I write this, I am not yet sure when you comic shops, thrift stores, or other purveyors of old junk will re-open thanks to this particularly foul year. So let's make it a fowl year, go get yourself some penguins if you find them online or in your future journeys.
--Adam Pawlus
Additional Images

See more Kenner figures in Figure of the Day:
Day 98: Kenner Beast Wars Transformers Noctorro Action Figure
Day 99: Kenner Beast Wars Transformers Air Hammer Action Figure
Day 100: Kenner Beast Wars Transformers Torca Action Figure
Day 101: Kenner Beast Wars Transformers Terragator Action Figure
Day 102: Kenner Beast Wars Transformers Quickstrike Action Figure
Day 114: Kenner Total Justice Mail-In Superman Action Figure
Day 133: Kenner Q*Bert Wind-Up Q*Bert Action Figure
Day 138: Kenner Jurassic Park Chaos Effect Compstegnathus Action Figure
Day 172: Kenner Jurassic Park The Lost World Chasmosaurus Action Figure
Day 195: Kenner ALIENS Arachnid Alien Action Figure
Day 211: Kenner Predator Cracked Tusk Predator Action Figure
Day 234: Kenner ALIENS Scorpion Alien Action Figure
Day 250: Kenner ALIENS Panther Alien Action Figure
Day 256: Kenner ALIENS Gorilla Alien Action Figure
Day 261: Kenner ALIENS Bull Alien Action Figure
Day 285: Kenner ALIENS Hive Wars Warrior Predator
Day 317: Kenner ALIENS vs. Predator 10-Inch Alien Action Figure
Day 346: Kenner Jurassic Park Ian Malcolm Action Figure
Day 356: Kenner Action Masters Predator
Day 359: Kenner ALIENS Hive Wars Acid Alien Action Figure
Day 365: Kenner ALIENS Vasquez Action Figure
Day 366: Kenner Jurassic Park Ellie Sattler Action Figure
Day 381: Kenner ALIENS Action Masters Ripley
Day 397: Kenner ALIENS Mantis Alien
Day 398: Kenner Batman: The Animated Series Clayface
Day 408: Kenner Legends of Batman Future Batman
Day 421: Kenner Bone Age Crag the Clubber Action Figure
Day 437: Kenner SilverHawks Copper Kidd Action Figure
Day 441: Kenner Batman: The Animated Series Harley Quinn
Day 443: Kenner Batman: The Animated Series Machine Gun Joker
Day 444: Kenner Batman: The Animated Movie Mask of the Phantasm Phantasm
Day 446: Kenner Legends of Batman Knightquest Batman
Day 457: Kenner Batman: The Animated Series Ra's Al Ghul
Day 533: Kenner Jurassic Park Chaos Effect Amargospinus
Day 848: Kenner Transformers Beast Wars Terrorsaur
Day 903: Kenner Transformers Beast Wars Rattrap
Day 956: Kenner Transformers Beast Wars Claw Jaw
Day 1,140: Kenner M.A.S.K. T-Bob with Scott Trakker Action Figure
Day 1,180: Kenner Jurassic Park Alan Grant Action Figure
Day 1,198: Kenner Jurassic Park Tim Murphy Action Figure
Day 1,212: Kenner Jurassic Park Chaos Effect Ian Malcolm Action Figure
Day 1,248: Kenner M.A.S.K. Condor with Brad Turner Action Figure
Day 1,445: Kenner Transformers Beast Wars Cybershark
Day 1,452: Kenner Beast Wars Transformers Fuzors Injector
Day 1,486: Kenner Beast Wars Transformers Spittor
Day 2,179: Kenner Aliens Wild Boar Alien Action Figure
Day 2,190: Kenner Batman: The Dark Knight Collection Tec-Shield Batman Action Figure
Day 2,199: Kenner Batman Returns Penguin Commandos Action Figures
Day 2,217: Kenner Batman: The Dark Knight Collection Iron Winch Batman Action Figure
Day 2,622: Kenner Batman: The Animated Series Killer Croc Action Figure
Day 2,645: Kenner Batman: The Animated Series The Riddler Action Figure

See more Batman figures in Figure of the Day:
Day 1: Funko Force 2.0 Comic-Con Exclusive Batman
Day 398: Kenner Batman: The Animated Series Clayface
Day 408: Kenner Legends of Batman Future Batman
Day 441: Kenner Batman: The Animated Series Harley Quinn
Day 443: Kenner Batman: The Animated Series Machine Gun Joker
Day 444: Kenner Batman: The Animated Movie Mask of the Phantasm Phantasm
Day 445: Ertl Batman Returns Penguin Commando Die-Cast Metal Figure
Day 446: Kenner Legends of Batman Knightquest Batman
Day 447: Mattel DC Universe Classics All-Stars Batman
Day 457: Kenner Batman: The Animated Series Ra's Al Ghul
Day 685: Mattel Hot Wheels Batmobile (Tim Burton, 2013)
Day 708: Mattel Hot Wheels Batman Live Batmobile
Day 714: Mattel Matchbox Batmobile Die-Cast Metal Vehicle
Day 735: Mattel Batman Classic TV Series Batman & Robin Action Figure Set
Day 740: Mattel Batman Classic TV Series The Penguin Action Figure
Day 742: Mattel Hot Wheels Batcopter Die-Cast Metal Vehicle
Day 756: Mattel Batman Classic TV Series The Joker Action Figure
Day 761: Mattel Batman Classic TV Series The Riddler Action Figure
Day 778: Mattel Batman Classic TV Series Batman Action Figure
Day 780: Mattel Batman Classic TV Series Catwoman Action Figure
Day 783: Mattel Batman Classic TV Series Surf's Up Batman Action Figure
Day 898: Mattel Batman Batman
Day 1.172: Mattel Batman The Joker
Day 1,197: Funko Batman Ice Freeze Batman Reject
Day 1,305: Funko Pop! DC Comics Super Heroes Orange Batman Vinyl Figure
Day 1,312: DC Collectibles Batman Tony Millionaire Batman Statue
Day 1,383: Mattel Hot Wheels Dawn of Justice Batmobile
Day 1,388: Bif Bang Pow! Peg Pals Batman Armored
Day 1,400: Funko Dorbz DC Comics Super Heroes Orange Batman Vinyl Figure
Day 1,512: Jakks Pacific Batman v. Superman: Dawn of Justice Jokers Wild Batman
Day 1,539: Mattel Batman v. Superman Mighty Minis Series 2 Silver Batman
Day 1,680: The LEGO Batman Movie Catman
Day 1,753: Funko 9POA Batman 1966 TV Series Batman and Robin Action Figures with Batmobile
Day 1,847: Funko Pop! DC Comics Super Heroes Retro Batman Vinyl Figure
Day 1,983: Entertainment Earth Justice League Batman Push Puppet
Day 2,100: Fisher-Price Imaginext DC Super Friends Batman & Swamp Thing Action Figures
Day 2,190: Kenner Batman: The Dark Knight Collection Tec-Shield Batman Action Figure
Day 2,199: Kenner Batman Returns Penguin Commandos Action Figures
Day 2,217: Kenner Batman: The Dark Knight Collection Iron Winch Batman Action Figure
Day 2,239: Fisher-Price Imaginext DC Super Friends Slammers Arctic Sled with Mr. Freeze Set
Day 2,249: Fisher-Price Imaginext DC Super Friends Slammers Batmobile with Batman Set
Day 2,257: Fisher-Price Imaginext DC Super Friends Surround Sound Batcave Playset
Day 2,493: Spin Master DC Comics Justice League 4-Inch Action Figures 6-Pack
Day 2,622: Kenner Batman: The Animated Series Killer Croc Action Figure
Day 2,645: Kenner Batman: The Animated Series The Riddler Action Figure
Day 2,651: Wendy's DC Universe Batman, Catwoman, and Nightwing (Red)

Want to buy this figure? Check Batman availability at our sponsors:
Entertainment Earth