City Strike Destro
Weapons Supplier

G.I. Joe Pursuit of Cobra Basic Figures
Item No.: Asst. 24732 No. 25744
Manufacturer: Hasbro
Includes: Briefcase, pistol, machine gun, armor, stand, 6 bundles of Euros, 6 bundles of dollars
Action Feature: n/a
Retail: $6.99-$8.49
Availability: January 2011
Other: #1107

PREVIOUS
RSS
NEXT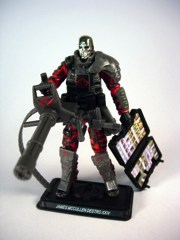 A quick aside: this wave came out in January of last year, and in November of 2011 I finally found a Shadow Tracker for the very first time. I never saw this particular Bank Robber Destro at all in 2011, but I stumbled on a couple of him in April of 2012 at a Spanish-language department store with a notoriously bad (but often bizarre) toy section. I had to overpay a couple of bucks to get him, but I can safely say it was worth the wait.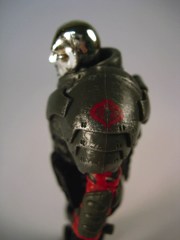 Standing at about 4-inches tall, the figure is sizable and genuinely great. I liked Snow Destro too, but this is better. There's no wacky snow paint to melt off his head, and there's a whole ton of fun gear including piles of fake plastic cash. He has multiple "armor" pieces, including a removable holster with a pistol, a big piece of shoulder armor, and a giant chunk of body armor too! The figure underneath is no slouch, and can stand, sit, and be posed looking generally awesome. There are even greaves on the legs which snap on so nicely that you might not even notice they're removable parts. The sculpt is great, the coloring is good, and the paint is clean. The pinkish red-and-striped outfit seems goofy, but the grey brings it down to Earth. It seems like some weird hybrid of modern toys and the finest Joes that 1991 had to offer. I totally dig it.
While hard to see, the head is silver chrome yet again with black eyes and green pupils. The green is pretty dark, but if the lighting is just right it's quite nice. Hasbro did a nice job on this one.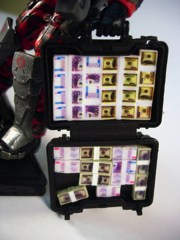 The accessories are no slouch, either. The gun is a multi-piece affair. There's the main gun, an ammo belt, plus a multi-piece dongle which snaps together and connects to his body armor, presumably to draw power. I'm just guessing here. It's a little tough for him to hold it and look cool, but hey, it's nice and the barrel rotates. Big ups to Hasbro for trying something fancy. On the simpler front is a pistol which fits in his holster, and, of course, is great.
Rounding out the accessories is a big wad of cash-- literally. A giant pile of painted bills snaps to the inside of the briefcase using a pair of pegs and, if you like, can be removed. The other side is opened so you can put the loose bill stacks, allowing Destro to do his worst with dollars and the Euro. While the packaging refers to him as "Weapons Supplier" or "City Strike," the giant pile of cash earned him the nickname "Bank Robber Destro" in fan circles.
The mold will be making a return appearance at Comic-Con 2012 as the driver for the "Shockwave" edition of the HISS Tank... unless they delay that too. The figure got dubious distribution-- my rule of thumb is "if it takes me more than 12 months to find it at retail, distribution sucked"-- so right now it's eBay or bust, or unless you luck into it at an airport or drugstore. It turns out I was really lucky to find one two months ago, because now it sells for $40-$50 on eBay. So if you can get one for $10 or so, you should. It's super-cool.
--Adam Pawlus
Additional Images

Click here to see more Hasbro figures in Figure of the Day.
See more G.I. Joe figures in Figure of the Day:
Day 5: Hasbro G.I. Joe Pursuit of Cobra Spirit Iron-Knife
Day 10: Hasbro G.I. Joe Collector Club Robot Rebellion Cobra Commander
Day 21: Hasbro G.I. Joe Pursuit of Cobra Quick Kick
Day 49: Hasbro G.I. Joe Pursuit of Cobra Cobra Commander
Day 59: Hasbro G.I. Joe Rise of Cobra Pit Commando
Day 64: Hasbro G.I. Joe Pursuit of Cobra Arctic Threat Destro
Day 74: Hasbro G.I. Joe Pursuit of Cobra City Strike Firefly
Day 80: Metallic Cobra Commander Wackly Wobbler
Day 87: Hasbro G.I. Joe Sgt. Slaughter Action Figure
Day 104: Hasbro G.I. Joe Pursuit of Cobra Kickstart Action Figure with Steel Marauder
Day 109: Hasbro G.I. Joe Pursuit of Cobra Snake Eyes #1101
Day 111: Hasbro G.I. Joe Pursuit of Cobra Duke #1102
Day 119: Hasbro G.I. Joe Rise of Cobra Sandstorm
Day 129: Hasbro G.I. Joe Pursuit of Cobra Storm Shadow
Day 146: Hasbro G.I. Joe Pursuit of Cobra Low-Light
Day 156: Hasbro G.I. Joe Pursuit of Cobra Cobra Shock Trooper
Day 160: Funko G.I. Joe "Pimp Daddy" Destro
Day 162: Hasbro G.I. Joe Club Exclusive Adventure Team Air Adventurer
Day 171: Hasbro G.I. Joe Comic-Con Exclusive Cobra Commander
Day 221: Hasbro G.I. Joe Pursuit of Cobra Cobra Trooper
Day 264: Hasbro G.I. Joe Pursuit of Cobra Steel Brigade
Day 284: Hasbro G.I. Joe 30th Anniversary Hazard-Viper
Day 314: Hasbro G.I. Joe Pursuit of Cobra Shadow Tracker
Day 372: Hasbro Jurassic Park G.I. Joe Heavy Gunner Action Figure
Day 419: Hasbro G.I. Joe Pursuit of Cobra City Strike Destro
Day 473: Hasbro G.I. Joe Retaliation Cobra Commander
Day 863: Hasbro G.I. Joe Retaliation Blind Master
Day 1,427: Burger King G.I. Joe AWE Striker with Snake Eyes Vehicle
Day 1,787: Hasbro Revolution First Strike Comic Preview Mega-Set
Day 1,867: Hasbro G.I. Koe Kre-O Collection 2 Dreadnok Ripper
Day 2,241: Hasbro G.I. Joe Classified Series Profit Director Destro Action Figure
Day 2,458: Super7 G.I. Joe Red Ninja ReAction Figure
Day 2,618: Hasbro G.I. Joe Retro Collection Duke Vs. Cobra Commander Action Figures

Want to buy this figure or others like it? Check G.I. Joe availability at our sponsors:
Entertainment Earth