Low-Light
Night Spotter

G.I. Joe Pursuit of Cobra Basic Figures #1108
Item No.: Asst. 24732 No. 28675
Manufacturer: Hasbro
Includes: Sniper rifle, phone, goggles, bullet, ammo box, case, stand, machine gun, backpack, even more stuff
Action Feature: n/a
Retail: $6.99-$8.49
Availability: January 2011
Other: Reportedly Hasbro's first digitally-sculpted G.I. Joe action figure

PREVIOUS
RSS
NEXT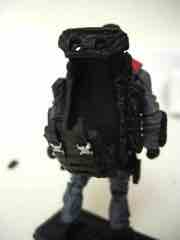 While not exactly the most famous member of the G.I. Joe team, the appearance of Low-Light at conventions last year sent fans into a foaming-at-the-mouth frenzy which you rarely see when it comes to the good guy figures. Even more amazing, this figure isn't a 100% new sculpt, as the arms are modified from the Jungle Viper and the legs and torso were used for the fantastic 2010 Beachhead action figure. (For the record, Beachhead should be on your must-buy list, too.)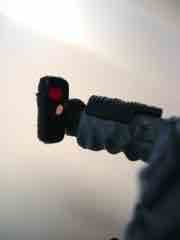 Standing just over 4-inches tall, like all of these guys, Low-Light manages to look amazing even though the only real new elements to the figure are the head and the vest. The head, with a face painted in flesh rather than molded in flesh color, looks a lot more lifelike than other figures in this line (or in this scale). The goggles are removable, so they can fit over his eyes or his forehead-- it looks great either way. Molded mostly in grey, the figure's body is pretty normal Joe fare except for the wrists. These swivel and bend, rather than merely rotating like most of the 25th Anniversary-era action figures released since 2007. (Others with this kind of wrist include Sgt. Slaughter, the Jungle Viper, and the 2011 #1101 Snake Eyes.)
It's worth noting that this figure has too much gear. I'm convinced I'm going to lose parts and pieces over time, a tiny bullet can be removed from the ammo box and an antenna comes right off the GPS. With removable scopes, bipods, and all this other stuff, it's remarkable to think that Low-Light's sniper rifle has more accessories than most action figures ever released in any era, ever. Thankfully, Hasbro has an opening backpack and a large sniper rifle case which can help you to store many of the accessories, which is a nice start. It's nice that Hasbro realizes that you're going to need help when it comes to keeping all your toy's accessories together.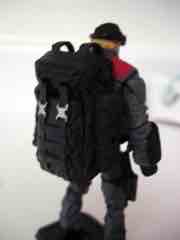 While it seems absolutely unnecessary to give the figures this much stuff, it makes me feel a little better about the increasing retail prices. A little bit, I mean-- ultimately I'd rather have the figure be fifty cents cheaper than have extra weapons I can lose, but they're nice weapons. Hasbro did a marvelous job updating this 1987 character, and additional figures from this era are in development for release late in 2011 or early in 2012. It's great to see figures like this one kick off Hasbro pushing ahead in the line, hopefully putting an end to the never-ending recycling of select 1982-1984 characters. This one is so good that I think fans can't really complain about which characters Hasbro chooses to do-- they can make these things absolutely fantastic when they're so inclined.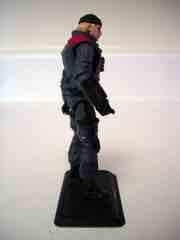 Low-Light came out in a wave with Cobra Shadow Tracker, another Destro, and Skydive. These took a long time to hit retail in decent numbers, and as I write this I still haven't seen Shadow Tracker or Destro in the wild. So good luck finding these, particularly now that it seems only Target, Toys "R" Us, and online shops are getting these as of late.
My predictions: if you buy and open this figure, you will lose the bullet and GPS antenna unless you get bags or other materials to store them. Be careful!
--Adam Pawlus
Additional Images

Click here to see more Hasbro figures in Figure of the Day.
See more G.I. Joe figures in Figure of the Day:
Day 5: Hasbro G.I. Joe Pursuit of Cobra Spirit Iron-Knife
Day 10: Hasbro G.I. Joe Collector Club Robot Rebellion Cobra Commander
Day 21: Hasbro G.I. Joe Pursuit of Cobra Quick Kick
Day 49: Hasbro G.I. Joe Pursuit of Cobra Cobra Commander
Day 59: Hasbro G.I. Joe Rise of Cobra Pit Commando
Day 64: Hasbro G.I. Joe Pursuit of Cobra Arctic Threat Destro
Day 74: Hasbro G.I. Joe Pursuit of Cobra City Strike Firefly
Day 80: Metallic Cobra Commander Wackly Wobbler
Day 87: Hasbro G.I. Joe Sgt. Slaughter Action Figure
Day 104: Hasbro G.I. Joe Pursuit of Cobra Kickstart Action Figure with Steel Marauder
Day 109: Hasbro G.I. Joe Pursuit of Cobra Snake Eyes #1101
Day 111: Hasbro G.I. Joe Pursuit of Cobra Duke #1102
Day 119: Hasbro G.I. Joe Rise of Cobra Sandstorm
Day 129: Hasbro G.I. Joe Pursuit of Cobra Storm Shadow
Day 146: Hasbro G.I. Joe Pursuit of Cobra Low-Light
Day 156: Hasbro G.I. Joe Pursuit of Cobra Cobra Shock Trooper
Day 160: Funko G.I. Joe "Pimp Daddy" Destro
Day 162: Hasbro G.I. Joe Club Exclusive Adventure Team Air Adventurer
Day 171: Hasbro G.I. Joe Comic-Con Exclusive Cobra Commander
Day 221: Hasbro G.I. Joe Pursuit of Cobra Cobra Trooper
Day 264: Hasbro G.I. Joe Pursuit of Cobra Steel Brigade
Day 284: Hasbro G.I. Joe 30th Anniversary Hazard-Viper
Day 314: Hasbro G.I. Joe Pursuit of Cobra Shadow Tracker
Day 372: Hasbro Jurassic Park G.I. Joe Heavy Gunner Action Figure
Day 419: Hasbro G.I. Joe Pursuit of Cobra City Strike Destro
Day 473: Hasbro G.I. Joe Retaliation Cobra Commander
Day 863: Hasbro G.I. Joe Retaliation Blind Master
Day 1,427: Burger King G.I. Joe AWE Striker with Snake Eyes Vehicle
Day 1,787: Hasbro Revolution First Strike Comic Preview Mega-Set
Day 1,867: Hasbro G.I. Koe Kre-O Collection 2 Dreadnok Ripper
Day 2,241: Hasbro G.I. Joe Classified Series Profit Director Destro Action Figure
Day 2,458: Super7 G.I. Joe Red Ninja ReAction Figure
Day 2,618: Hasbro G.I. Joe Retro Collection Duke Vs. Cobra Commander Action Figures

Want to buy this figure or others like it? Check G.I. Joe availability at our sponsors:
Entertainment Earth