Cobra Commander
Best Pre-Paint Ever

G.I. Joe Comic-Con Exclusive Figures
Item No.: Asst. 68875 No. 68876
Manufacturer: Hasbro
Includes: Microphone, podium
Action Feature: n/a
Retail: $10
Availability: July 2008
Other: This is the black suit variant, another has a blue blazer and tan pants

PREVIOUS
RSS
NEXT

If you picked up this 2008 Comic-Con exclusive action figure, it's pretty obvious that Cobra Commander is not built like other G.I. Joe figures. He doesn't have the same construction, or the metal bar in his hips. Rather, he's built like a Star Wars or Indiana Jones action figure, which makes sense as this body was originally going to be used for the doomed Indy series. Before it got the axe, Hasbro wisely determined they could make use the suit body of Walter Donavan, a figure which the final head sculpt was never revealed.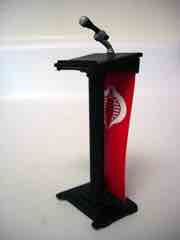 Standing about 4-inches tall, this figure is a great exclusive in that it's neat, weird, and not something you'd necessarily miss if you never knew it existed. With 14 points of articulation, the figure is designed for one main purpose: to stand at a podium, and yell at people. Isn't that what all of us are really wanting out of life, anyway? The figure's suit is sculpted quite nicely, and the all-new head sculpt uses the familiar mask as seen in much of the cartoon series. (The design is comic-specific.)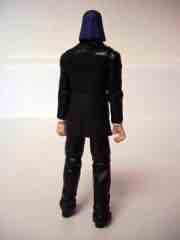 Due to his design, the hip joints are more or less useless-- the blazer blocks any leg movement in this area. This doesn't matter too much as he's going to be spending most of eternity behind a Cobra podium, which is a thin plastic structure with a removable microphone accessory and a paper Cobra flag draped out in front. It's really cool, and probably just as interesting as the figure.
The figure is great at gesturing and looking like he's shouting at an invisible crowd, which is really what you want from your fictional power-mad dictators/terrorists. You can also cram him in the gunner station of most older HISS Tank toys, assuming it's based on the molds which can hold standing figures, or he can hang out in your playsets. Interestingly, he lacks any copyright markings (I got mine at the convention, so I know it's legit) so there's no evidence that it was developed as a LucasFilm-related toy... or even a Hasbro toy. It's unusual, but hey-- that's why I'm here, to point out this crap.
Today the black blazer version goes for about $15-$30, while the blue one for about twice that. The figure shipped on a classic/25th Anniversary-style non-foil cardback, and was sold inside a clear plastic Star Case. Other Comic-Con exclusive Joes include a Movie Destro 2-pack, Pimp Daddy Destro, and Sgt. Slaughter. Good hunting!
--Adam Pawlus
Additional Images

Click here to see more Hasbro figures in Figure of the Day.
See more G.I. Joe figures in Figure of the Day:
Day 5: Hasbro G.I. Joe Pursuit of Cobra Spirit Iron-Knife
Day 10: Hasbro G.I. Joe Collector Club Robot Rebellion Cobra Commander
Day 21: Hasbro G.I. Joe Pursuit of Cobra Quick Kick
Day 49: Hasbro G.I. Joe Pursuit of Cobra Cobra Commander
Day 59: Hasbro G.I. Joe Rise of Cobra Pit Commando
Day 64: Hasbro G.I. Joe Pursuit of Cobra Arctic Threat Destro
Day 74: Hasbro G.I. Joe Pursuit of Cobra City Strike Firefly
Day 80: Metallic Cobra Commander Wackly Wobbler
Day 87: Hasbro G.I. Joe Sgt. Slaughter Action Figure
Day 104: Hasbro G.I. Joe Pursuit of Cobra Kickstart Action Figure with Steel Marauder
Day 109: Hasbro G.I. Joe Pursuit of Cobra Snake Eyes #1101
Day 111: Hasbro G.I. Joe Pursuit of Cobra Duke #1102
Day 119: Hasbro G.I. Joe Rise of Cobra Sandstorm
Day 129: Hasbro G.I. Joe Pursuit of Cobra Storm Shadow
Day 146: Hasbro G.I. Joe Pursuit of Cobra Low-Light
Day 156: Hasbro G.I. Joe Pursuit of Cobra Cobra Shock Trooper
Day 160: Funko G.I. Joe "Pimp Daddy" Destro
Day 162: Hasbro G.I. Joe Club Exclusive Adventure Team Air Adventurer
Day 171: Hasbro G.I. Joe Comic-Con Exclusive Cobra Commander
Day 221: Hasbro G.I. Joe Pursuit of Cobra Cobra Trooper
Day 264: Hasbro G.I. Joe Pursuit of Cobra Steel Brigade
Day 284: Hasbro G.I. Joe 30th Anniversary Hazard-Viper
Day 314: Hasbro G.I. Joe Pursuit of Cobra Shadow Tracker
Day 372: Hasbro Jurassic Park G.I. Joe Heavy Gunner Action Figure
Day 419: Hasbro G.I. Joe Pursuit of Cobra City Strike Destro
Day 473: Hasbro G.I. Joe Retaliation Cobra Commander
Day 863: Hasbro G.I. Joe Retaliation Blind Master
Day 1,427: Burger King G.I. Joe AWE Striker with Snake Eyes Vehicle
Day 1,787: Hasbro Revolution First Strike Comic Preview Mega-Set
Day 1,867: Hasbro G.I. Koe Kre-O Collection 2 Dreadnok Ripper
Day 2,241: Hasbro G.I. Joe Classified Series Profit Director Destro Action Figure
Day 2,458: Super7 G.I. Joe Red Ninja ReAction Figure
Day 2,618: Hasbro G.I. Joe Retro Collection Duke Vs. Cobra Commander Action Figures

Want to buy this figure or others like it? Check G.I. Joe availability at our sponsors:
Entertainment Earth