Arctic Threat Destro
...don't display him with his goggles

G.I. Joe Pursuit of Cobra Basic Figures
Item No.: Asst. 24732 No. 24834
Manufacturer: Hasbro
Includes: Ice picks, backpack, gun, drill, water blaster, goggles, stand, too much stuff
Action Feature: Backpack theoretically squirts water
Retail: $6.99
Availability: September 2010
Other: Snow Pants Destro

PREVIOUS
RSS
NEXT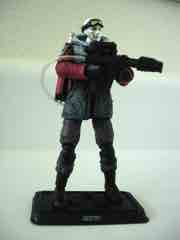 A lot of fans criticized G.I. Joe for being goofy, but dammit, sometimes goofy works. Take this Pursuit of Cobra Arctic Threat Destro, which took a popular character and applied one of the oldest action figure cliches in the book-- snow gear. Generally Hasbro (as the Joes went) preferred to make new snow characters rather than old characters in new snow gear, but since the early 2000s they've moved into accepting more of this kind of thing. We've had a lot of Snow Serpents and even a polar version of Scrap Iron, but Destro? This is new, and as part of the second wave of the first post-movie line, it's quite endearing. It's also not without a major design flaw in the deco which really does hurt the product.
WARNING: If you plan to open this figure DO NOT display or store him with the goggles on. The goggles cause the white paint applied to the chrome head to melt off in a matter of days, leaving you with a goggle-shaped unpainted stripe on the figure's head. We bought a second sample due to the damage that the toy caused itself on the first one. Don't say we didn't warn you, collectors of the future!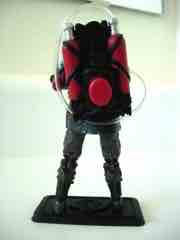 The articulation on Destro is nothing new-- you get the standard 25th Anniversary-style construction with a pretty decent range of movement, considering his bulky jacket. Since the jacket was sculpted open, the figure has no problems sitting as his hips are unrestricted. The garment is loaded with quasi-armor details, plus a moderate dusting of snow which you'll also find on his chrome head. So far, we've had no problems with the snow "melting" off any part of the figure except for the head.
The figure is unusually fun-- basically, Hasbro said "Let's make Mr. Freeze but make him like Destro or something." And here he is. The green eyes peek out from behind the goggles nicely, but the long-term results of enjoying this accessory will guarantee damage to the figure. Also, the water-blasting backpack doesn't shoot water too well. To make up for it, Hasbro included two snap-on ice accessories which you can attach to other figures to pretend Destro has shot and "freezes" them. It's a nice (and unusual) add-on as very rarely do any Joes include gear to use with other toys-- basically it's all for the toy you buy, not for the other toys you might play with. This is a great example of forward thinking and giving kids an excuse to buy another figure.
While goofy-- and actually quite flawed from an execution standpoint-- this is one of the more creative figures in the line. My first impressions were overwhelmingly positive, were it not for the paint coming off this would probably be one of my top 3 G.I. Joe figures of the past several years. Hasbro has shown a lot of creativity with homages to other toy lines in Pursuit, and if you can play carefully with this one, I think you'll like it a lot. It's way better than getting "Snow Serpent Commander."
--Adam Pawlus
Additional Images

Click here to see more Hasbro figures in Figure of the Day.
See more G.I. Joe figures in Figure of the Day:
Day 5: Hasbro G.I. Joe Pursuit of Cobra Spirit Iron-Knife
Day 10: Hasbro G.I. Joe Collector Club Robot Rebellion Cobra Commander
Day 21: Hasbro G.I. Joe Pursuit of Cobra Quick Kick
Day 49: Hasbro G.I. Joe Pursuit of Cobra Cobra Commander
Day 59: Hasbro G.I. Joe Rise of Cobra Pit Commando
Day 64: Hasbro G.I. Joe Pursuit of Cobra Arctic Threat Destro
Day 74: Hasbro G.I. Joe Pursuit of Cobra City Strike Firefly
Day 80: Metallic Cobra Commander Wackly Wobbler
Day 87: Hasbro G.I. Joe Sgt. Slaughter Action Figure
Day 104: Hasbro G.I. Joe Pursuit of Cobra Kickstart Action Figure with Steel Marauder
Day 109: Hasbro G.I. Joe Pursuit of Cobra Snake Eyes #1101
Day 111: Hasbro G.I. Joe Pursuit of Cobra Duke #1102
Day 119: Hasbro G.I. Joe Rise of Cobra Sandstorm
Day 129: Hasbro G.I. Joe Pursuit of Cobra Storm Shadow
Day 146: Hasbro G.I. Joe Pursuit of Cobra Low-Light
Day 156: Hasbro G.I. Joe Pursuit of Cobra Cobra Shock Trooper
Day 160: Funko G.I. Joe "Pimp Daddy" Destro
Day 162: Hasbro G.I. Joe Club Exclusive Adventure Team Air Adventurer
Day 171: Hasbro G.I. Joe Comic-Con Exclusive Cobra Commander
Day 221: Hasbro G.I. Joe Pursuit of Cobra Cobra Trooper
Day 264: Hasbro G.I. Joe Pursuit of Cobra Steel Brigade
Day 284: Hasbro G.I. Joe 30th Anniversary Hazard-Viper
Day 314: Hasbro G.I. Joe Pursuit of Cobra Shadow Tracker
Day 372: Hasbro Jurassic Park G.I. Joe Heavy Gunner Action Figure
Day 419: Hasbro G.I. Joe Pursuit of Cobra City Strike Destro
Day 473: Hasbro G.I. Joe Retaliation Cobra Commander
Day 863: Hasbro G.I. Joe Retaliation Blind Master
Day 1,427: Burger King G.I. Joe AWE Striker with Snake Eyes Vehicle
Day 1,787: Hasbro Revolution First Strike Comic Preview Mega-Set
Day 1,867: Hasbro G.I. Koe Kre-O Collection 2 Dreadnok Ripper
Day 2,241: Hasbro G.I. Joe Classified Series Profit Director Destro Action Figure
Day 2,458: Super7 G.I. Joe Red Ninja ReAction Figure
Day 2,618: Hasbro G.I. Joe Retro Collection Duke Vs. Cobra Commander Action Figures

Want to buy this figure or others like it? Check G.I. Joe availability at our sponsors:
Entertainment Earth