Pit Commando
Generic hero with guns

G.I. Joe Rise of Cobra Basic Figure
Item No.: Asst. 89096 No. 92883
Manufacturer: Hasbro
Includes: Hats, helmets, guns, vests, and a whole mess of stuff
Action Feature: n/a
Retail: $6.99
Availability: Late 2009
Other: Astonishingly diverse army builder

PREVIOUS
RSS
NEXT

It's rare that a company really gives you too much gear with a figure. Hasbro's Pit Commando was an attempt to do a generic "green shirt"-type character, but in such a way that you will likely be genuinely impressed. The figure includes two types of vest-style accessories, a hat, a helmet, a gas mask, several guns, a stand, and the ability to create hundreds of costume combinations right out of the box. I'd say "they don't make them like this anymore," but the truth is they really never make them like this.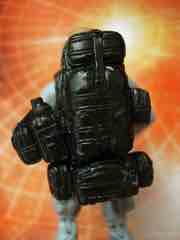 When you get right down to it, the G.I. Joe action figure hasn't changed much since 2007. Roughly 16 points of articulation and a display stand is par for the course, plus the figures were designed with parts-swapping in mind. Presumably this is primarily for manufacturing figures more cheaply, but customizers have had a lot of fun too. Since this figure was hard-to-find, some gear like his gas mask may have seemed new to some fans when spotted on the 2010 Alley Viper. The really clever reuse here was that the Pit Commando is little more than an intense repaint of the 2008 DVD pack Dusty figure, just with new gear. It never ceases to amaze me what a little paint and a few new weapons can do for a figure, but if you collect Clone Troopers or the various Transformers Seekers (repaints of Starscream), well, it's obviously a great niche.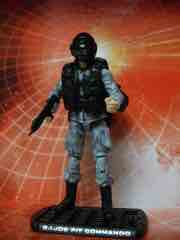 Since the figure has no problems interacting with his gear, there isn't too much to say-- there's a real uniform look here, plus he's able to do pretty much anything a modern G.I. Joe figure should be expected to do. You won't get any negative surprises out of this one, and the main thing you need to be concerned with is finding one at a good price. I scored mine in a multi-language box at a Tuesday Morning store for about $4, so keep your eyes peeled on the closeout shelves for a bargain. He's come down in price since 2009, but it'll still set you back $10 or more on the secondary market.
--Adam Pawlus
Additional Images

Click here to see more Hasbro figures in Figure of the Day.
See more G.I. Joe figures in Figure of the Day:
Day 5: Hasbro G.I. Joe Pursuit of Cobra Spirit Iron-Knife
Day 10: Hasbro G.I. Joe Collector Club Robot Rebellion Cobra Commander
Day 21: Hasbro G.I. Joe Pursuit of Cobra Quick Kick
Day 49: Hasbro G.I. Joe Pursuit of Cobra Cobra Commander
Day 59: Hasbro G.I. Joe Rise of Cobra Pit Commando
Day 64: Hasbro G.I. Joe Pursuit of Cobra Arctic Threat Destro
Day 74: Hasbro G.I. Joe Pursuit of Cobra City Strike Firefly
Day 80: Metallic Cobra Commander Wackly Wobbler
Day 87: Hasbro G.I. Joe Sgt. Slaughter Action Figure
Day 104: Hasbro G.I. Joe Pursuit of Cobra Kickstart Action Figure with Steel Marauder
Day 109: Hasbro G.I. Joe Pursuit of Cobra Snake Eyes #1101
Day 111: Hasbro G.I. Joe Pursuit of Cobra Duke #1102
Day 119: Hasbro G.I. Joe Rise of Cobra Sandstorm
Day 129: Hasbro G.I. Joe Pursuit of Cobra Storm Shadow
Day 146: Hasbro G.I. Joe Pursuit of Cobra Low-Light
Day 156: Hasbro G.I. Joe Pursuit of Cobra Cobra Shock Trooper
Day 160: Funko G.I. Joe "Pimp Daddy" Destro
Day 162: Hasbro G.I. Joe Club Exclusive Adventure Team Air Adventurer
Day 171: Hasbro G.I. Joe Comic-Con Exclusive Cobra Commander
Day 221: Hasbro G.I. Joe Pursuit of Cobra Cobra Trooper
Day 264: Hasbro G.I. Joe Pursuit of Cobra Steel Brigade
Day 284: Hasbro G.I. Joe 30th Anniversary Hazard-Viper
Day 314: Hasbro G.I. Joe Pursuit of Cobra Shadow Tracker
Day 372: Hasbro Jurassic Park G.I. Joe Heavy Gunner Action Figure
Day 419: Hasbro G.I. Joe Pursuit of Cobra City Strike Destro
Day 473: Hasbro G.I. Joe Retaliation Cobra Commander
Day 863: Hasbro G.I. Joe Retaliation Blind Master
Day 1,427: Burger King G.I. Joe AWE Striker with Snake Eyes Vehicle
Day 1,787: Hasbro Revolution First Strike Comic Preview Mega-Set
Day 1,867: Hasbro G.I. Koe Kre-O Collection 2 Dreadnok Ripper
Day 2,241: Hasbro G.I. Joe Classified Series Profit Director Destro Action Figure
Day 2,458: Super7 G.I. Joe Red Ninja ReAction Figure
Day 2,618: Hasbro G.I. Joe Retro Collection Duke Vs. Cobra Commander Action Figures

Want to buy this figure or others like it? Check G.I. Joe availability at our sponsors:
Entertainment Earth