Snake Eyes
Ninja Commando

G.I. Joe Pursuit of Cobra Basic Figures
Item No.: Asst. 24732 No. 25741
Manufacturer: Hasbro
Includes: 3 swords, 2 knives, 2 silencers, several guns, alternate head, harness, stand, kitchen sink
Action Feature: n/a
Retail: $6.99-$8.49
Availability: December 2010
Other: Originally was going to have heads packed as variants

PREVIOUS
RSS
NEXT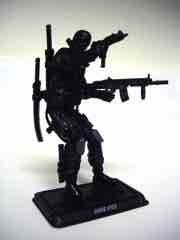 Behold! The greatest figure of late 2010 and most likely all of 2011 is this Snake Eyes. I know it's early in the year, but trust me-- Hasbro pulled out all the stops here. For the asking price, Hasbro really outdoes themselves by giving fans so much crap, you're going to lose some of it. The twin silencers may be the tiniest accessories packaged with a figure of this scale in some time, and there's only one holster on Snake Eyes to store one. The other, well, I hope you've invested in ziplock bags or tackle boxes to store all the extra gear.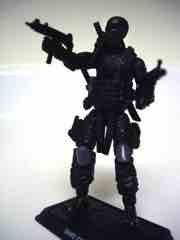 Standing just over 4-inches tall, Snake Eyes is just the right size to fit in with your other modern Joes (that is to say, from 2007 and beyond.) He has 6 points of articulation, with some nice bonuses. His knee pads-- that's right, the pads-- are articulated and removable. Both his wrists can swivel and pivot, giving him better gripping power over his many weapons. The detail is way above par, with all sorts of creases, folds, and textures plus varying levels of black and grey to really make the parts look different. The original Snake Eyes in 1982 was just black, but this one? This one has glossy black gloves and boots, grey knee pads, shiny goggles, plus some painted symbols on his shoulders.
Between the figure itself and the sculpted harness, there are a few places to store some of the spare weapons. The suspenders have a place to put a knife sheath on it, and the blade does indeed come out. There's a second place to store a knife on his boot, plus there's a holster for a pistol and a silencer on his hip. There are also two places to plug in swords on his back, so at any given time, this guy can carry way too much crap. The most innovative bit of gear is the elastic on the lower torso, rather than using hard plastic Hasbro wisely used a material that can bend easily and will allow the figure to do things like sit. They should ape this construction for all their brands, specifically Star Wars' pilot figures.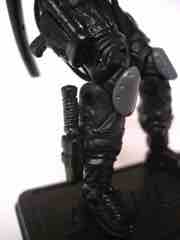 He has no real problems holding any of his gear, and it's rare to see so many bits and pieces as being removable extras. Even the head can be changed out-- if you don't like the default 1982-style head with the goggles, a visor based on the 1985 version has been included on an alternate head. And a fun bit of trivia-- originally Hasbro told fans each head would be packaged separately, so you'd have to look for a variant in stores if you wanted both versions of the noggin. Thankfully, they opted not to do this, although I admit it's a clever way to move more units. To date, Snake Eyes has been incredibly popular and in my findings often sold faster than the presumed most-popular figure, the Cobra Shock Trooper.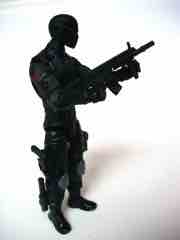 Since I don't have every Joe figure ever, I can't vouch for all these being new accessories. One of the pistols and the Uzi-looking thing have tiny little tabs on them where you can attach the silencers, but be careful with these-- Hasbro used similarly sized tabs on lightsabers with removable blades in Star Wars and those remain notorious for breakage. Two of the swords come with sheaths, and those plug into the back of his harness. With 4 guns, 3 swords, 2 knives, 2 silencers, a sack full of explosives, and an alternate head, this is a truly amazing release. This one figure has more gear than some entire waves used to have, it's really remarkable.

If you buy only one more G.I. Joe figure in the foreseeable future, make it this one. Hasbro finds a way to one-up themselves every few years but for the time being I can't imagine toy technology improving beyond this for a couple of years, if not more. This is the quality of figure you wish you had when you started buying the 25th Anniversary line in 2007, so don't miss out on it. Hasbro made you the best freaking ninja commando of all time (so far), so be a good sport and buy it.
--Adam Pawlus
Additional Images

Click here to see more Hasbro figures in Figure of the Day.
See more G.I. Joe figures in Figure of the Day:
Day 5: Hasbro G.I. Joe Pursuit of Cobra Spirit Iron-Knife
Day 10: Hasbro G.I. Joe Collector Club Robot Rebellion Cobra Commander
Day 21: Hasbro G.I. Joe Pursuit of Cobra Quick Kick
Day 49: Hasbro G.I. Joe Pursuit of Cobra Cobra Commander
Day 59: Hasbro G.I. Joe Rise of Cobra Pit Commando
Day 64: Hasbro G.I. Joe Pursuit of Cobra Arctic Threat Destro
Day 74: Hasbro G.I. Joe Pursuit of Cobra City Strike Firefly
Day 80: Metallic Cobra Commander Wackly Wobbler
Day 87: Hasbro G.I. Joe Sgt. Slaughter Action Figure
Day 104: Hasbro G.I. Joe Pursuit of Cobra Kickstart Action Figure with Steel Marauder
Day 109: Hasbro G.I. Joe Pursuit of Cobra Snake Eyes #1101
Day 111: Hasbro G.I. Joe Pursuit of Cobra Duke #1102
Day 119: Hasbro G.I. Joe Rise of Cobra Sandstorm
Day 129: Hasbro G.I. Joe Pursuit of Cobra Storm Shadow
Day 146: Hasbro G.I. Joe Pursuit of Cobra Low-Light
Day 156: Hasbro G.I. Joe Pursuit of Cobra Cobra Shock Trooper
Day 160: Funko G.I. Joe "Pimp Daddy" Destro
Day 162: Hasbro G.I. Joe Club Exclusive Adventure Team Air Adventurer
Day 171: Hasbro G.I. Joe Comic-Con Exclusive Cobra Commander
Day 221: Hasbro G.I. Joe Pursuit of Cobra Cobra Trooper
Day 264: Hasbro G.I. Joe Pursuit of Cobra Steel Brigade
Day 284: Hasbro G.I. Joe 30th Anniversary Hazard-Viper
Day 314: Hasbro G.I. Joe Pursuit of Cobra Shadow Tracker
Day 372: Hasbro Jurassic Park G.I. Joe Heavy Gunner Action Figure
Day 419: Hasbro G.I. Joe Pursuit of Cobra City Strike Destro
Day 473: Hasbro G.I. Joe Retaliation Cobra Commander
Day 863: Hasbro G.I. Joe Retaliation Blind Master
Day 1,427: Burger King G.I. Joe AWE Striker with Snake Eyes Vehicle
Day 1,787: Hasbro Revolution First Strike Comic Preview Mega-Set
Day 1,867: Hasbro G.I. Koe Kre-O Collection 2 Dreadnok Ripper
Day 2,241: Hasbro G.I. Joe Classified Series Profit Director Destro Action Figure
Day 2,458: Super7 G.I. Joe Red Ninja ReAction Figure
Day 2,618: Hasbro G.I. Joe Retro Collection Duke Vs. Cobra Commander Action Figures

Want to buy this figure or others like it? Check G.I. Joe availability at our sponsors:
Entertainment Earth