Blind Master
The RZA

G.I. Joe Retaliation Basic Figures
Item No.: Asst. 52220 No. A0490
Manufacturer: Hasbro
Includes: Sword in bamboo, bladed ring weapon, mask, hat, sword, flute
Action Feature: n/a
Retail: $9.99
Availability: August? 2013
Other: Hard to find

PREVIOUS
RSS
NEXT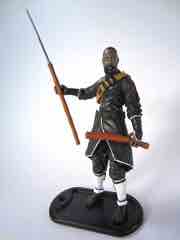 I was pretty delighted when I first saw Blind Master up close, in Hasbro's Toy Fair showroom in February of 2012. I never saw one in person for purchase until January 2014, and I assume that was a fluke. As toy lines go, G.I. Joe is clearly Hasbro's least-loved child as it appears there is little to nothing new on deck for this year. As far as I can tell new figures tend to sell consistently well, but the movie's delay and another example of "wave 1 syndrome" kept new product off the shelves for quite some time. The movie tanking didn't help, but it seems that these things always sell.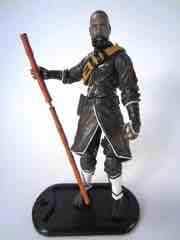 Standing at about 4-inches tall, Blind Master is a mishmash of a new head on an existing body with a swapped skirt. The impressario of the Wu-Tang Clan seems like a curious choice for a ninja master, but seeing as he's one of the leading voices in kung fu cinema in the USA, it makes sense. The figure may have more appeal to fans of The Man with the Iron Fists, a spectacular little movie which features a number of spectacular fights and costumes which prove that Hasbro was wise to consult Mr. Robert Fitzgerald Diggs when it came to which accessories would come with his action figure.
Renegades Storm Shadow's body was given a fresh coat of paint and Rise of Cobra Storm Shadow's skirt, and it basically works well. It's not a perfect match to the movie, but if you just want a nifty action figure - and I do - you're in for a treat. The head sculpt is quite good, with "blind" eyes, a scar on his face, plus a fairly bushy bead. The eyebrows are a little off, but really all I wanted was a decent RZA figure and I got one. The parts of the body more or less fit together well, and the bend-and-swivel wrists are a must for any figure with ninja swords and whatnot.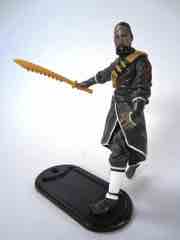 While the figure does have a tab on a sash plus a sheath with no dagger, the accessories are still excellent. You get a blank display stand, a hat that looks like a variation on Master of the Flying Guillotine, a sword, a decapitation blade, a sword in a walking stick, a flute, a mask, and a sword. I'm no martial arts cinema expert but I can say that I'm impressed. The hat with swing-out blades can be worn on his head or held like a weapon - and it may be the most unique weapon in the entire line. That's saying something. The decapitation blade can be held in one hand, with the rope connecting the weapon to the victim and only a minor "yank" causes instant decapitation. I think. It doesn't quite work on the toys. The mask ain't bad, the flute is swell, and the gold sword looks pretty good. I like the fact that the giant sword can be hidden inside a piece of bamboo. As a set of accessories, this figure is just about as interesting as the figure itself.
Figures like Blind Master are tough to get, but have a strong crossover appeal to numerous kinds of fans - it's not like there are a lot of Wu-Tang-adjacent collectibles, or kung fu tribites, or G.I. Joe figures of musicians, and so on and so forth. The fact that this and other figures from later waves of Retaliation show that Hasbro continues to lose sight of not only the collector market, but the fact that fresh figures on the shelves almost always are an easy sell. You likely won't see this one in the wild much - I sure didn't - but if you do I suggest snagging it. Hopefully Hasbro will put a little more emphasis on getting more new product out faster with less of wave 1 glutting the shelves in subsequent assortments, because there are still countless interested fans out there - like myself - who get put off when confronted with months (or more) of few to no new releases. This is the first new figure I've picked up since the blue movie Cobra Commander, and I couldn't even tell you when the last new figure was - perhaps 2011 or early 2012? I love Joes but unlike the hardcore fans, I'm less likely to order online or a case - I'll snag 'em when I see 'em though.
--Adam Pawlus
Additional Images


Click here to see more Hasbro figures in Figure of the Day.
See more G.I. Joe figures in Figure of the Day:
Day 5: Hasbro G.I. Joe Pursuit of Cobra Spirit Iron-Knife
Day 10: Hasbro G.I. Joe Collector Club Robot Rebellion Cobra Commander
Day 21: Hasbro G.I. Joe Pursuit of Cobra Quick Kick
Day 49: Hasbro G.I. Joe Pursuit of Cobra Cobra Commander
Day 59: Hasbro G.I. Joe Rise of Cobra Pit Commando
Day 64: Hasbro G.I. Joe Pursuit of Cobra Arctic Threat Destro
Day 74: Hasbro G.I. Joe Pursuit of Cobra City Strike Firefly
Day 80: Metallic Cobra Commander Wackly Wobbler
Day 87: Hasbro G.I. Joe Sgt. Slaughter Action Figure
Day 104: Hasbro G.I. Joe Pursuit of Cobra Kickstart Action Figure with Steel Marauder
Day 109: Hasbro G.I. Joe Pursuit of Cobra Snake Eyes #1101
Day 111: Hasbro G.I. Joe Pursuit of Cobra Duke #1102
Day 119: Hasbro G.I. Joe Rise of Cobra Sandstorm
Day 129: Hasbro G.I. Joe Pursuit of Cobra Storm Shadow
Day 146: Hasbro G.I. Joe Pursuit of Cobra Low-Light
Day 156: Hasbro G.I. Joe Pursuit of Cobra Cobra Shock Trooper
Day 160: Funko G.I. Joe "Pimp Daddy" Destro
Day 162: Hasbro G.I. Joe Club Exclusive Adventure Team Air Adventurer
Day 171: Hasbro G.I. Joe Comic-Con Exclusive Cobra Commander
Day 221: Hasbro G.I. Joe Pursuit of Cobra Cobra Trooper
Day 264: Hasbro G.I. Joe Pursuit of Cobra Steel Brigade
Day 284: Hasbro G.I. Joe 30th Anniversary Hazard-Viper
Day 314: Hasbro G.I. Joe Pursuit of Cobra Shadow Tracker
Day 372: Hasbro Jurassic Park G.I. Joe Heavy Gunner Action Figure
Day 419: Hasbro G.I. Joe Pursuit of Cobra City Strike Destro
Day 473: Hasbro G.I. Joe Retaliation Cobra Commander
Day 863: Hasbro G.I. Joe Retaliation Blind Master
Day 1,427: Burger King G.I. Joe AWE Striker with Snake Eyes Vehicle
Day 1,787: Hasbro Revolution First Strike Comic Preview Mega-Set
Day 1,867: Hasbro G.I. Koe Kre-O Collection 2 Dreadnok Ripper
Day 2,241: Hasbro G.I. Joe Classified Series Profit Director Destro Action Figure
Day 2,458: Super7 G.I. Joe Red Ninja ReAction Figure
Day 2,618: Hasbro G.I. Joe Retro Collection Duke Vs. Cobra Commander Action Figures

Want to buy this figure or others like it? Check G.I. Joe availability at our sponsors:
Entertainment Earth