Sgt. Slaughter
The More Common One

G.I. Joe Comic-Con Exclusive
Item No.: Asst. 19991 No. 20995
Manufacturer: Hasbro
Includes: Stand, baton, whistle, microphone, large belt
Action Feature: n/a
Retail: $14.00
Availability: July 2010
Other: Apparently now not coming in the main line

PREVIOUS
RSS
NEXT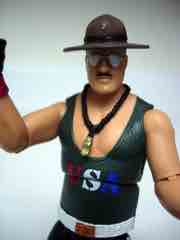 In the 1980s, Hasbro frequently included "guest stars" in its hugely popular G.I. Joe line, including William "The Fridge" Perry and wrestler Sgt. Slaughter. These little cameos were often special, starting off as a mail-in or some other promotion to ratchet up interest in what was one of the hottest lines of the 1980s-- the 2010 version of Sgt. Slaughter was basically the same thing except Hasbro decided to make it really hard to get.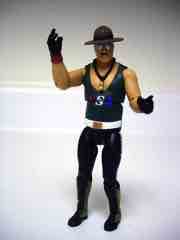 Standing about four inches tall, the figure comes with a non-removable hat and a fair amount of gear. The figure also premiered new articulation for the line, including extra movement on the wrists that allowed them to bend as well as to swivel. Hasbro's Clone Trooper figures from Star Wars frequently included this sort of movement since 2008, so it's nice to see it on another line where aiming guns is of some importance.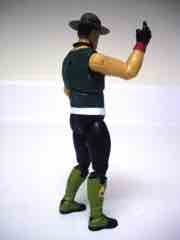 As a drill sergeant, this figure is basically geared up to demand your other figures drop and give him twenty. His legs are nicely articulated and he could probably kick someone in the mud if he really wanted to, plus the figure is just a smidgen more portly than the other Joes-- a nice touch, given the real guy (and many wrestlers in the 1980s) weren't known for sculpted muscles so much as they were whatever character they came up with. There are a lot of great details painted on, including a Joe logo on his legs, some military chevrons, and of course his "reflective" sunglasses. Here, they're just silver, but you gotta take what you can get.
If you missed this figure, what can you do? Well, we don't know yet-- in 2010 Hasbro said they would find a way to rerelease it in 2011, and late in 2010 said it would not be part of the line. Many are interpreting this as "part of the main line," and given Hasbro's frequent double-talk or misdirection in their G.I. Joe brand Q&As, I wouldn't give up hope that Hasbro could announce something any day now. As a Comic-Con exclusive (with a variant repaint in Triple T driver colors), the $14 asking price was a little high-- but then again, it's a special figure and it came on a nice package. Even if you get stuck overpaying for it, there's no question that it's certainly worth a little more than a standard action figure just because of the piece's ancestry. Grab it if the price is right for you, I was complaining about it but ended up being quite happy with it as a toy figure.
--Adam Pawlus
Additional Images

Click here to see more Hasbro figures in Figure of the Day.
See more G.I. Joe figures in Figure of the Day:
Day 5: Hasbro G.I. Joe Pursuit of Cobra Spirit Iron-Knife
Day 10: Hasbro G.I. Joe Collector Club Robot Rebellion Cobra Commander
Day 21: Hasbro G.I. Joe Pursuit of Cobra Quick Kick
Day 49: Hasbro G.I. Joe Pursuit of Cobra Cobra Commander
Day 59: Hasbro G.I. Joe Rise of Cobra Pit Commando
Day 64: Hasbro G.I. Joe Pursuit of Cobra Arctic Threat Destro
Day 74: Hasbro G.I. Joe Pursuit of Cobra City Strike Firefly
Day 80: Metallic Cobra Commander Wackly Wobbler
Day 87: Hasbro G.I. Joe Sgt. Slaughter Action Figure
Day 104: Hasbro G.I. Joe Pursuit of Cobra Kickstart Action Figure with Steel Marauder
Day 109: Hasbro G.I. Joe Pursuit of Cobra Snake Eyes #1101
Day 111: Hasbro G.I. Joe Pursuit of Cobra Duke #1102
Day 119: Hasbro G.I. Joe Rise of Cobra Sandstorm
Day 129: Hasbro G.I. Joe Pursuit of Cobra Storm Shadow
Day 146: Hasbro G.I. Joe Pursuit of Cobra Low-Light
Day 156: Hasbro G.I. Joe Pursuit of Cobra Cobra Shock Trooper
Day 160: Funko G.I. Joe "Pimp Daddy" Destro
Day 162: Hasbro G.I. Joe Club Exclusive Adventure Team Air Adventurer
Day 171: Hasbro G.I. Joe Comic-Con Exclusive Cobra Commander
Day 221: Hasbro G.I. Joe Pursuit of Cobra Cobra Trooper
Day 264: Hasbro G.I. Joe Pursuit of Cobra Steel Brigade
Day 284: Hasbro G.I. Joe 30th Anniversary Hazard-Viper
Day 314: Hasbro G.I. Joe Pursuit of Cobra Shadow Tracker
Day 372: Hasbro Jurassic Park G.I. Joe Heavy Gunner Action Figure
Day 419: Hasbro G.I. Joe Pursuit of Cobra City Strike Destro
Day 473: Hasbro G.I. Joe Retaliation Cobra Commander
Day 863: Hasbro G.I. Joe Retaliation Blind Master
Day 1,427: Burger King G.I. Joe AWE Striker with Snake Eyes Vehicle
Day 1,787: Hasbro Revolution First Strike Comic Preview Mega-Set
Day 1,867: Hasbro G.I. Koe Kre-O Collection 2 Dreadnok Ripper
Day 2,241: Hasbro G.I. Joe Classified Series Profit Director Destro Action Figure
Day 2,458: Super7 G.I. Joe Red Ninja ReAction Figure
Day 2,618: Hasbro G.I. Joe Retro Collection Duke Vs. Cobra Commander Action Figures

Want to buy this figure or others like it? Check G.I. Joe availability at our sponsors:
Entertainment Earth