Dreadnok Ripper
Loves Grape Soda, Chaos

G.I. Koe Kre-O Collection 2 Blind Bag Mini-Figure
Item No.: No. A4534
Manufacturer: Hasbro
Includes: Grape Soda, Stand, Backpack, Claw
Action Feature: Some assembly required
Retail: $2.99
Availability: August 2013
Other: Nifty

PREVIOUS
RSS
NEXT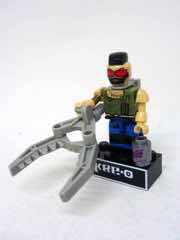 I'm going through my bins of unopened toys - and there are a lot of them - and I found Dreadnok Ripper. The concept Hasbro had here was just the best - you've got a brick figure body that, with paint and a few new parts, can be almost anybody. There were a lot of figures from Transformers, G.I. Joe, and Dungeons & Dragons alongside the less exciting Cityville. We even got Trolls last year, and a mixed, limited assortment of the boys' brands are still showing up at Dollar General, Walgreens, and other dollar/food/drug/value stores. The only items to ship to big box or mainstream toy outlets for the last year or so were Trolls - it's a minor miracle we got G.I. Joe given the franchise's sadly diminishing appeal in the wake of few new fans.
At roughly the same height as LEGO Minifigures and M.U.S.C.L.E. men, Ripper feels larger thanks to its large accessories. The wider range of arm articulation helps, too - it just feels like a bigger figure despite being the same size with only slightly more range.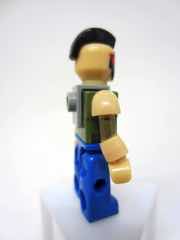 The figure has a lot of printed detail with the visible chest, necklace, knife, and barely-bared midriff. Kneepads and pockets were added to his pants, as were his beard and sunglasses to the head - but the hair is a separate piece. While he can't hold the soda, it can mount to the stand. The claws open and close, making for a great extra-large accessory for the figure. There's a backpack too - it's just a couple of pieces, but it works nicely to create the illusion of a fully-realized and armed character. LEGO's blind bag figures had a stand and one or two bonus pieces - but this also has the added misfortune of simply not being LEGO.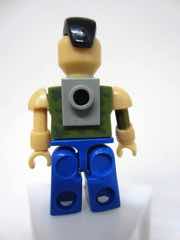 Despite supposedly being dead, I see the ghost of Kre-O haunting off-the-beaten-path toy outlets with new releases to this very day. I'm surprised too - it's not getting a lot of push, but you can find it a lot of places where LEGO doesn't exist. The quality of the figure is actually pretty good, with an articulated waist and lateral hip and shoulder movement. The wrists rotate, and the arms are a little weird - but the design allows for more clamp-on parts for when they're needed. It's a shame Hasbro won't give these things a little more muscle at retail, because this seems like the perfect kind of toy figure for licenses where LEGO doesn't want to exist.
--Adam Pawlus
Additional Images

Click here to see more Hasbro figures in Figure of the Day.
See more G.I. Joe figures in Figure of the Day:
Day 5: Hasbro G.I. Joe Pursuit of Cobra Spirit Iron-Knife
Day 10: Hasbro G.I. Joe Collector Club Robot Rebellion Cobra Commander
Day 21: Hasbro G.I. Joe Pursuit of Cobra Quick Kick
Day 49: Hasbro G.I. Joe Pursuit of Cobra Cobra Commander
Day 59: Hasbro G.I. Joe Rise of Cobra Pit Commando
Day 64: Hasbro G.I. Joe Pursuit of Cobra Arctic Threat Destro
Day 74: Hasbro G.I. Joe Pursuit of Cobra City Strike Firefly
Day 80: Metallic Cobra Commander Wackly Wobbler
Day 87: Hasbro G.I. Joe Sgt. Slaughter Action Figure
Day 104: Hasbro G.I. Joe Pursuit of Cobra Kickstart Action Figure with Steel Marauder
Day 109: Hasbro G.I. Joe Pursuit of Cobra Snake Eyes #1101
Day 111: Hasbro G.I. Joe Pursuit of Cobra Duke #1102
Day 119: Hasbro G.I. Joe Rise of Cobra Sandstorm
Day 129: Hasbro G.I. Joe Pursuit of Cobra Storm Shadow
Day 146: Hasbro G.I. Joe Pursuit of Cobra Low-Light
Day 156: Hasbro G.I. Joe Pursuit of Cobra Cobra Shock Trooper
Day 160: Funko G.I. Joe "Pimp Daddy" Destro
Day 162: Hasbro G.I. Joe Club Exclusive Adventure Team Air Adventurer
Day 171: Hasbro G.I. Joe Comic-Con Exclusive Cobra Commander
Day 221: Hasbro G.I. Joe Pursuit of Cobra Cobra Trooper
Day 264: Hasbro G.I. Joe Pursuit of Cobra Steel Brigade
Day 284: Hasbro G.I. Joe 30th Anniversary Hazard-Viper
Day 314: Hasbro G.I. Joe Pursuit of Cobra Shadow Tracker
Day 372: Hasbro Jurassic Park G.I. Joe Heavy Gunner Action Figure
Day 419: Hasbro G.I. Joe Pursuit of Cobra City Strike Destro
Day 473: Hasbro G.I. Joe Retaliation Cobra Commander
Day 863: Hasbro G.I. Joe Retaliation Blind Master
Day 1,427: Burger King G.I. Joe AWE Striker with Snake Eyes Vehicle
Day 1,787: Hasbro Revolution First Strike Comic Preview Mega-Set
Day 1,867: Hasbro G.I. Koe Kre-O Collection 2 Dreadnok Ripper
Day 2,241: Hasbro G.I. Joe Classified Series Profit Director Destro Action Figure
Day 2,458: Super7 G.I. Joe Red Ninja ReAction Figure
Day 2,618: Hasbro G.I. Joe Retro Collection Duke Vs. Cobra Commander Action Figures