Storm Shadow
Whirlwind Kick

G.I. Joe Pursuit of Cobra Basic Figures
Item No.: Asst. 24732 No. 25744
Manufacturer: Hasbro
Includes: 3 swords, 2 swords, rope, pole, backpack, three clawed wrist weapons, stand
Action Feature: Whirlwind Kick
Retail: $6.99-$8.49
Availability: December 2010
Other: Looks like Ryu from Ninja Gaiden a bit

PREVIOUS
RSS
NEXT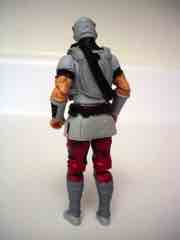 It's more or less a given that we're going to get more Storm Shadow figures as this is one of the top sellers for Hasbro, and sometimes we get amazing releases and other times we get some weird ones. This one... well, this one is a little of each of those. On one hand, the figure draws inspiration from the recent Ninja Gaiden games, while maintaining elements of the classic Cobra character. Specifically, an oddly-placed Cobra insignia on his lower torso and a giant Arashikage logo on his armor. It's less-than-subtle, and while a cool design it seems weird to have a secret society of ninjas' logo emblazoned on your chest before you go into battle. Or maybe the secret is out at this point, I don't know how this stuff works.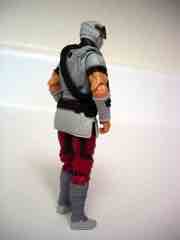 Standing just over 4-inches tall, like most of these guys, Storm Shadow is just the right size to fit in with your other modern Joes even if the design may not quite fit in with your ideal vision of the Cobra ninja. Like the whirlwind kick Snake Eyes, this figure has a waist that twists and ratchets into place, and when you click a button under his arm the lower torso will spin and the leg flies forward. In short, it really is a "whirlwind kick" as advertised. It won't help you better display the figure, but the gimmick seems to be well-designed enough to not get in the way of most poses that I've tried as of yet.
Most of the detail can be found on the figure's head, with a decent facial expression and the gold element on his forehead. The rest of the sculpt is fairly simple, without too many creases or folds. In some respects, it's an aesthetic step back from other Pursuit of Cobra releases, although the references in the sculpt to modern popular culture cements it as a piece of the line.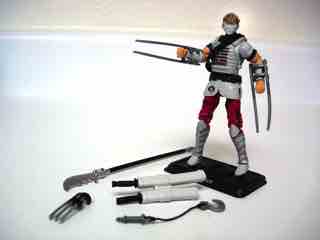 While not as loaded with gear as Snake Eyes, Hasbro made sure to give Storm Shadow more weapons than he can carry. With two swords, a pole, and three different clawed hand attachments, it's pure overkill-- and there's a grappling hook of sorts, too! Granted, it's too short a string to really act as a grappling hook, but he can swing it around and hit someone in the face with it. I admire that. Everything basically fits with the outfit, literally. There's a robe which fits over the figure's back, the swords fit right into the sheaths, and the clawed stuff fits right on his hands. I particularly like the smaller triple-clawed weapon, and not just because it reminds me of the Hasbro flip-out Wolverine claws from a few years ago. (OK, mostly that.)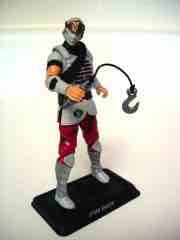 It's bizarre to think this figure came out in the same wave as the new Cobra Shock Trooper, which was a surprisingly subtle uniform for the generally over-the-top Cobra organization. Big goofy ninja warriors have been at home in this line for years, so it's nice to see a figure that pays tribute to the old Ninja Force figures and modern Ninja sensibilities as well, being both goofy and delightful all at once. If you're short on funds odds are you're going to skip this one, but give him a look if you see him in the stores-- I had enough fun playing around with this one to say it's worth picking up at regular price.
--Adam Pawlus
Additional Images

Click here to see more Hasbro figures in Figure of the Day.
See more G.I. Joe figures in Figure of the Day:
Day 5: Hasbro G.I. Joe Pursuit of Cobra Spirit Iron-Knife
Day 10: Hasbro G.I. Joe Collector Club Robot Rebellion Cobra Commander
Day 21: Hasbro G.I. Joe Pursuit of Cobra Quick Kick
Day 49: Hasbro G.I. Joe Pursuit of Cobra Cobra Commander
Day 59: Hasbro G.I. Joe Rise of Cobra Pit Commando
Day 64: Hasbro G.I. Joe Pursuit of Cobra Arctic Threat Destro
Day 74: Hasbro G.I. Joe Pursuit of Cobra City Strike Firefly
Day 80: Metallic Cobra Commander Wackly Wobbler
Day 87: Hasbro G.I. Joe Sgt. Slaughter Action Figure
Day 104: Hasbro G.I. Joe Pursuit of Cobra Kickstart Action Figure with Steel Marauder
Day 109: Hasbro G.I. Joe Pursuit of Cobra Snake Eyes #1101
Day 111: Hasbro G.I. Joe Pursuit of Cobra Duke #1102
Day 119: Hasbro G.I. Joe Rise of Cobra Sandstorm
Day 129: Hasbro G.I. Joe Pursuit of Cobra Storm Shadow
Day 146: Hasbro G.I. Joe Pursuit of Cobra Low-Light
Day 156: Hasbro G.I. Joe Pursuit of Cobra Cobra Shock Trooper
Day 160: Funko G.I. Joe "Pimp Daddy" Destro
Day 162: Hasbro G.I. Joe Club Exclusive Adventure Team Air Adventurer
Day 171: Hasbro G.I. Joe Comic-Con Exclusive Cobra Commander
Day 221: Hasbro G.I. Joe Pursuit of Cobra Cobra Trooper
Day 264: Hasbro G.I. Joe Pursuit of Cobra Steel Brigade
Day 284: Hasbro G.I. Joe 30th Anniversary Hazard-Viper
Day 314: Hasbro G.I. Joe Pursuit of Cobra Shadow Tracker
Day 372: Hasbro Jurassic Park G.I. Joe Heavy Gunner Action Figure
Day 419: Hasbro G.I. Joe Pursuit of Cobra City Strike Destro
Day 473: Hasbro G.I. Joe Retaliation Cobra Commander
Day 863: Hasbro G.I. Joe Retaliation Blind Master
Day 1,427: Burger King G.I. Joe AWE Striker with Snake Eyes Vehicle
Day 1,787: Hasbro Revolution First Strike Comic Preview Mega-Set
Day 1,867: Hasbro G.I. Koe Kre-O Collection 2 Dreadnok Ripper
Day 2,241: Hasbro G.I. Joe Classified Series Profit Director Destro Action Figure
Day 2,458: Super7 G.I. Joe Red Ninja ReAction Figure
Day 2,618: Hasbro G.I. Joe Retro Collection Duke Vs. Cobra Commander Action Figures

Want to buy this figure or others like it? Check G.I. Joe availability at our sponsors:
Entertainment Earth