Conrad "Duke" Hauser
Team Commander

G.I. Joe Pursuit of Cobra Basic Figures
Item No.: Asst. 24732 No. 25742
Manufacturer: Hasbro
Includes: Removable rockets, pulse rifle, rocket launcher, backpack, rocket launchers, display stand
Action Feature: n/a
Retail: $6.99-$8.49
Availability: December 2010
Other: Pretty danged neat

PREVIOUS
RSS
NEXT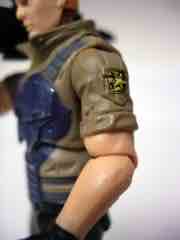 If there is a short list of things G.I. Joe collectors would likely not ask Hasbro to make, new versions of Conrad "Duke" Hauser" are probably on the short list. Since 1983 we've been treated to about 43 versions of the figure in the 3 3/4-inch scale with several more larger figures which often proved as a testing ground for pretty awful gimmicks here and there. Thankfully this late 2010 release (labeled 2011 on the card) cuts the gimmicks and, on the whole just gives you a fairly nice, definitely futuristic, action figure. Hasbro essentially made the old Duke with some new armor, and did a great job of it.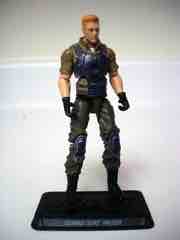 Standing just over 4-inches tall, Duke is so good you'll probably be mad you bought the 25th Anniversary versions. The head sculpt is better, the body is less restricted in his movements, the hands are sensibly jointed at the gloves, and for some reason he's got his collar popped. Preppie Duke, reporting for duty! But in all seriousness, it's a pretty good and mostly new figure. I say "mostly" because the legs are recycled from the 2010 Zartan figure. Since it isn't obvious, I'd say it was a smart move on Hasbro's part to ensure that this figure's costs were kept down without you likely noticing it until after you got it home.
Duke has three weapons which can plug into one another in various ways-- for example, the Pulse Rifle can plug into the Rocket Launcher, you can plug the Rocket Launcher into his backpack, the pulse rifle can be stored on Duke's back in the backpack hole, and so on. It's a nice way to exploit the many weapons all at once, without having to dump them into a parts box for you to lose the next time you move. I'm really pleased with how the deco on the backpack turned out, and the eight removable rockets on the weapon are a nice touch-- although I suspect with heavy play they'll get lost or eventually just be so loose they won't stay on. Thankfully, as I am not six, this isn't something I personally need to worry about. Duke has no problems holding any of his weapons, although I will say it would be nice if the over-the-shoulder rocket launchers that plug into the backpack had some form of grip for him to hold.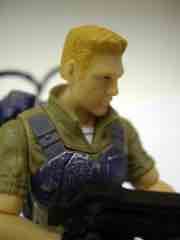 Due to the fact he came out in a wave with the best Snake Eyes figure ever, odds are history won't remember this one too fondly. I like him because the gadgets he comes with are unique and the sculpt is good, although I can't say it's so good that I couldn't foresee Hasbro finding a way to make an even better Duke in the coming two or three years. It's worth getting-- particularly if your stores haven't raised the prices above $6.99-- and it's worth noting this is probably the best of the post-2007 Duke figures. He's also the only 2011 figure that seems to be capable of hanging around for more than a couple of days, along with the new Storm Shadow.
--Adam Pawlus
Additional Images

Click here to see more Hasbro figures in Figure of the Day.
See more G.I. Joe figures in Figure of the Day:
Day 5: Hasbro G.I. Joe Pursuit of Cobra Spirit Iron-Knife
Day 10: Hasbro G.I. Joe Collector Club Robot Rebellion Cobra Commander
Day 21: Hasbro G.I. Joe Pursuit of Cobra Quick Kick
Day 49: Hasbro G.I. Joe Pursuit of Cobra Cobra Commander
Day 59: Hasbro G.I. Joe Rise of Cobra Pit Commando
Day 64: Hasbro G.I. Joe Pursuit of Cobra Arctic Threat Destro
Day 74: Hasbro G.I. Joe Pursuit of Cobra City Strike Firefly
Day 80: Metallic Cobra Commander Wackly Wobbler
Day 87: Hasbro G.I. Joe Sgt. Slaughter Action Figure
Day 104: Hasbro G.I. Joe Pursuit of Cobra Kickstart Action Figure with Steel Marauder
Day 109: Hasbro G.I. Joe Pursuit of Cobra Snake Eyes #1101
Day 111: Hasbro G.I. Joe Pursuit of Cobra Duke #1102
Day 119: Hasbro G.I. Joe Rise of Cobra Sandstorm
Day 129: Hasbro G.I. Joe Pursuit of Cobra Storm Shadow
Day 146: Hasbro G.I. Joe Pursuit of Cobra Low-Light
Day 156: Hasbro G.I. Joe Pursuit of Cobra Cobra Shock Trooper
Day 160: Funko G.I. Joe "Pimp Daddy" Destro
Day 162: Hasbro G.I. Joe Club Exclusive Adventure Team Air Adventurer
Day 171: Hasbro G.I. Joe Comic-Con Exclusive Cobra Commander
Day 221: Hasbro G.I. Joe Pursuit of Cobra Cobra Trooper
Day 264: Hasbro G.I. Joe Pursuit of Cobra Steel Brigade
Day 284: Hasbro G.I. Joe 30th Anniversary Hazard-Viper
Day 314: Hasbro G.I. Joe Pursuit of Cobra Shadow Tracker
Day 372: Hasbro Jurassic Park G.I. Joe Heavy Gunner Action Figure
Day 419: Hasbro G.I. Joe Pursuit of Cobra City Strike Destro
Day 473: Hasbro G.I. Joe Retaliation Cobra Commander
Day 863: Hasbro G.I. Joe Retaliation Blind Master
Day 1,427: Burger King G.I. Joe AWE Striker with Snake Eyes Vehicle
Day 1,787: Hasbro Revolution First Strike Comic Preview Mega-Set
Day 1,867: Hasbro G.I. Koe Kre-O Collection 2 Dreadnok Ripper
Day 2,241: Hasbro G.I. Joe Classified Series Profit Director Destro Action Figure
Day 2,458: Super7 G.I. Joe Red Ninja ReAction Figure
Day 2,618: Hasbro G.I. Joe Retro Collection Duke Vs. Cobra Commander Action Figures

Want to buy this figure or others like it? Check G.I. Joe availability at our sponsors:
Entertainment Earth