Slime Blower Ray Stantz
with Cinema Ghost

Ghostbusters Club Ecto-1 Action Figure
Item No.: No. T5819
Manufacturer: Mattel
Includes: Non-removable slime blower, Cinema ghost, stand
Action Feature: n/a
Retail: $20.00
Availability: October 2011
Other: This Is The End?

PREVIOUS
RSS
NEXT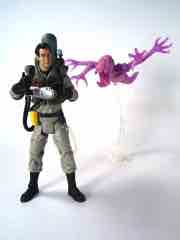 While there are figures I went out of my way to buy at full price, Slime Blower Ray Stantz was not one of them. I loved Ghostbusters as a kid - it was funny, it was scary, and three science guys made sure nobody had any monsters under their beds. What's not to love? I had a set of the four main Real Ghostbusters and a couple of odds and ends, but due to me being cheap I didn't run out to grab Mattel's line - and I somewhat regret this. Well, until I found out in mid-2013 that these guys were getting dumped at Big Lots! for $10.00. And then I did one better during a trip to Los Angeles, I found out Mattel's company store had Ray and a few others for $3.99 each. Good or bad, I'll buy pretty much anything in this scale for five bucks - and I got my money's worth. Honestly, I think most Matty figures are probably worth the $20ish. It's just the shipping - another $8 or more - that siphons off the value.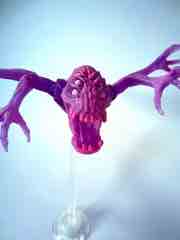 Ray looks pretty good - this is a Slime Blower Winston body with a Ray head, which is sort of a cop-out and, at the same time, the kind of thing you do to make your budgets work. For a higher-dollar prestige collector line, it's not something buyers appreciate in the slightest and this sort of "head swap" is what put me off Star Trek in the 1990s. Were it a better figure I'd like it more - Ray was packaged not holding the Slime Blower correctly, and after futzing with it I got it more or less holding the gizmo correctly. The second movie isn't a favorite of mine, but I can't deny that the Slime Blower turned out great with lots of painted detail. Lots of hoses, lots of stripes - I got my money's worth here. Ray's head is a decent Dan Aykroyd likeness - while it looks vaguely Nixonian, there's no mistaking it for someone else. It's Ray. As my only movie Ray so far he's pretty good, but the non-removable backpack is sort of a bummer.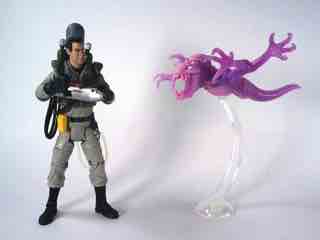 Joining Ray is a Cinema Ghost, a nicely freaky purple clear creation with some frosted deco on top. This is, without a doubt, the selling point here. His pink shiny teeth are hard to ignore, as are the six blank white eyes. The ghost has a jointed tail and a couple of joints on each arm, plus it plugs in nicely to the display stand.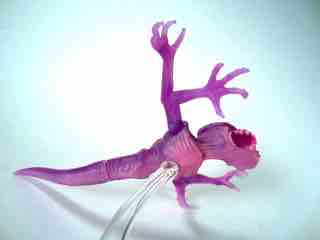 I would love to see Mattel put out packs of just ghosts - no likeness rights, they're small, and they're really cool. I may go try to grab other figures just to get some more of these ghosts because they're so gosh darned neat. (So far I've got this one, Slimer, and a Librarian Ghost.)
--Adam Pawlus
Additional Images

Click here to see more Mattel figures in Figure of the Day.

See more Ghostbusters items in Figure of the Day:
Day 498: Mattel Ghostbusters Zuul Action Figure
Day 801: Mattel Ghostbusters Slime Blower Ray Stantz Action Figure
Day 1,164: Funko Hikari Vinyl Ghostbusters Pink Stay Puft Marshmallow Man
Day 1,538: Mattel Ghostbusters Ecto Mini Rowan
Day 1,543: Mattel Ghostbusters Ecto Mini Cockroach Ghost
Day 1,576: Mattel Ghostbusters Ecto Mini Ray Stantz
Day 1,731: Playmobil Ghostbusters 9222 Slimer
Day 1,791: Playmobil Ghostbusters 9221 Stay Puft Marshmallow Man
Day 1,813: Playmobil Ghostbusters 9223 Venkman and Terror Dogs
Day 1,861 Playmobil Ghostbusters 9224 Spengler and Ghost
Day 2,076: Playmobil The Real Ghostbusters 9387 Zeddemore with Aqua Scooter
Day 2,082: Playmobil The Real Ghostbusters 9386 Spengler with Cage Car
Day 2,101: Fisher-Price Imaginext Series 7 Collectible Figures Buster of Ghosts
Day 2,144: The Coop Handmade by Robots Ghostbusters Slimer
Day 2,168: The Coop Handmade by Robots Ghostbusters Stay Puft Marshmallow Man
Day 2,197: Hasbro Transformers x Ghostbusters Collaborative Ectotron Action Figure
Day 2,310: Mattel Ghostbusters Walter Peck Action Figure
Day 2,328: Playmobil The Real Ghostbusters 9388 Stantz with Sky Bike
Day 2,375: Playmobil The Real Ghostbusters 9385 Venkman with Helicopter


Want to buy this figure or others like it? Check Ghostbusters availability at our sponsors:
Entertainment Earth