Venkman and Terror Dogs
with Dana/Zuul

Playmobil Ghostbusters
Item No.: No. 9223
Manufacturer: Playmobil
Includes: Pater Venkman, Zuul, 2 terror dogs, ghost trap, proton pack, neutrino wand, energy stream
Action Feature: n/a
Retail: $12.99
Availability: May 2017
Other: Not Soft

PREVIOUS
RSS
NEXT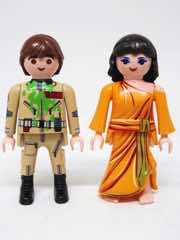 Officially the set is named Venkman and Terror Dogs, weirdly leaving out Dana/Zuul on the naming. Even the German name is just "Venkman und Terror Dogs." The creatures are completely new, while the figures make use of many existing parts with new deco. It's a decent deal for the box contents.
Venkman - the only Venkman, oddly, in a line with two Ray Stantz and two Egon Spenglers and two Janine Melnitzes - comes slimed. Dana comes in her "Zuul" possessed form, sadly no normal Dana was made available. Although I guess I could probably eventually cobble one together out of blind bag parts, it would seem there could still be room for a couple of more Ghostbusters sets with regular versions of Peter and Dana. And maybe another ghost or two. Perhaps a glowing or clear Slimer.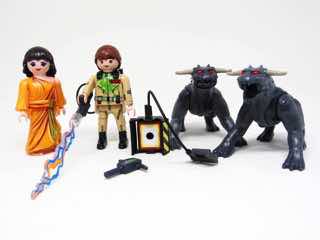 At this time, with only one Peter Venkman figure, this set is another must-buy. I assume for some the rest of this set is also compelling, but the post-slimer Sedgewick Hotel edition of Peter is a pretty iconic choice. This almost makes me wish the fancy hotel was part of this line as it could be reused with other themes, but I digress. The figure shares the same basic body template as the other figures, with different belt gear and a distinctive name tag. The hair is an existing hair piece, which is interesting - for Funko's upsized Playmobil line, they had a new hair design. And a different body design. And different legs and arm pieces. It's completely different, not merely larger.
Peter is the standard just-under-3-inches tall with 6 points of articulation and a clip-on proton pack which fits together pretty much perfectly. A ghost trap is also included and assembles quickly and easily. A PKE Meter was also included - I'm assuming it may have been gang-molded with the trap - meaning this set gets you all of the key gear from the first movie.
Dana comes in a dress with bare feet and no accessories. Her lips are red, her eyes are dark and ghoulish, and her hair is more restrained than the elevated 1980s halo we saw in the movie. The wrapping of her dress is nicely decorated and is obviously easily reused to make other figures. She also has six points of articulation and is the source of one of the line's few weak spots. Her exposed shoulder is painted flesh color, and mine was a little rough. Normally this isn't a problem on Playmobil toys.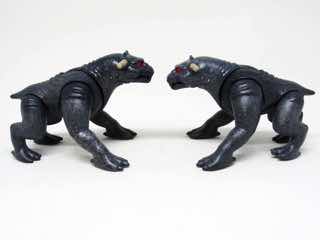 Joining our movie's romantic leads are a pair of large demon dogs. Both look more or less perfect, with 5 joints each plus horns you plug in place on their heads. Each has molded-in red eyes and an articulated, opening jaw so they can appear in your refrigerator and growl "Zuuuuuul" until your Peter figure shows up to look at the awkwardly product-placed can of Coca-Cola. The texture is good, the size is smaller than I'd have imagined, but you get two of them and they're of a typically sturdy Playmobil feel. The horns stay in tightly, yet can be removed if you get a grip on them. Each can stand easily on four legs with long front arms and a decent texture for each creature.
I'm pretty amazed that Playmobil brought most of the key creatures from this movie series to life in the first (and perhaps only) wave. The stop-motion dog puppets are a thing people never forget, and in the era of high-def home video become unforgettable for other reasons entirely. For $13, the boxed set of key characters and otherworldly canines works out to about $3.25 a whack - a bargain. While it would have been awesome to get them in the context of a playset or a more complete scene play pattern, this is still pretty good. Sure, slimed Peter and Zuul never shared a scene but at least all of these items exist.
--Adam Pawlus
Additional Images

See more Playmobil toys in Figure of the Day:
Day 94: Playmobil African Safari 4831 Ostriches Set
Day 125: Playmobil Specials 4683 Mongollian Warrior Action Figure
Day 132: Playmobil Specials Cave Man Action Figure
Day 140: Playmobil Specials Palace Guard Action Figure
Day 163: Playmobil Figures Ghost Action Figure
Day 186: Playmobil Top Agents Secret Agent Action Figure
Day 266: Playmobil Dinosaurs 4173 Pteranodon
Day 271: Playmobil "Fi?ures" Figures Uncle Sam Action Figure
Day 276: Playmobil "Fi?ures" Figures Zorro Action Figure
Day 322: Playmobil Treasure Hunters 4848 Temple Guardian Figure
Day 363: Playmobil www.tourismus.nuernberg.de 6107 Albrecht Durer Figure
Day 764: Playmobil Stone Age 5105 Mammoth Family Set
Day 802: Playmobil Dino 5232 Stegosaurus
Day 811: Playmobil Specials 4748 Samurai
Day 887: Playmobil Toy Fair 2014 40th Birthday Knight
Day 1,030: Playmobil City Life 5605 PopStars! Band
Day 1,139: Playmobil School 4329 School Band
Day 1,148: Playmobil Dragon Tournament Knight Toy Fair Promo Figure
Day 1,154: Playmobil Magician with Genie Lamp Figure
Day 1,354: Playmobil Play Box 5638 Haunted House
Day 1,401: Playmobil 2016 Toy Fair Girl Figure
Day 1,451: Playmobil "Fi?ures" Figures Cat Burglar
Day 1,461: Playmobil 5197 Sports & Action Table Tennis Players
Day 1,499: Playmobil 4766 Special Plus Table Pizza Baker
Day 1,557: Playmobil "Fi?ures" Figures Asian Rice Worker
Day 1,577: Playmobil Toy Fair 2014 40th Birthday Princess
Day 1,581: Playmobil 2016 Toy Fair Pirate Figure
Day 1,583: Playmobil 5152 Future Planet E-Rangers Collectobot Figure
Day 1,584: Playmobil 6687 Super 4 Lost Island Figure Set
Day 1,585: Playmobil Figures Prisoner
Day 1,586: Playmobil 5572 City Life Ball Pit Set
Day 1,587: Playmobil 4741 Specials Space Ranger
Day 1,588: Playmobil 5562 Wild Life Beavers with Backpacker
Day 1,589: Playmobil 5239 Vampires
Day 1,590: Playmobil "Fi?ures" Figures Tall Ghost
Day 1,591: Playmobil Wild Life 5559 Inflatable Boat with Explorers
Day 1,592: Playmobil 5898 4-Wheel Drive with Kayak and Ranger
Day 1,598: Playmobil "Fi?ures" Figures Adventuress
Day 1,607: Playmobil "Fi?ures" Figures Granny
Day 1,609: Playmobil "Fi?ures" Figures France Fan
Day 1,613: Playmobil "Fi?ures" Figures Dark Fairy
Day 1,617: Playmobil 6824 Playmo-Friends Werewolf
Day 1,618: Playmobil 6823 Playmo-Friends Space Warrior
Day 1,631: Playmobil Knights Giant Troll with Dwarf Fighters
Day 1,641: Playmobil Playmo-Friends Flame Warrior
Day 1,650: Funko x Playmobil Willy Wonka
Day 1,654: Playmobil "Fi?ures" Figures Sauna Woman
Day 1,657: Funko x Playmobil Teenage Mutant Ninja Turtles Black and White Raphael
Day 1,662: Playmobil Tigers
Day 1,684: Playmobil NHL 5069 Zamboni
Day 1,699: Playmobil "Fi?ures" Figures Queen of Hearts
Day 1,728: Playmobil "Fi?ures" Figures Space Ranger
Day 1,731: Playmobil Ghostbusters 9222 Slimer
Day 1,737: Playmobil "Fi?ures" Figures Fire Wizard
Day 1,762: Playmobil 6099 Martin Luther
Day 1,764: Playmobil 5610 City Life Take Along
Day 1,772: Playmobil 6647 Alpacas
Day 1,774: Playmobil Summer Fun 5270 Porter with Luggage Cart
Day 1,784: Playmobil 6649 Penguins
Day 1,786: Playmobil 2017 Toy Fair Roman Troop Figure
Day 1,787: Playmobil "Fi?ures" Figures Zombie
Day 1,791: Playmobil Ghostbusters 9221 Stay Puft Marshmallow Man
Day 1,796: Playmobil "Fi?ures" Figures Ghoul Butler
Day 1,799: Playmobil "Fi?ures" Figures Pirate
Day 1,804: Playmobil "Fi?ures" Figures Gnome
Day 1,810: Playmobil "Fi?ures" Figures Captain America
Day 1,813: Playmobil Ghostbusters 9223 Venkman and Terror Dogs
Day 1,822: Playmobil "Fi?ures" Figures Flaming Skull
Day 1,828: Playmobil "Fi?ures" Figures Gladiator
Day 1,832: Funko x Playmobil Doctor Who Fourth Doctor
Day 1,836: Playmobil 6639 Gorillas
Day 1,839: Playmobil "Fi?ures" Figures Baker
Day 1,844: Playmobil Pianist with Piano
Day 1,851: Playmobil Ghostbusters 9224 Spengler and Ghost
Day 1,856: Playmobil "Fi?ures" Figures Buffalo Warrior
Day 1,861: Playmobil "Fi?ures" Figures Princess
Day 1,865: Playmobil 6525 Detective
Day 1,892: Playmobil "Fi?ures" Figures Rock Star
Day 1,899: Playmobil Special Plus Architect
Day 1,908: Funko x Playmobil Teenage Mutant Ninja Turtles Shredder
Day 1,913: Playmobil "Fi?ures" Figures Viking
Day 1,919: Playmobil "Fi?ures" Figures Steampunk Warrior
Day 1,934: Playmobil "Fi?ures" Figures Fisherwoman
Day 1,952: Playmobil 2018 Toy Fair Fairy Figure
Day 1,967: Playmobil 2018 Toy Fair Mountain Rescue Figure
Day 1,990: Playmobil 2013 Toy Fair Dinos Explorer Figure
Day 2,058: Playmobil Werewolf and Witch
Day 2,076: Playmobil The Real Ghostbusters 9387 Zeddemore with Aqua Scooter
Day 2,079: Playmobil 2019 Toy Fair Pet Hotel Cat Expert Figure
Day 2,082: Playmobil The Real Ghostbusters 9386 Spengler with Cage Car
Day 2,083: Playmobil Add-Ons 9804 Fire Brigade Accessories
Day 2,136: Playmobil Castle 6042 Castle Ghost with Rainbow LED
Day 2,139: Playmobil Mummy and Grim Reaper
Day 2,193: Playmobil 2020 Toy Fair Emergency Doctor Figure
Day 2,205: Playmobil Back to the Future DeLorean Time Machine Vehicle with Figures
Day 2,219: Playmobil Scooby-Doo! 70287 Scooby and Shaggy with Ghost Figures
Day 2,231: Playmobil Back to the Future Marty McFly and Dr. Emmett Brown Figures
Day 2,243: Playmobil Scooby-Doo! 70361 Adventure in the Mystery Mansion Playset
Day 2,255: Playmobil Back to the Future Advent Calendar with Figures
Day 2,325: Playmobil 2020 Toy Fair Mermaid Figure
Day 2,326: Playmobil 70177 Volkswagen Volkswagen Beetle
Day 2,327: Playmobil "Fi?ures" Figures Confederate Soldier
Day 2,328: Playmobil The Real Ghostbusters 9388 Stantz with Sky Bike
Day 2,329: Playmobil Pirates Ghost Whale Skeleton
Day 2,330: Playmobil 5754 Adventure Croc Boat
Day 2,331: Playmobil 5603 City Life Tour Bus
Day 2,332: Playmobil Scooby-Doo! 70286 Mystery Machine with Figures
Day 2,333: Playmobil The Movie Robotitron with Drone
Day 2,348: Playmobil "Fi?ures" Figures Witch
Day 2,350: Playmobil Vampire and Frankenstein's Monster
Day 2,352: Playmobil 70634 Back to the Future Part II Hoverboard Chase
Day 2,354: Playmobil 70548 Star Trek U.S.S. Enterprise NCC-1701 Playset
Day 2,356: Playmobil "Fi?ures" Figures Day of the Dead Woman
Day 2,360: Playmobil "Fi?ures" Figures Hula Girl
Day 2,362: Playmobil "Fi?ures" Figures Hippie
Day 2,363: Playmobil 70576 Back to the Future Part III Advent Calendar with Figures
Day 2,365: Playmobil 70026 "Fi?ures" Figures Fire Sorceress
Day 2,367: Playmobil "Fi?ures" Figures Skeleton Warrior
Day 2,368: Playmobil 5753 Seasonal Photo Santa Claus Figures
Day 2,370: Playmobil "Fi?ures" Figures Knight
Day 2,372: Playmobil Adventure Treasure Robber Crawler
Day 2,373: Playmobil 70148 "Fi?ures" Figures Ninja
Day 2,375: Playmobil The Real Ghostbusters 9385 Venkman with Helicopter
Day 2,377: Playmobil "Fi?ures" Figures Cowgirl
Day 2,378: Playmobil 70148 "Fi?ures" Figures Puppeteer
Day 2,380: Playmobil 70148 "Fi?ures" Figures Opera Fan
Day 2,382: Playmobil 70148 "Fi?ures" Figures Duck Feeder
Day 2,390: Playmobil 71060 "Fi?ures" Figures Steampunk
Day 2,398: Playmobil 2013 Toy Fair Dinosaur Explorer Figure
Day 2,408: Playmobil 70876 Special Plus Child with Monster
Day 2,415: Playmobil Special Plus Special Operations Agent
Day 2,422: Playmobil "Fi?ures" Figures Day of the Dead Man
Day 2,428: Playmobil 70873 Specials Plus Man with E-Scooter Action Figure
Day 2,430: Playmobil "Fi?ures" Figures Skater Action Figure
Day 2,432: Playmobil "Fi?ures" Figures Gargoyle
Day 2,466: Playmobil "Fi?ures" Figures Vampire
Day 2,475: Playmobil "Fi?ures" Figures Raffle Man
Day 2,481: Playmobil "Fi?ures" Figures Paintball Man
Day 2,496: Schaper Playmobil 3591 Space Series Astronaut and Robot Figures
Day 2,518: Playmobil "Fi?ures" Figures Gnome
Day 2,538: Playmobil 71010 Wiltopia Boat Trip to the Manatees Set
Day 2,663: Playmobil "Fi?ures" Figures Dutch Farm Girl

See more Ghostbusters items in Figure of the Day:
Day 498: Mattel Ghostbusters Zuul Action Figure
Day 801: Mattel Ghostbusters Slime Blower Ray Stantz Action Figure
Day 1,164: Funko Hikari Vinyl Ghostbusters Pink Stay Puft Marshmallow Man
Day 1,538: Mattel Ghostbusters Ecto Mini Rowan
Day 1,543: Mattel Ghostbusters Ecto Mini Cockroach Ghost
Day 1,576: Mattel Ghostbusters Ecto Mini Ray Stantz
Day 1,731: Playmobil Ghostbusters 9222 Slimer
Day 1,791: Playmobil Ghostbusters 9221 Stay Puft Marshmallow Man
Day 1,813: Playmobil Ghostbusters 9223 Venkman and Terror Dogs
Day 1,861 Playmobil Ghostbusters 9224 Spengler and Ghost
Day 2,076: Playmobil The Real Ghostbusters 9387 Zeddemore with Aqua Scooter
Day 2,082: Playmobil The Real Ghostbusters 9386 Spengler with Cage Car
Day 2,101: Fisher-Price Imaginext Series 7 Collectible Figures Buster of Ghosts
Day 2,144: The Coop Handmade by Robots Ghostbusters Slimer
Day 2,168: The Coop Handmade by Robots Ghostbusters Stay Puft Marshmallow Man
Day 2,197: Hasbro Transformers x Ghostbusters Collaborative Ectotron Action Figure
Day 2,310: Mattel Ghostbusters Walter Peck Action Figure
Day 2,328: Playmobil The Real Ghostbusters 9388 Stantz with Sky Bike
Day 2,375: Playmobil The Real Ghostbusters 9385 Venkman with Helicopter