Slimer
with Hot Dog Vendor

Playmobil Ghostbusters
Item No.: No. 9222
Manufacturer: Playmobil
Includes: Hot Dog vendor, cart, hot dogs, hamburger, drink cups, french fries, silicon slime splatters, basket, soda bottles, tongs, ketchup, mustard, Slimer
Action Feature: Makes your figures nervous in alleys
Retail: $16.99
Availability: May 2017
Other: The Box Was 83% Air

PREVIOUS
RSS
NEXT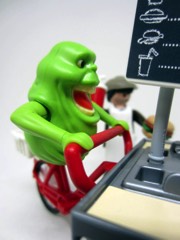 As a kid of the 1980s, I loved LEGO, Playmobil, action figures, and video games. And The Real Ghostbusters and tons of other things - I always thought it would be cool if LEGO had one or two sets from licenses to add to their city sets, just for fun. A ghost could menace the Motorcycle Shop, and you could call in Venkman. It was not to be, until recently - and now Playmobil is getting in on it with their first licensed fictional characters. I picked up Slimer as soon as I saw it in stores, in part because it looked like the worst set. I would say this is accurate. The Hot Dog Cart is a mold dating back to at least the early 1990s, and I believe it was also used earlier than that - but I can't find evidence. Like LEGO, Playmobil recycles parts in the name of both efficiency and cost. Compatibility between sets for over four decades just happens to be a handy by-product. Slimer can use the same accessories as the figures I grew up with, which is great because the set is mostly excellent. It has but one flaw, and we'll get to that.
This set is a toy that rewards toy collectors. If you've never bought any Playmobil before, it's a nice set. If you have a collection, you're going to love this.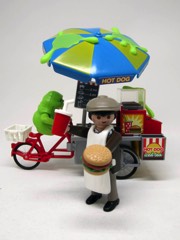 Make no mistake about it, you're paying $17 for Slimer. The cart has been used previously for hot dogs and ice cream in other themes, and it's a heck of a nice accessory - but Slimer is the one big new piece in the set. He has a hole in his bottom you can use to mount him on a pole if you have such an accessory around. His construction is pretty good - not as rock-solid as other creatures and apparitions, but good. You can see a little gap between his green skin and off-white teeth, and there's a tiny gap at the top of his head that could be used to pry him apart. The arms plug in to the body, and the range of articulation is amazingly good - or, typical Playmobil. The figures have ball-jointed shoulders and swivel wrists, so the figure can wave his arms around and actually move food right in front of his mouth. This is fantastic - you can put the soda straw, hot dog, or hamburgers right in his mouth. The Green Ghost's eyes are painted black and very expressive, with a painted pink mouth to help bring it to life. If you have some sort of umbrella stand or other pike, you can have him floating around. If the set had such a stand, it would be the best thing in the world - instead, it's just pretty good. At this point I assume this is the only Slimer we'll ever see, unless they do a clear or glow-in-the-dark variant in another set some day. I can only assume this would happen if they did some sort of figure/ghost sets on the cheap, or continued the line with the characters from the new movie or classic cartoons.
Assembling the figure and cart is speedy. The umbrella has 4 stickers, the cart has a handful of labels, and the condiments require a sticker to be wrapped around them as well. The cart snaps together quite nicely, with a whole cooking area plugging into a socket with all sorts of lids and sneeze guards. It's impressive, except for just one part - the umbrella's pole. The light grey accessory is made of rubbery plastic, while traditionally these have come in a hard plastic that stays upright. This one sags. I'm trying to seek out a good replacement because it's already sagging minutes out of the box, I can't imagine how awful it will be in a year or two. It's not good enough - the rest of the cart is dang near perfect with its grill, cooking surfaces, a yellow basket with soda bottles, and places to store food. And rolling wheels. It's just lovely, as is Playmobil's old-school way. A lot of these older sets were engineered perfectly and can really only be improved with more paint and stickers. This one adds stickers. And that terrible rubbery pole.
A new innovation in this set are green silicon slime splatters in various shapes. They cling to one another or a clean flat surface, so the splotches can hang on the glass display case or on the side of the cart. They're sort of like Colorforms, and I assume this means it is imperative you keep them clean to function. They cling nicely without adhesive, and are a nice optional accessory for the set.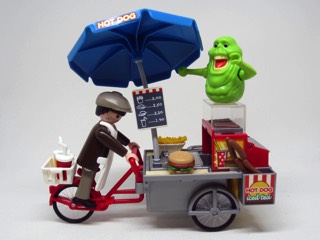 The figure with the cart has no name, but looks like the epitome of 1980s New York street vendors as seen on TV and in the movies. He has that hat, that sweater, and that apron to give the look of a guy who's been doing this for a long time and will continue to do so for decades to come. The figure is pretty much the same as every Playmobil figure in that it can stand, sit, and hold his gear with zero fuss. The buck is perfect, and everything just works. Except that friggin' umbrella pole. Also he's a little scruffy, so that's a plus.
This is Playmobil's first licensed theme based on a work of fiction - NHL Hockey seemed to do just fine, and How To Train Your Dragon is next on the docket. Funko co-licensed Playmobil and various things for jumbo figures, but Playmobil is doing them in the regular size. I've often felt that Playmobil could rule the world if it picked up a few licenses, as a Batmobile or Ecto-1 could do wonders in your growing Playmobil city collection. This is a real toy, with lots of parts and pieces to lose. It's also kind of ridiculous, given that Slimer could have been included in literally any other set. They know the green guy is popular, so you're going to have to shell out to get him, I'd argue he's worth it if you are in to toys of this nature. I'll probably cave in and buy another set before I finish photographing the set for review. The entire collection is under $200, which is pretty good when you compare it to Kenner's 1980s line and inflation. Now where is my Playmobil Fearsome Flush?
--Adam Pawlus
Additional Images

See more Playmobil toys in Figure of the Day:
Day 94: Playmobil African Safari 4831 Ostriches Set
Day 125: Playmobil Specials 4683 Mongollian Warrior Action Figure
Day 132: Playmobil Specials Cave Man Action Figure
Day 140: Playmobil Specials Palace Guard Action Figure
Day 163: Playmobil Figures Ghost Action Figure
Day 186: Playmobil Top Agents Secret Agent Action Figure
Day 266: Playmobil Dinosaurs 4173 Pteranodon
Day 271: Playmobil "Fi?ures" Figures Uncle Sam Action Figure
Day 276: Playmobil "Fi?ures" Figures Zorro Action Figure
Day 322: Playmobil Treasure Hunters 4848 Temple Guardian Figure
Day 363: Playmobil www.tourismus.nuernberg.de 6107 Albrecht Durer Figure
Day 764: Playmobil Stone Age 5105 Mammoth Family Set
Day 802: Playmobil Dino 5232 Stegosaurus
Day 811: Playmobil Specials 4748 Samurai
Day 887: Playmobil Toy Fair 2014 40th Birthday Knight
Day 1,030: Playmobil City Life 5605 PopStars! Band
Day 1,139: Playmobil School 4329 School Band
Day 1,148: Playmobil Dragon Tournament Knight Toy Fair Promo Figure
Day 1,154: Playmobil Magician with Genie Lamp Figure
Day 1,354: Playmobil Play Box 5638 Haunted House
Day 1,401: Playmobil 2016 Toy Fair Girl Figure
Day 1,451: Playmobil "Fi?ures" Figures Cat Burglar
Day 1,461: Playmobil 5197 Sports & Action Table Tennis Players
Day 1,499: Playmobil 4766 Special Plus Table Pizza Baker
Day 1,557: Playmobil "Fi?ures" Figures Asian Rice Worker
Day 1,577: Playmobil Toy Fair 2014 40th Birthday Princess
Day 1,581: Playmobil 2016 Toy Fair Pirate Figure
Day 1,583: Playmobil 5152 Future Planet E-Rangers Collectobot Figure
Day 1,584: Playmobil 6687 Super 4 Lost Island Figure Set
Day 1,585: Playmobil Figures Prisoner
Day 1,586: Playmobil 5572 City Life Ball Pit Set
Day 1,587: Playmobil 4741 Specials Space Ranger
Day 1,588: Playmobil 5562 Wild Life Beavers with Backpacker
Day 1,589: Playmobil 5239 Vampires
Day 1,590: Playmobil "Fi?ures" Figures Tall Ghost
Day 1,591: Playmobil Wild Life 5559 Inflatable Boat with Explorers
Day 1,592: Playmobil 5898 4-Wheel Drive with Kayak and Ranger
Day 1,598: Playmobil "Fi?ures" Figures Adventuress
Day 1,607: Playmobil "Fi?ures" Figures Granny
Day 1,609: Playmobil "Fi?ures" Figures France Fan
Day 1,613: Playmobil "Fi?ures" Figures Dark Fairy
Day 1,617: Playmobil 6824 Playmo-Friends Werewolf
Day 1,618: Playmobil 6823 Playmo-Friends Space Warrior
Day 1,631: Playmobil Knights Giant Troll with Dwarf Fighters
Day 1,641: Playmobil Playmo-Friends Flame Warrior
Day 1,650: Funko x Playmobil Willy Wonka
Day 1,654: Playmobil "Fi?ures" Figures Sauna Woman
Day 1,657: Funko x Playmobil Teenage Mutant Ninja Turtles Black and White Raphael
Day 1,662: Playmobil Tigers
Day 1,684: Playmobil NHL 5069 Zamboni
Day 1,699: Playmobil "Fi?ures" Figures Queen of Hearts
Day 1,728: Playmobil "Fi?ures" Figures Space Ranger
Day 1,731: Playmobil Ghostbusters 9222 Slimer
Day 1,737: Playmobil "Fi?ures" Figures Fire Wizard
Day 1,762: Playmobil 6099 Martin Luther
Day 1,764: Playmobil 5610 City Life Take Along
Day 1,772: Playmobil 6647 Alpacas
Day 1,774: Playmobil Summer Fun 5270 Porter with Luggage Cart
Day 1,784: Playmobil 6649 Penguins
Day 1,786: Playmobil 2017 Toy Fair Roman Troop Figure
Day 1,787: Playmobil "Fi?ures" Figures Zombie
Day 1,791: Playmobil Ghostbusters 9221 Stay Puft Marshmallow Man
Day 1,796: Playmobil "Fi?ures" Figures Ghoul Butler
Day 1,799: Playmobil "Fi?ures" Figures Pirate
Day 1,804: Playmobil "Fi?ures" Figures Gnome
Day 1,810: Playmobil "Fi?ures" Figures Captain America
Day 1,813: Playmobil Ghostbusters 9223 Venkman and Terror Dogs
Day 1,822: Playmobil "Fi?ures" Figures Flaming Skull
Day 1,828: Playmobil "Fi?ures" Figures Gladiator
Day 1,832: Funko x Playmobil Doctor Who Fourth Doctor
Day 1,836: Playmobil 6639 Gorillas
Day 1,839: Playmobil "Fi?ures" Figures Baker
Day 1,844: Playmobil Pianist with Piano
Day 1,851: Playmobil Ghostbusters 9224 Spengler and Ghost
Day 1,856: Playmobil "Fi?ures" Figures Buffalo Warrior
Day 1,861: Playmobil "Fi?ures" Figures Princess
Day 1,865: Playmobil 6525 Detective
Day 1,892: Playmobil "Fi?ures" Figures Rock Star
Day 1,899: Playmobil Special Plus Architect
Day 1,908: Funko x Playmobil Teenage Mutant Ninja Turtles Shredder
Day 1,913: Playmobil "Fi?ures" Figures Viking
Day 1,919: Playmobil "Fi?ures" Figures Steampunk Warrior
Day 1,934: Playmobil "Fi?ures" Figures Fisherwoman
Day 1,952: Playmobil 2018 Toy Fair Fairy Figure
Day 1,967: Playmobil 2018 Toy Fair Mountain Rescue Figure
Day 1,990: Playmobil 2013 Toy Fair Dinos Explorer Figure
Day 2,058: Playmobil Werewolf and Witch
Day 2,076: Playmobil The Real Ghostbusters 9387 Zeddemore with Aqua Scooter
Day 2,079: Playmobil 2019 Toy Fair Pet Hotel Cat Expert Figure
Day 2,082: Playmobil The Real Ghostbusters 9386 Spengler with Cage Car
Day 2,083: Playmobil Add-Ons 9804 Fire Brigade Accessories
Day 2,136: Playmobil Castle 6042 Castle Ghost with Rainbow LED
Day 2,139: Playmobil Mummy and Grim Reaper
Day 2,193: Playmobil 2020 Toy Fair Emergency Doctor Figure
Day 2,205: Playmobil Back to the Future DeLorean Time Machine Vehicle with Figures
Day 2,219: Playmobil Scooby-Doo! 70287 Scooby and Shaggy with Ghost Figures
Day 2,231: Playmobil Back to the Future Marty McFly and Dr. Emmett Brown Figures
Day 2,243: Playmobil Scooby-Doo! 70361 Adventure in the Mystery Mansion Playset
Day 2,255: Playmobil Back to the Future Advent Calendar with Figures
Day 2,325: Playmobil 2020 Toy Fair Mermaid Figure
Day 2,326: Playmobil 70177 Volkswagen Volkswagen Beetle
Day 2,327: Playmobil "Fi?ures" Figures Confederate Soldier
Day 2,328: Playmobil The Real Ghostbusters 9388 Stantz with Sky Bike
Day 2,329: Playmobil Pirates Ghost Whale Skeleton
Day 2,330: Playmobil 5754 Adventure Croc Boat
Day 2,331: Playmobil 5603 City Life Tour Bus
Day 2,332: Playmobil Scooby-Doo! 70286 Mystery Machine with Figures
Day 2,333: Playmobil The Movie Robotitron with Drone
Day 2,348: Playmobil "Fi?ures" Figures Witch
Day 2,350: Playmobil Vampire and Frankenstein's Monster
Day 2,352: Playmobil 70634 Back to the Future Part II Hoverboard Chase
Day 2,354: Playmobil 70548 Star Trek U.S.S. Enterprise NCC-1701 Playset
Day 2,356: Playmobil "Fi?ures" Figures Day of the Dead Woman
Day 2,360: Playmobil "Fi?ures" Figures Hula Girl
Day 2,362: Playmobil "Fi?ures" Figures Hippie
Day 2,363: Playmobil 70576 Back to the Future Part III Advent Calendar with Figures
Day 2,365: Playmobil 70026 "Fi?ures" Figures Fire Sorceress
Day 2,367: Playmobil "Fi?ures" Figures Skeleton Warrior
Day 2,368: Playmobil 5753 Seasonal Photo Santa Claus Figures
Day 2,370: Playmobil "Fi?ures" Figures Knight
Day 2,372: Playmobil Adventure Treasure Robber Crawler
Day 2,373: Playmobil 70148 "Fi?ures" Figures Ninja
Day 2,375: Playmobil The Real Ghostbusters 9385 Venkman with Helicopter
Day 2,377: Playmobil "Fi?ures" Figures Cowgirl
Day 2,378: Playmobil 70148 "Fi?ures" Figures Puppeteer
Day 2,380: Playmobil 70148 "Fi?ures" Figures Opera Fan
Day 2,382: Playmobil 70148 "Fi?ures" Figures Duck Feeder
Day 2,390: Playmobil 71060 "Fi?ures" Figures Steampunk
Day 2,398: Playmobil 2013 Toy Fair Dinosaur Explorer Figure
Day 2,408: Playmobil 70876 Special Plus Child with Monster
Day 2,415: Playmobil Special Plus Special Operations Agent
Day 2,422: Playmobil "Fi?ures" Figures Day of the Dead Man
Day 2,428: Playmobil 70873 Specials Plus Man with E-Scooter Action Figure
Day 2,430: Playmobil "Fi?ures" Figures Skater Action Figure
Day 2,432: Playmobil "Fi?ures" Figures Gargoyle
Day 2,466: Playmobil "Fi?ures" Figures Vampire
Day 2,475: Playmobil "Fi?ures" Figures Raffle Man
Day 2,481: Playmobil "Fi?ures" Figures Paintball Man
Day 2,496: Schaper Playmobil 3591 Space Series Astronaut and Robot Figures
Day 2,518: Playmobil "Fi?ures" Figures Gnome
Day 2,538: Playmobil 71010 Wiltopia Boat Trip to the Manatees Set

See more Ghostbusters items in Figure of the Day:
Day 498: Mattel Ghostbusters Zuul Action Figure
Day 801: Mattel Ghostbusters Slime Blower Ray Stantz Action Figure
Day 1,164: Funko Hikari Vinyl Ghostbusters Pink Stay Puft Marshmallow Man
Day 1,538: Mattel Ghostbusters Ecto Mini Rowan
Day 1,543: Mattel Ghostbusters Ecto Mini Cockroach Ghost
Day 1,576: Mattel Ghostbusters Ecto Mini Ray Stantz
Day 1,731: Playmobil Ghostbusters 9222 Slimer
Day 1,791: Playmobil Ghostbusters 9221 Stay Puft Marshmallow Man
Day 1,813: Playmobil Ghostbusters 9223 Venkman and Terror Dogs
Day 1,861 Playmobil Ghostbusters 9224 Spengler and Ghost
Day 2,076: Playmobil The Real Ghostbusters 9387 Zeddemore with Aqua Scooter
Day 2,082: Playmobil The Real Ghostbusters 9386 Spengler with Cage Car
Day 2,101: Fisher-Price Imaginext Series 7 Collectible Figures Buster of Ghosts
Day 2,144: The Coop Handmade by Robots Ghostbusters Slimer
Day 2,168: The Coop Handmade by Robots Ghostbusters Stay Puft Marshmallow Man
Day 2,197: Hasbro Transformers x Ghostbusters Collaborative Ectotron Action Figure
Day 2,310: Mattel Ghostbusters Walter Peck Action Figure
Day 2,328: Playmobil The Real Ghostbusters 9388 Stantz with Sky Bike
Day 2,375: Playmobil The Real Ghostbusters 9385 Venkman with Helicopter